Affairs: Politics / Global
Dividing lines
The political will to reunite Cyprus has vanished. That's why the isolated Turks are hoping for international recognition and building for tourists. Will they ever come?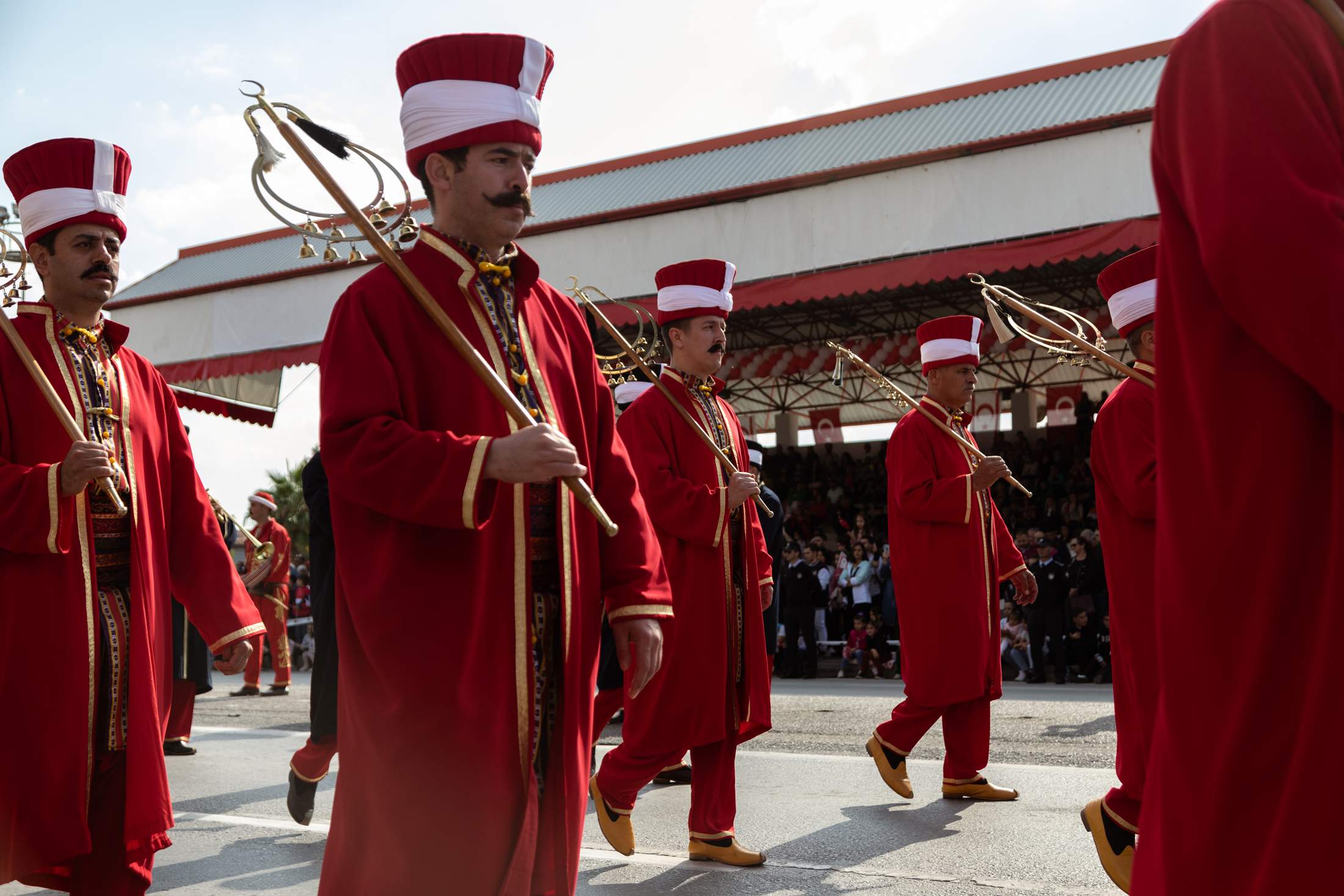 On the front line of one of the world's longest-running ongoing conflicts, tourists are soaking up the winter sun. Varosha, on the east coast of Cyprus, once had a population of 39,000 and was one of the Mediterranean's glitziest resorts. In 1974, however, it fell victim to the island's civil war between its Greek and Turkish-speaking communities. Cyprus was partitioned and Varosha, which abuts the dividing line on the now Turkish-speaking side, was abandoned, becoming a snapshot of Le Corbusier-style modernism frozen in time as the gap between the two sides of the island widened. The Greek-speaking south is a fully recognised state, while the Turkish-speaking north is unrecognised and embargoed. Its trump card? Varosha. In October 2020 the government suddenly reopened the town, installing bike lanes and walkways through the crumbling streets. On an abandoned travel agency's wall, a faded Cyprus Airways poster lists connections from a happier past: Beirut, Cairo, Tel Aviv.
Varosha's reopening enraged displaced Greek Cypriots, who comprised most of the town's population in 1974 and say that their homes have been stolen from them. Many Turkish Cypriots also opposed the move, fearing that their government was using the resort to antagonise the south. But Andreas Lordos, a Greek Cypriot, was quick to return. He fled Varosha with his family when he was six years old as it fell under the Turkish army's control. "Since then I have been trying to come home," he says.
Lordos strides through Varosha, his brisk pace contrasting with the meandering tourists. His family owned a string of successful businesses here, including shops and a landmark hotel, the Golden Mariana, which was built by his father and named after his mother. Lordos, an architect, believes that most of Varosha's buildings can be restored and the town turned into a place where Cypriots from both sides can meet, trade and exchange ideas for a more prosperous future. "Opening Varosha was a game-changer," he says. "There are many people who are ready to move back."
Lordos is eager to reclaim his family's properties. But while the north's government has pledged to return Varosha's buildings to their original owners, it has also launched its own claim over the land that they stand on, which it says is the property of an Ottoman-era foundation. Lordos's wife was once apprehended as she tried to enter the Golden Mariana's crumbling lobby. As he waits for a resolution to the situation, he visits Varosha often, plotting out the buildings and his plans.
Cyprus sits in the eye of a geopolitical cyclone, with disputed gas reserves, Syria's civil war and a maritime dispute between Turkey and Greece lapping onto its shores. The island stands at a precipice. It must choose which direction to take before the generation that remembers a united Cyprus dies out: co-operation between its two communities or all-out division. Its leaders appear to be set on the latter but many Cypriots believe that Varosha can be a catalyst for better relations. "Why wait 50 more years?" says Lordos. "We can break the cycle of hate."
The grievances run so deep in Cyprus that it's easy to forget how small the island is. An hour after leaving Varosha we're in Lefkosa, the Turkish half of Nicosia, Cyprus's divided capital, witnessing another echo of 1974. Ersin Tatar, a former accountant and the president of the Turkish Republic of Northern Cyprus (trnc), is taking the salute from the Turkish army on the anniversary of the north's independence. Soldiers file past in camouflage and maroon berets, some of them perched on armoured vehicles. Veterans march alongside children in their tiny uniforms, while a low-flying helicopter whips the air. The event is pitched to be audible to Greek Cypriots on the south side of Nicosia, about 5km away.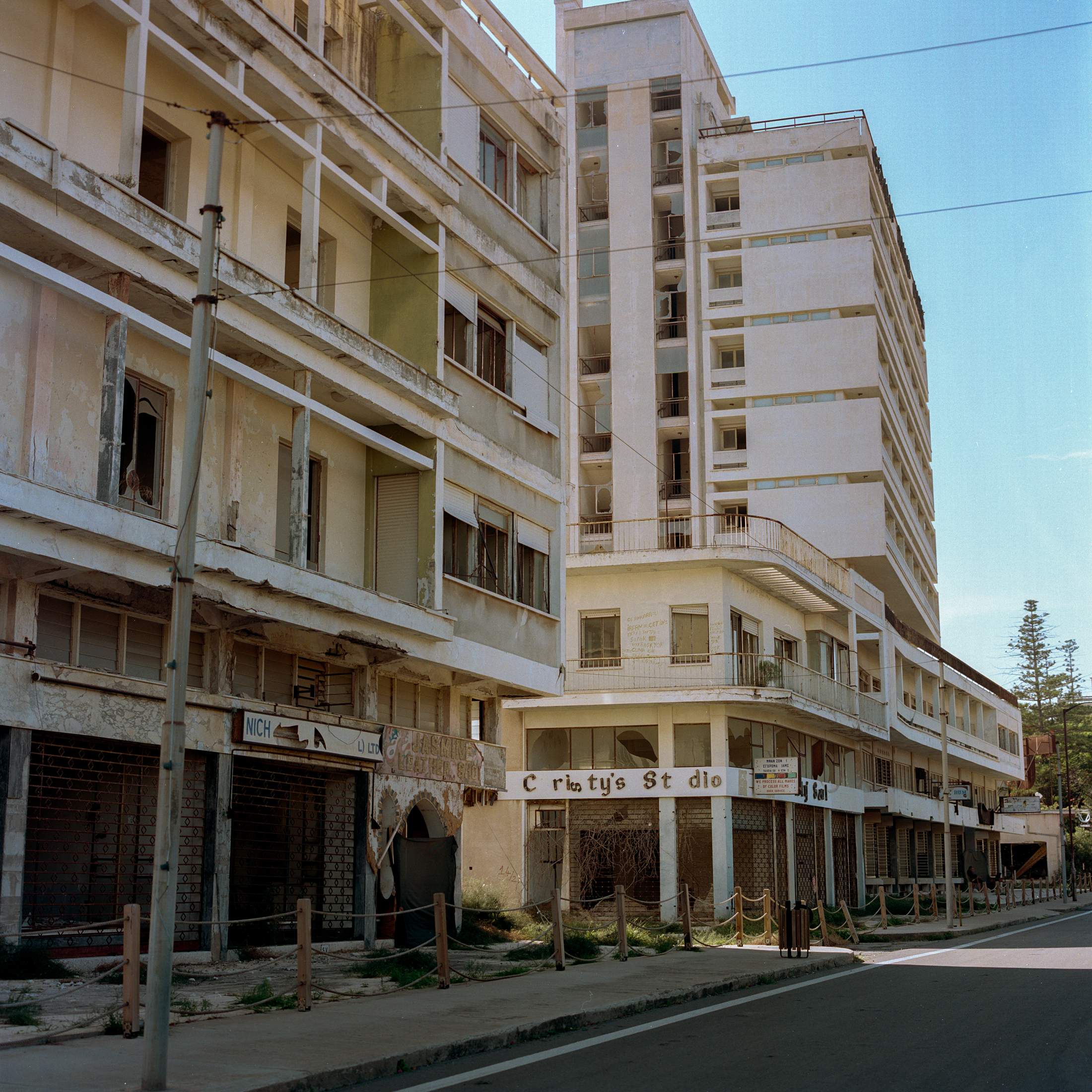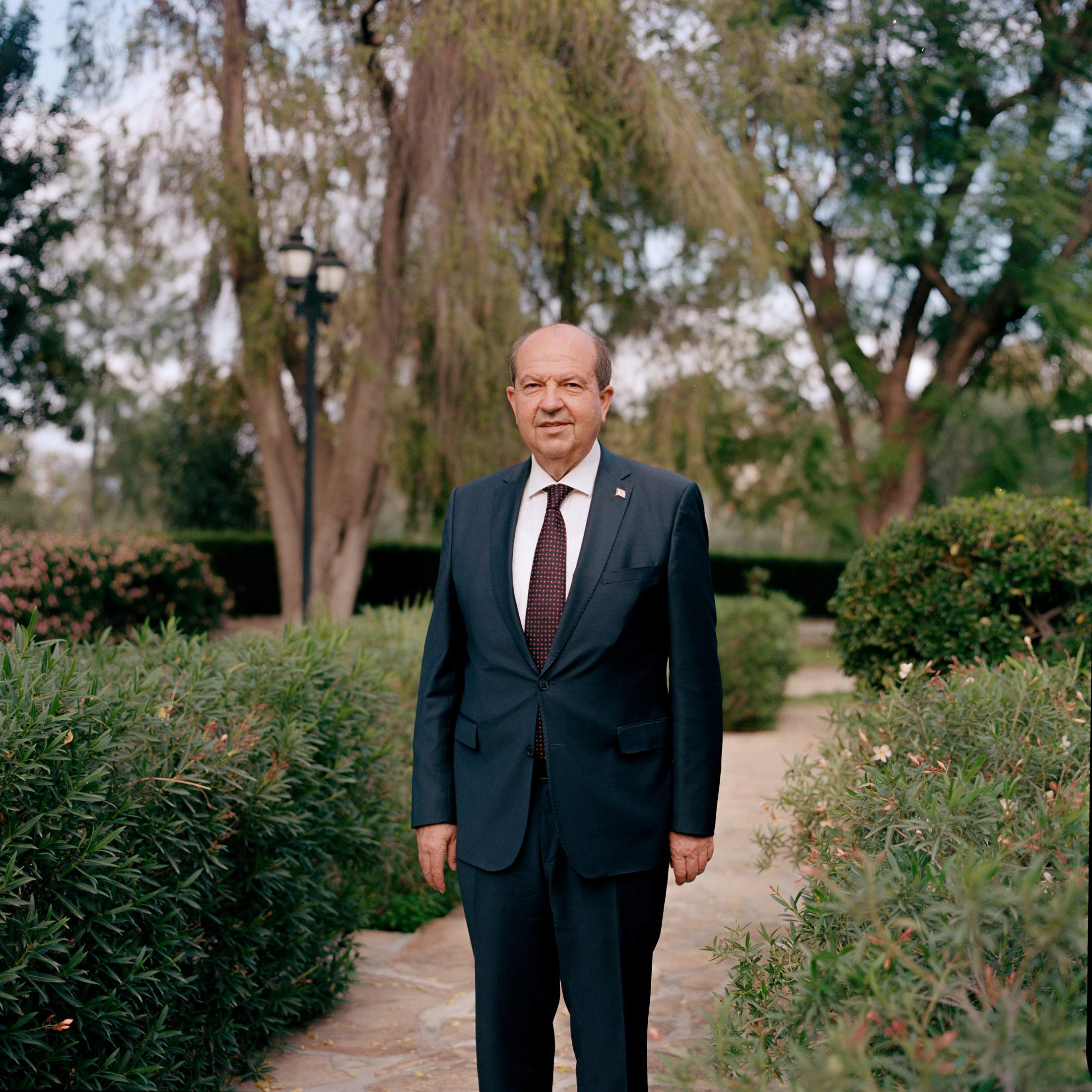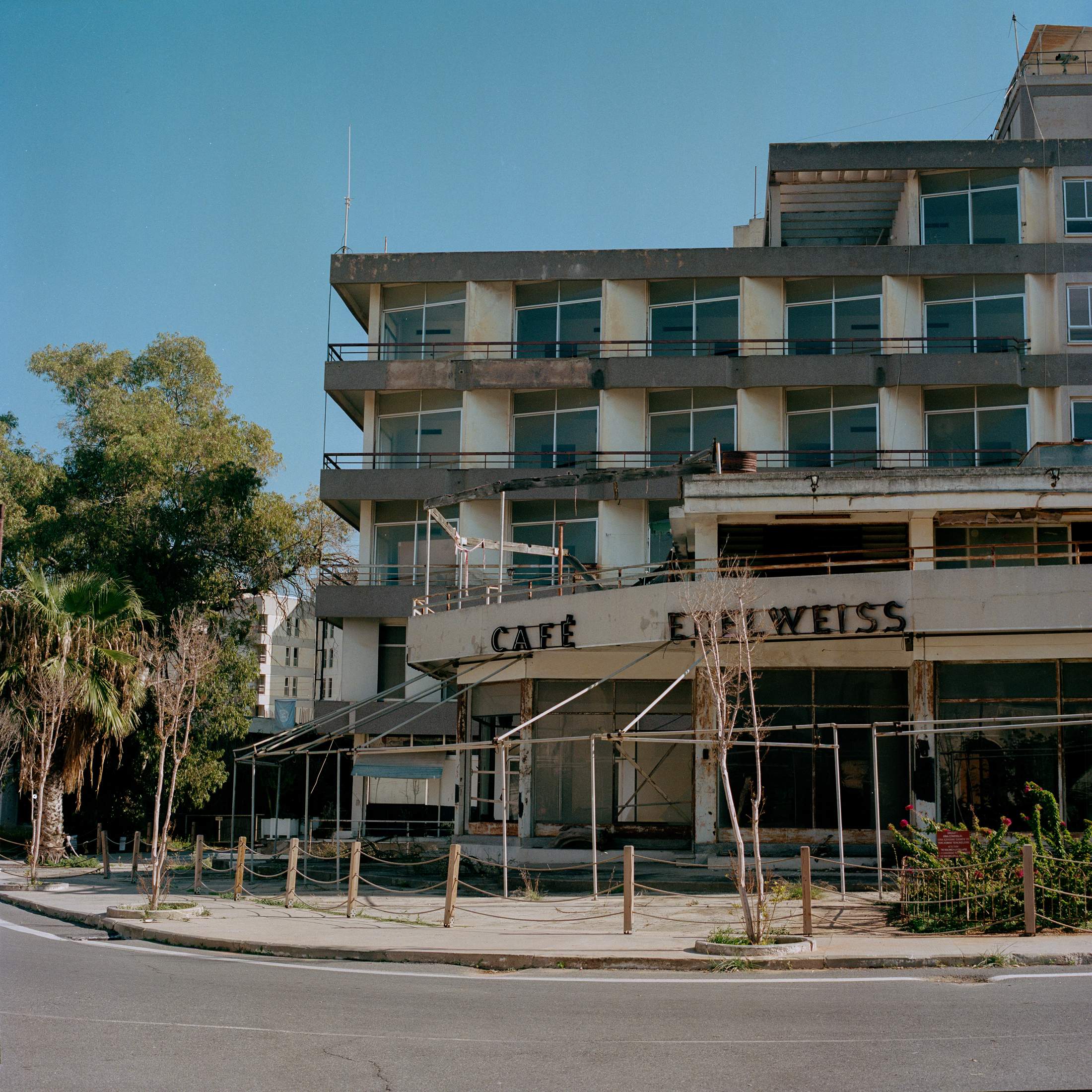 It's an openly jingoistic display. While there has been no fighting in Cyprus since 1974, the island remains technically at war. The south became an EU member in 2004, despite rejecting a UN plan to reunite the island, so it has a powerful ally in its international disputes. The north, which approved the reunification plan in a referendum, remains unrecognised. Their dividing line starts at Varosha, cutting across the heart of Nicosia's Venetian-walled city and continuing through mountains and valleys. In some places it swells into a buffer zone, sealing off empty villages that have become havens for wildlife. Locals and tourists can easily cross it. But in Beyarmudu, a village of about 2,000 residents, it shapes everyday life and death.
Beyarmudu is split not only between trnc and the south but also a section that falls in the UN-controlled buffer zone and another in UK sovereign territory: raf Dhekelia, one of the island's two British military bases. The Dhekelia area includes land farmed by Turkish Cypriots, who must negotiate a web of checkpoints. Other trnc citizens cross the border to work for the UK military in auxiliary and policing roles. The jigsaw of frontiers has left the village's wedding hall and football pitch split between trnc and British soil. 
Isolated and aggrieved, the trnc offers an opportunity for the strongman across the water. Turkish subsidies account for 15 per cent of its €930m annual budget and since the latest UN talks broke down in 2017, Recep Tayyip Erdogan, Turkey's president, has been leveraging that power over its politics. Turkish intelligence officers pressured Tatar's rivals to withdraw from the trnc's 2020 presidential election; Tatar, who was then prime minister, reopened Varosha five days before the vote with Ankara's backing. He admits that it "might have helped" him to win. "It was a tourism move, an economic move, an environmental move," he tells monocle in his palace, a British-built villa almost touching the dividing line in Nicosia. "Of course, it was a message to the whole world that the Turkish government supports President Tatar. But it also worked the other way because the opposition used Varosha as propaganda against me." During our interview, Tatar takes a call from Erdogan on his mobile phone, addressing him as "my president".
Erdogan and Tatar have declared a UN-backed reunification of Cyprus moot. Instead, they are pushing for a formal international recognition of the trnc, an outcome that even Turkish-Cypriot nationalists find unlikely. Tatar speaks enthusiastically about the new projects at the core of his nation: the presidential palace that's under construction with Turkish money, the trnc's recent acceptance as an observer member by the Organisation of Turkic States (a bloc that includes Kazakhstan and Turkey) and Varosha, which he envisions as a major attraction. But he insists that there can be no shared future with the trnc's closest neighbour. "You cannot turn the clock back," says Tatar. "They speak Greek; we speak Turkish. We have nothing in common. We breathe the same air – nothing else."
"In five years, maybe this will be the capital of the island. When I came here in 2015, this was empty. Now buyers are coming every day – 2022 was a boom year"
The trnc's disputed status creates hurdles. You can only fly directly from Turkey, while shipping companies that use its ports face penalties from the Republic of Cyprus. Yet it has found ways to function. It piggybacks on Turkey's dialling code and the postcode of Mersin, the closest Turkish province, with some Turkish Cypriots using a PO box in the south for Amazon deliveries. Google Maps started covering the trnc in 2016, having previously left it a grey maze of unnamed roads. The north has built a domestic economy of €3.6bn around services, mainly tourism and its 16 public universities, which accept thousands of students from Africa and Asia. And casinos have boomed since being banned in Turkey in 1998; today there are 36, making the trnc the top destination for gambling-mad Turks. Alcohol here is a quarter of the price of that in high-tax Turkey and Greek Cypriots come north in their cars to buy cheap fuel. The trnc uses the Turkish lira, which has lost two thirds of its value against the US dollar since 2018.
The trnc produces, buys and sells goods, has a chamber of commerce and falls under the EU's protection of designated origin for Cypriot halloumi (hellim in Turkish), an industry worth about €270m in 2021. "We have businessmen and students coming here," says Tatar. "We are trading with 100 countries all over the world. What is recognition? All we don't have is official visits." 
The trnc remains a black hole for foreign investors. Turkish companies enjoy an advantage here and the bigger towns are full of Istanbul brands. Foreign companies sometimes rebrand to avoid conflicts with the south (until 2019, Burger King operated as Burger City). Its central bank is unrecognised; though the trnc has a domestic banking sector, it is not connected to the Swift system and must operate through corresponding accounts with Turkish banks. International lenders refuse credit in the trnc.
Foreign investment is murky and growing. The trnc's central bank revenues rose by 48.1 per cent from 2020 to 2021, with most of the increase attributed to a surge in foreign inflows, which rose by 111.5 per cent, accounting for nearly half of the tl506m (€25m) on the balance. This influx has materialised in Yeni Iskele, once a sleepy resort on the eastern coast, where dozens of high-rise residences are under construction on land sold to developers by the trnc government. They are for newcomers: Iranians and, more recently, Russians, escaping chaos in their homelands and barred from investing in most European countries as a result of sanctions. Here they can not only invest but will also receive a residency permit, paying tax to the trnc at 0.5 per cent of their property's price. Billboards written in Cyrillic and Farsi advertise yet-to-be-built complexes. Some foreigners are already living here amid unfinished roads. Others buy for investment and never visit. An auxiliary industry offering home security and cleaning to absent owners has sprung up, along with a clutch of shopfront cryptocurrency exchanges – useful channels for foreigners whose bank accounts are locked behind sanctions.
"In five years this might be the capital of the island," says Zayn Khashoggi, a Jordanian national and sales manager at Uzun Construction. Its offices occupy a small building tacked on to a huge construction site. "When I came here in 2015, this was empty. Now buyers are coming every day, mostly from Russia – 2022 was a boom year."
Yeni Iskele has turned the trnc into a property flippers' market and a backdoor for investment, though there are questions over the legality of land sales (Greek Cypriots claim ownership of much of it) and money laundering. And while the construction boom is swelling the trnc's coffers, building a self-sustaining business here remains tricky. Representing a UK businessman, Liza Singer, an Israeli with a blonde crop and a sturdy pragmatism forged in her own troubled homeland, invested €100m of private capital in a plot with permits for a yacht marina in 2005 – the first major tourism project by foreigners in the trnc. 
Karpaz Gate opened in 2011 and offers yacht berths and high-end facilities, including a restaurant, hammam and outdoor pool. Guests come from Turkey, Germany, the UK, Russia and more. It's the biggest outside investment in the trnc but it comes with risks. "Our challenges are the same as any private investor in a country that isn't politically stable; governance is not clear," Singer tells monocle. "Development is costly here because you can't get bank finance. Building and selling is one thing but running a resort is something else." But a decade in, Singer employs 100 people, most of them locals, and she opened a 52-room hotel in 2022. 
Karpaz Gate is a minnow compared to Yeni Iskele, whose towers are creeping towards the peninsula. Singer says that her business offers an alternative for the trnc: high-end, mid-scale tourism, serving an international clientele. "We don't want to be London or Turkey. This is a different type of Cyprus," she says. "This is a small place with a lot of turmoil. We are trying to create a haven."
On a wide plane fringed by jagged mountains 47km inland from Yeni Iskele, a glass-and-steel cathedral is rising. The new Ercan Airport, a decade in construction with an estimated budget of €300m, more than doubles the capacity of the current airport, which it dwarfs across the runway. It features nine departure bridges, 60 check-in booths and 20 passport gates. The airport is designed with the future in mind, with the latest electronic detection devices and two runways. Yet, ahead of its opening this spring, Turkey remains the only country whose aviation authority has recognised the trnc. 
In September, Turkish media reported that Aeroflot would begin flights to the new airport. The airline has since backed away but Russia's aviation authority has contacted the trnc, indicating that some of the country's private airlines might launch routes. Serhat Ozcelik, general manager of t&t, the Turkish company contracted to build and operate Ercan, is phlegmatic about his project's immediate prospects. "Maybe in the future it will be used," he tells monocle during a tour of the nearly completed project. "It will be interesting to see who comes." The trnc designated land for the airport in 2013 and construction started in 2016. t&t will share 47.8 per cent of the revenue with the government for the contract term. It's a rare project that has received bank credit – "not easy", Ozcelik says, and only possible because the company is Turkish and will have a guaranteed income for 25 years.
"They are using our sovereignty and independence against the Greek Cypriots. Sovereignty should be for us, not against someone else"
The new airport is designed for 10 million passengers (more than four million passed through the current one in 2019) but three Turkish airlines that flew to the trnc have gone bankrupt in recent years, leaving just Turkish Airlines, its subsidiary Anadolu and Pegasus, a private company. Ticket prices, pegged to the euro, have soared in liras, making them unaffordable for many Turks. "The price issue is about seat supply," says Ozcelik. "And 11 per cent of Ercan's passengers are currently from the UK but since they can't travel directly it increases the cost and transit time." If all goes according to Tatar and Erdogan's plan, Ercan will gradually fill up, its swelling passenger numbers reflecting the rising status of the trnc. Its diplomats have faith that countries on good terms with Turkey will be persuaded to recognise and start flights. For businesspeople such as Singer, politics is irrelevant: the new airport will provide a boost. But recognition is not assured. If the current push fails, the trnc will be left more reliant on Ankara, locked into infrastructure deals and beholden to Erdogan: a country of empty places in isolated dependence.
Top-down efforts at state-building are meaningless, says Serdar Denktas, son of the trnc's founding president, Rauf Denktas. The family tie is evident in his face but not his demeanour: Rauf was ebullient, Serdar introspective. "The problem now is that our government does not have a vision," he tells monocle. "They are using our sovereignty and independence against the Greek Cypriots. Sovereignty should be for us, not against someone else. My proposal for Varosha is to use it as a free-trade zone, where Turkish and Greek Cypriots are forced to become business partners. Then we can step back. We should do this between ourselves. We don't need observers." 
Lordos is also sketching out plans. First, he says, Varosha's buildings should be returned to their original owners. Then, the UN should set rules on how the two sides can co-operate. It must be demilitarised, with monitors from both the trnc and Republic of Cyprus. Then it can be transformed into a tax-free hub for r&d and climate initiatives. "Varosha can become a brand," he says. 
Smaller examples are already flourishing: Lefkosa's old city, abandoned after the war, has enjoyed a renaissance over the past decade; young Greek Cypriots cross over to enjoy the north's new independent bars and art galleries, interacting with Turkish Cypriots organically. In Karpaz Gate, Singer welcomes Greek Cypriots among her guests. Diplomats have spent half a century asking politicians to find a solution in Cyprus. Perhaps they have been searching in the wrong place.