My cabinet: Avalanche security / Global
Plotting a downfall
High in the Swiss Alps, Fabrice Meyer and his security team trigger minor avalanches to prevent major disasters.
"In some professions, you learn everything in 10 or 12 years," says avalanche-security specialist Fabrice Meyer. "But in this job, you never stop learning. Just when you think that you know it all, you get into trouble." During the 33 winters that Meyer has worked in the Alpine ski resort of Crans-Montana-Aminona, he has witnessed many avalanches but memories of the one that he saw in 1995 are particularly chilling. A snowslide began at the Tubang peak and stopped 4km down in the valley; a snow cloud loomed above the nearby forest. Thankfully, no one was hurt as the area was closed in time.
Meyer's goal is to stop these natural disasters from happening in the first place. Ironically, the best way to do this is by regularly triggering small, controlled avalanches. Meyer and his team hook 5kg bundles of explosives to a cable lift, send them up the mountain and detonate them as soon as they reach the precarious terrain. Another option is to launch the explosives from a helicopter or an open cable car. When the snow accumulates on secluded ridges, Meyer's ski patrollers have no choice but to carry the explosives up the mountain in their backpacks. "We have slopes with southern exposure, so our main goal is to get the maximum amount of snow down during the winter, in order to ensure that there's very little of it in the avalanche-starting zones in the spring," he tells Monocle.
After a heavy snowfall, the crew's day starts as early as 04.00. That way, snowcats – icy-terrain vehicles – can smooth out any spillover from the blasts before visitors reach the area. Supplies are strategically stored in bunkers along the network of ski slopes and it isn't uncommon for the resort to go through a tonne of explosives in a single day.
But the job isn't just about bombs and machinery. Camaraderie and dedication are also essential, says Meyer. On any given day, the ski patrol's tasks can range from installing warning signs to treating stranded skiers when doctors can't reach them fast enough. Aged 54, Meyer is passionate about teaching a younger generation of mountain workers the finer points of the job. Mostly, he says, it's important that they learn how to stay humble when confronted by the power of nature. His favourite mantra? "The avalanche doesn't know that you're an expert."
---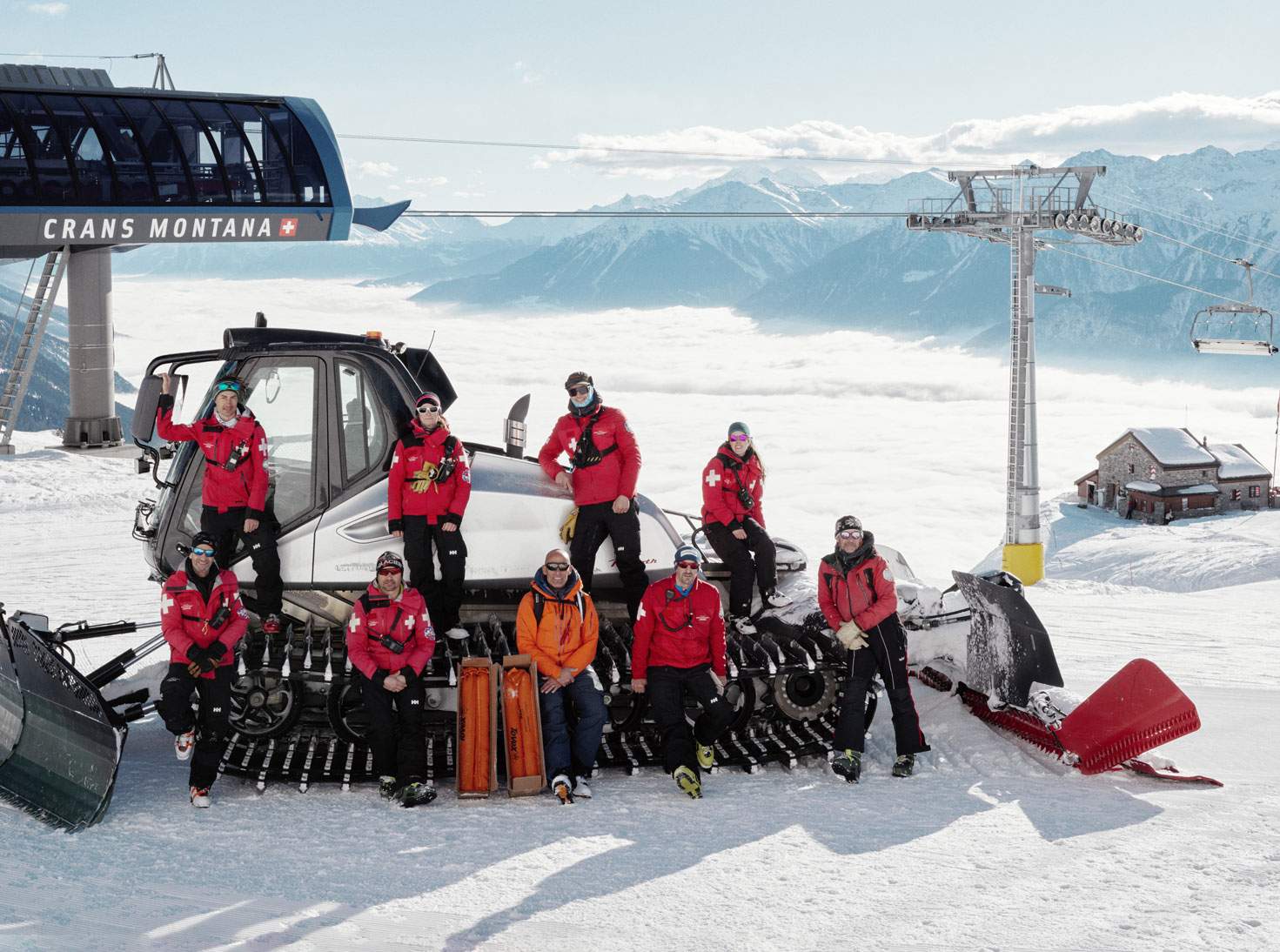 The Cabinet (from left to right)
Mathieu Bonvin
He's in charge of explosives storage at Les Violettes station. He also makes a great pavé au chocolat.
Christophe Glassey
His fingertips are frostbitten after the last mining session. After all, you can't strike a match with gloves on.
Christophe Bonvin
After swapping carpentry for mountain work, he ensures that the area of Cry d'Er is safe for cyclists in the summer and skiers in the winter. 
Isabelle Simon
Her favourite part of the job is working with the explosives.
Fabrice Meyer
Avalanche-security specialist
Meyer's job involves monitoring and co-ordinating avalanche safety in the Swiss municipality of Crans-Montana. He also has vast experience on the ground: he has performed first aid in treacherous conditions and chaperoned lost skiers back to the valley. Being on the slopes has always felt gratifying to him. "Some people hang a Picasso on the wall but I have this panorama," he says, pointing at the spectacular views of the Valais Alps. 
Jonathan Bernard 
He started out in a smaller resort but wanted a challenge. The Plaine Morte glacier certainly offers one.
Michael Meyer 
He began patrolling in Les Diablerets in the canton of Vaud. His father pioneered mountain rescue in Switzerland. 
Maiten Perner 
This is the Swiss-Argentinian's first season patrolling in Switzerland. She loves being the first and last person on the mountain.
Pierre Alain
The retired patrouilleur likes to offer his assistance, even after 42 years of service. For him, it's more of a vocation than a job.