Fashion: Footwear / Paris
Stepping up
When booming shoe brand Veja needed a bigger HQ, it set out to make a space that was good for both the environment and its staff.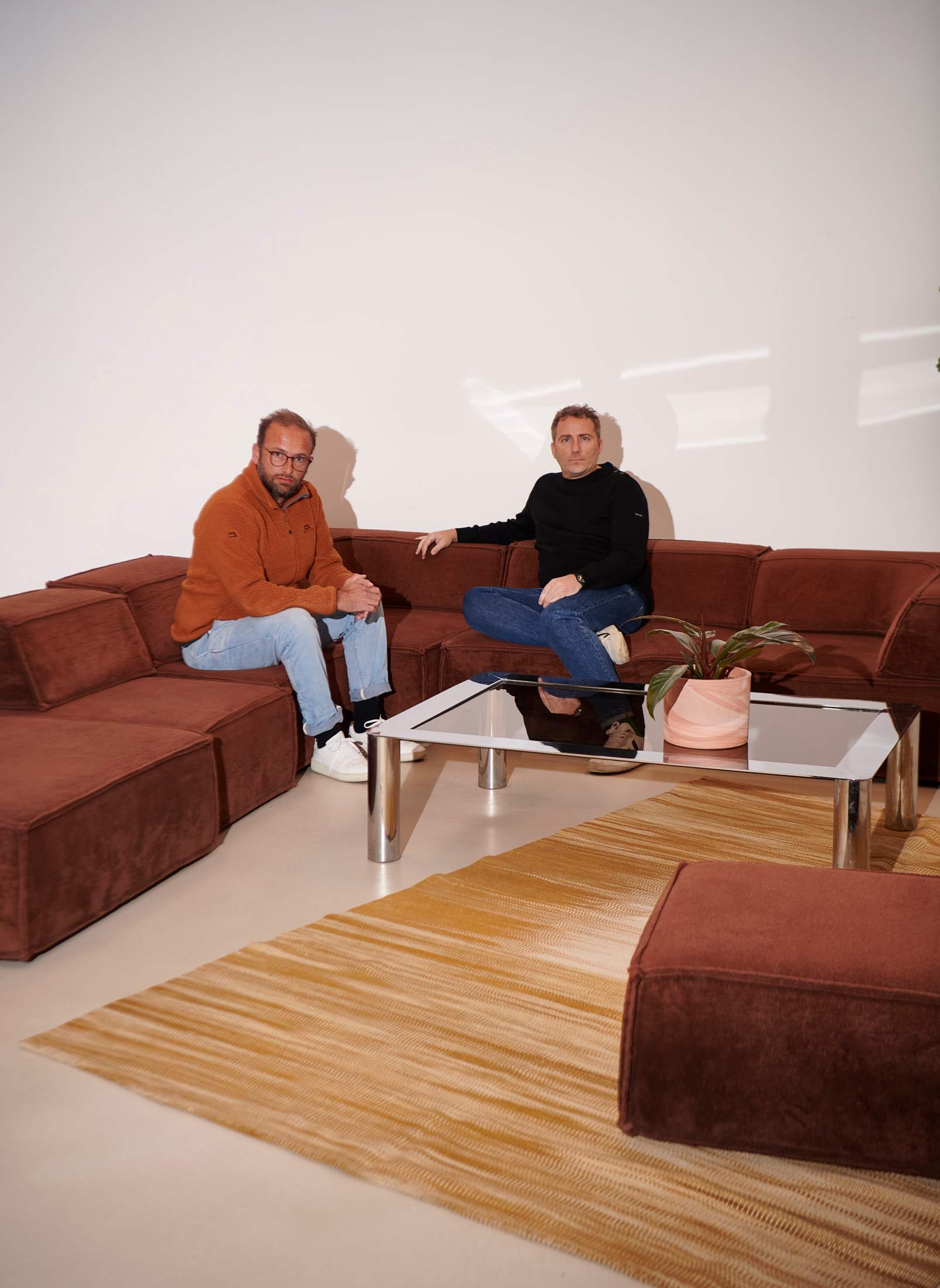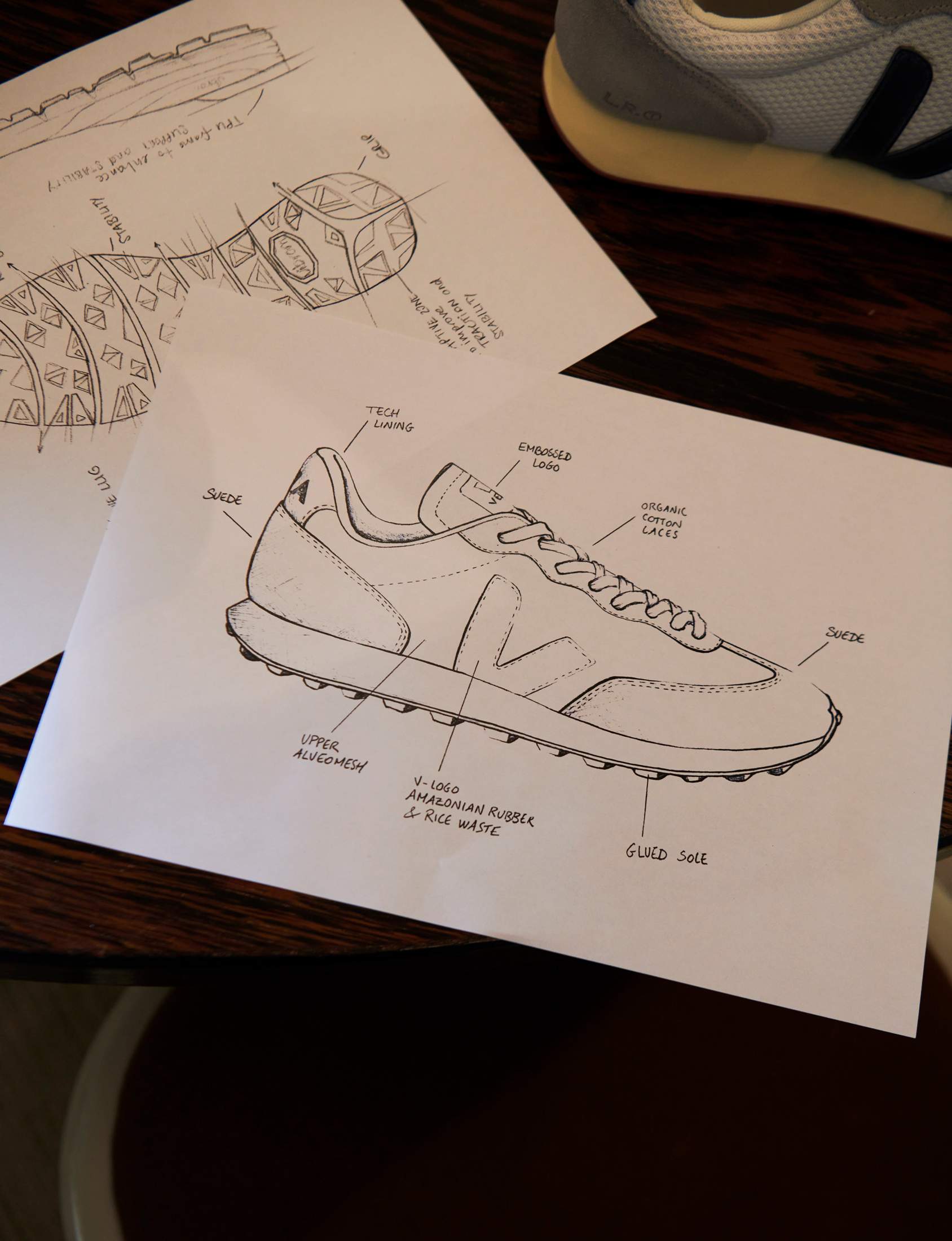 "Veja grew so much during the pandemic that by the time we returned to the office, we had outgrown it," says Sébastien Kopp, co-founder of the trainer label. The Paris-based brand has been gaining momentum since it was founded in 2005 by Kopp and François-Ghislain Morillion with the ambition of introducing the fashion market to footwear made using responsibly sourced materials and creating transparent supply chains. 
Veja was years ahead of its time with sustainability. Now that the rest of the industry is playing catch-up, the brand has evolved into a market leader – its V logo has become as ubiquitous as New Balance's N or Nike's swoosh. Its success is even more impressive given the company's policy of not spending any resources on marketing in order to focus on reinvesting profits in innovations and manufacturing. Revenues have grown from €100m in 2020 to €160m in 2021 and its 400-strong team is now spread across Paris, New York, Porto Alegre and São Paulo. Growth continued in 2022, according to Kopp.
It was time to move to new headquarters, both to reflect the company's evolution from indie start-up to global phenomenon and to make it possible to find a free meeting room. "In our previous office I wouldn't even make an attempt [to book a meeting room]; I'd go straight to a café because there was never space," says Kopp as he ascends a spiral staircase in the vast new space, passing open-plan offices, vintage sofas and tropical plants in terracotta pots. The move was a huge weight off his shoulders. "We feel better now because everyone is comfortable. Before we weren't providing good-enough working conditions." 
On a bustling street near the Gare du Nord, the new headquarters are housed in a 19th-century building once home to the French Communist Party's publishing house, printing copies of daily newspaper L'Humanité for more than 60 years until the early 2000s. "Some of our older clients remember coming here in the 1960s and 1970s to pick up L'Humanité to distribute in the market and shops," says Kopp. In the 2010s the site was home to an advertising agency but, by the time Veja found it, it had been empty for years. "Being able to work in such a building is a luxury," adds Kopp, who was keen on staying in central Paris. "With two stations next door, this is easy for the whole team to access."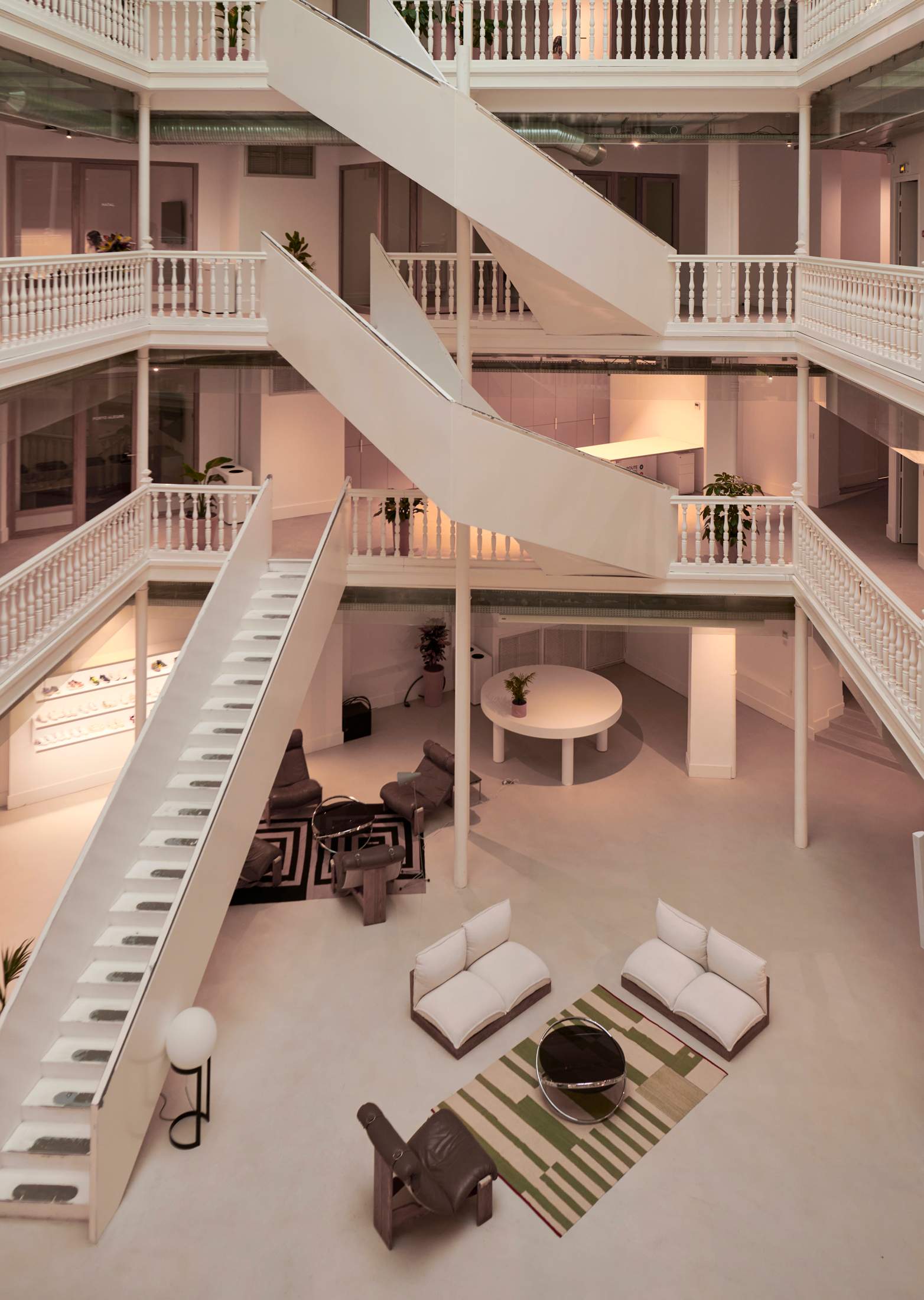 Home to 200 employees, who were previously divided into two offices in the 3rd and 10th arrondissements, the space is spread across 4,200 sq m, leaving room for growth. There are five floors arranged around two glass canopies that allow natural light and create a comfortable environment. Open-plan workspaces overlook a spacious ground-floor area that serves as a showroom and lounge; it also has an in-house vegetarian restaurant.
Veja's forthcoming collections line shelves on white concrete walls, which will soon be filled with photography from the team's regular trips to the Amazon to visit the company's partners and suppliers. There is a photography studio in the basement, where the creative team is always shooting products, while the roof terrace will soon be equipped with tables and chairs for alfresco lunches in the spring.
The restoration works, which took seven months, were entrusted to architect Hugo Haas, a long-time collaborator of the brand who's also behind Veja's sleek shop designs in Paris's 3rd and 18th arrondissements. As one of the founders of Paris-based architecture firm Ciguë, Haas's portfolio includes Aesop shops, the offices of Paris-based luxury designer Christophe Lemaire and interiors for La Samaritaine department store. In his retail projects for Veja, keeping things simple has always been key. "There is a minimalist attitude, so we would try to do as little as possible with each space," says Haas. "The materials we use have a minimum expression, which goes well with Veja's ecological dimension."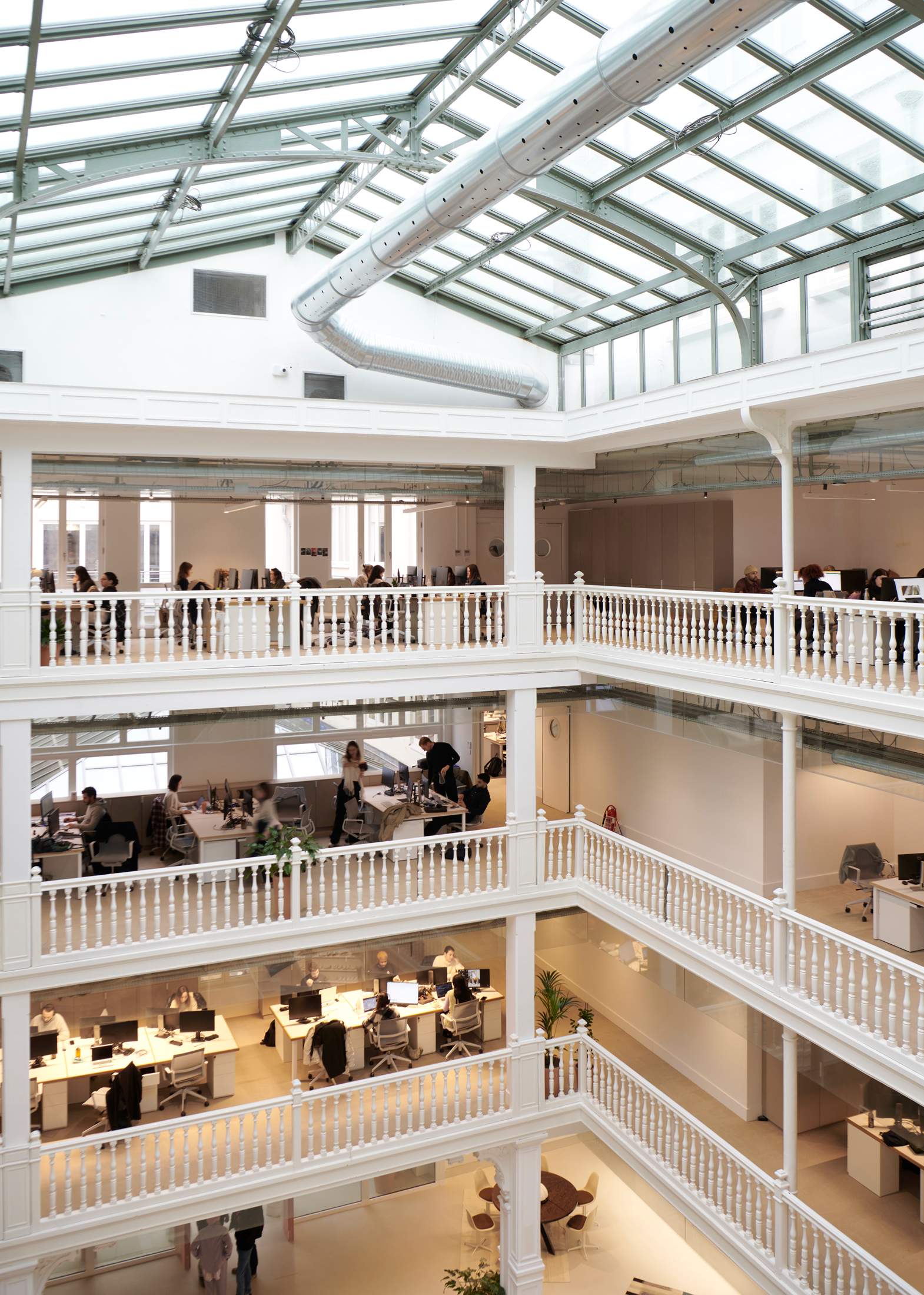 Designing an office, however, was a different undertaking. In Veja's shops, the aim was to make the product shine while architecture played a secondary role. Here the main concern was designing an office that was as pleasant as possible for Veja employees. This involved adding a kitchen, meeting rooms and call booths on every floor – built using natural materials such as oak and tiles. Haas, meanwhile, restricted himself to only sourcing vintage furniture – aside from some custom-made pieces. 
In many cases, practicality was put before aesthetics. One example of this, says Haas, is the use of carpeting (made from recycled polyester yarns) in all workspaces to minimise noise. "It's the first time I've ever used a carpet; I'm not usually a fan," he says. "But acoustically it was important to make the office work." Similarly, the interior design involved using a lot of the existing furniture from the company's former HQ. "We didn't want to waste anything," adds Haas. "What matters is that people are comfortable and that they have access to everything they need."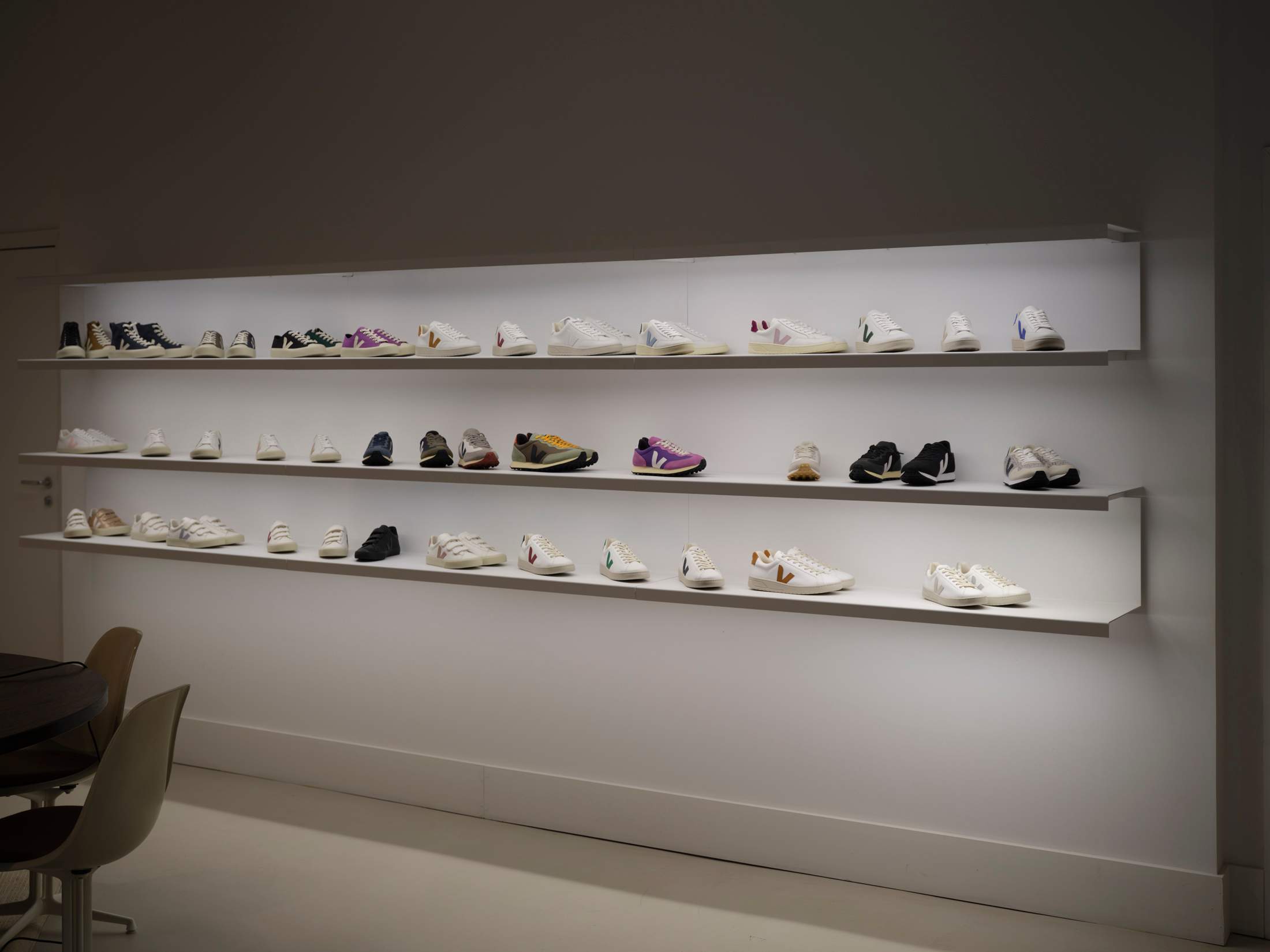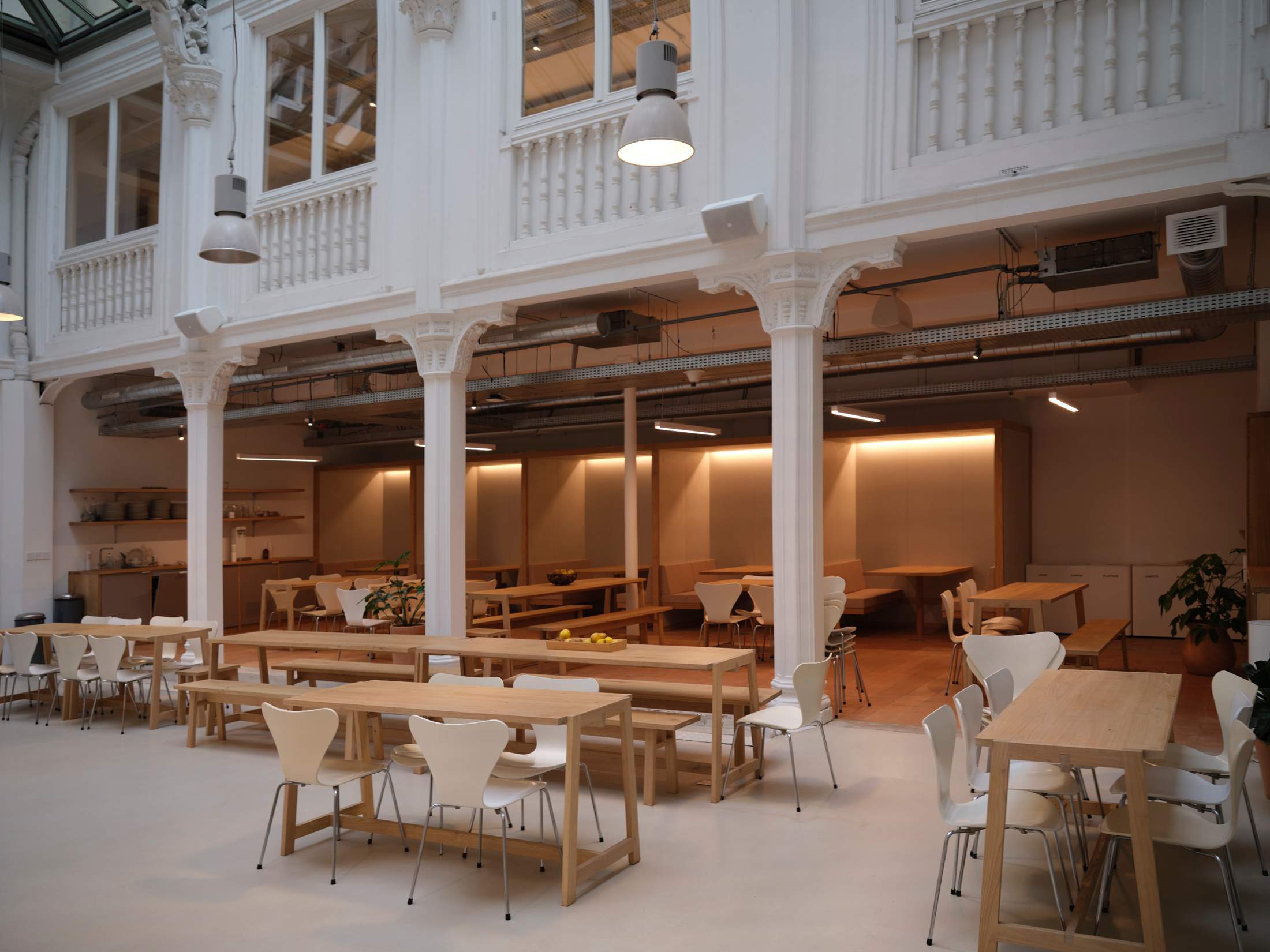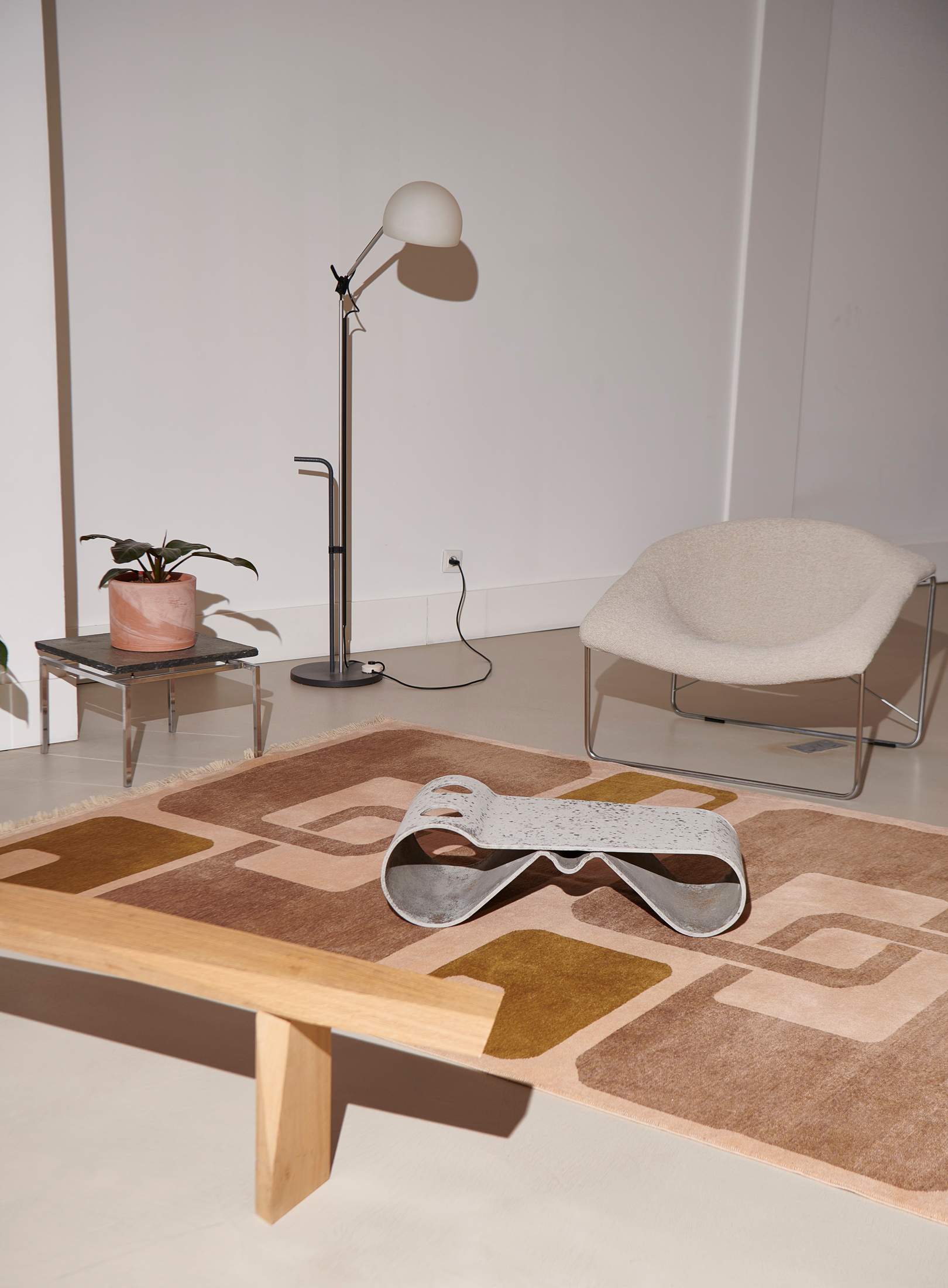 There is also a focus on providing different kinds of spaces for people to work and meet. All of the floors have large, medium and small meeting rooms. A mixed-use space on the ground floor has been designed to accommodate all 200 employees for conferences and the restaurant provides a laid-back setting for events and meetings. Café 146, just for staff, is run by restaurateur Christophe Juville of nearby Lolo Bistro and offers employees a daily selection of affordable vegetarian dishes such as curly kale and white bean soup or black rice salad. 
"I'm not a big fan of working from home. For me, the strength of Veja is in the team"
The creative team is nestled in a quiet corner on the top floor, where Kopp spends a lot of his time working on new designs and checking prototypes. The most exciting new product at the moment is Veja's newly launched hiking shoe. Featuring a black leather body and chunky rubber soles, it's a departure from the brand's tennis-style shoes, but Kopp says it reflects the team's global spirit even better than their signature trainer design. "You can be in New York, São Paulo or Amazonia in the same shoe. It's resistant and, for a change, it's not white."
Another focus for the year ahead is the development of the various repair shops that the brand has opened in Bordeaux, Paris and Berlin. The company trains cobblers to repair old Vejas as well as trainers from other brands. Aside from allowing customers to extend the life of their products, it's also a great way for the brand to understand the weaknesses of its designs and continuously make improvements. "Once a month the creative team meets with five cobblers to discuss the construction of shoes and how we can do better," says Kopp. "Since all they see are the defects, it's a great way for us to improve."
Aside from a renewed focus on repairs, Kopp doesn't like to plan too far ahead, nor does he set annual sales targets. "The only target is to be healthy financially," he says. For now he's taking a moment to celebrate having the entire Paris team under a single roof and making the most of the new office to facilitate teamwork. "I'm not a big fan of working from home," says Kopp. "Designing a trainer remotely was a nightmare. For me, the strength of Veja is in the team. It's the pleasure of seeing each other every day."
veja-store.com