My Cabinet: Bibliothèque Nationale de France / Paris
By the book
The completion of a 15-year library renovation is the end of a chapter for the team behind it – but the bonds they've formed are an ongoing story.
When you walk into the renovated Bibliothèque Nationale de France (bnf) Richelieu building in central Paris, it's impossible to miss the tall shelves and Baroque-style ceiling. But despite this air of old-world sophistication and grandeur, the library is far from exclusive. Even those who don't own a library card can enter the Bibliothèque's new entrance on Rue Vivienne and access the institution's 15.9 million books. "When we renovated the space, we wanted to reconcile the silence needed for research with free access for the public," says Bruno Gaudin, head of Bruno Gaudin Architectes, which in 2007 was tasked with renovating the library. "We wanted to do more than just dust it off."
 It was a Herculean undertaking: 15 years, more than €150m and a rotating cast of collaborators went into the project. Some people, such as Marie de Laubier, who is now director of collections at the bnf, were there at the start, while others joined later. "It was a collaborative project," says Virginie Brégal, a partner at bnf who spearheaded the renovation alongside Gaudin. The team's hard work has clearly paid off; it involved repairing everything from damaged walls and fixing cracked stucco to thinking of new ways to light rooms.
Since reopening in September, the building has come alive again. When monocle visits the library's Oval Room, members of the public are working on laptops, while children peruse picture books. There are also areas reserved for researchers and an upstairs museum displaying cultural artefacts, from original copies of Simone de Beauvoir's The Second Sex to images by revered war photographer Robert Capa. "The fact that the site is beautiful, welcoming and accessible, with a garden and café, helps to attract the public," says Gaudin. "There is more to life than working from home; we need contact with others. Public spaces increasingly have a role to play in creating shared moments."
While the project has now been completed, the team remains close, laughing and catching up as they pose for monocle's photographer. "What enables you to keep going on something like this for 15 years is a shared vision of what it will become," says Brégal. "You have to create bonds – or cement – between people to make them believe in it."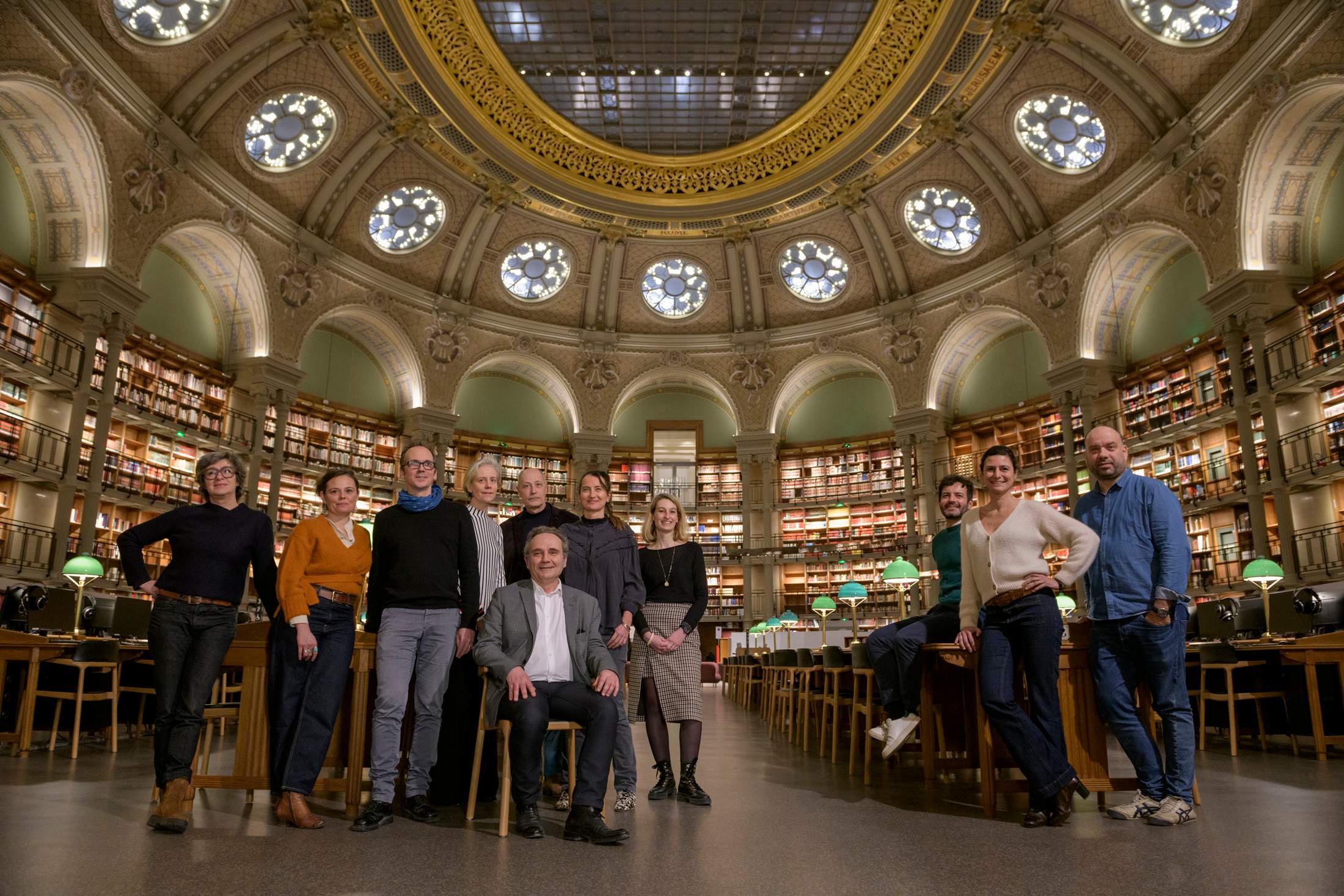 ---
1. Virginie Brégal Partner at Bruno Gaudin
"We have been collaborating for 30 years. She is my right hand and I am her left hand. We work together during the day and live together too."
2. Emmanuelle Sebie Partner, 8'18 Lighting
"Designed the lighting in all of the rooms, including the abstract galaxies that you can see high up in the Oval Room."
3. Olivier Peyrard Project manager at Bruno Gaudin
"Spent eight years on the project and was responsible for the part that includes the Oval Room. He knows everything about the building, down to the smallest details."
4. Marie de Laubier Director of Collections at Bibliothèque Nationale de France (BNF)
"We met her in 2007, when she became our first day-to-day contact as the conservator at the bnf responsible for the project."
5. Guy Garcin Head of operational department at the Operator of the Heritage and Real Estate Projects of Culture 
"Head of a department at the Operator of the Heritage and Real Estate Projects of Culture that oversees multiple projects. This was a highly complex project, so many people there had to be involved."
6. Raphaële le Petit Project manager at Bruno Gaudin
"She was here from the start and later joined Olivier on a different part of the building. Fortunately, they are old friends: instead of competing, they really worked well together."
7. Pauline Ratti Project Manager at Egis 
"She was involved during the study phase [before construction began] when we outlined the work for the construction companies. She understood the project and we got on well, which is important."
8. Louis Jaubertie Assistant to the Richelieu project manager at the BNF
"A conservator by training, he was the assistant to the project manager at the bnf and one of our contacts here."
9. Pauline Prion Project Manager at the Operator of the Heritage and Real Estate Projects of Culture
"Responsible for the project at oppic, working on behalf of the client, the French state."
10. Jérôme Masselot Technical concrete engineer at Egis 
"He is a structural engineer who checked the structures' solidity. We drew the staircase with him to ensure that it worked."