Expo / Naples
Back on track
Launched in 1960 during a wave of postwar, pre-Olympics optimism in Rome, the ETR 252 train was the height of ambitious rail travel. Designed by leading architects, L'Arlecchino boasted jet-age levels of onboard luxury with its 180-degree windows and all First Class seats. Yet how can a retro-futuristic icon keep pace with the innovations of high-speed services and the demands of the 21st-century traveller? Monocle boards a newly refurbished L'Arlecchino for the three-hour trip to Naples – a journey filled with conga lines and brief encounters – to find out.
Beside a brass-and-leather-trimmed bar cart, in the middle of an old locomotive train, a posse of jovial passengers has sprung to their feet and is now holding on to each other's hips or jacket tails as they form an impromptu conga line. In a scene that filmmaker Federico Fellini would have been proud to have staged, a dog-collared Monsignor is following a cream-blazered culture minister and a besuited rail executive through the seemly carriage of the just-renovated etr 252 L'Arlecchino train as we rattle from Rome towards Naples.
One man in the throes of the conga line is Luigi Cantamessa, director of the Fondazione FS, a branch of Italy's state-owned railway company. From the carnival atmosphere onboard it's clear that he's excited about the relaunch of this iconic green-and-grey classic but that's also because trains represent something rather important in Italy. "Our railway services are a state within a state," he said recently about the foundation's unimpeachable position in national life.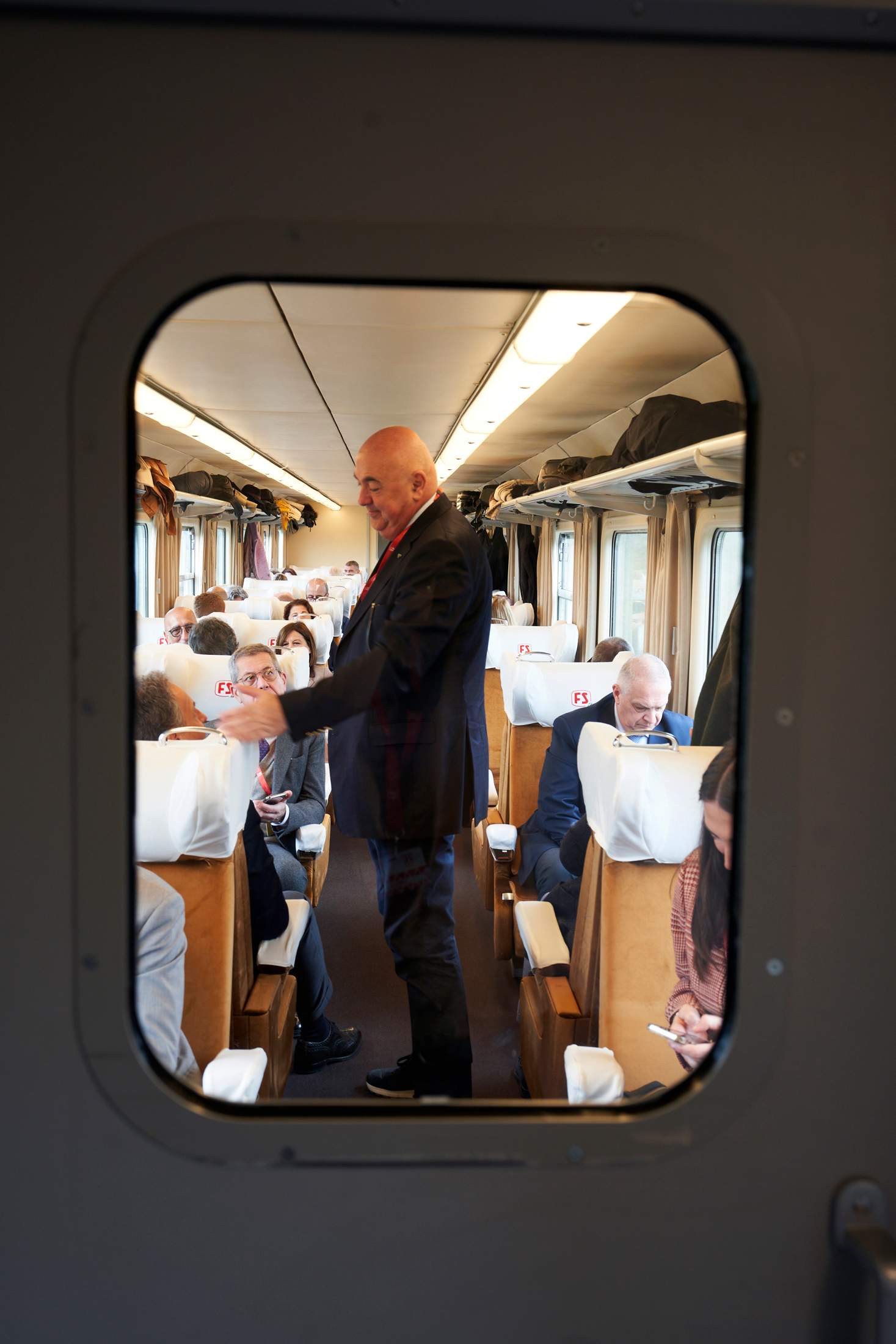 Political leaders and parties come and go but trains remain a unifying symbol of Italian nationhood. Perhaps that's understandable in a country of such vast regional differences and disparities which only unified in 1871. The association between Italy's fascist leader, Benito Mussolini – who famously got the trains to run on time, though that's not what he should be remembered for – and railways endures but, even now, they remain a platform for politics. "Trains," Cantamessa has said, "are at the heart of what it means to be Italian."
The pomp and pageantry onboard is to mark the tenth anniversary of Fondazione FS; the company is in the process of trying to restore and revitalise Italy's heritage rail infrastructure. monocle boards L'Arlecchino promptly at 08.30 at Ostiense station to experience the benefits of taking in our surroundings a little more slowly. Our three-hour journey would take little more than an hour on modern, high-speed services. 
Named after the colourful Harlequin figure of 16th-century Italian theatre, L'Arlecchino launched in 1960, ahead of the Summer Olympics in Rome, and captured a moment of breezy optimism in Italy; of economic postwar miracle. Architects Gio Ponti and Giulio Minoletti were charged with designing the interiors and branding, while the engine's shape, with its aerodynamic nods to the jet age, was modelled on the larger etr 300 Settebello from the 1950s. L'Arlecchino was one of four built as part of a First Class-only fleet of high-speed (for the time) trains that celebrated travelling in style.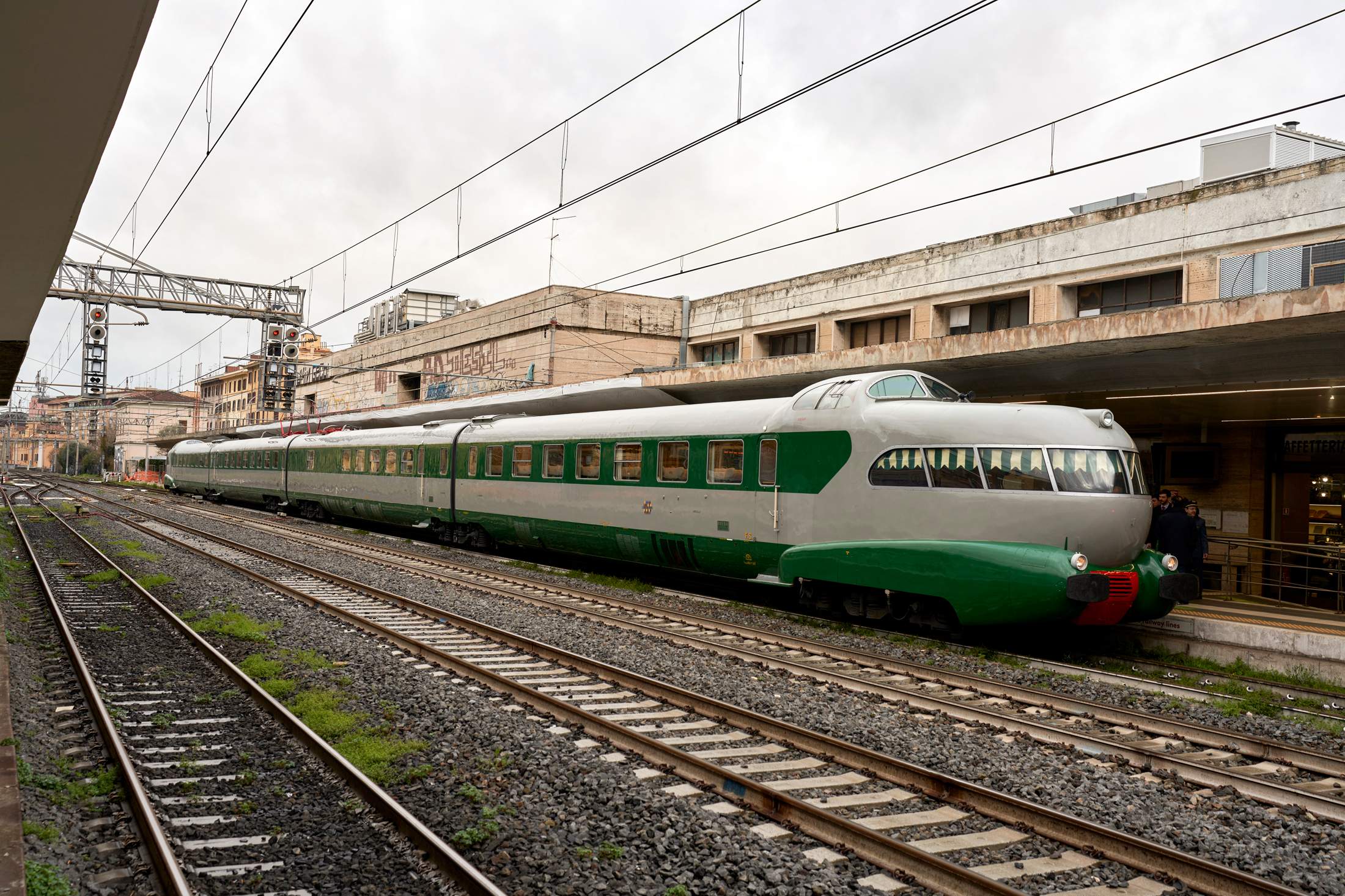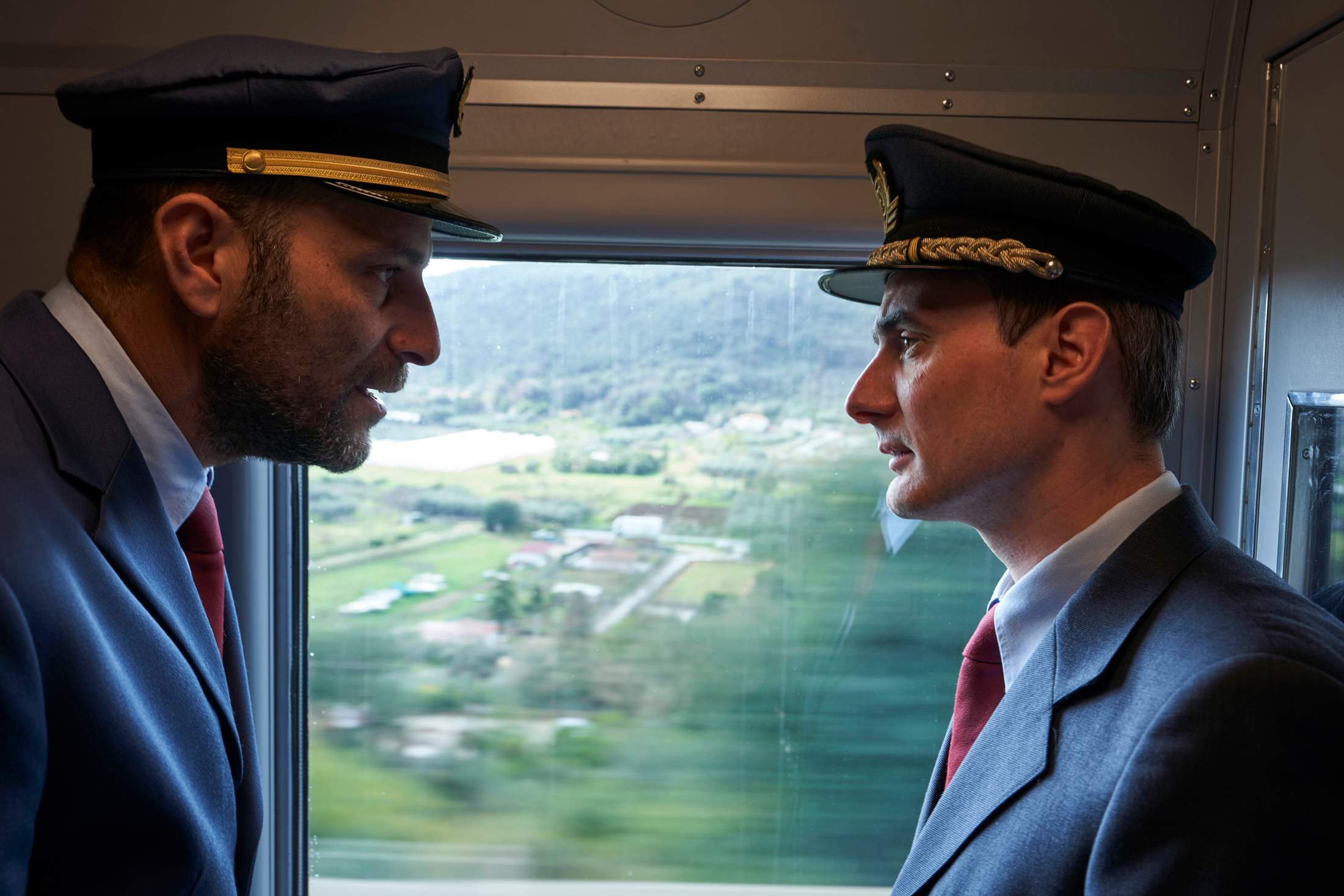 The etr 252's quirky design was revolutionary, with drivers' cabins at each end that perched the driver up high. This decision created panoramic lounges and views for any passenger who was sharp-elbowed enough to commandeer the swivel chairs (from which you are today encouraged to enjoy a cocktail muddled by the on-board barman). Meanwhile, each of the carriages was colour-themed in blue, gold, red and green, respectively, and each of the 170 seats was designed to be First Class. 
Today the train's gleaming, retro-futuristic appearance belies the painstaking effort that's gone into its renovation. "As time goes by the numbers of any particular type of train decreases," says lead engineer Riccardo Natali, who wears tellingly clean vintage overalls. It's clear that this one-off has a special place in his heart. "Any trains that survive this long require an increasing amount of care." Until 2020, this L'Arlecchino lay graffitied, stripped of its seats and interiors, and derelict in a railyard, its curvy carapace the only hint of the design's important history. "We have to be innovative to restore a train like this," he says. "You have to mix technologies from different eras." Aside from helping the 60-year-old engine hum again, Natali relished learning about the softer side of train design in the 1960s. "The velvets that we used were selected to meet all the requirements of modern standards and are of a better quality than period textiles," adds the engineer, his aspect suddenly softening.
You don't need to be onboard L'Arlecchino for long before realising that the design of this train is about so much more than getting from A to B. It's really about the enjoyment of travel, of seeing and being seen. As if to prove the point, monocle spots politician and entrepreneur Daniela Santanchè – a chum of former prime minister Silvio Berlusconi – swivelling on her chair in the front-facing lounge on this anniversary special journey. She's also the government's minister for tourism. "This is not transport," she says, taking in the blurred landscape of suburban Naples from the panoramic windows. "This is travel."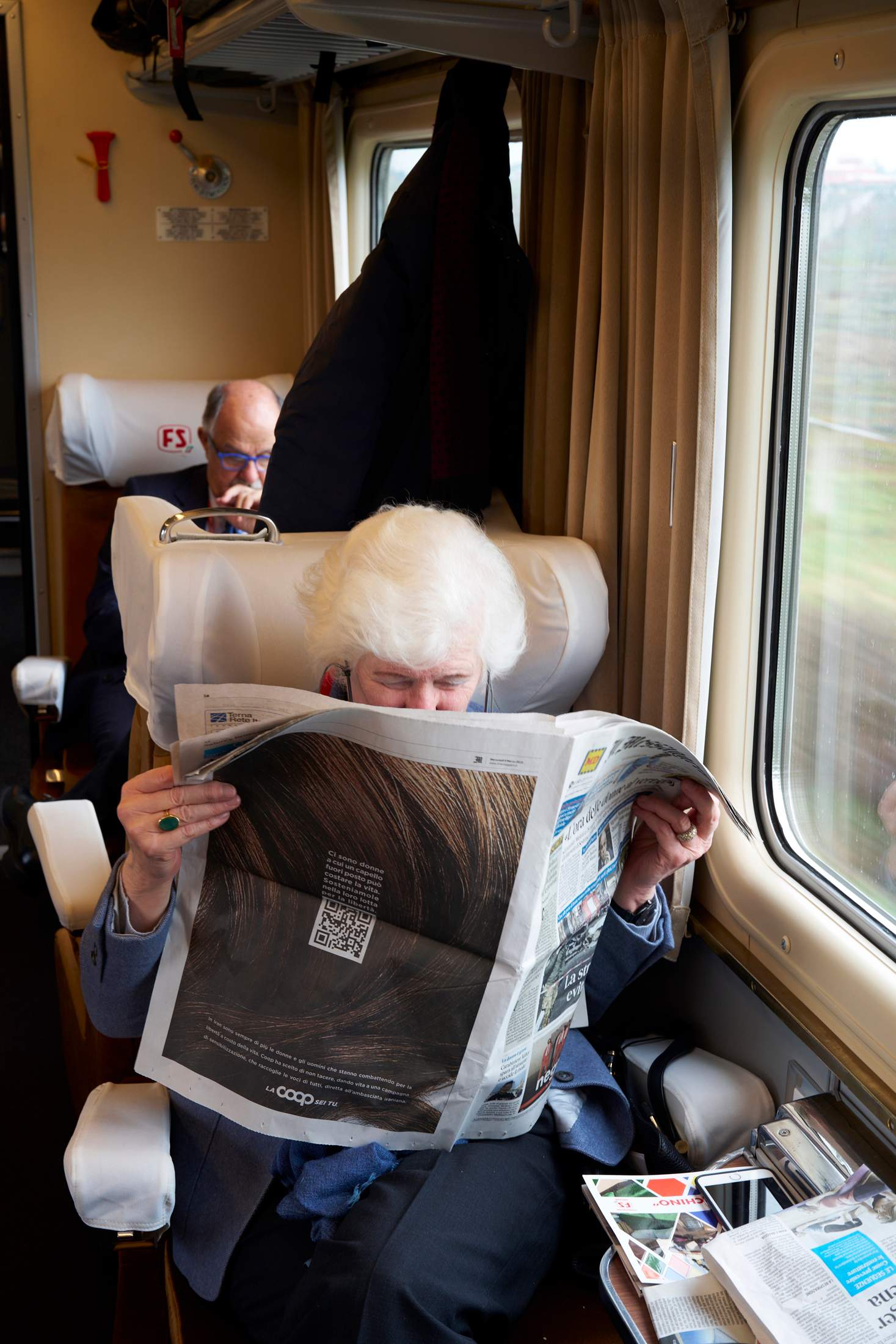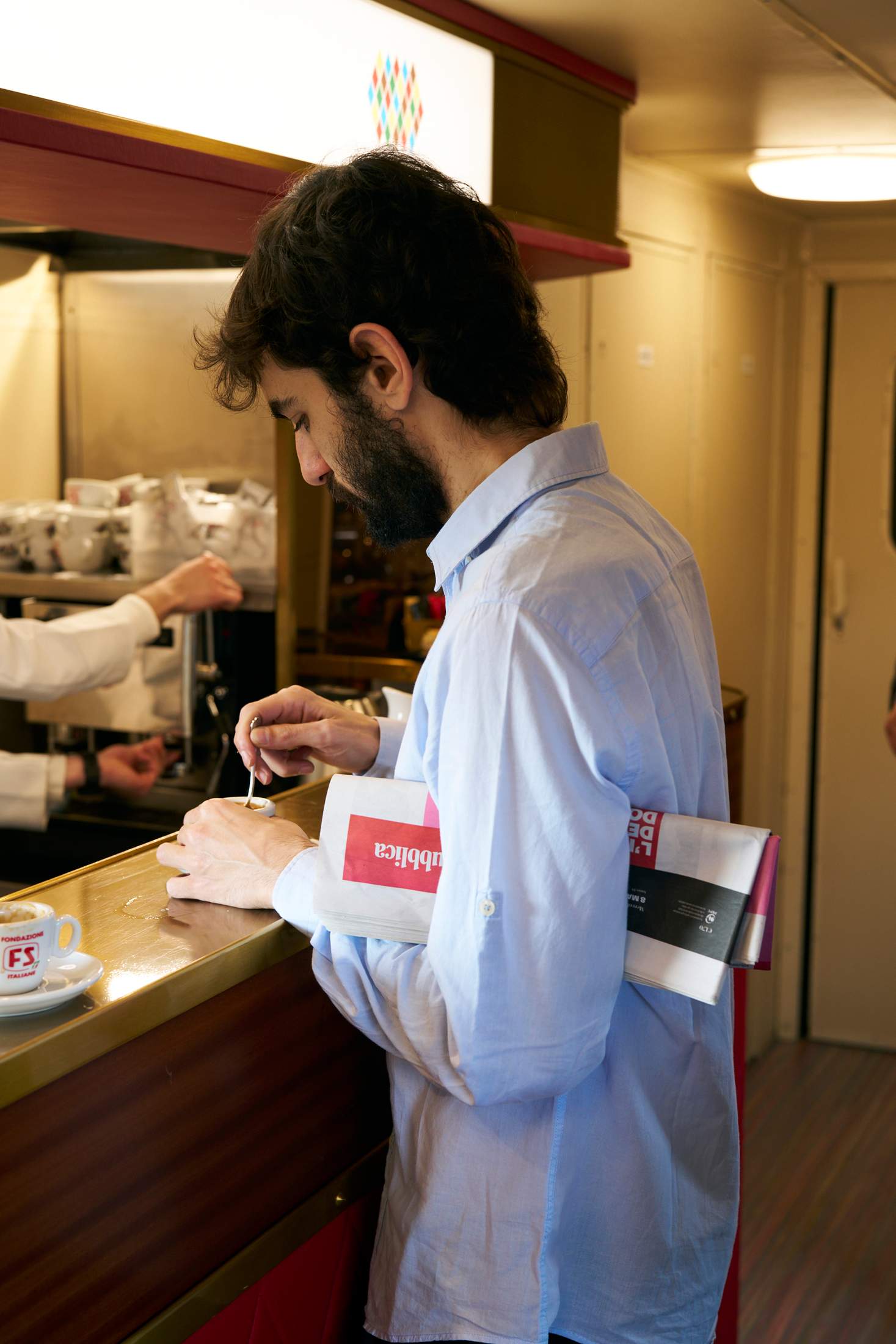 In Italy, reading the paper on the train still transcends generations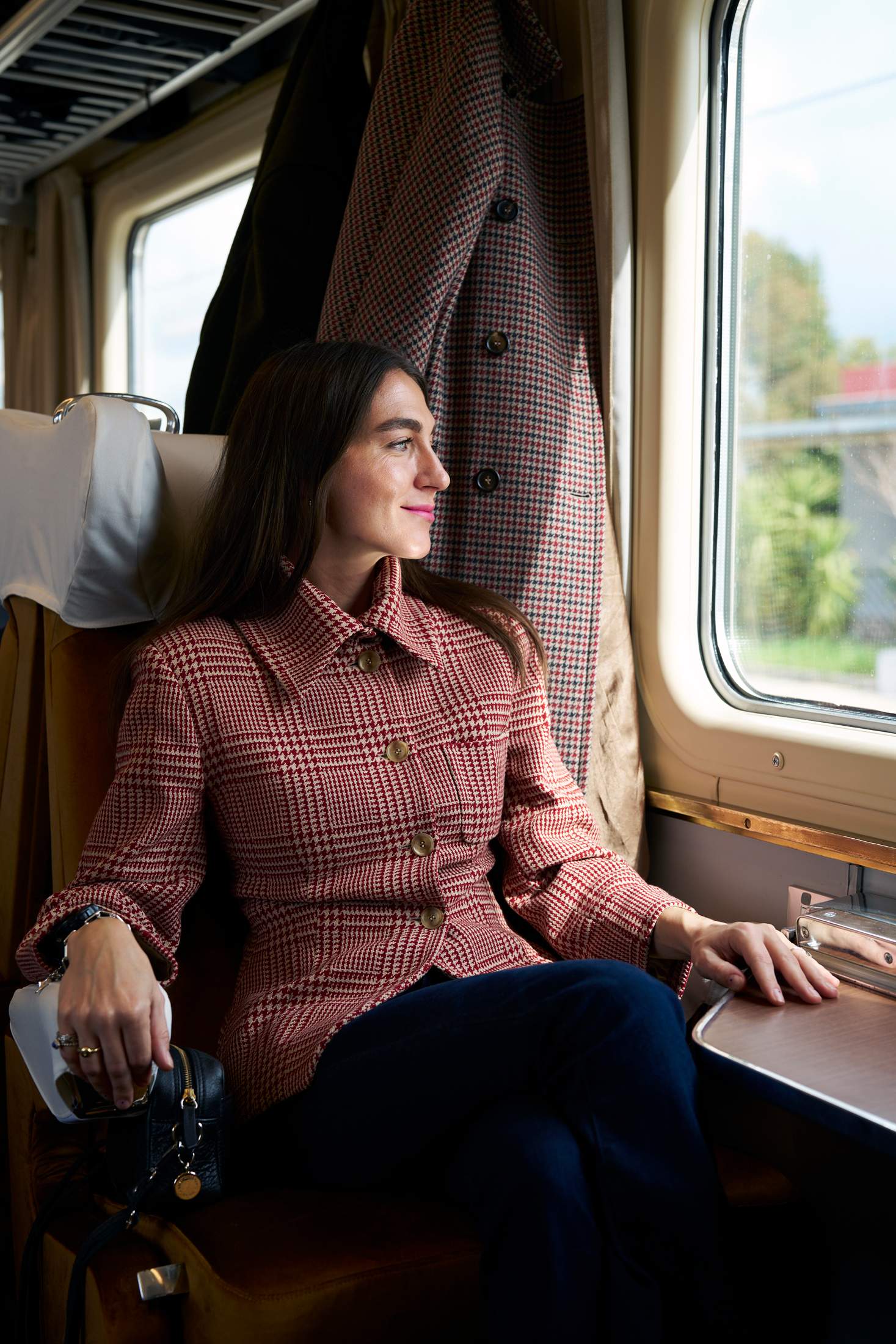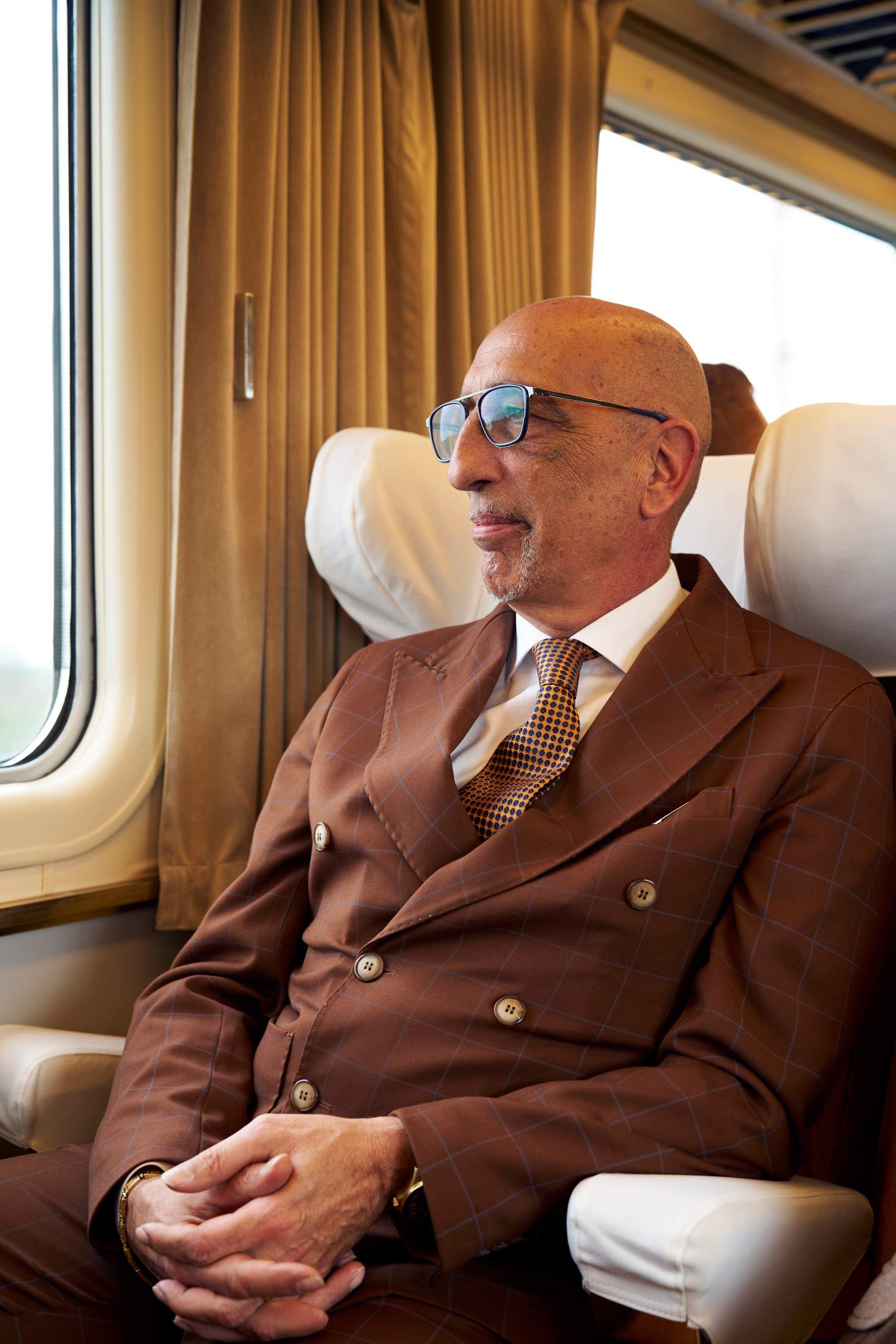 Onboard the Arlecchino, comfy seats are mandatory; tweed, however, is not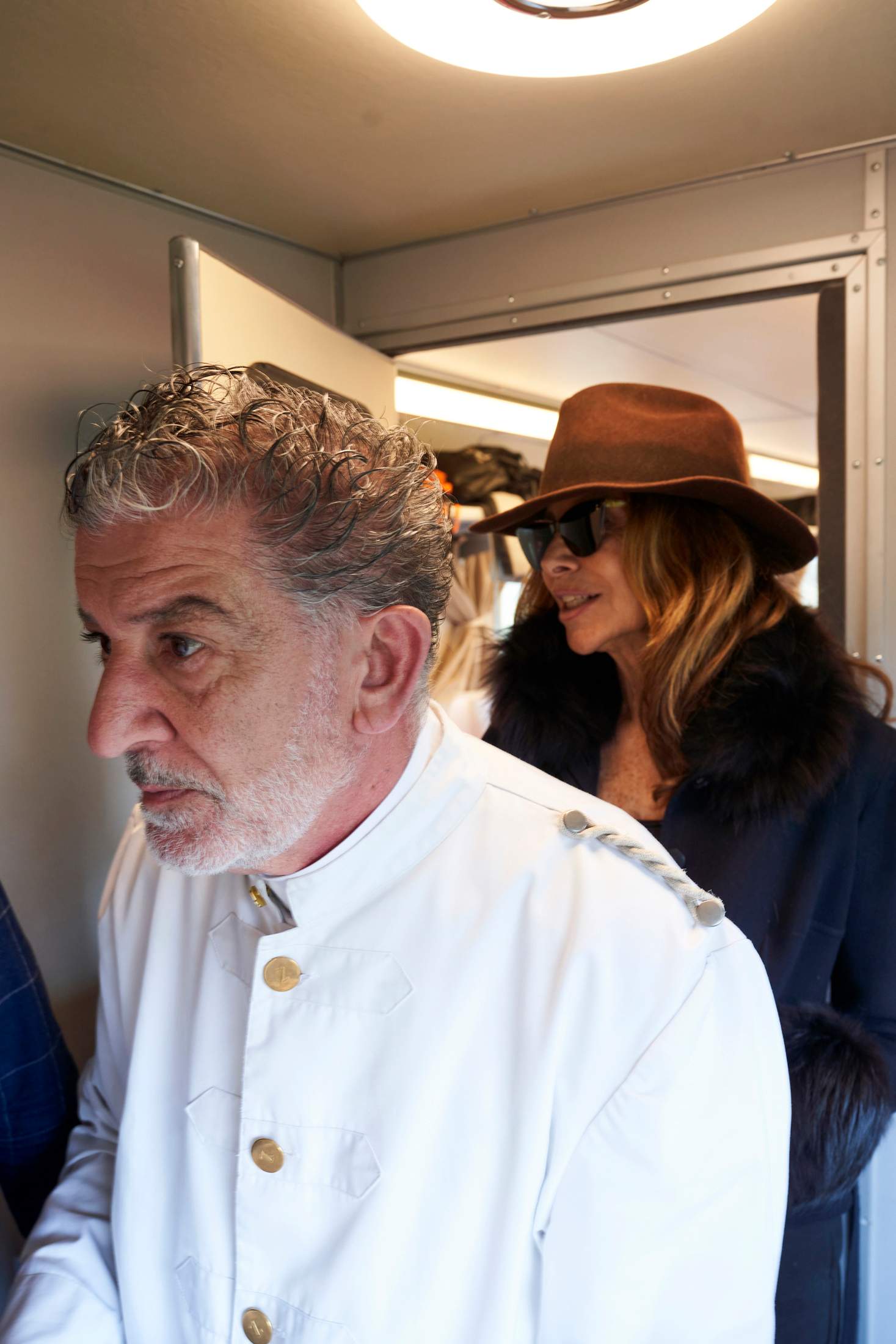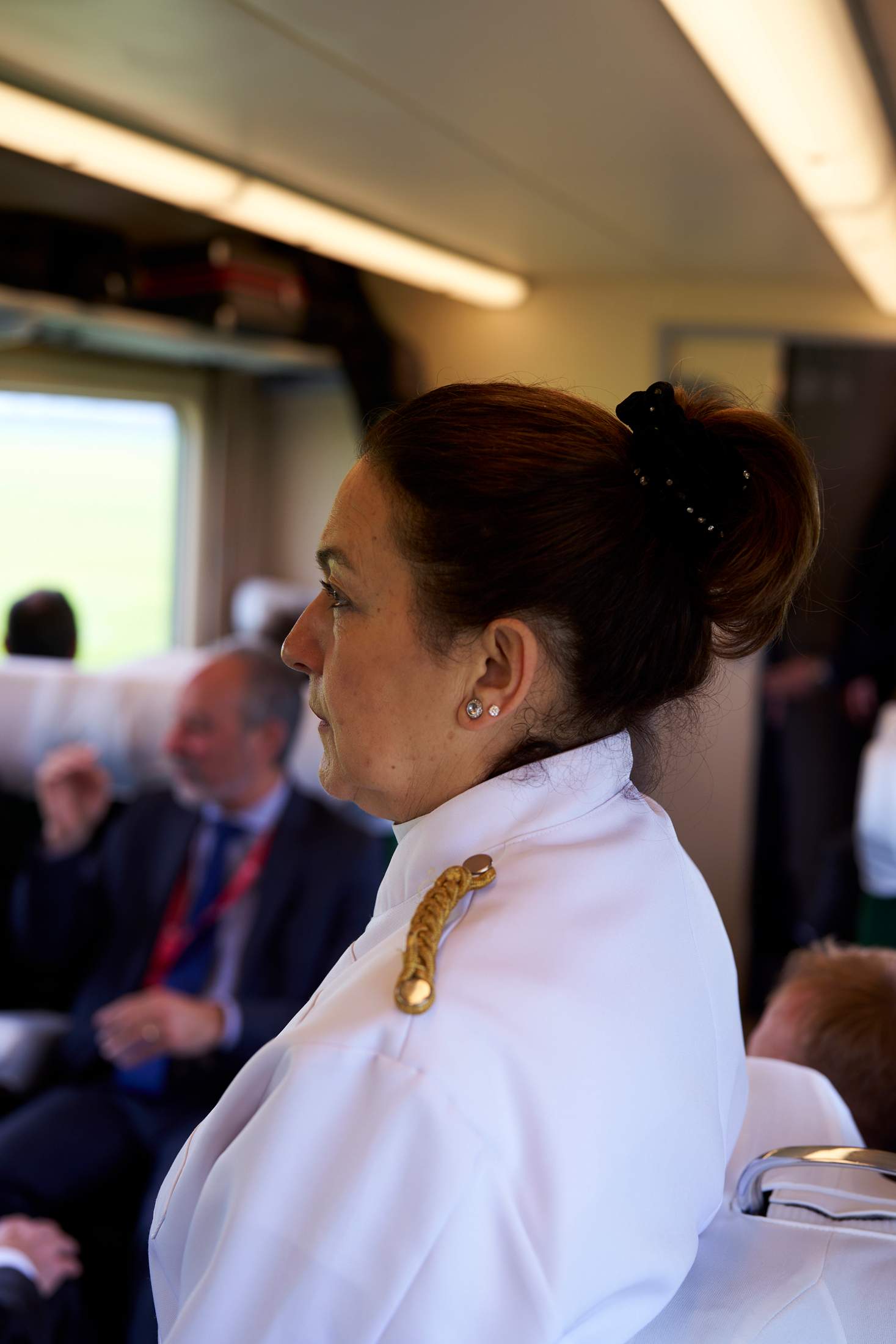 A team of waiters is onboard to help, if they could kindly get through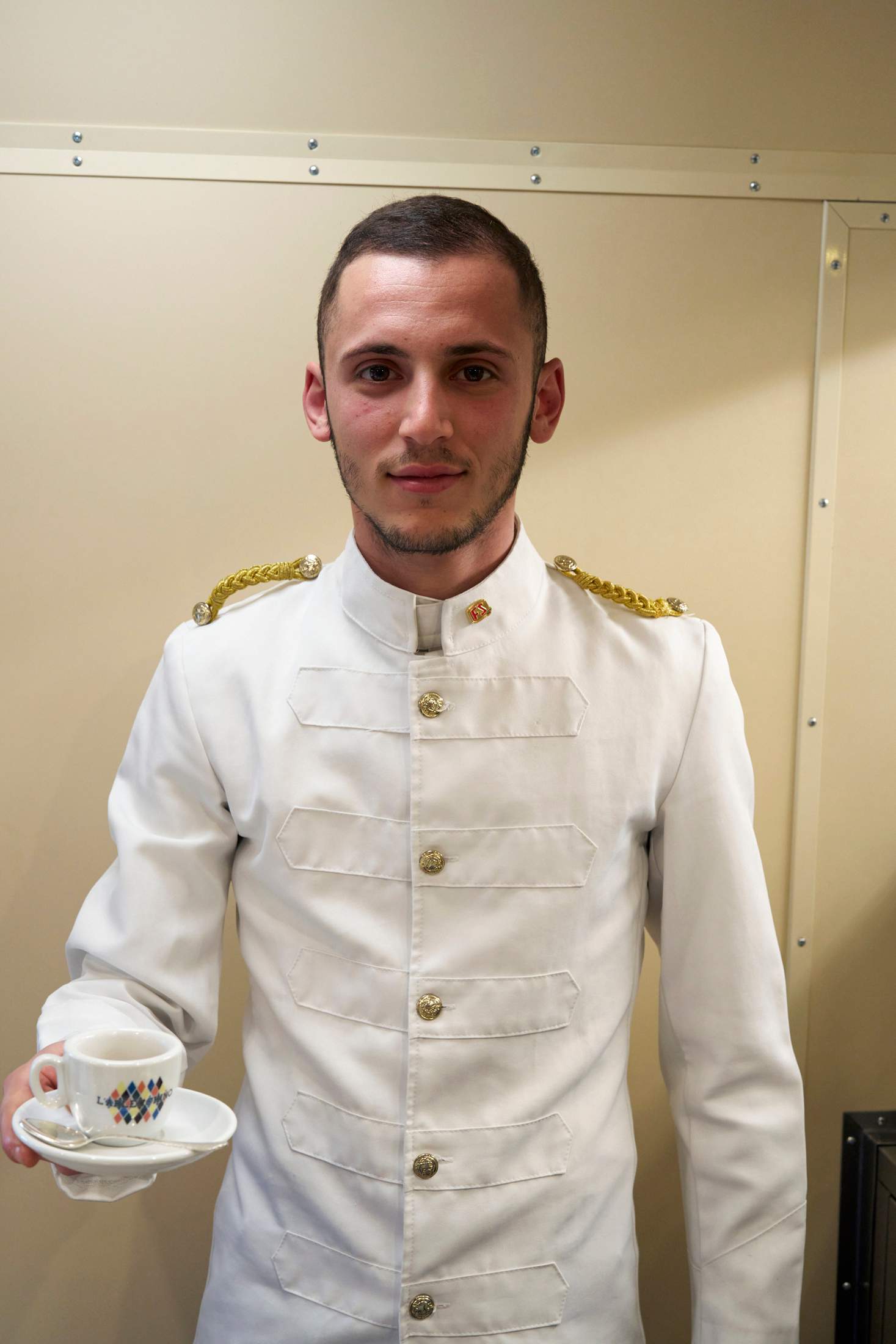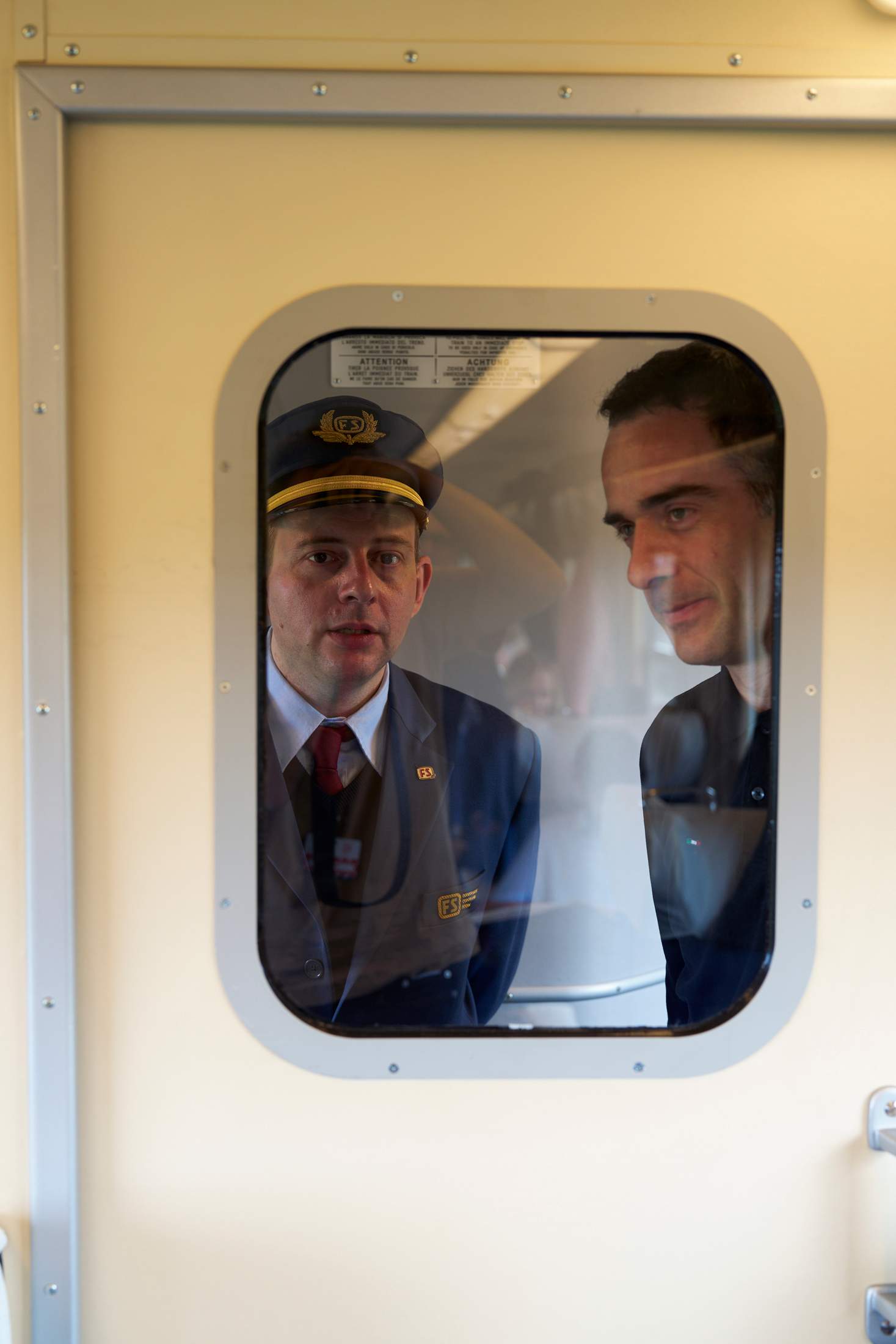 'Caffè, signori?'
Behind the minister, the windows are decorated with jolly, green-and-white-striped sun blinds with a wiggly trim. As we talk, a man in a starched white uniform appears and offers us diamond-shaped biscuits, iced brightly to match the train's vibrant interiors and served in silver bowls bearing the FS insignia. Like the branding of the larger Settebello model in the fleet, there's a fine line between gaudiness and good taste. If, as Cantamessa says, FS is a little like a state within a state, then travelling on L'Arlecchino is akin to flying on Air Force One: it's a statement of prestige and Fondazione FS only plans to use L'Arlecchino for very specific trips. 
Santanchè says with considerable glee that tickets for a short ride from Venice to Trieste in 2022 "sold out in less than 24 hours". The train is available to charter – one to book for your corporate awayday maybe? A moving wedding venue perhaps? In truth, it's hard to imagine a practical everyday use for this strange, old, mid-century bird. 
As we pass the commune of Pozzuoli on the outskirts of Naples, the train begins to chug a little – as if it's breathing deeply. Natali informs monocle that the train is no slouch, with a maximum speed of 160km/h, but the modern Frecciarossa fleets that crisscross the country regularly reach speeds of 300km/h. Though the etr 252 has not been surpassed in ambition, it has been swiftly overtaken by what's possible. "Our objective is not [always] about getting to the destination quickly," says Natali. "It's to enjoy the journey." 
With those words ringing in our ears, our carriage emerges from a dark tunnel and a gap between buildings offers a postcard-pretty glimpse of the Bay of Naples with Capri and Ischia in the distance. The hum of the carriage falls silent as the old engine chunters on towards its final destination. Santanchè is right: this is travel.