My cabinet: Parque Bondinho / Global
Cable network
Ferrying thousands to the summit of Sugarloaf might seem like a tall order in itself. But Rio's cable-car team will move mountains for their visitors.
Few attractions evoke the history and atmosphere of a city as precisely as the Sugarloaf cable car in Rio de Janeiro. The bondinho has bolstered the city's image abroad, appearing in everything from 1979 James Bond film Moonraker to The Simpsons. But for residents, the gondola – which connects the Praia Vermelha beach to the Urca hill and the peak of Sugarloaf mountain, some 396 metres above sea level – symbolises a way of life too. Nestled in the heart of an urban neighbourhood but surrounded by vast swathes of Atlantic forest, it has come to represent the close relationship between Rio's citizens and the natural world.
Parque Bondinho's 400-strong team can transport up to 1,200 passengers an hour. They make the operation look easy but their jobs are far from simple. From looking after mechanical issues to hosting events and telling visitors about the history of the location, their work is never done. "We have a very big responsibility to make continuous improvements in the operation and maintenance of the park," says Parque Bondinho's general manager, Gustavo Maciel. 
Of course, safety has always been a priority. One of the oldest active cable cars in the world, the bondinho, which runs every 20 minutes, has never been involved in a serious incident. And though the system has been in place for more than a century, its cabins, pulleys and stations are regularly upgraded. "We have the best technology in place," says Maciel. According to the general manager, the technical team here is capable and highly respected, even among manufacturers and managers of similar systems outside Brazil. 
Parque Bondinho's remit goes well beyond mechanics. The customer services team, for example, is key to entertaining and guiding the park's 1.6 million annual visitors, while the management team oversees waste collection and energy supplies. 
There's also a lively cultural calendar in place throughout the year, thanks to a pioneering attitude that Maciel sees as crucial in maintaining Sugarloaf's legacy and upholding the park's symbolic status both at home and abroad. "As time goes by, we see ourselves as more and more cutting edge," he says.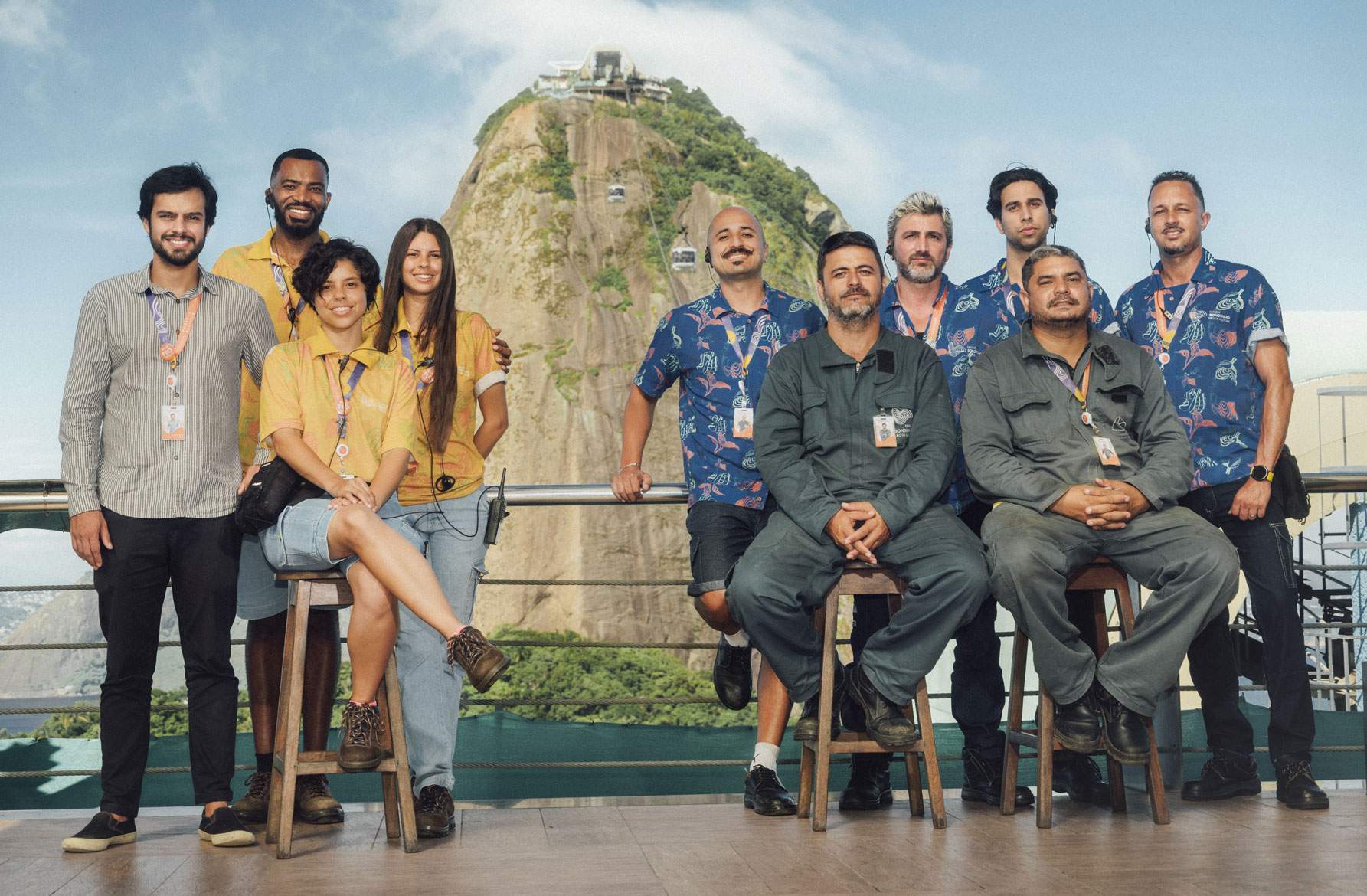 The Cabinet (from left to right)
Gustavo Maciel
General manager
Maciel was born in the agricultural hub of Goiânia but soon traded life in the Brazilian midwest for the coast. In his daily commute, he now gets to take the cable car up the 227-metre-high Urca hill, where he oversees the Parque Bondinho team. As far as nine-to-five jobs go, it's not a bad gig. "It is a great privilege to work in a spot with such incredible natural beauty," says Maciel. 
Higor Carvalho 
Customer service assistant 
"He tells visitors about the history of the Sugarloaf mountain and Rio de Janeiro."
Stephany Cavalcante
Customer service assistant 
"She always seems to be on the move."
Yasmin Magalhães 
Visitor attendant
"On a peak weekend, we welcome up to 6,000 visitors. Yasmin finds that gratifying." 
Marlon Sandro Silvestre 
Cable-car operator
"Knows what to do if the machinery won't work." 
Fernando Duarte
Machines operator
"He watches a different kind of sunset here every day."
Laurênio Werberg
Machines operator
"He has been here for 21 years, so his team have been working together for a long time."
Mateus Couto 
Cable-car operator 
"His father has been working here for 20 years, and Mateus followed his lead."
Augusto Ferraz
Machines operator
"He never feels tired when looking at this [natural] wonder."
José Carlos Torquato 
Cable-car operator 
"When tourists tell him that our service is well organised, it makes him feel proud."