Fashion: Retail & design / Copenhagen
Wear it's at
The Danish capital has become a fashion and retail powerhouse. We visit new menswear shop Goods, then meet the talent driving a wave of creativity and edgy style.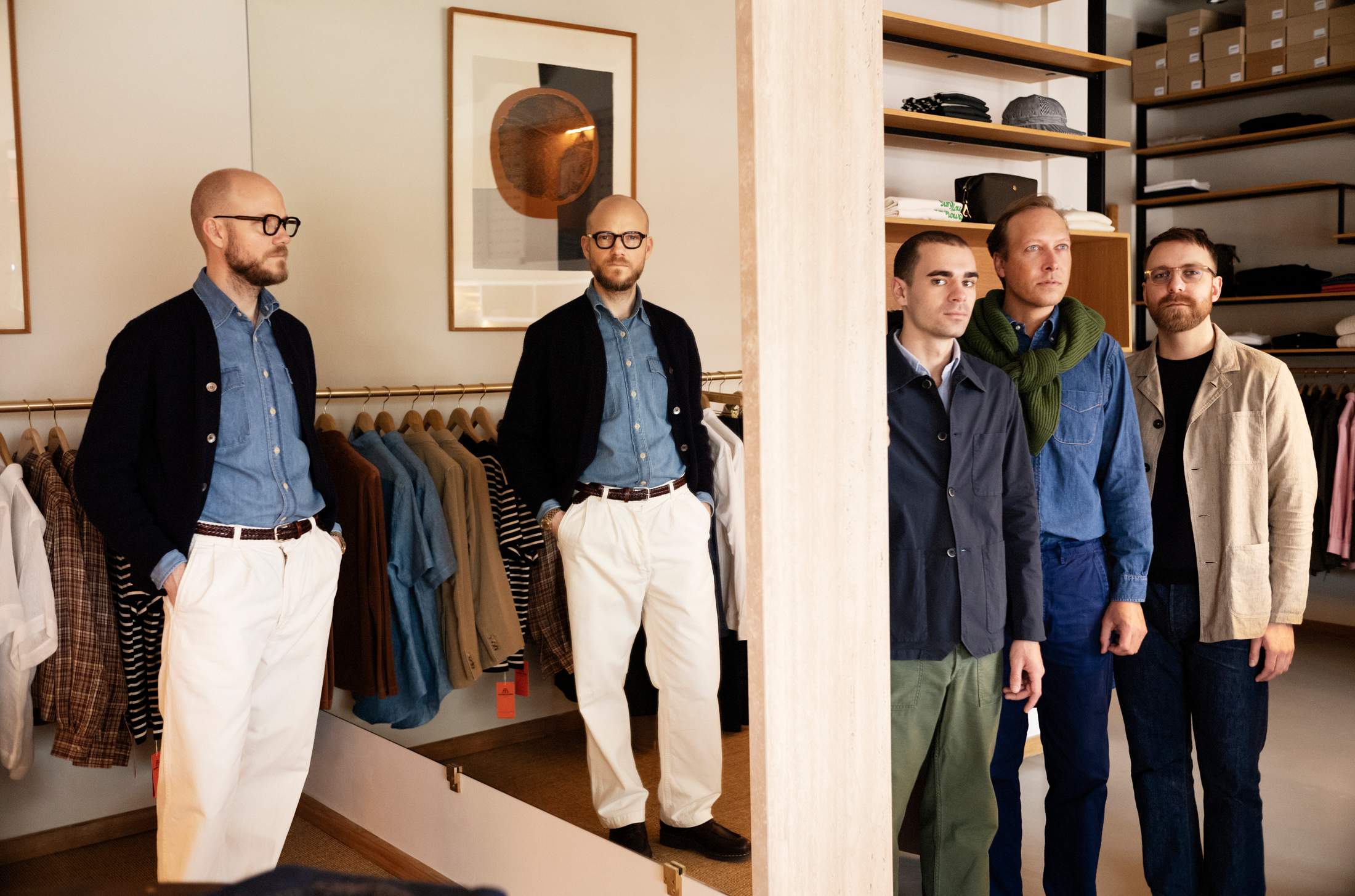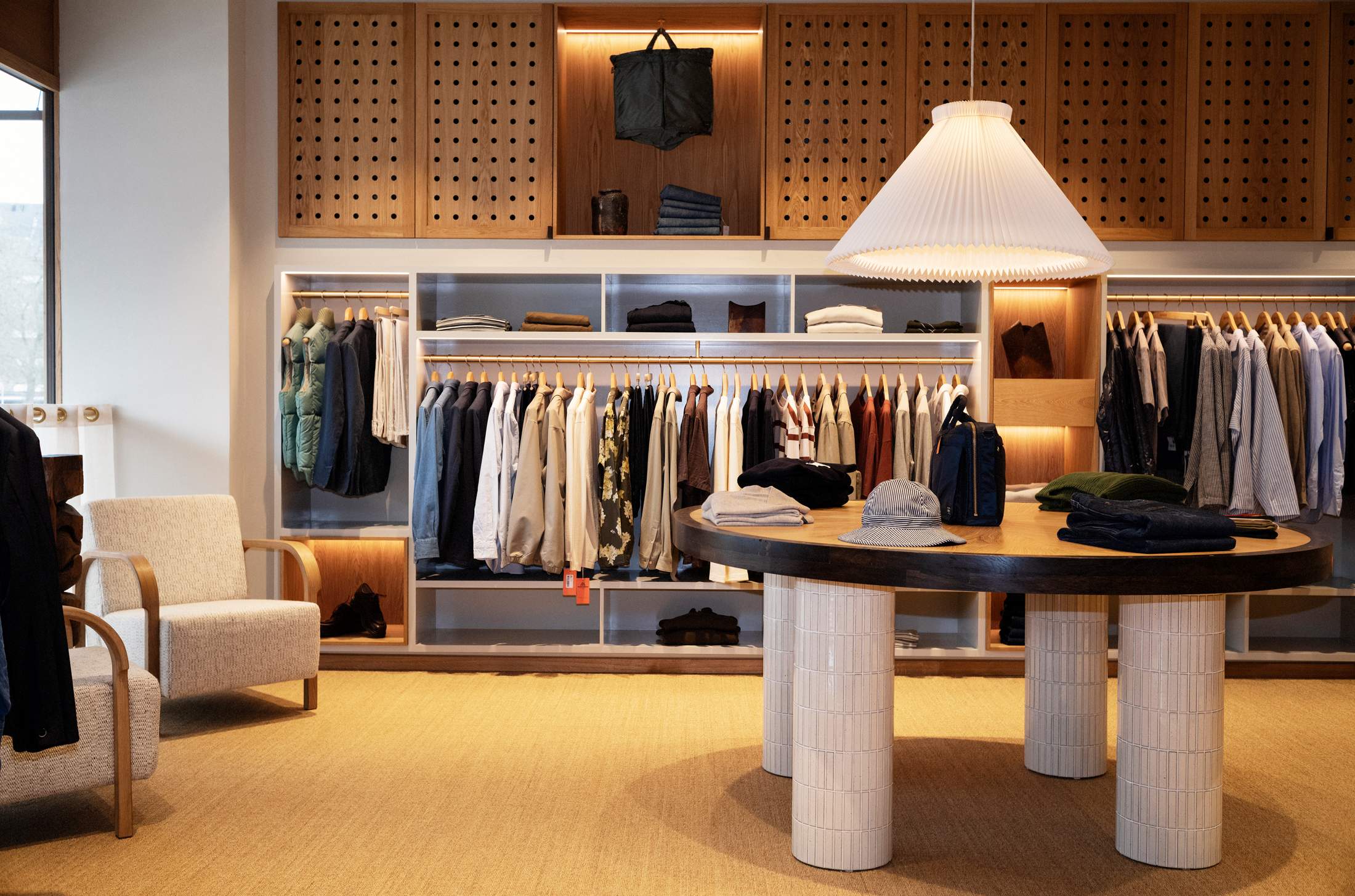 01.
New retail:
Goods is, well, very good
Julius Nielsen, an architect and Copenhagen resident, has been stocking his wardrobe from menswear store Goods for the past 15 years. He discovered the independent outpost when it opened in 2008, in a basement close to his Østerbro home. It was the shop's selection of timeless, well-crafted clothes from Denmark and beyond that first drew him in. But he also got to know the shop's staff and formed friendships; it's now a regular habit to drop by for a coffee on his way home from work. "Goods quickly established itself as an intrinsic part of the neighbourhood," he says. "It became more than a regular clothing shop."
Fast-forward to 2023 and Nielsen is working alongside Goods founder Kasper Hostrup on the shop's first major redevelopment in years. After buying a neighbouring lot on Østerbrogade, the shop is expanding and introducing an elegant new look. "It was important that the redesign was in the hands of someone who knew the shop well," says Hostrup, who has been the driving force behind the business's customer-centric ethos and ongoing growth. He takes monocle on a tour of his newly refurbished shop, sharing his ambitions behind the redevelopment project: to reaffirm Goods' position as a leading menswear retailer. "Physical retail is as much about product as it is about atmosphere," he says, adding that he has been aiming for a gentle refresh rather than a complete overhaul. "We wanted the expansion to feel as natural as possible to our customers."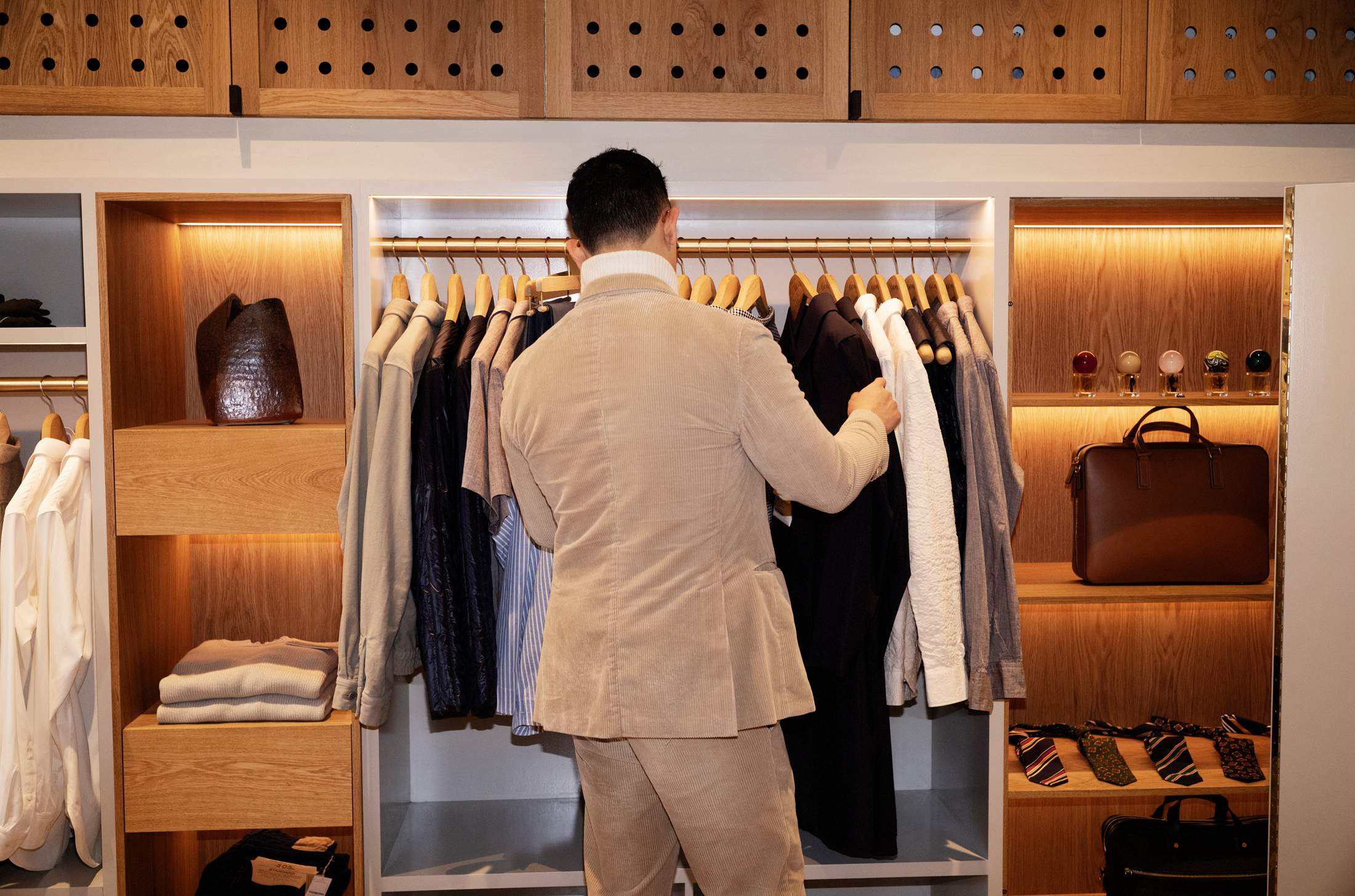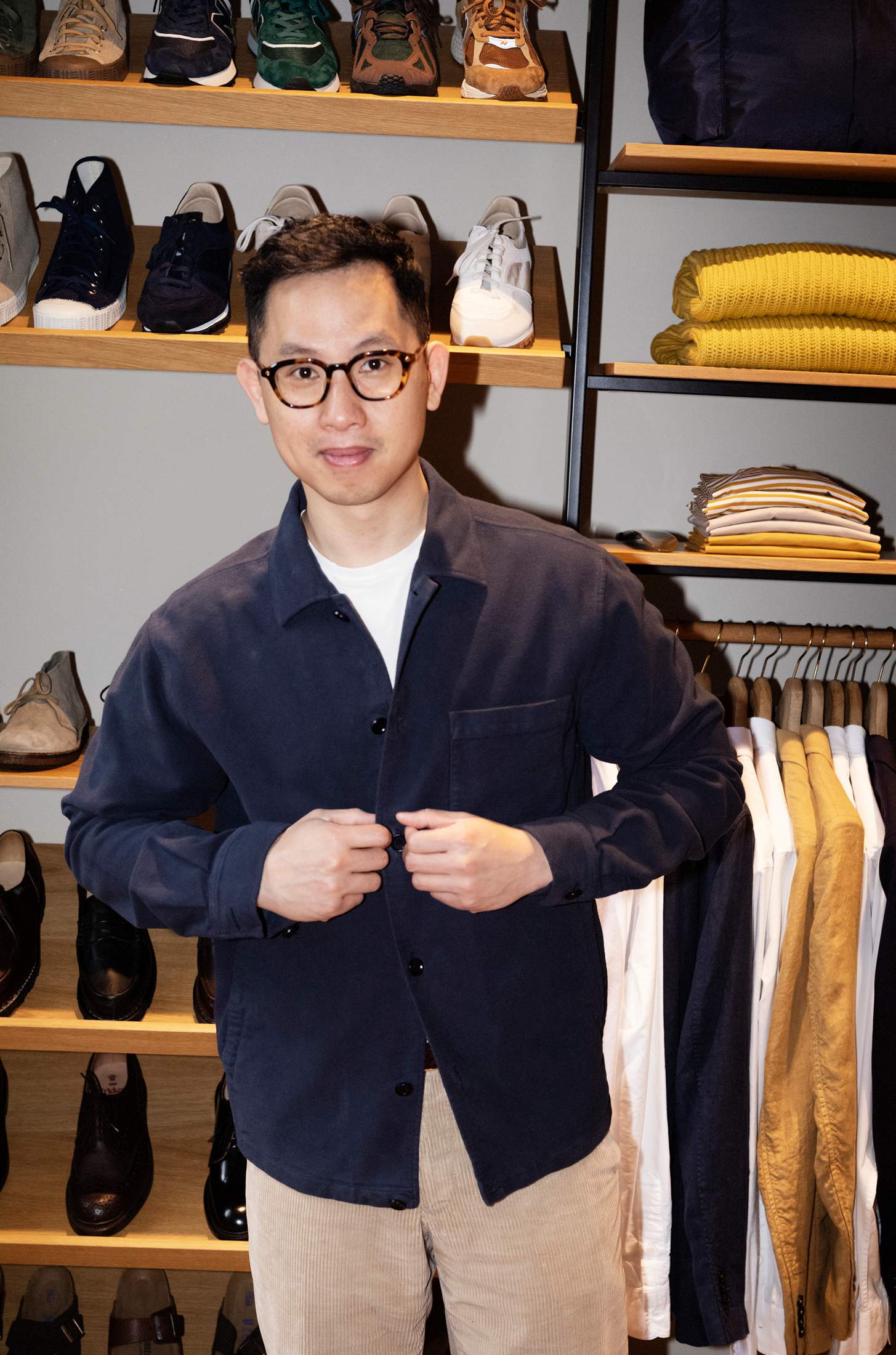 A luminous room adjacent to the original shop makes up the main part of the redevelopment. It connects to the main shop floor through a wide opening fitted with a travertine frame – a nod to the building's stone façade. At the centre of the room is an imposing round table that was custom-designed. It displays a selection of arrivals for the coming season, including leather sandals and a striped bucket hat by Japanese brand Orslow. Hanging over the table is a folded paper lamp by lighting brand Le Klint, a Danish design classic from the early 1900s that you still spot in many locals' homes today. "We wanted the space to feel homey and familiar," says Hostrup, who selects all the products he stocks at Goods. These range from all-time classics, such as New Balance sneakers and Barbour overshirts, to relaxed suits by Danish tailor Berner Kuhl and elegant staples by Goods' in-house label – printed bandanas, suede gloves and cashmere sweaters are among the highlights.  
"If you know the kind of customers you cater to, it's not as important to be located in a highly commercial area. People will find you"
The opening of this new iteration of Goods marks an important moment for Hostrup, who left school at 17 to pursue a career in menswear. After a few years spent abroad, he returned to Denmark and set up Goods, using his industry network to forge partnerships with designers who shared his obsession with craft and timeless design. "Quality is key if you want customers to come back," he says. 
Hostrup also understood the value of building a community that shared his values. "Starting in a basement meant that people could only get to know us through word of mouth," he says. Today, Hostrup prides himself on a loyal customer base that combines locals who drop by on a weekly basis, with those travelling to this part of Copenhagen purposely to visit his shop. "If you know the kind of customers you cater to, it's not as important to be located in a highly commercial area," he says. "People will find you."
Mitchell Dean is one of those people: a Sydney native who heads up multiple departments at the prestigious Copenhagen Business School. He speaks of Hostrup's ability to bring together the best brands under one roof and make smart selections. "I keep coming here because the garments in stock never disappoint," he says, adding that every visit to Goods is a new discovery. "Sometimes it feels like the selection is made specifically for me."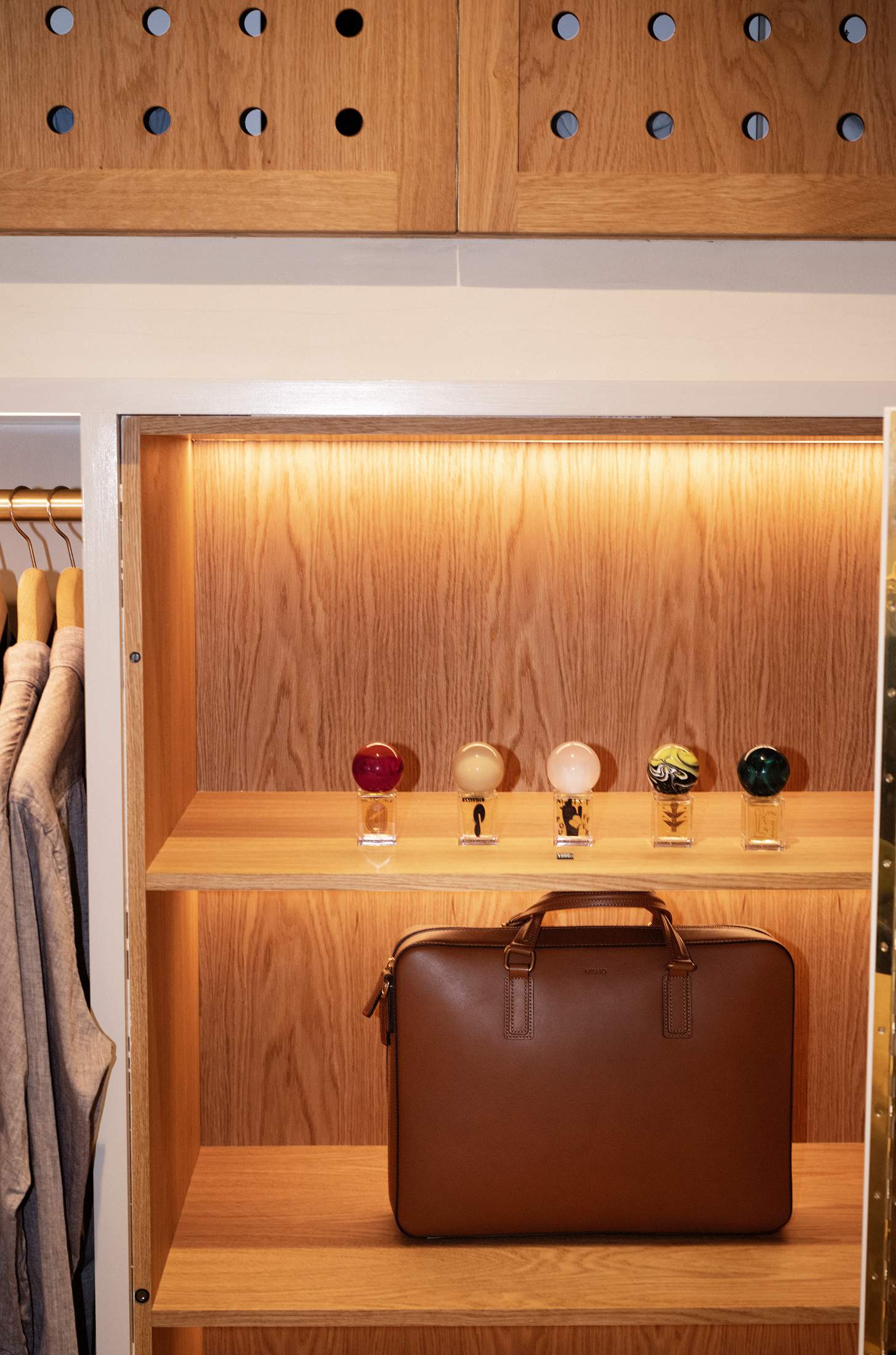 The strength of the Goods community became particularly evident during the pandemic, when Hostrup was forced to shut his shop for three months. Not only did many of his regulars support the business through online purchases but they returned en masse once the shop re-opened – Goods was able to recoup the €150,000 lost during Copenhagen's three-month lockdown within the first month of reopening. "It also proved that people love physical retail," says Hostrup. 
After experiencing the extent of his customers' support, he felt encouraged to press on with his redevelopment plans and now he is looking ahead to the business's new chapter with renewed confidence. He plans to reaffirm Goods' reputation on a global scale, host more events (starting with an evening with Perfumer H), without forgetting to keep nurturing his connections with his regulars – and even welcome them in-store for their daily coffee. "We like giving our customers a little bit more than they expect," he says. "I feel that we can achieve this in the new space."
goodscph.com
---
02.
The designers:
Where heritage and modernity combine
Copenhagen has long been famous for its world-class interior design brands but its fashion labels are an increasingly proud addition to the city's creative cachet. Take a stroll around the Danish capital and you'll spot smart workwear jackets placed next to Hans Wegner chairs in the windows of design boutiques and become taken with the locals' elegant-yet-carefree approach to dressing.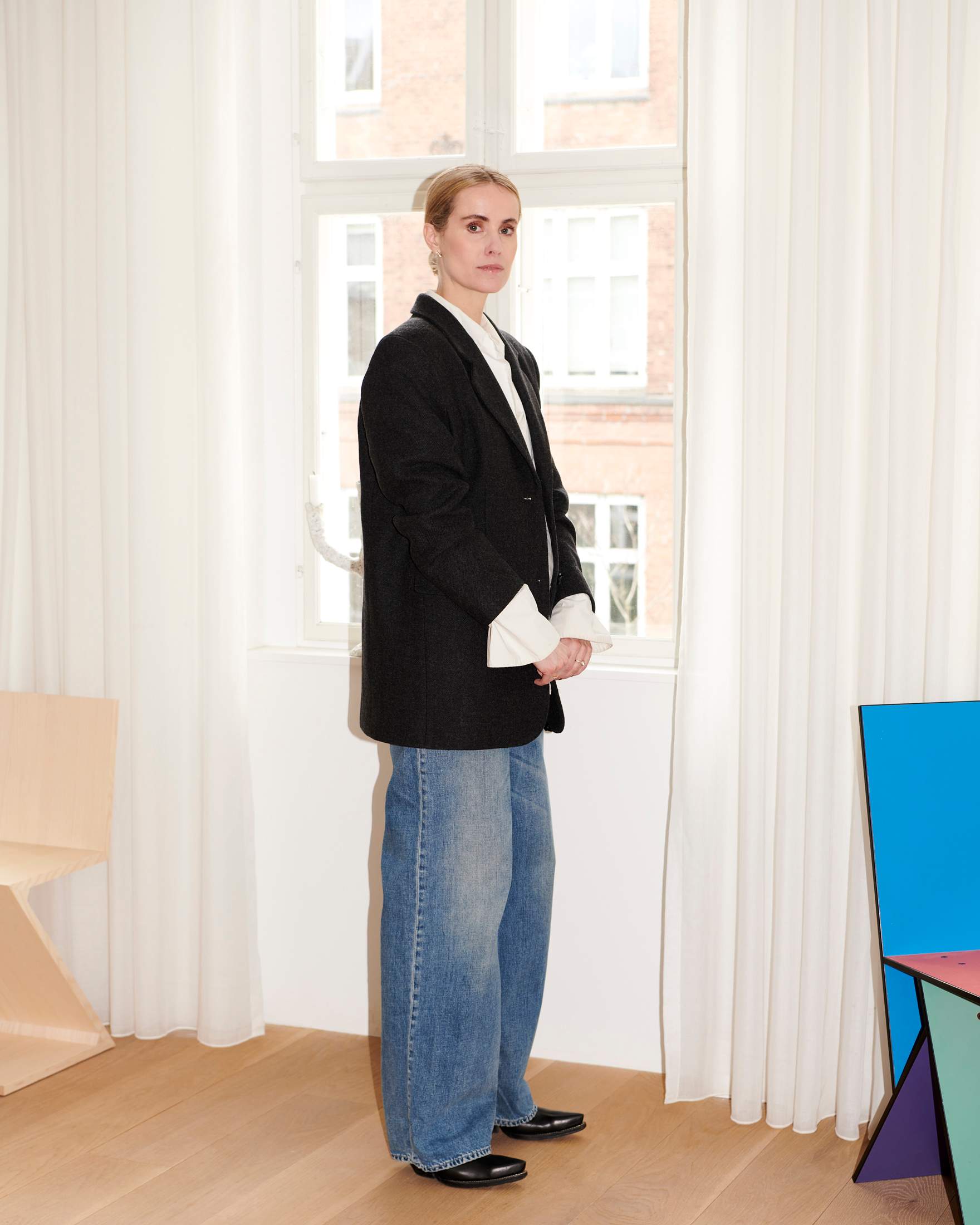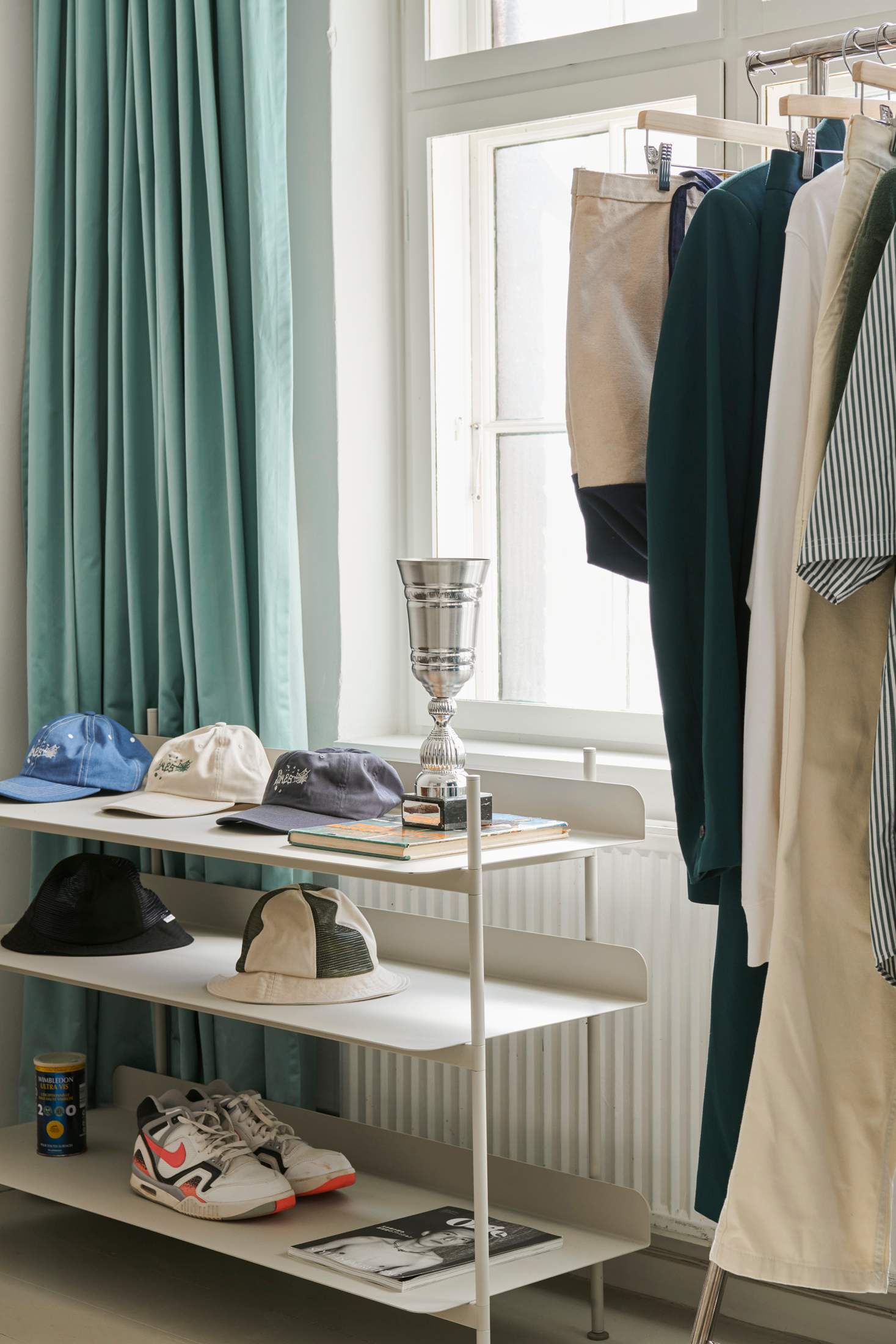 In little more than a decade, Copenhagen has developed its fashion industry almost from scratch, as many Danes have chosen to set up their brands on home turf rather than work for heritage houses abroad – and now the industry generates 19bn kroner (€2.6bn) in fashion exports. The city's fashion week has also evolved from a small, local event to a global industry get-together, firmly established in buyers' calendars as an essential stopover in their seasonal tours to scout new talent and establish commercial partnerships. In a saturated market where new brands are cropping up by the hour and cities around the world, from Budapest and Sydney to nearby Stockholm, are trying to establish themselves as the next Milan or Paris, how is Copenhagen winning the race?
Danish brands' commitment to responsible manufacturing and timeless design is proving particularly relevant. At a time when the fashion industry is seeking to reverse the environmental damage that it has been contributing to and shift the focus back to slower consumption, the Danes are leading by example. They've set out to create fashion that has the same pure ethos as the mid-century furniture that they've grown up with and been taught to treasure for a lifetime.
"The success of Danish design is rooted in sustainability," says Ulrik Pedersen, creative director of menswear label Sunflower. "We are a small country so we need to choose an area of focus. Success means creating designs that aren't just for today and tomorrow but for years to come." Pedersen spends months sourcing fabrics in Japan and Italy to design Sunflower's collections, which are sold globally; the young business's biggest markets are South Korea and Scandinavia. "We love to play around with classics and offer one-of-a-kind fabrics that you probably wouldn't have seen before, such as novelty jacquards or marbled denim," adds Pedersen. "That's why we had so much success in cities like Seoul: they appreciate Danish design and our approach to minimalism, which always has a twist. This started in the 1960s and 1970s with furniture designers such as Arne Jacobsen and then became integrated into fashion. We would not have had the same success if we were German or Italian."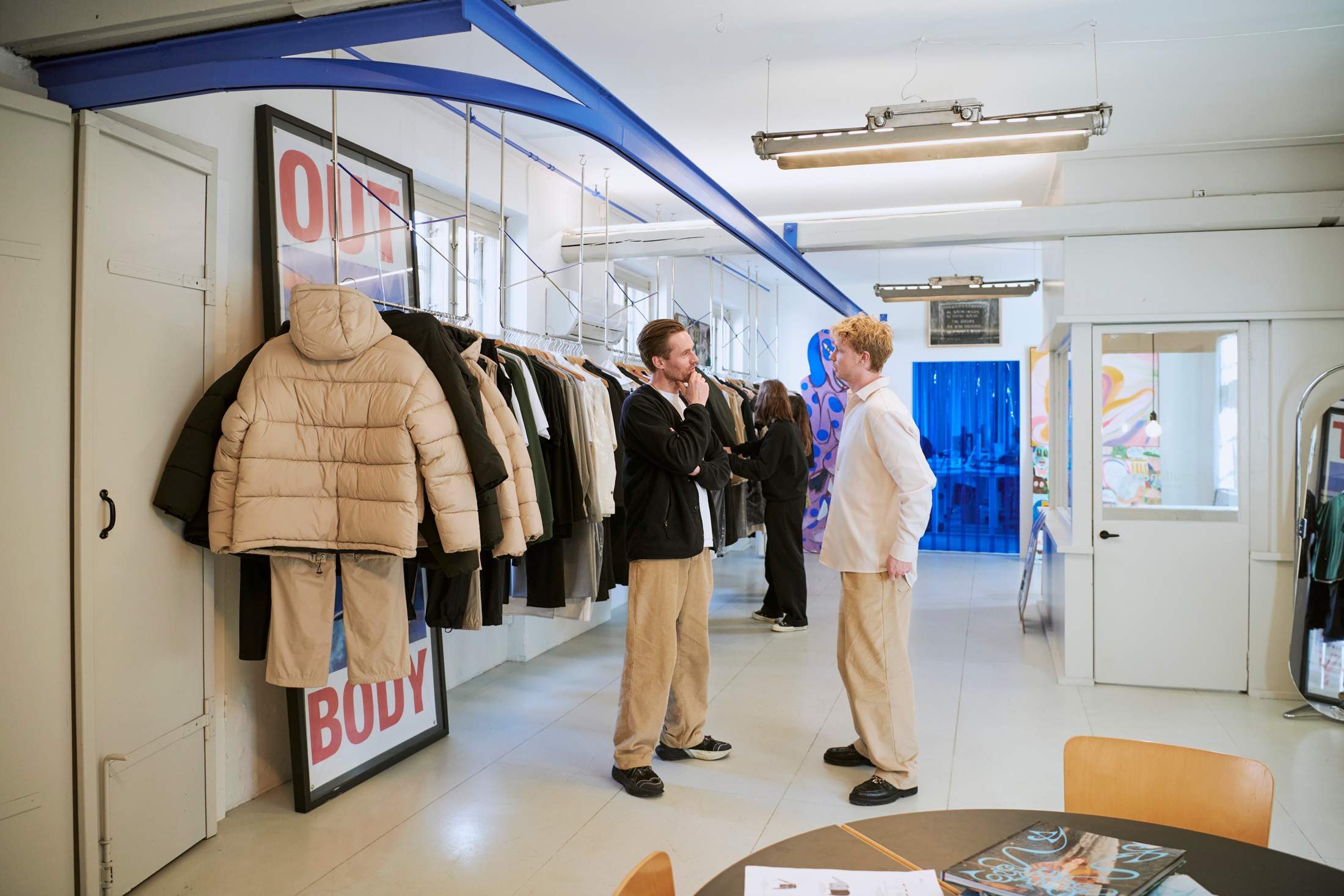 Copenhagen's design achievements are inspiring its fashion community to focus on quality over quantity. "Craft drew me back," says Cecilie Bahnsen, who returned to her home country in 2015 to start her eponymous label after studying at London's Royal College of Art. "You grow up around design pieces that are timeless, beautifully made and have memories attached to them. I wanted to create dresses that are worn again and again and, just like furniture, get passed onto someone else." 
"Copenhagen showed us that with the right vision and capabilities, you can grow a global business from here. It offers good energy and work-life balance but it's also highly ambitious"
The city's existing reputation when it came to architecture, design and (more recently) food meant that there was a healthy bias towards the place that the fashion world could capitalise on. "There are positive connotations of what you can bring to the table if you identify as a Danish brand – people usually think: Noma, best-in-class furniture and mid-century modern," says Nikolaj Hansen, whose sportswear brand Palmes is distributed in the US, Europe and South Korea. "Danish brands might not be as glamorous as the heritage houses of Paris but we're still drawing buyers and international customers because of everything that Copenhagen has to offer. People love to come here to cycle around, see the design museums and grab a beer by the river. The lifestyle is aspirational and connected with this image of Denmark as one of the happiest countries in the world."
Ultimately, fashion is about more than just selling clothes – the best brands offer aspirational lifestyles and the chance to be part of a community. It's why the Danes' family-style fashion week gatherings, carefree approach to life and ability to marry style with good food and design have intrigued fashion audiences across the globe. Some are drawn to Bahnsen's romantic world, which usually involves cycling around town in taffeta dresses and Salomon sneakers, as well as intimate dinners at Atelier September with fellow designer Sophie Bille Brahe and her brother Frederik, one of the city's best-known chefs. He always ensures there's natural wine, hearty pasta and his famous whipped butter on the table. 
Ganni – one of Copenhagen's biggest successes, valued at $700m (€646m) and counting LVMH's investment arm, L Catterton, as its main backer – has made its name both for its playful designs and its ability to throw a good party. "The fashion world was so closed off and exclusive, which makes no sense because you can't exist without your community," says Ganni creative director Ditte Reffstrup, who is usually the last one remaining on the dance floor at company parties. She has helped the brand to build a tribe of loyal customers who buy into her free spirit as much as her designs.
Beyond ready-to-wear labels, the city has also become home to popular cycling brand Pas Normal Studios, celebrated for its ability to blend contemporary design with technical expertise. Beyond its smart-looking cycling gear, it is known for its beautiful spaces, from its headquarters in Copenhagen to its new shop in Seoul, where customers regularly gather to watch cycling races.
It's not just the consumer who has become fascinated with Danish culture but fashion professionals too – so much so that many are choosing to leave jobs at established style capitals in favour of Copenhagen's laid-back lifestyle. "People come because they're looking for something different and we make sure to offer it," says Cecilie Liv Mortensen, who worked as head of design at Wood Wood, one of the city's more established labels. "There's more focus on wellbeing and work-life balance." Wood Wood is taking advantage of the influx of talent in the Danish capital, recruiting designers from houses such as Balenciaga and buyers from London-based retailer Browns, who are all helping to push the brand into the luxury realm and refine its collections. 
Expats are also choosing Copenhagen to start their own labels. UK-born Raphael Godfrey, who started menswear label Works and Days last year, is one of them. "I wouldn't have felt the freedom to take the leap if I were still living in London," says Godfrey, who first moved to the Danish city to take a job at retailer Norse Projects. "There's a real support network here, a community of people making things happen, so it's easier to take risks. This was the right place for me when I started thinking about settling down and starting my own business." 
Whether you're seeking a support network or a better quality of life, Copenhagen has something to offer. "It's a great place to live for someone like me who has kids and needs work-life balance," says Silas Adler, founder of Soulland, known for its sharp take on casual wear. "It's expensive but the system just works. Especially now that people are willing to travel here, we get to host them as if we were hosting them at our own homes. We don't have to compete with the conglomerates." 
Supporting each other seems ingrained in the locals' mentality. It's why Ganni co-founder Nicolaj Reffstrup has made a point of using the brand's success to help Copenhagen's up-and-comers: he mentors new talent via the Wessel & Vett fashion award and has invested in clothing and homeware business Tekla, as well as Sophie Bille Brahe's jewellery label. "I come from a technology background where you're always taught to share your code," he says.
Adler echoes those thoughts: "We recognise that to succeed we need to work together. Creatives have always been drawn to each other but here it's even more evident because the city is so small." When Adler started out a decade ago, the funding and support that are available today did not exist but he always felt that there was a place for him. "Other cities struggle more with inclusion," he adds. 
Soulland has since gone on to become established globally and showcase its collections as a guest at Florence's Pitti Uomo, one of the world's leading menswear fairs. The show, held last summer on the rooftop of the Maggio Musicale Fiorentino theatre, was a reflection of the Danes' ambitions to conquer the international stage. They are now investing in larger-scale events, craft skills and luxury materials. "The fact that so many brands have become globally recognised really emboldens you to keep going," says Godfrey. "There's a real appreciation of materiality and sustainable quality here. We're obsessed with how clothes can enhance someone's life."
The new generation of designers is also diversifying the genres of fashion that the city has to offer, from Sunflower's updated wardrobe classics to the tennis-inspired collections of Palmes or the artisanal knitwear of Amalie Roege Hove, a Cecilie Bahnsen alumnus. "My generation of designers was standing on the shoulders of traditional Scandinavian brands but we never had an issue with breaking the rules a bit," says Adler. "For the new generation, experimenting comes even more naturally and that's how Copenhagen fashion will move forward. If we look at our cousins in food, art and film, they have been getting the most recognition for shaking up the system and moving on from that quintessentially Scandinavian attitude of modesty." 
Still, Copenhagen's fashion designers remain invested in growing their businesses responsibly. Rather than following industry norms and making empty promises about sustainability, they have been among the first to champion circular business models and invest in recycling schemes and new material innovations. "When the local industry is just 20 years old, you can make your own rules," says Hansen. At Ganni, the Reffstrups are making the most of the company's increased resources to fund green energy projects and launch new materials, including a mushroom-based leather produced with start-up Bolt Threads. 
Building on the brands' own efforts, Cecilie Thorsmark, ceo of Copenhagen Fashion Week, has also established a set of minimum sustainability standards to which labels must adhere if they want to participate in the event. "We wanted to accelerate the industry and put Denmark on the map for taking responsibility," she says. "We've been able to lead by example. We have proof of concept now that you can push brands, including large-scale ones, in this direction." Her strategy caught the attention of more established fashion organisations in London and Paris. She plans to stay on the global radar by continuing to raise the bar and introduce a new set of standards every year. "We're showing that a modern fashion week can be a platform for conversation and change," she adds. 
Beyond the runway, the city's retail scene is being revamped. Tekla has just opened its first flagship shop. In an old publishing house near its offices, the new space aims to capture the brand's Nordic aesthetic and pay homage to the city that kick-started its explosive growth. In five years, Tekla's team has grown from five to 35 employees, built a global distribution network and collaborated with international labels such as Jacquemus and Stussy. "Copenhagen gave us proof of concept and the initial support we needed," says Tekla's managing director, Kristoffer Juhl. "We couldn't have been here without our local customers." 
Other young brands are also experimenting with physical retail. Menswear label Another Aspect is moving to a larger space in Møntergade and Palmes has a pop-up shop in the works, which will double as a club­house and organise tennis sessions for customers. "There's a great mix of boutiques in town and the shopping experience is quite straightforward," says Hansen. "We are straightforward people and that's also how we consume things."
Copenhagen's momentum isn't going away. Food connoisseurs continue to fight for tables at the best restaurants, furniture exports remain at an all-time high and fashion brands and retailers are carving their own space in the global market. But creatives stay committed to their home city. "Being part of the Copenhagen fashion scene helps me find my own style," says Bahnsen, who is capable of showing her collections during Paris Fashion Week, yet remains committed to open studio events and local collaborations back home. 
"We owe it to Copenhagen to keep investing here," says Juhl. "The city showed us that, with the right vision and capabilities, you can grow a global business from here. It offers good energy and work-life balance but it's also highly ambitious."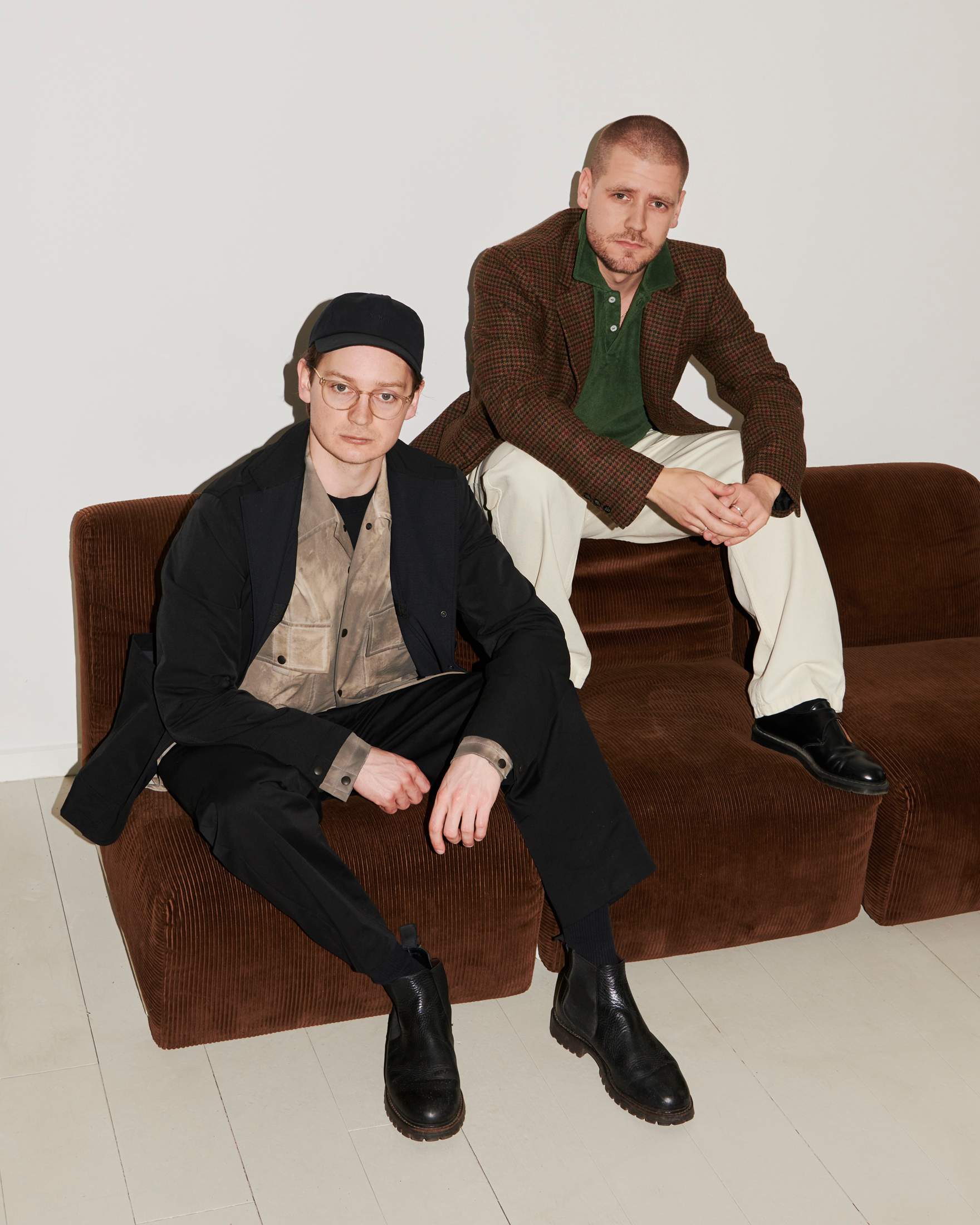 Copenhagen guide
The fashionable haunts
Where to shop
1. Norse Projects In-house designs and independent brands. Pilestraede 41, 1112 
2. Tekla The homeware brand's first flagship.
Vestergade 12A, 1456 
3. Another Aspect Best for sharp wardrobe staples.
Møntergade 3A, 1116
Where to eat & drink
1. Atelier September Frederik Bille Brahe's newest project.
Strandvejen 134, 2900
2. Restaurant Schonnemann Fine Danish dining.
Hauser Plads 16, 1127 
3. La Banchina Best for a glass of wine in the sun.
Refshalevej 141, 1432 
Where to enjoy culture
1. Inter.pblc The newest space for contemporary art.
Hamletsgade 6, 2200 
2. Kirkegaards Antikvariat Cecilie Bahnsen's favourite bookshop.
Islands Brygge 25, 2300 
3. Etage Projects Where contemporary design meets art.
Borgergade 15E, 1300 
---
03.
Closer look:
Copenhagen Fashion Week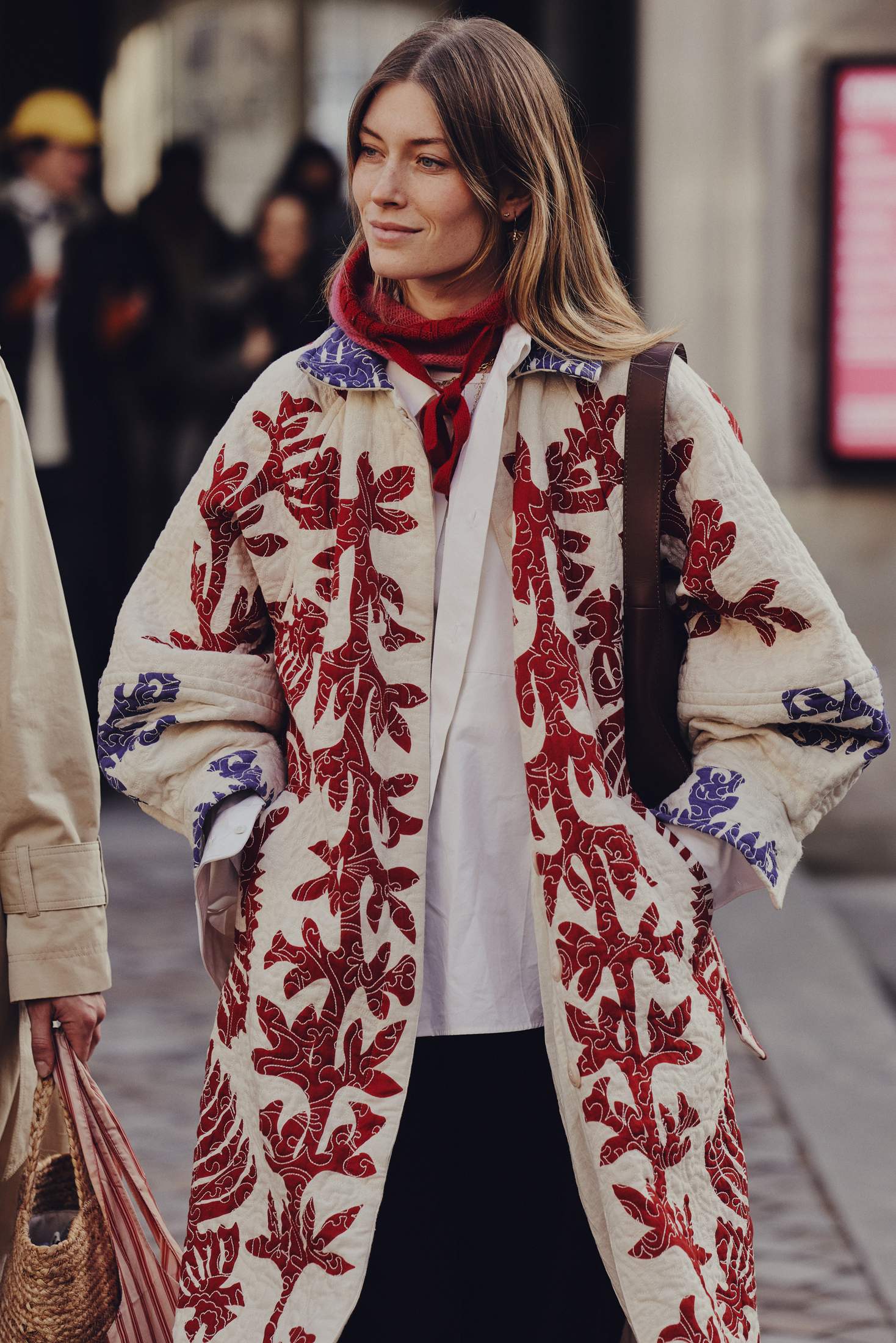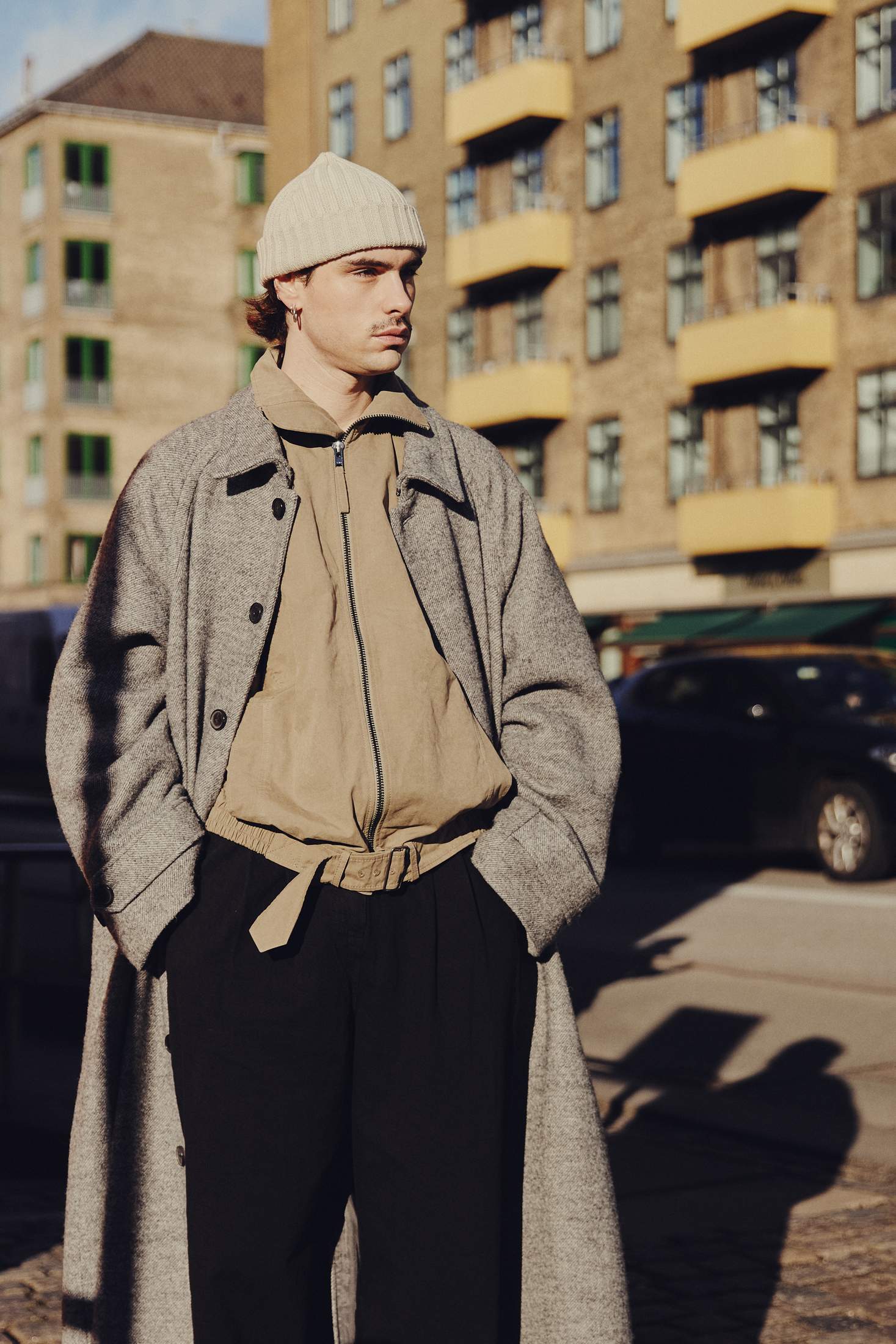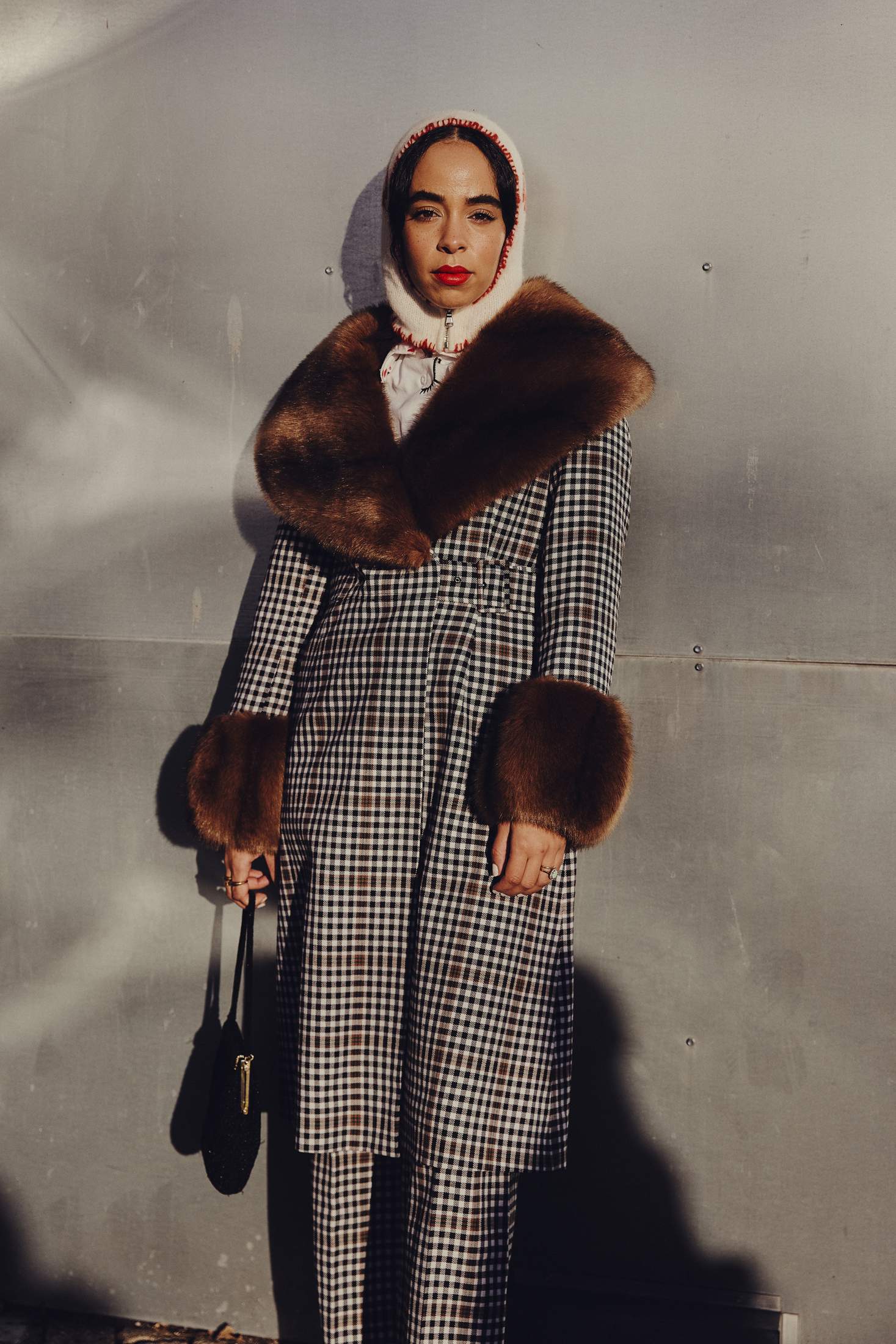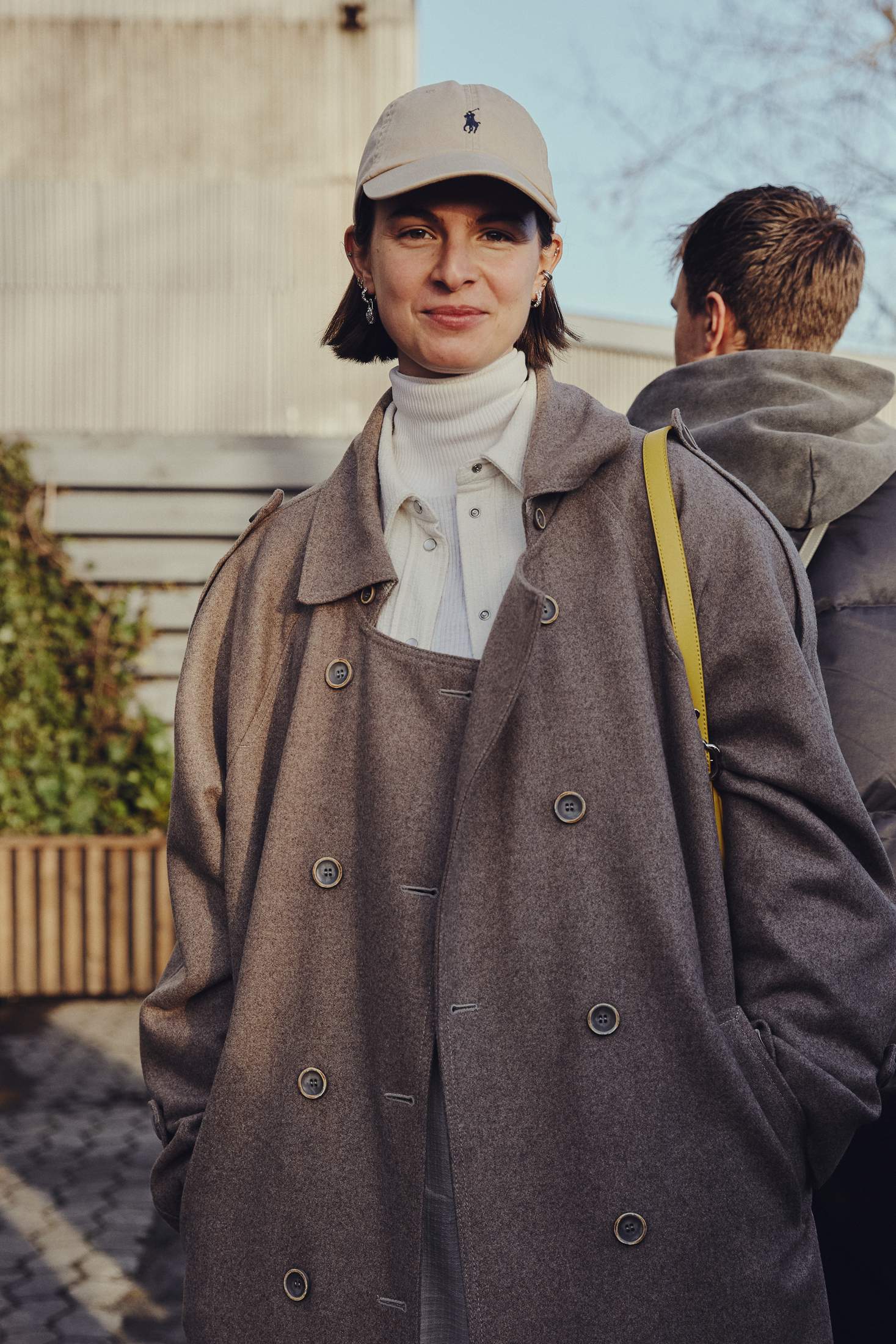 Copenhagen Fashion Week is one of the world's most responsible fashion events, with benchmark-setting sustainability standards and insightful conversations. But the Danish capital also has plenty to offer in the style department, with visitors taking note of the focus on comfort and playful use of colour. Take these street snaps from the city's latest fashion week.