Culture: Art / Global
In the picture
From expanding gallery superbrands to a south Asian completist and a striking alfresco sculpture collection, our bumper art special puts the sector's key players into perspective. We discuss the finer details with some of the moment's most exciting artists and curators and outline the broad brushstrokes on show at the world's brightest galleries. Plus: a six-page guide to Art Basel.
Artist
Tabitha Millett
Cambridge
Tabitha Millett's paintings are enigmatic. What seems simple at first glance gets more complex once you take a closer look. Inside her bold geometric shapes, paint is applied in broad strokes to create vivid textures. Inspired by minimalist art and masters such as Pierre Soulages, Millett (pictured) places materials, rather than subjects, at the forefront of her work. "When you're making anything, especially with painting, you really see a sense of material agency that is apart from you," she says. "Materials have their own mind. There's a certain alchemy."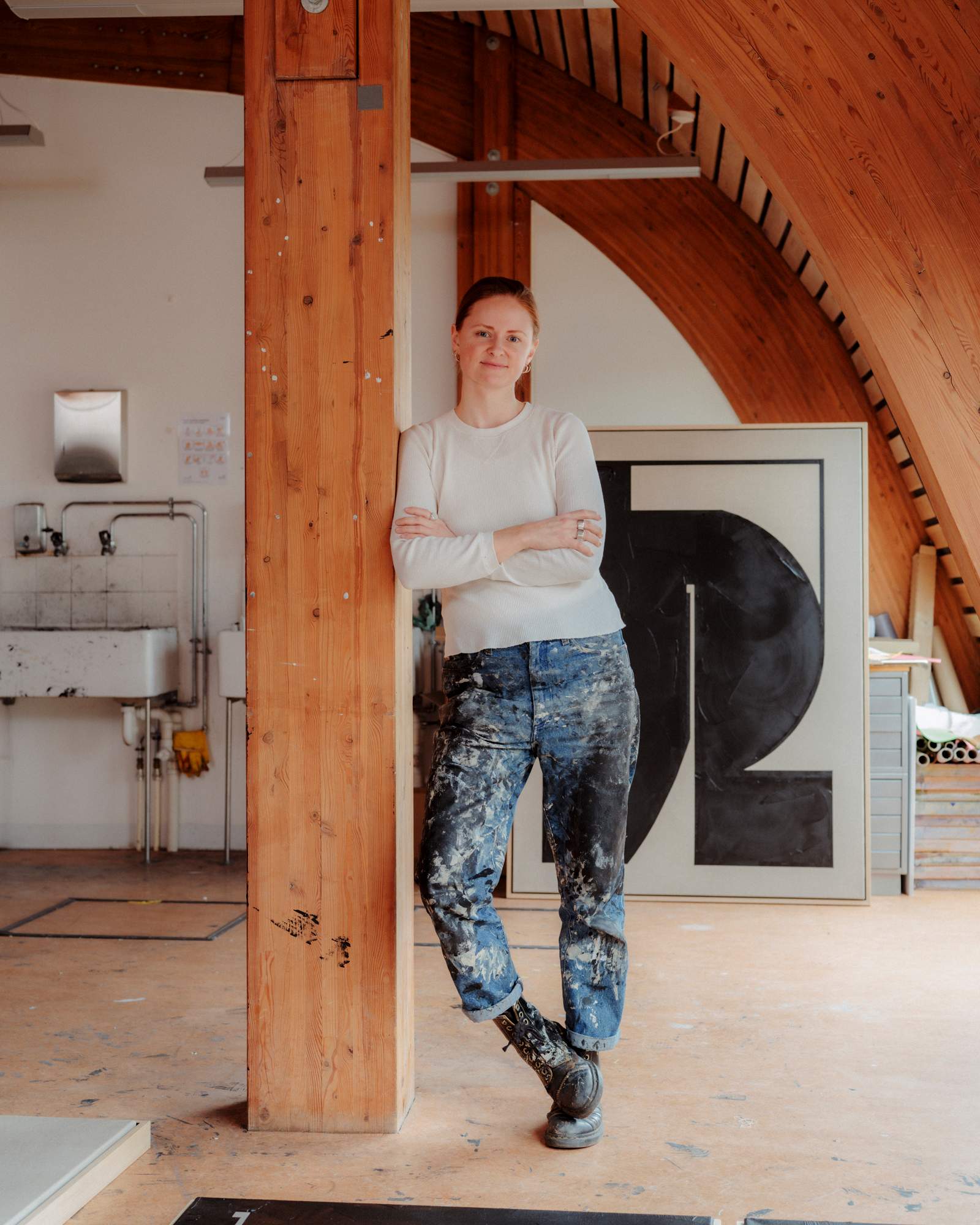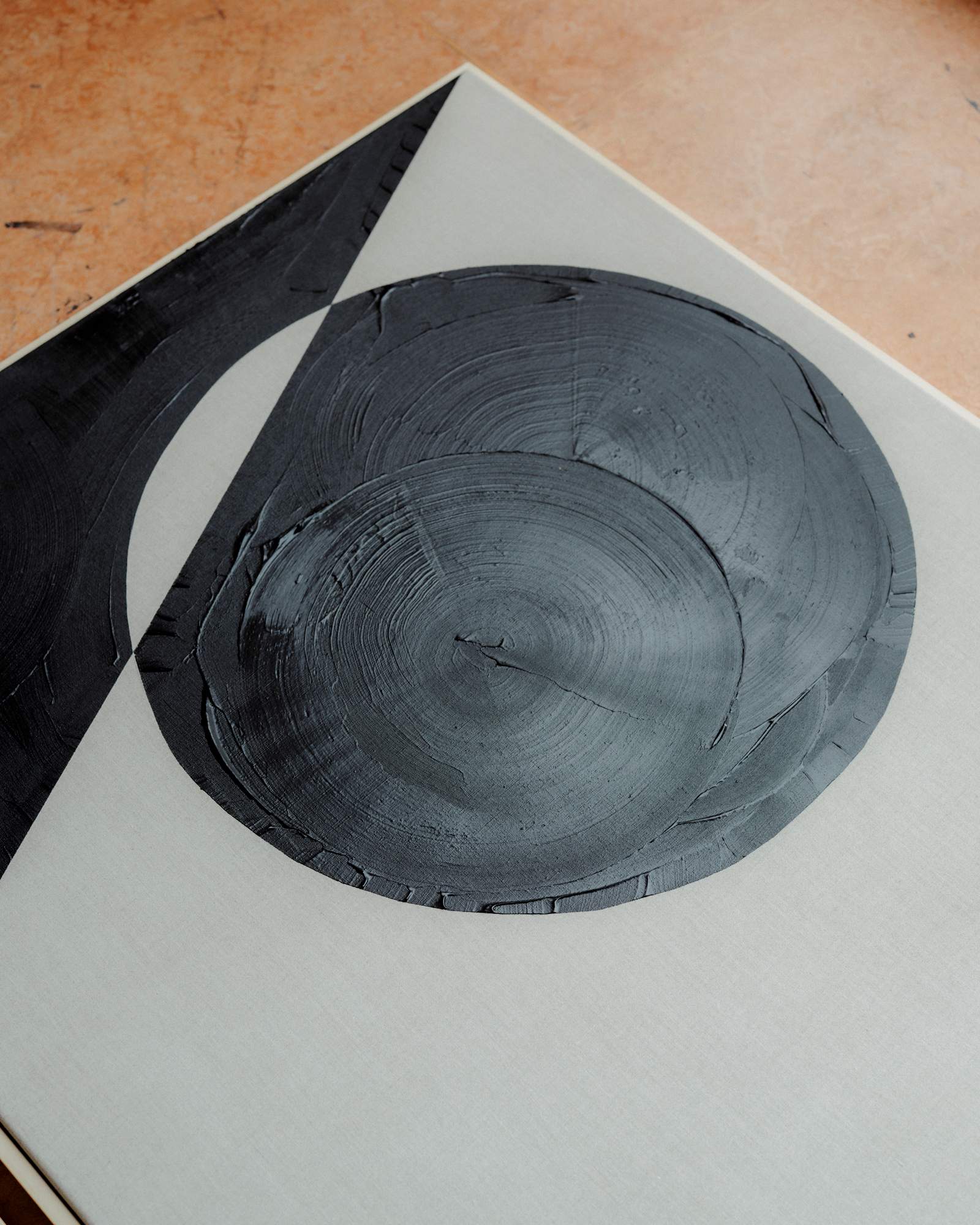 Millett is speaking in her studio, a space with high ceilings and paint-splashed floors inside the faculty of education at the University of Cambridge. As well as a painter, she is also an assistant professor in the arts, creativity and education course. Her studio is both workspace and classroom: when it's not filled with chattering students, the only sound is the music she plays while at work. "I listen to techno and house, which connect with the paintings; there's a certain aesthetic they align with," she says. 
Millett's pieces can feel as powerful as any electronic track, while brutalist architecture is a big influence too. Her use of black acrylic mixed with marble or limestone dust creates a tactile, impasto effect, while the black and white tones make for compositions that play with high contrast. "I like to explore the different ways in which black and darkness can be imagined," she says. Her designs are made even more effective by the pieces' large size and sleek wooden frames.  
Her creative process is a back and forth between precision and freehand. "I usually have something clear in mind and the geometric patterns are straightforward," she says. "But paint pulls you in certain directions that are down to chance." Yet when it comes to drawing the outlines of the shapes, she allows for no error. "It's a case of, 'You have one shot to do this.' If a line is slightly less crisp, I rip it up."
With shows so far this year at London's Maze and Munich's Nuo galleries, she is now preparing for autumn's Start Art Fair at the Saatchi Gallery. She hopes that the audience there will feel both the intensity and simplicity of her art. "I'm always treading the line between the two," she says. 
Millett's work is on show now as part of 'No 1' at Nuo Gallery in Munich.
artist
Grada Kilomba
Berlin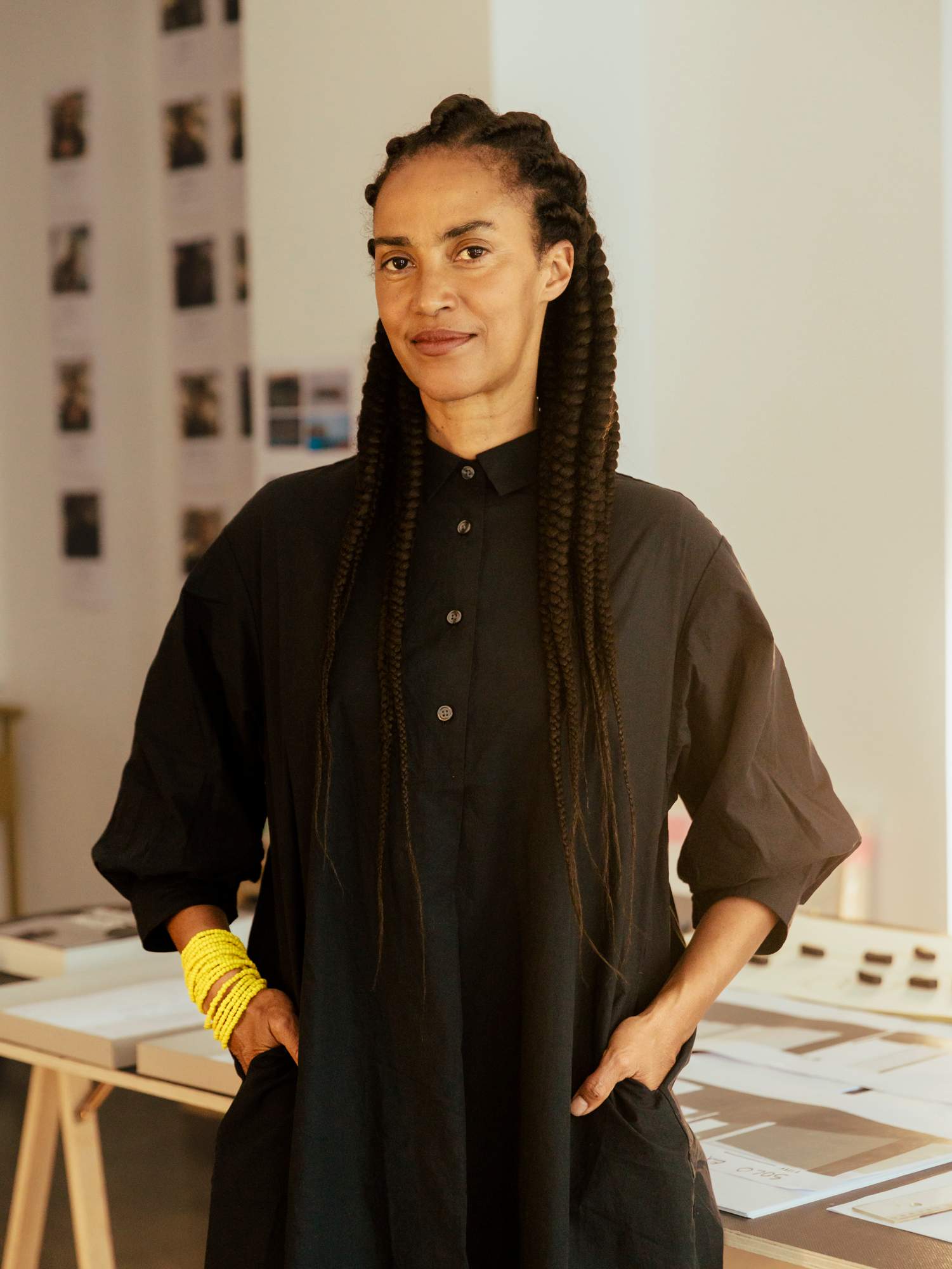 There are many layers to Grada Kilomba's work, whether in her films, installations, writing or performances. This is partly because she is a thinker endlessly interested in the subjects she tackles but also because of the multifaceted research that goes into her pieces.
Born in Lisbon to a family of African heritage, Kilomba (pictured) grew up in a working-class suburb of the Portuguese capital and moved to Berlin in 2008, where she completed her doctorate. Given that she studied Freudian psychoanalysis and philosophy, it's no surprise she has a tendency to dig deeper – and that she's frequently been inspired by Ancient Greek myths, such as for her video "Illusions Vol. iii, Antigone". "Mythologies speak to what we are aware of but also unconscious knowledge, which plays a very important role in our imagination, values and perspectives," she says. "That fascinates me: what is material and what is not material? What isn't there, but still exists?"
Already represented by the London- and South Africa-based Goodman Gallery, Kilomba recently started working with Pace. Later this year, she will co-curate the Fundação Bienal de São Paulo. Getting involved in Brazil makes sense, given her work's themes of post-colonialism, power, gender and trauma, particularly with reference to the transatlantic slave trade. Kilomba has lived a lot of those issues directly; yet her art delivers its message with an empathy that turns stories of loss and brutality into opportunities for healing. 
Her best-known piece is the 32-metre-long "O Barco / The Boat", an installation made from burnt wooden blocks arranged in the shape of a ship, inscribed with a poem and completed with a live performance. An extension of this, titled "18 Verses", is at Pace New York from May. Each work leads into the next, creating an overarching piece. "Being an artist is a bit like writing a book," she says. "Each artwork is a chapter that deals with the questions I'm busy with. It's like a puzzle."
'18 Verses' is at Pace New York until 1 July.
When Lee Bae speaks in Korean, he does so with a slight but distinct accent: a remnant from his childhood in the countryside around Cheongdo in Gyeongsang Province. Though he moved to Paris in 1989 and still has a home there, the 66-year-old has gone full circle, returning to his hometown in 2012 to set up a studio.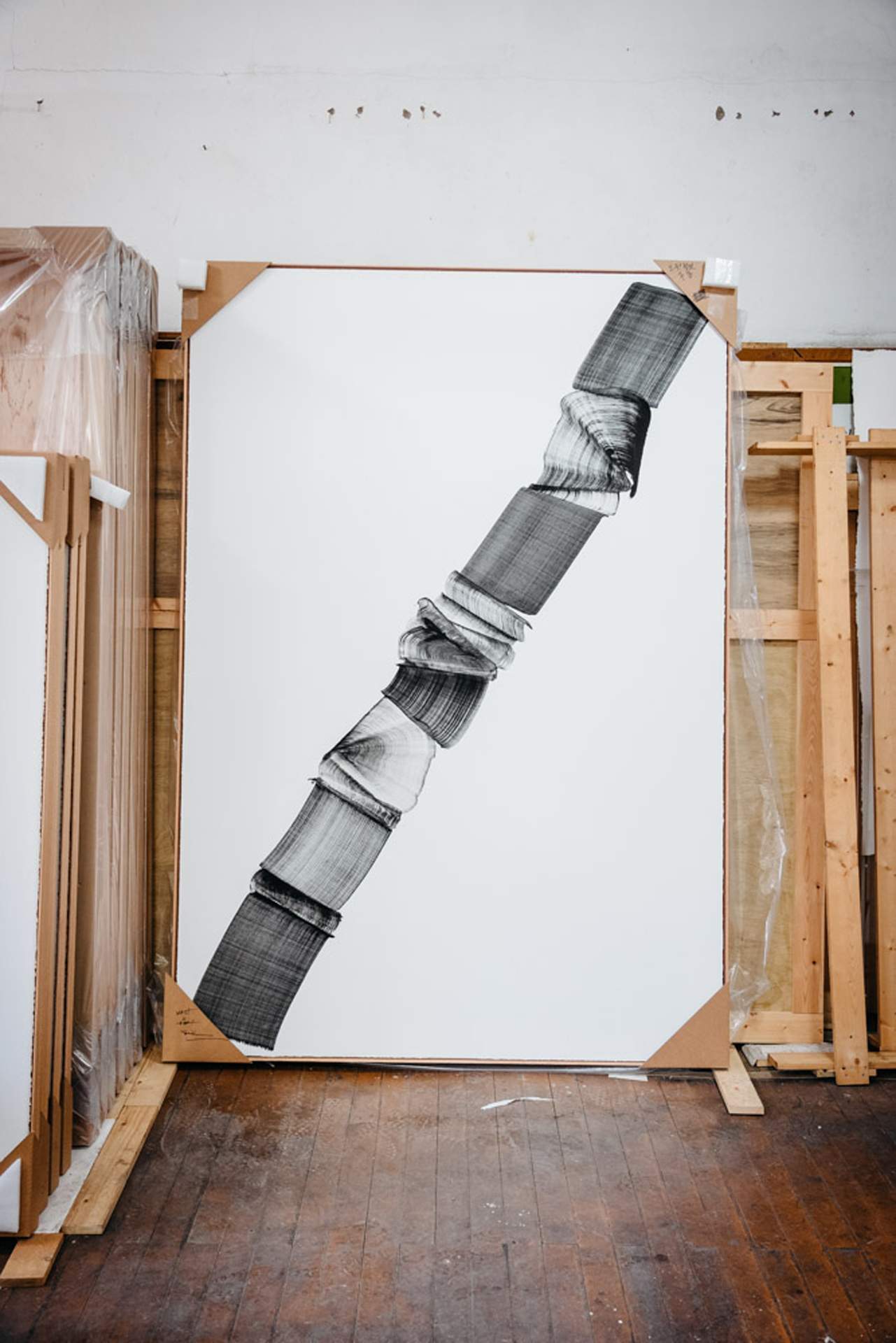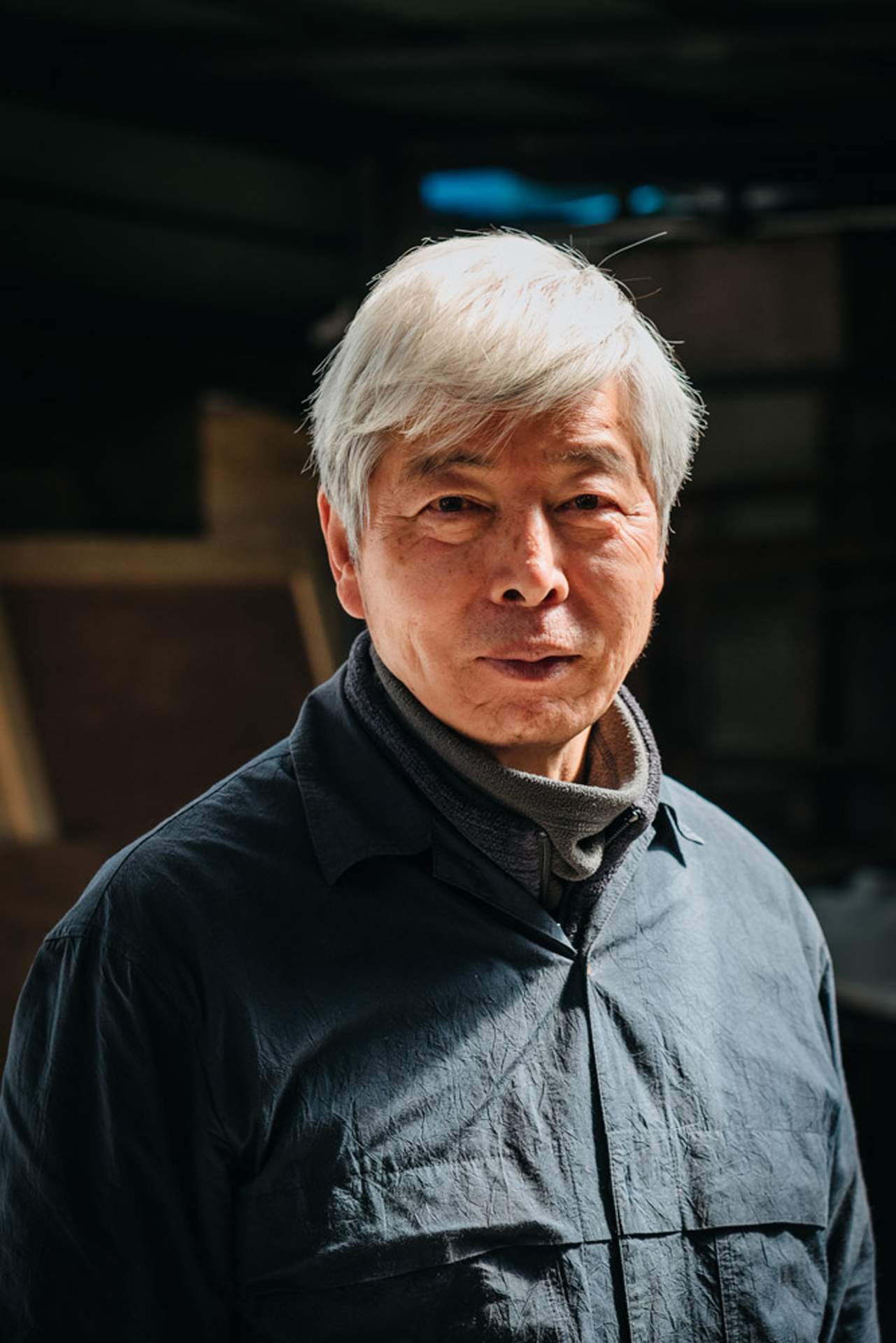 As a penniless thirtysomething in France, Lee (pictured) stumbled upon a bag of charcoal at a service station and experienced flashbacks to the colours that he had grown up with. Memories of calligraphy traced with Indian ink made from pine-tree soot were among them. Charcoal represented his roots.
Since then he has experimented with the material in many formats. He has mixed it with acrylic paint for drawings, and has assembled charred wooden shards on canvas. To Lee, charcoal is a symbol of the cycle of life: born from the destruction brought about by fire but used to start a new flame too.
After he was named the South Korean National Museum of Contemporary Art's artist of the year in 2000, Lee attracted international attention, with shows at the likes of Fondation Maeght in southern France and the Musée Guimet in Paris. His adopted home recognised him in 2018 with a Chevalier de l'Ordre des Arts et des Lettres title.
"Initially I was always aware of a wall [from local artists] as a stranger but it made me contemplate where I come from and what it meant to be a Korean artist," says Lee, sitting in his studio near the lush hills of his childhood.
This summer, Lee is bringing Cheongdo to the Rockefeller Center's Channel Gardens in the form of a three-storey-high sculpture for the institution's Korea Week celebration. As part of his Issu du Feu series, he baked pine logs for weeks in a kiln to create a black monument that shimmers ever so slightly.
"New York is the centre of the industrial world and in the centre of that city I'm bringing a part of this countryside, of primitive physicality," says Lee. His next project is a collaboration with a paint-maker to create a black named after him, like Yves Klein Blue. For that, he is delving even deeper into his roots, looking at the black hues of ancient pottery made nearly a millennium ago. 
interview
Yoram Roth
Fotografiska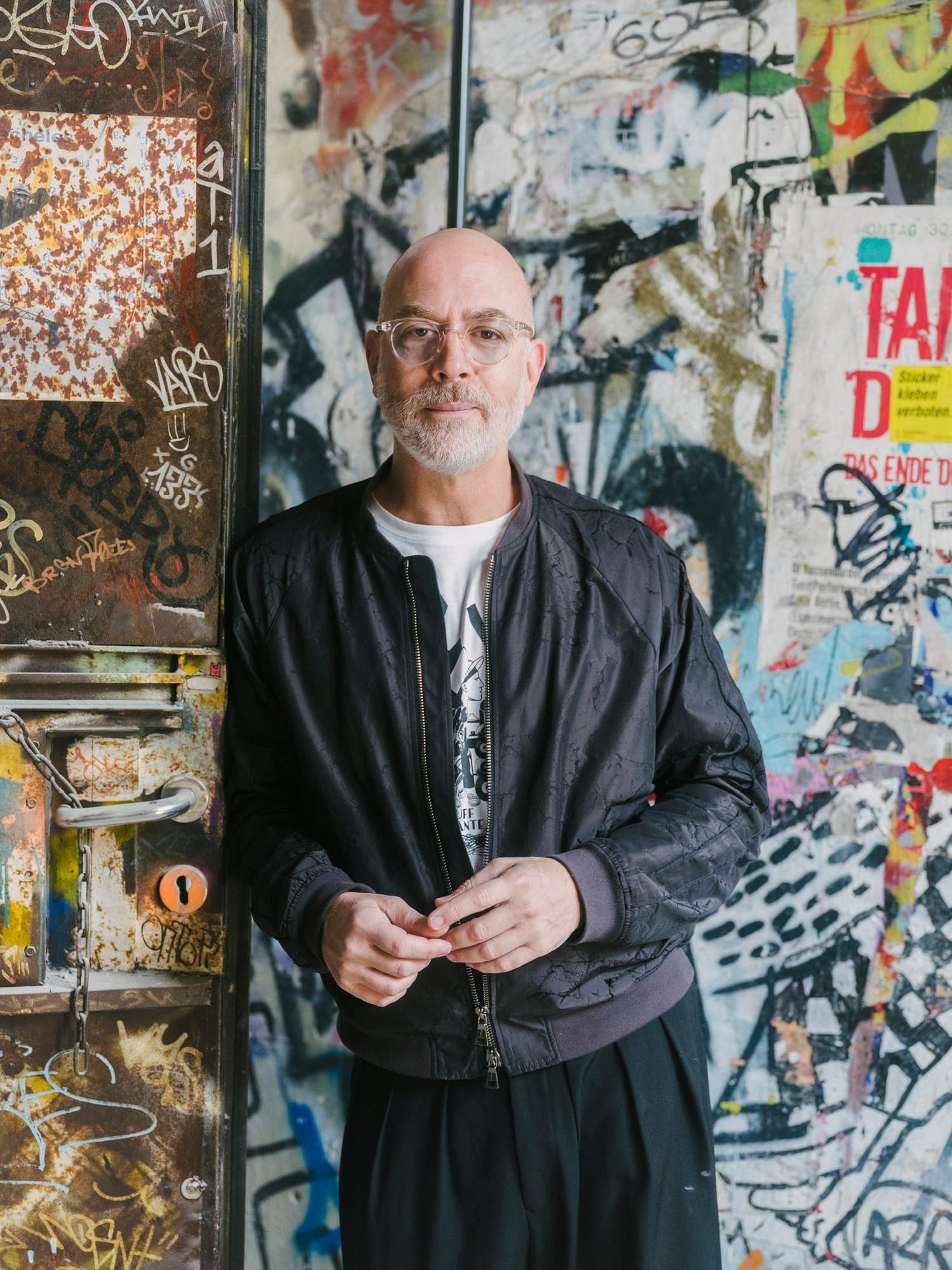 Fotografiska is a museum of contemporary photography that opened in Stockholm in 2010. Two further locations opened in Tallinn and New York in 2019; in 2021, Fotografiska merged with the US-based members' club and workspace NeueHouse under the CultureWorks umbrella. Berlin-born Yoram Roth is executive chairman of both companies. He began his career as a photographer and record-label owner, before investing in cultural projects including Berlin's Clärchens ballroom. With construction under way for Fotografiska spaces in Berlin, Shanghai and Miami, Roth is overseeing a rapid expansion of the museum brand. 
What is the Fotografiska philosophy?
We have come to a point in history where we're inundated by thousands of images a day and their primary task is to sell us something. So we're interested in this idea of people going to a place and standing in front of an image that was created solely for the purpose of being an image. 
Fotografiska doesn't sell the images on display, like a commercial gallery, but it is run as a for-profit museum. How does it differ in its approach from other institutions?
A friend of mine runs another photo museum in Berlin and we both talk about the same thing: putting on shows that resonate with an audience. Where Fotografiska starts being different is things like opening hours. We sometimes open until 23.00 so you can come after work, have a glass of wine and see an exhibition. A traditional museum can't offer that. 
What stage are you at with the three new venues?
We signed agreements years ago and they're beyond our control to some degree. In Berlin, we're delayed so we will be opening in September. We hoped that Shanghai would be open in 2022 but China's "zero-Covid" policy made that virtually impossible, so we're hoping to open this year. Miami is not delayed. There's so much construction going on there; we like what we're doing. 
Where is the photography industry heading in the next decade?
I don't know but I worry about the photo- gallery world. When you go to Frieze or Art Basel, you see paintings that are worth millions; if a major gallery sells one piece, their overheads are covered. With photography, a gallery has got to sell a lot more work to justify the trip. It will become increasingly difficult for galleries to operate.
How do you see the medium evolving?
The way that we show photography is changing. We just had a lifetime retrospective of James Nachtwey, one of the great war photographers. At the same time, we were showing Sarah Moon, one of the greats of fashion photography. The only thing that they have in common is the tool: the camera. News photography has changed a lot. If 20 years ago there was a crisis, we would send someone like Nachtwey to explain what's going on. Now, if there's an earthquake in Turkey, we see the images from people's phones and we have a more direct contact with that journalistic moment. You used to be able to become relatively wealthy being a fashion photographer; those days are over. Every one of these industries is affected. 
Bangalore's new Museum of Art & Photography (map) is a ball's throw from a vast cricket stadium in the heart of India's fastest-growing city. The location is appropriate: map aims to put culture on an equal footing with India's most popular sport. "The challenge is: how do you involve the whole community?" says Nathaniel Gaskell, director of map Academy, the museum's education arm. "How do you take the best elements of experienced museums and still reflect what's going on in India now?"
map embedded ideas of accessibility and openness into the site's design. An ambition to engage and educate took shape in meeting rooms and educational facilities that were given equal importance to the galleries. By creating a steel structure, Bangalore-based Mathew and Ghosh Architects were able to accommodate larger spaces, uninterrupted by supporting columns.
The museum is home to more than 60,000 objects, ranging from contemporary paintings to Bollywood posters. Photography, however, represents its largest holdings, thanks to an archive of negatives stretching back to the 19th century and prints by Western and Indian practitioners, such as Magnum's Raghu Rai and contemporary talent Dayanita Singh. 
Gaskell curated its inaugural photography exhibition, Time and Time Again,which runs until 25 July, with photography by Indian modernist Jyoti Bhatt. Future exhibitions include a show devoted to one of India's earliest photojournalists, TS Satyan. 
collector
Udit Bhambri
Mumbai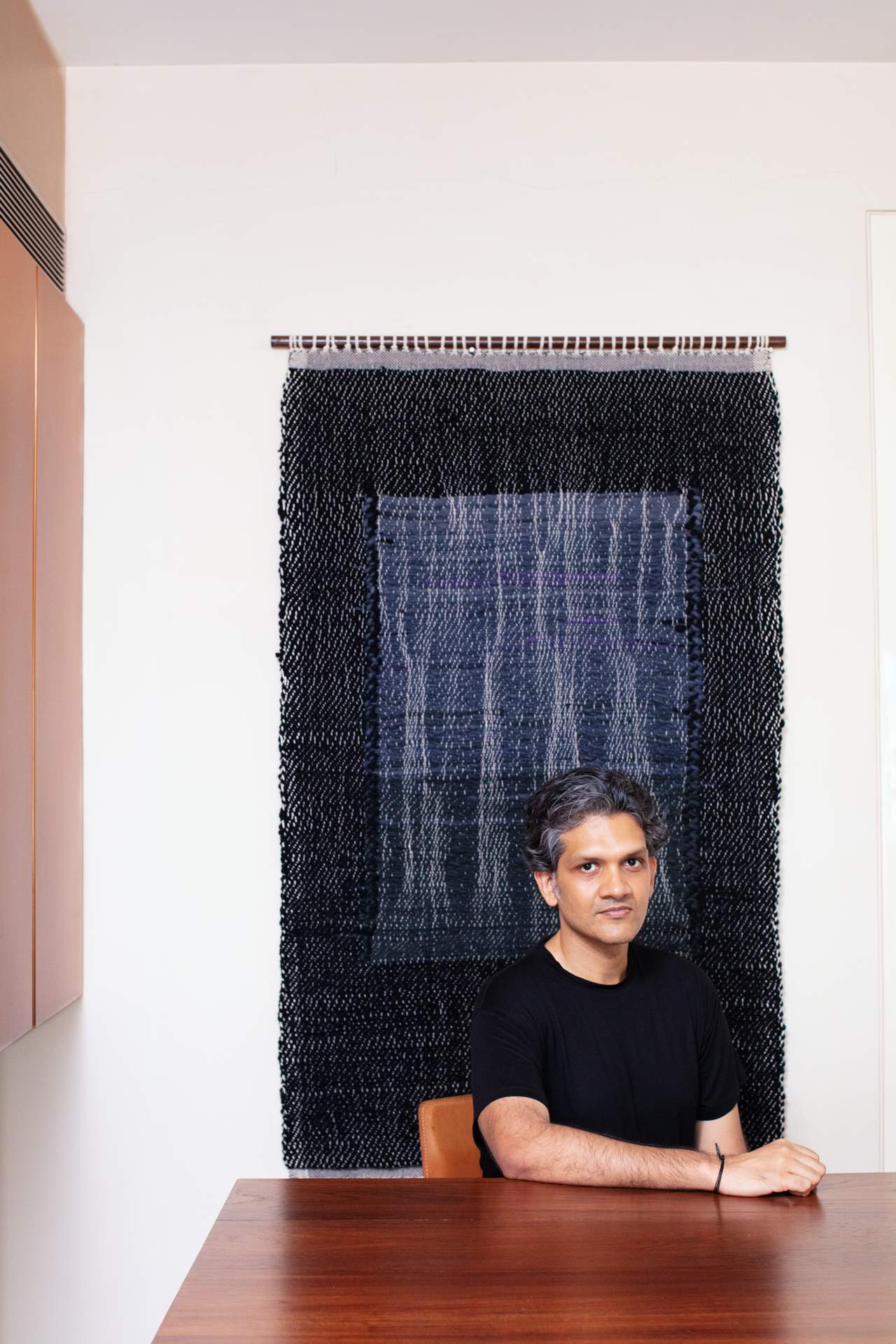 You will be hard-pressed to find an empty stretch of wall in collector Udit Bhambri's south Mumbai home. The former country head of advertising and marketing agency vml India, Bhambri (pictured) owns more than 1,000 pieces of art of various sizes and formats – paintings, sketches, collages, photographs and sculptures. His accumulation includes works by artists considered fundamental to south Asian art history, including Anju Dodiya to Arpita Singh, MF Husain, Rana Begum, Shilpa Gupta and Tyeb Mehta. Over time, he has loaned several pieces for public viewing (such as at the just-concluded Kochi-Muziris Biennale).
"Art allows you to live someone else's life without actually having lived it," says Bhambri, whose parents and grandparents were also collectors. His interest was sparked as a child, when he would join his family on studio visits armed with a book for artists to autograph. This would often be a sketch addressed to him. "The first time I met Husain-saab, he misspelt my name, which makes it even more special," he says of the late MF Husain, with whom he shared a long friendship.
In recent years, Bhambri has spoken at art events, helped friends shape their collections and curated a show for Delhi-based Vadehra Art Gallery. "It was a mini-ensemble of the artists whose works I have at home," he says. Alvar Aalto Medal-winning architect Bijoy Jain is helping Bhambri build his new residence, where he hopes to bring together "like-minded" people to showcase the art he owns. 
Do you have a philosophy on collecting art?
It has to have longevity in the sense that it stays relevant to society and to other people who appreciate art. It could be a political work with a different meaning in 1993 – but it could have an exponential gravity to what it means in 2023. It has to stand the test of time.
Is there an artist who has changed the way you look at art?
Arpita Singh is my favourite artist, by leaps and bounds. She has changed my life in many ways, from how you look at art to the process of looking at it; what colours are going into it; what text means in a certain work of art; whether ultramarine is melancholic or joyous; what the finish point of a work is.
Your taste leans towards paintings so what made you buy the Monika Correa tapestry you're pictured with above?
Arpita Singh and another favourite of mine, Prabhakar Barwe, have a background with the Weavers' Service Centre [an institution dedicated to textiles, where Correa studied]. I'm not sure whether it was an extension of this, the blurring lines around art and craft or simply my desire to explore new mediums to juxtapose the collection of paintings with that made me want Monika's work. But I've always loved it.
collector
Benedicta M Badia Nordenstahl
Chicago
Argentine-born Benedicta M Badia Nordenstahl is drawn to work that confronts her with uncomfortable truths, such as this piece by Filipino-Canadian artist Stephanie Comilang about Thai migrant women in Berlin. Having lived in southeast Asia, she is now based in Chicago. She started collecting 18 years ago. Today much of her professional life consists of connecting different foundations and institutions with creatives outside the European and American canon.
What's the philosophy behind your collecting?
I buy art that feeds my mind but also when I believe in an artist's work. I collect as a political exercise. Many of the artists I buy are in a process of real social change. I don't need to change the world; I just need to be part of the solution. I'm not attached to the object per se, I'm more attached to the human being behind it and the story they're telling.
Do you ever buy straight from an artist or always through galleries?
I always buy from a gallery. They can be an artist's biggest champion and I support young galleries that don't treat the work like a luxury item but that are safe havens for artists. We don't buy just for things to stay in storage; we rehang our home four or five times a year and we do a lot of tours.
What is it like to live with such challenging art?
There's a book by Japanese writer Jun'ichiro Tanizaki called In Praise of Shadows and its idea is that there is no light without shadow. I am connected with artists who are change-makers. But they crack me up too: they are funny, satirical and questioning.
collectors
Allan and Mei Warburg
California
Pinot noir vines frame an uphill entrance road that points to the giant, alabaster-coloured meditating head of Jaume Plensa's "Sanna", one of more than 50 sculptures on the Donum Estate in Sonoma County, California. On spring mornings, Bay Area fog swathes the work while, on a clear day, the sun reflects off Richard Hudson's "Love Me": a shiny, bulbous heart looming on a hill close to the entrance.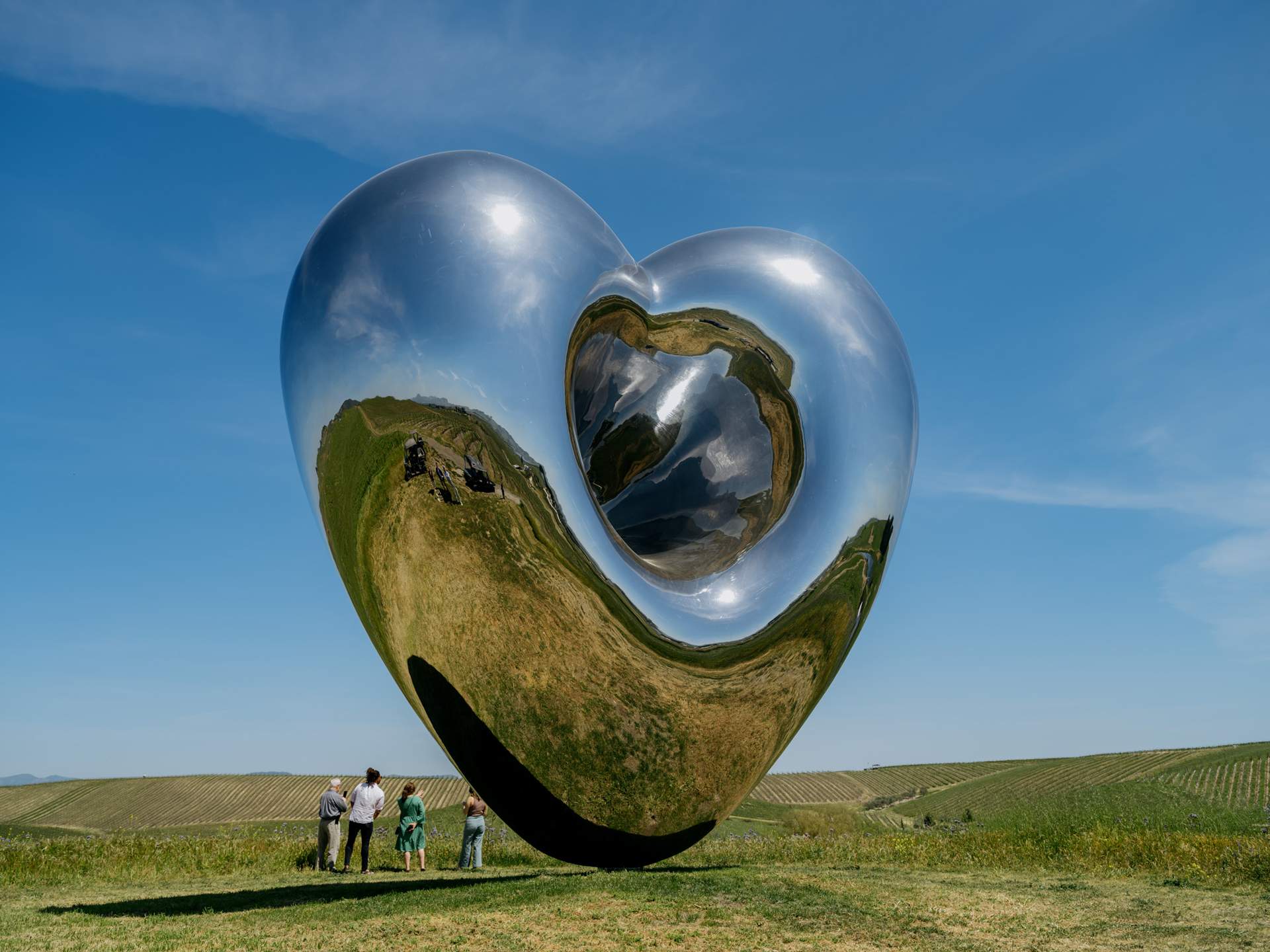 A working farm and vineyard, Donum was taken over by Hong Kong-based art collectors Allan and Mei Warburg in 2011. Danish businessman Allan built his career in China, where Mei was born, while he was working for the East Asiatic Company, and later co-founded fashion company Bestseller. The Warburgs began collecting contemporary Chinese art during the late 1990s and were soon building a global collection. They started adding sculptures to the Donum grounds in 2014 and are now considered among the world's top art collectors.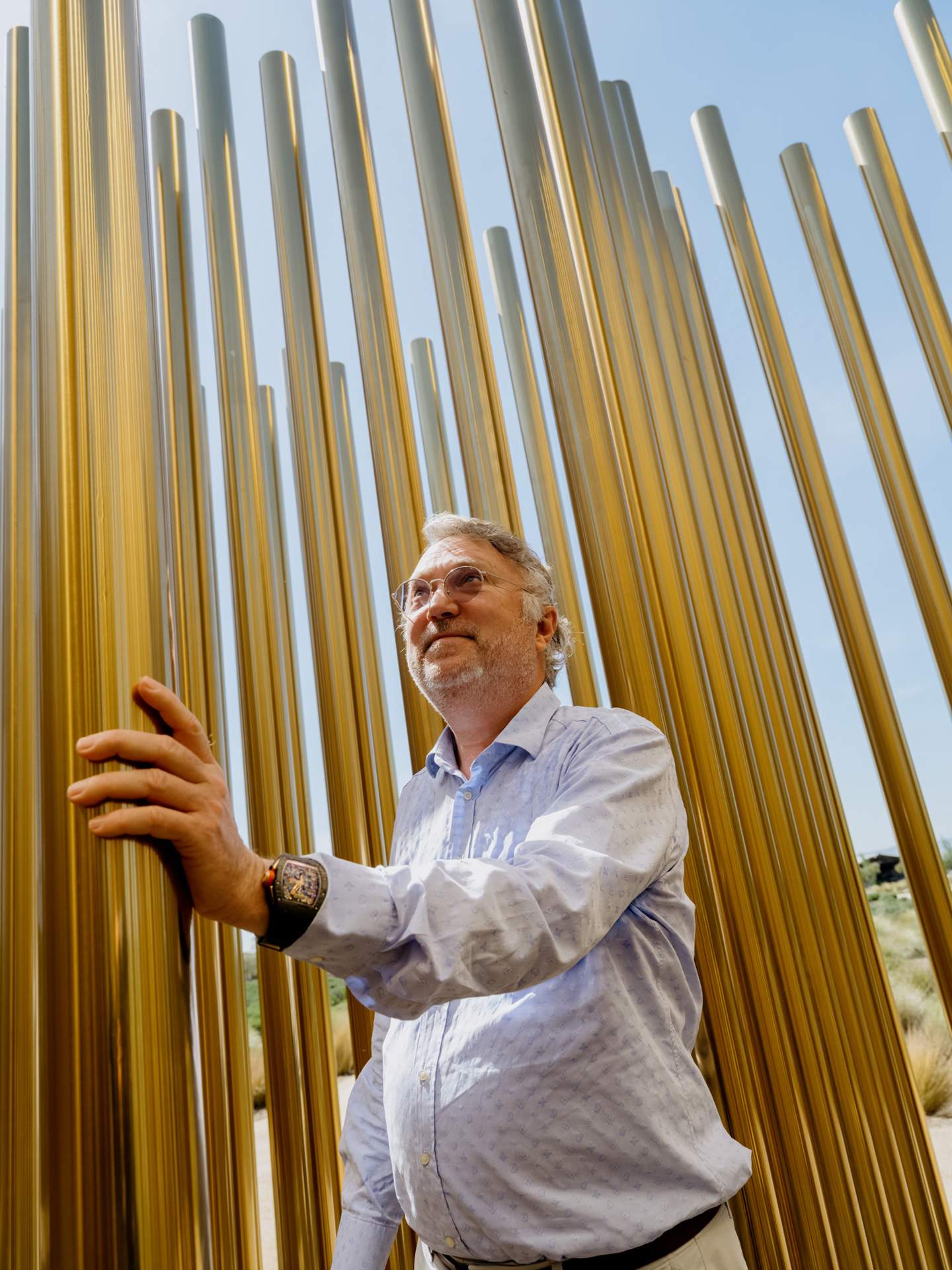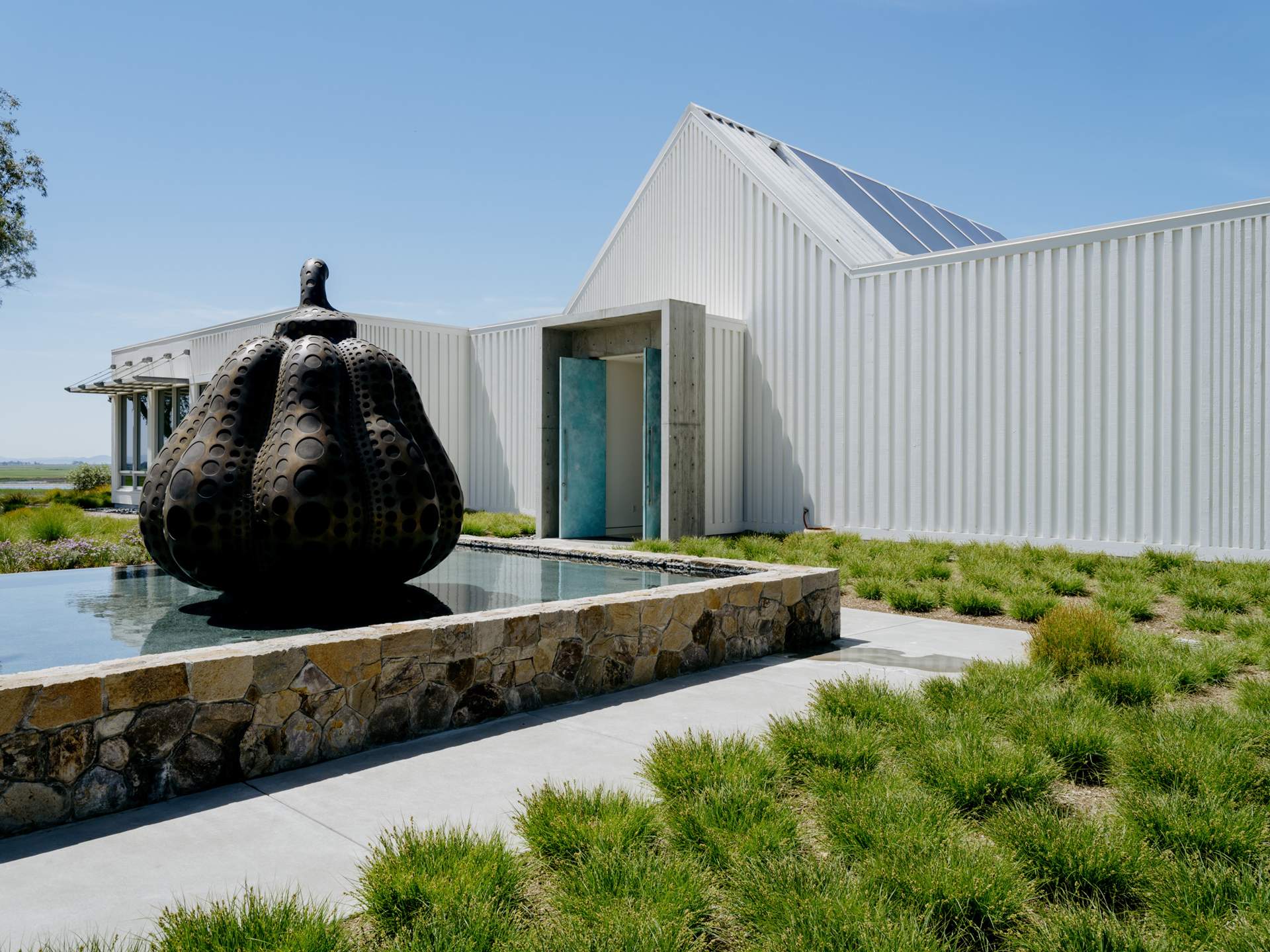 The pair's collection extends far beyond the monumental works placed at Donum but the setting is one that Allan is very keen on. He and Mei champion the idea of displaying work away from the sterile white cubes and wax lyrical on the beauty of birds perching and chirping atop pieces such as Li Hui's "Captured Rhino". The estate's Yayoi Kusama pumpkin is surrounded by vegetation and Zhan Wang, Keith Haring and Ai Weiwei pieces are placed throughout the grounds too (Weiwei's work also adorns some of Donum's labels; the artist receives 24 bottles a year for the usage). "Here, you take art and a beautiful landscape, and it just becomes something much stronger than each of them by themselves," says Allan. 
The Warburgs have started commissioning work especially for these surroundings, such as the recently installed "Apollo of Belvedere" by Adam Parker Smith. It is the first marble statue on the estate: a take on the classical work squeezed into a cube-like shape. "I don't try to influence [the artists] at all," says Allan. "It is very much a collaborative process." Next to Smith's stands another piece created for the estate, Doug Aitken's "Sonic Mountain, (Sonoma)": 365 chimes hung in a eucalyptus grove that play music when the wind flows through the vineyard. In the absence of a breeze, Allan runs his hand along the chimes.
"Feel free to touch them," he says of the works we encounter. Riding around the estate in a brp Can-Am, he gesticulates at this or that sculpture, hops out of the vehicle and advocates getting up close to embrace the uniquely tactile nature of this set-up. At the brightly coloured Ugo Rondinone piece "Nuns 1 Monks", he speaks about how seeing the colours livened his and Mei's mood during the doldrums of the pandemic. 
Allan fell in love with art while visiting creative studios in China. "Beijing in the late 1990s was really fantastic," he says. "You hadn't been allowed to express yourself for so many years but suddenly artists could be creative and free to do what artists should do. You could just go to studios and knock on the door and the artists would be so happy to show you around."
Messages conveyed by the works he bought then influence his style of collecting today: art that makes strong statements and breaks down cultural barriers, such as Carl Fredrik Reuterswärd's "Non-Violence" or Robert Indiana's "Love (Gold/Red)". Sopheap Pich's bamboo-and-rattan sculpture "Morning Glory", depicting the type of flower the artist and his family survived on during Cambodia's Khmer Rouge rule, also takes pride of place. "For Pich, this is really a sign of hope," says Allan. 
Evenings spent in artists' studios, sometimes over a glass of wine, have shaped his ambition for the estate. It is to have a space that pairs world-class art with simply hanging out, and that the public can visit by booking in advance. "A lot of the artists we knew from back then, they're still very close friends," he says. 
Silicon Valley's start-up spirit seems to have rubbed off on the new Institute of Contemporary Art San Francisco (icasf). Set in the former Esprit campus, the gallery opened its doors October 2022, just 18 months after the concept was conceived.
"Moving quickly and risk-taking are the vision of this institution," says Christine Koppes, the icasf's curator and director of curatorial affairs, from a sunny courtyard. She wants artists coming on board for exhibitions to be doing "something big".
Choctaw-Cherokee painter Jeffrey Gibson answered that call with "This Burning World", a multimedia installation that consisted of him cutting trenches into the museum's concrete floor with a diamond saw blade. It was a suitably loud announcement for the rest of the burgeoning Dogpatch art neighbourhood that this new kid on the block isn't afraid to get its hands dirty.
icasf's status as a non-collecting institution facilitates a sense of artistic freedom. In lieu of constantly maintaining a permanent collection, Koppes believes the institution is better placed to "focus our funding and time on the artists directly".
Not that icasf eschews the value of collecting. Patrons have flocked to the Collector Starter Pack, an instructional series in which staff teach the basics of browsing and buying art. "A lot of people are interested in purchasing work but it can feel intimidating," says Koppes. Despite rumours of San Francisco's and its technology behemoths' demise, the city remains an enclave of new wealth that can be coached into supporting culture and icasf can play an important role in that process. 
Opened to the public in 1994, Musée d'Art Contemporain de Marseille (Mac) unveiled its new look in April after a four-year, €5m overhaul. The original modernist structure, designed in the 1970s by German doctor-cum-art-collector Gustav Rau to house his works, has been updated with an airy entrance hall and ample extra exhibition space, as well as a rooftop overlooking the genteel southern neighbourhood of Bonneveine. The building's environmental footprint has also been improved.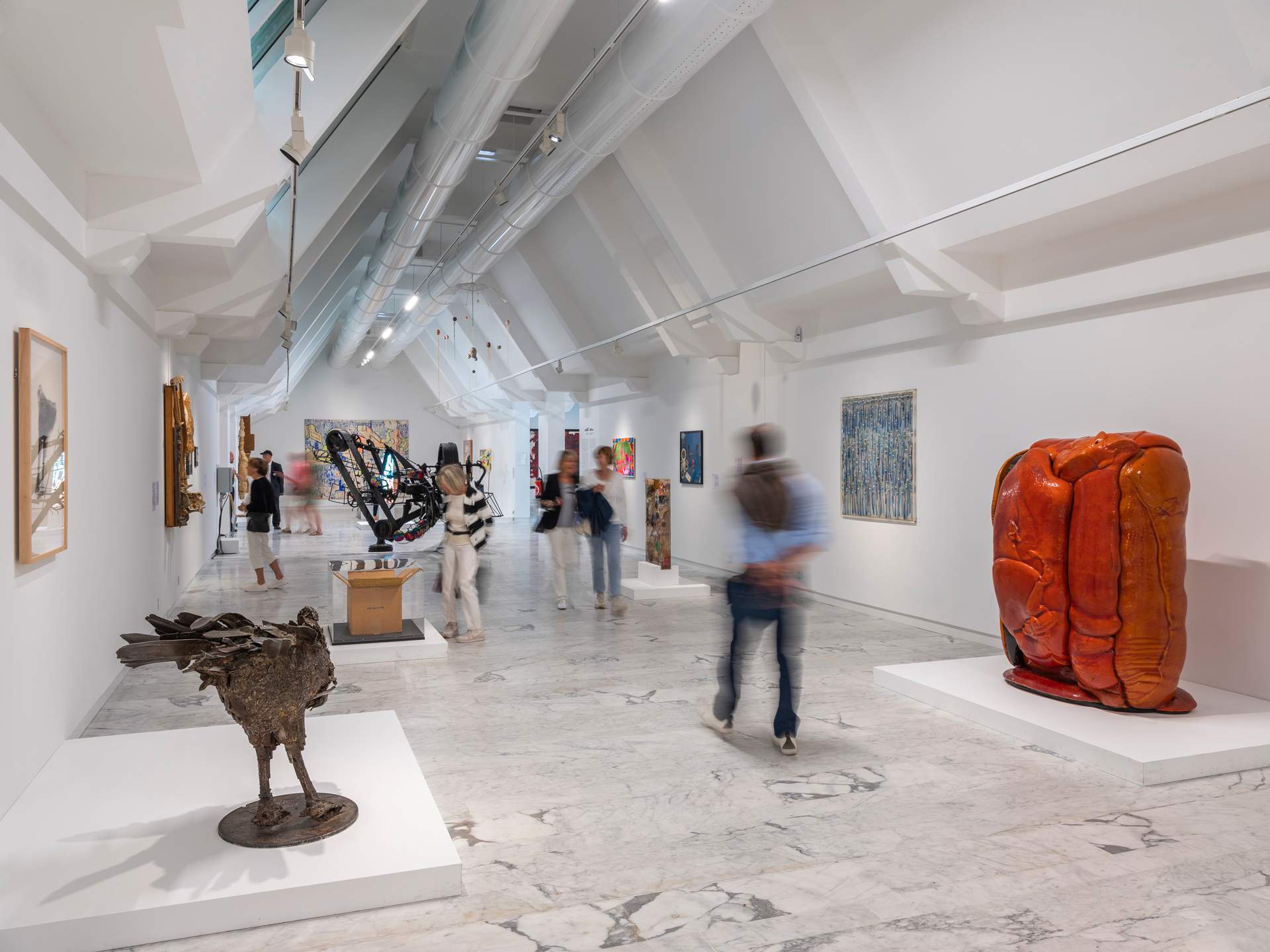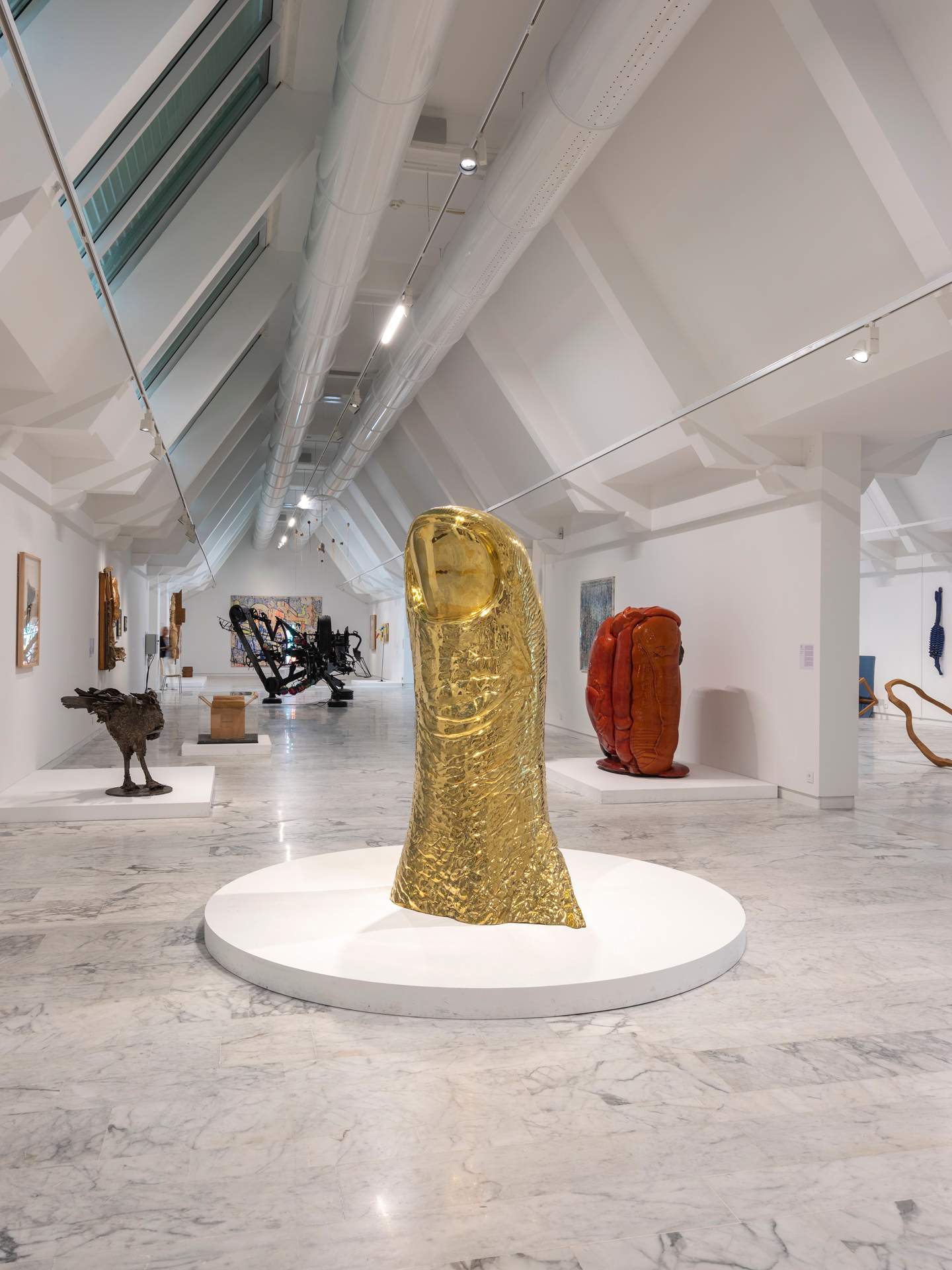 Located near Prado beach and Parc Borély, the museum is a great jumping-off point to explore the city's docile side. Marseille-based Bureau Architecture Méditerranée's co-founders, Maxime Repaux and Frédéric Roustan – also behind a lofty auditorium in Budapest and a sleek archaeological centre in Cairo – were tasked with injecting a sense of the Riviera's luminosity into the minimalist space.
Inside, Italian artist Paola Pivi's bright and cheeky work inaugurates the venue's refreshed programming, which will focus on artists from across the Mediterranean. Pivi's installation Free Land Scape consists of a tunnel made from denim, representing a childlike vision of the sea. The museum's new layout also allows for more room to show off its permanent collection, which spans everything from arte povera to fluxus, featuring works by French artists including Niki de Saint Phalle, Louise Bourgeois and Daniel Buren, as well as big names such as Jean-Michel Basquiat, Carsten Höller and Robert Rauschenberg. 
On the ground floor of a historic palazzo facing Venice's Grand Canal, in'ei is an art and design gallery with a particular focus on China, South Korea and Japan. The space is the brainchild of French business partners Patrice Dumand and Hélène Dubois. Dumand calls Venice "the perfect city" for such a project. "Venice was that bridge looking to the east," he says. "There was a lot of traffic [historically] between the city and East Asia."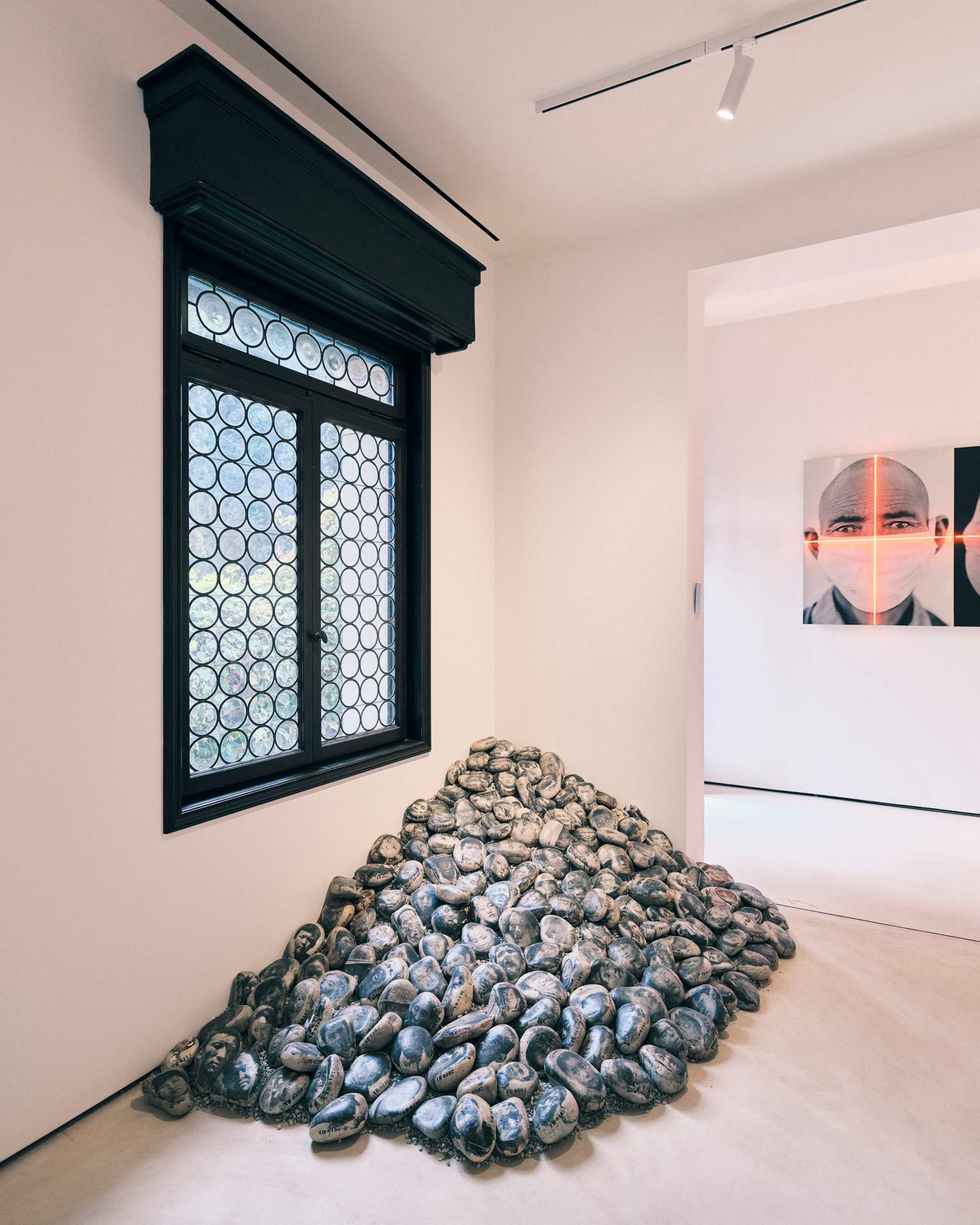 The pair had already worked together on another passion: bringing Japanese vintage furniture to Europe as part of a previous project that they began in Florence in 2019. Seeking to create a home to show works by East Asia's architects and artists in Italy, Dumand and Dubois found the current building online and fell in love. Dumand calls the gallery's programming "eclectic", with plans to change the shows up to eight times a year.
in'ei's opening exhibition focused on often political Chinese artist Gao Bo, including photography from his travels in Tibet. Next up, to tie in with the architecture biennale, is South Korean architect Jinhee Park and Japanese collective h220430. "It's going to be the perfect example of who we are," says Dumand. "From joyful to cerebral." 
venue
Sabino 336
Mexico City
On a quiet street lined with industrial warehouses in Mexico City's Atlampa neighbourhood, contemporary artist Bosco Sodi has opened a new studio and gallery space. Brooklyn-based Sodi, who founded Casa Wabi in Puerto Escondido, needed a place to work when he travelled back to the Mexican capital, which is his hometown. He also wanted somewhere to present his pieces, most of which were hidden away in boxes. "The main purpose of work is to be seen," says Sodi. "It's interesting to visit old works and have a new dialogue with them."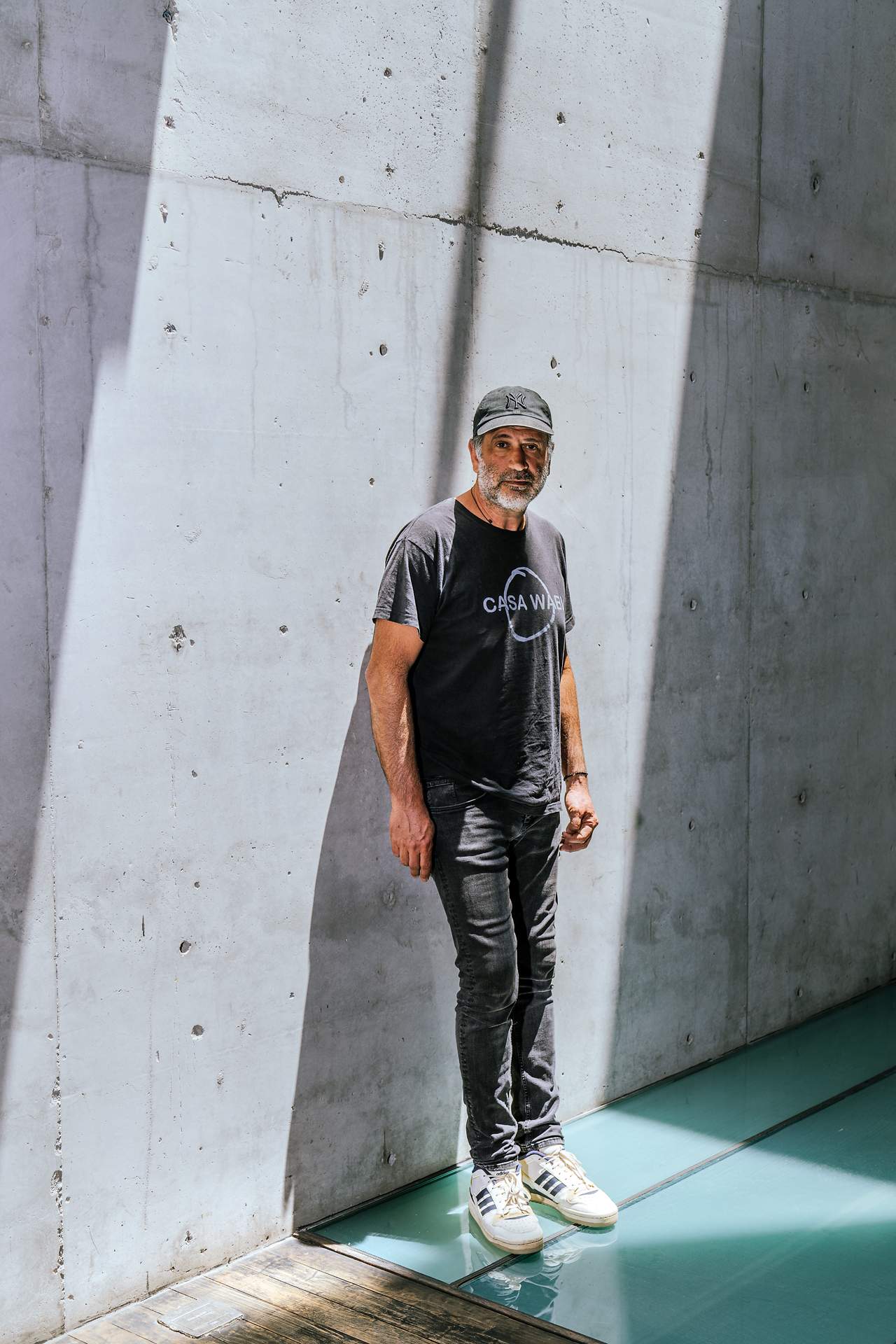 To design Sabino 336, Sodi enlisted the expertise of Mexico City-based architect Alberto Kalach, a longtime friend. "We have a similar philosophy: we like humble materials, such as concrete, wood and brick," says Sodi. "I wanted to create a space that looks like it has been there forever; there's no competition between the building and the art. The light changes through the day and there's an interesting dialogue."
Sodi bought the former warehouse six years ago, tore it down and replaced it with two soaring cement and brick structures; one houses Casa Wabi's offices and two exhibition spaces, while the other houses Studio Bosco Sodi. From the outside, Sabino 336 almost blends into the street but inside it's minimalist and cutting-edge. Across multiple levels are gallery spaces and a terrace with Sodi's hallmark pieces: large bronze sculptures, gold-coated spheres and paintings made from a mixture of sawdust, pigment and water.
The building also has a ground-floor café and a studio where Sodi can work. Look at the view from the rooftop terrace and you'll see the surrounding warehouses almost bleed into the distant mountains. Sodi saw an opportunity to lift this neighbourhood, one of the more underprivileged areas of Mexico City. "Art has the power to change complicated dynamics," he says. "It has always been my philosophy. There's an obligation when you do these types of projects; you open them in a place where they will add value." Last year, Sodi debuted Assembly, a non-profit museum in an old Buick dealership in the forgotten town of Monticello, north of New York. 
The gallery in Mexico City is open to everyone; neighbouring schools are invited to join creative workshops and spend full or half days in the space. "That's most important for me," says Sodi. "Art means its most when everybody can see it."
Though based in the UK, British-Nigerian artist Yinka Shonibare has long been a key player in Lagos's creative scene. His role as a city patron has grown steadily since he launched non-profit foundation Guest Artists Space (Gas) with a board of directors in 2019. A brutalist cement building in Nigeria's biggest city, the structure, designed by Ghana-born UK architect Elsie Owusu, stands in stark contrast to the surrounding uniform houses. "The building will be able to deal with the rain and sun," says Shonibare. It will function as an art hub, with a courtyard and private rooftop for events and gatherings, as well as a gallery, artist-in-residence quarters and an apartment for Shonibare.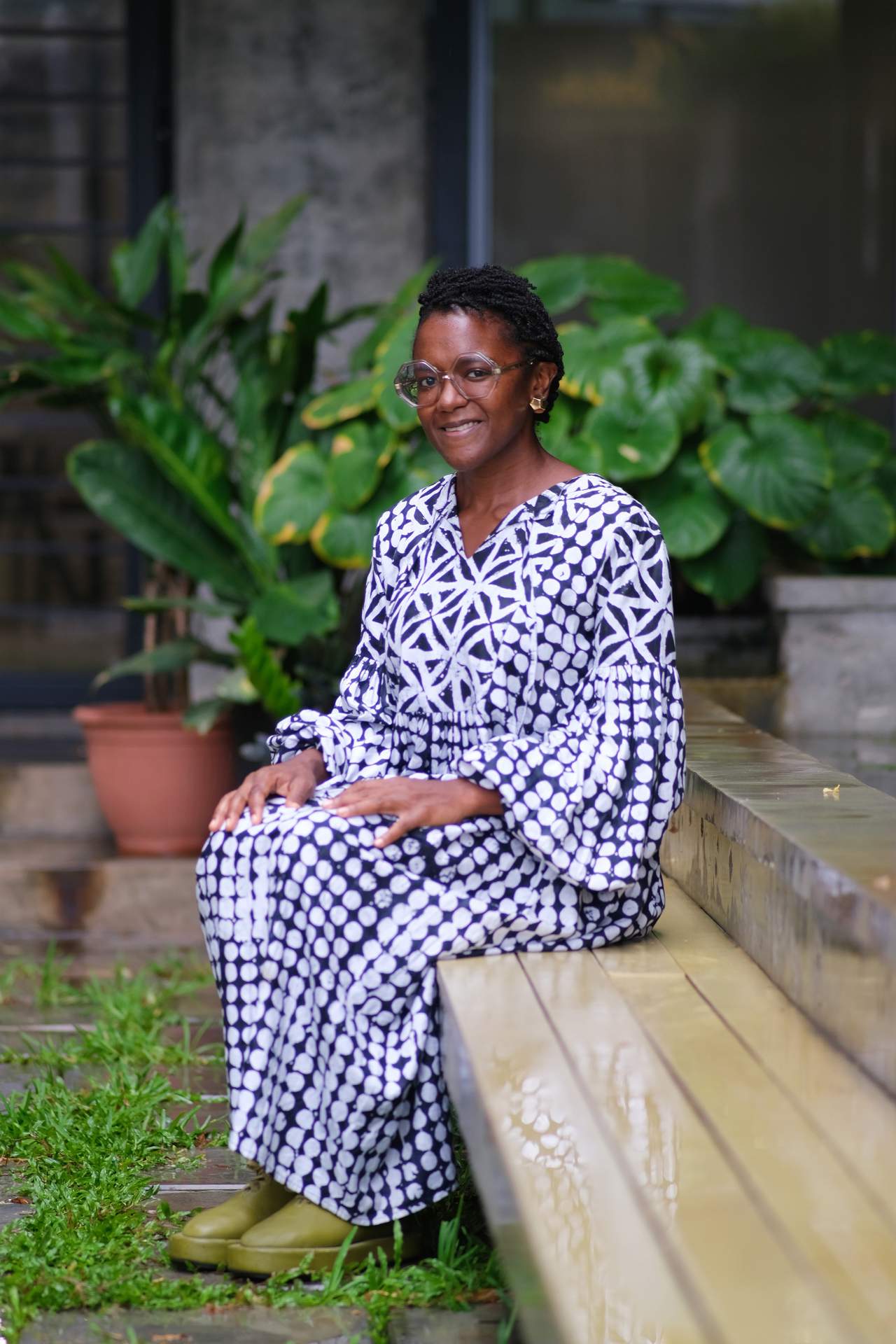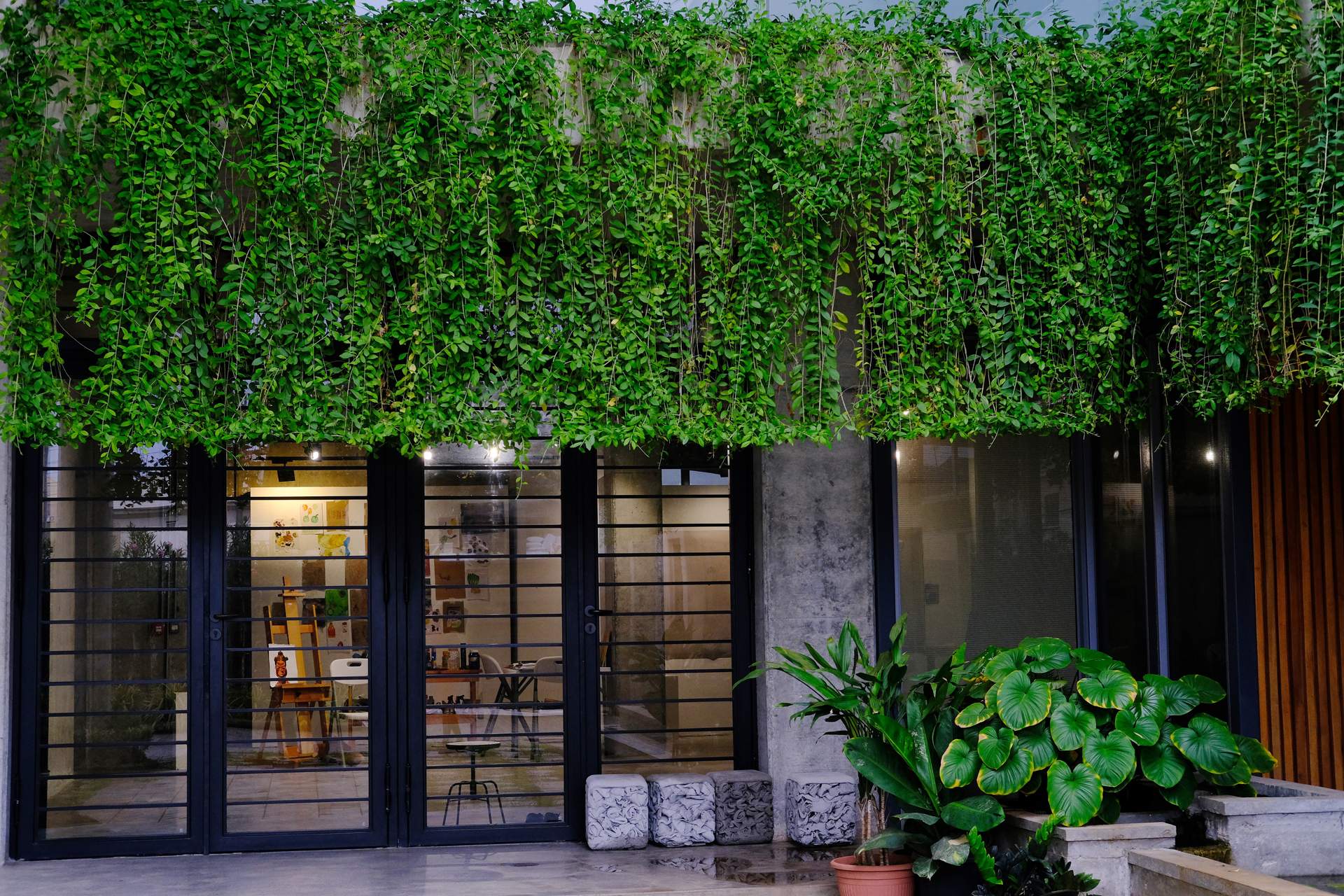 Previous residents include South African Nolan Oswald Dennis, UK-based Evan Ifekoya and Nigerian Samuel Nnorom. Shonibare's hope is to create a deeper dialogue between Nigerian and foreign creatives. "There's a huge ignorance about Africa," says Shonibare. "Knowledge exchange is important so that people can meet other practitioners like themselves and learn from them."
Shonibare has also opened another artist-in-residence venue on a farm two hours outside the city. "I didn't want to build a project that's elitist and doesn't connect with a place," he says. The hope is that more creatives will engage in projects around food security. "It's also to support the local ecosystem, because in Africa many disciplines are interrelated," says Shonibare. As the interest in African art grows globally, the time is ripe for this kind of institution. "Now, sectors like fashion and art have a huge market and are highly valued," he says. "The talent is just unbelievable." — mho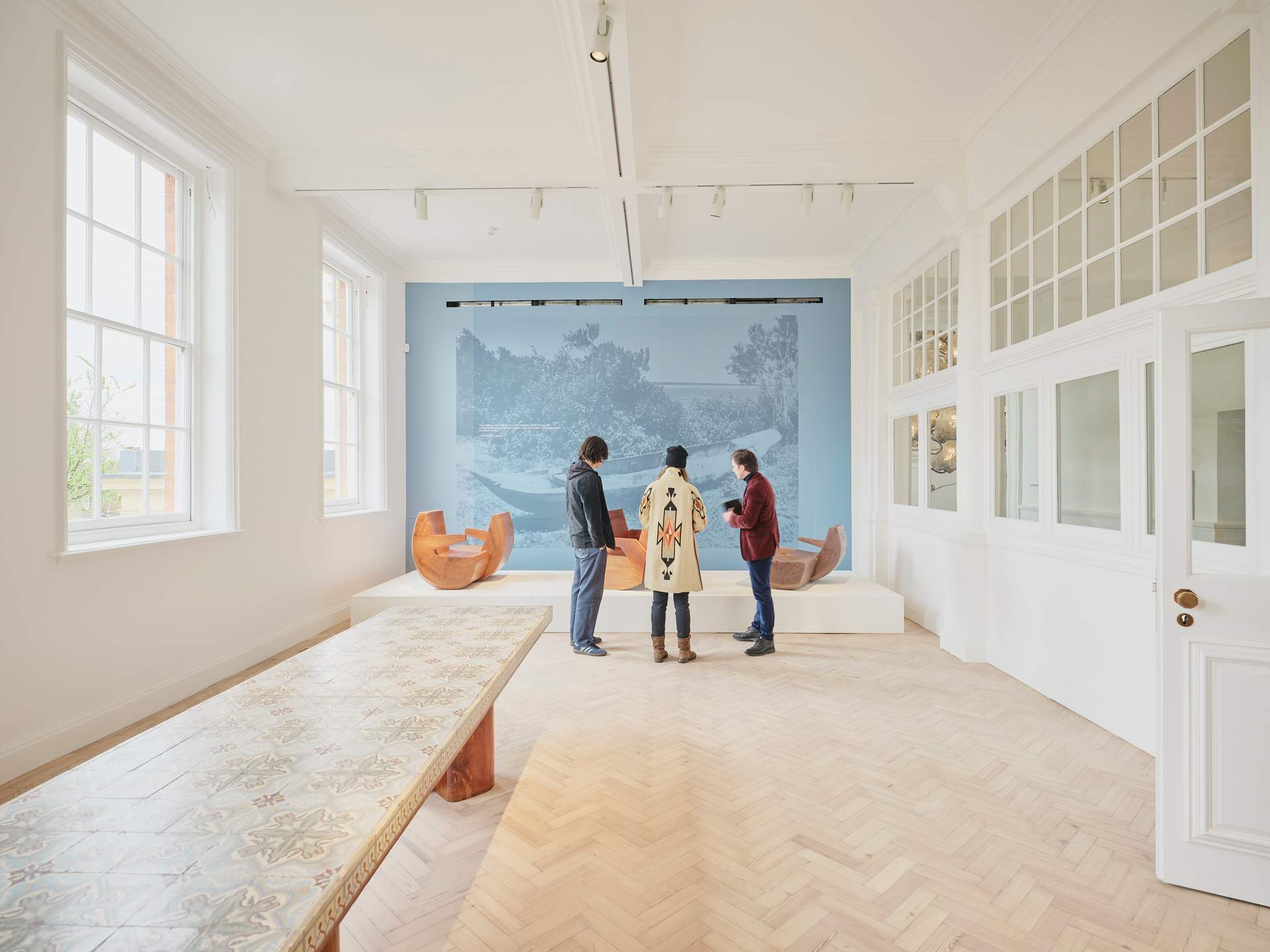 The former HQ of Britain's first purpose-built car factory has been transformed into London's newest cultural centre. When it was completed more than a century ago, Ladbroke Hall contained car showrooms, offices and a panelled directors' suite. Loïc Le Gaillard and Julien Lombrail, co-founders of Carpenters Workshop Gallery, are breathing new life into the vast listed building. "My core business is about creating exceptional objects," says Le Gaillard. "In 1903 they were building exceptional sports cars here. We are carrying on the legacy of elite craftsmanship and creativity."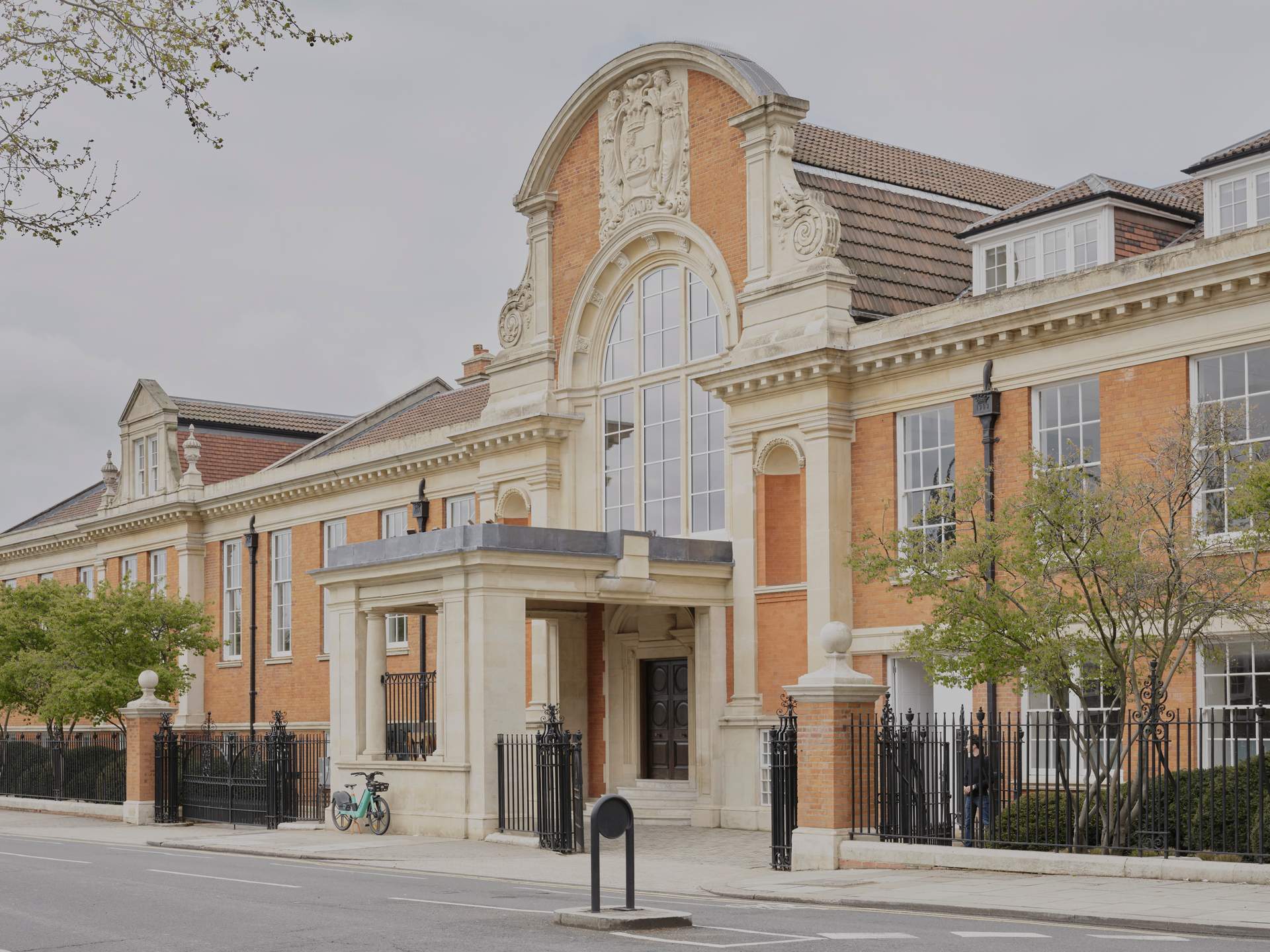 The east wing will host a gallery space, exhibition rooms, private salons, a terrace and a jewellery showroom. The opposite wing will include a 120-seater theatre and a recording studio, plus events space. From the garden, designed by Chelsea Flower Show winner Luciano Giubbilei, to the Steinway grand piano in the Sunbeam Theatre, the project has involved an impressive list of collaborators and brands. An onsite restaurant led by Italian chef Emanuele Pollini will also open in September. The scale isn't lost on Le Gaillard. "This is the biggest project of my lifetime," he says. "It's the beginning of something very ambitious – artistically and culturally."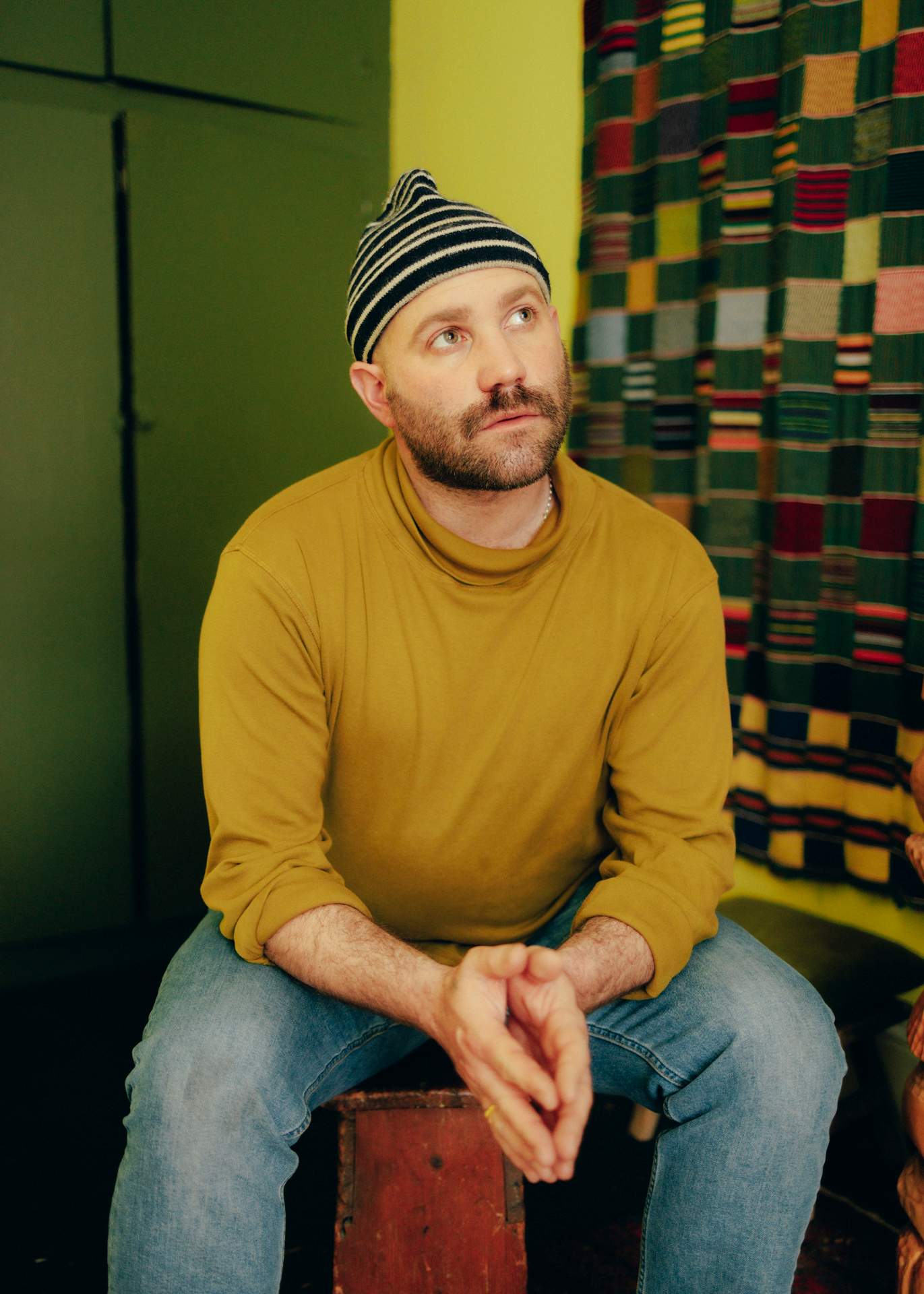 Inside the National Arts Club in Manhattan's Gramercy Park district, Tiwa Select is a recent transplant to New York's gallery scene from Los Angeles. It carries the torch for a rich but overlooked tradition within US arts: handmade craft objects from self-taught makers.
Founder Alex Tieghi-Walker (pictured) was inspired by a trip to Japan in 2019. "There are shops in Japan called 'select stores', which are collections of objects that the owner likes, not necessarily targeted to a particular audience," he says. On the plane home, Tieghi-Walker, a collector of craft objects, drew up a business plan for a platform featuring works by self-taught artists. When the pandemic scuppered his plans for a physical space, he set up an online shop that grew quickly. "I wasn't simply putting pieces on the website for sale," he says. "I was investigating the makers' stories and the history of the craft traditions that they were working with." 
As Tiwa Select has expanded into physical exhibitions, Tieghi-Walker has kept a context-rich approach, focusing on artists from a range of backgrounds. "Vince Skelly, a wood sculptor I work with, was previously a skater and musician. Potter Jim McDowell was a coal miner, then in the army. Ceramics was something he started doing much later in life. I've always been interested in artists who have been making without the intention that their work would be viewed as art; that it would have a more practical use instead." 
Ateneum, Finland's most renowned art museum, has unveiled a rehang of its permanent collection. The institution's new exhibition, consisting of 280 works by 160 artists, seeks to question the prevailing narratives around Finland's cultural identity. "Our collection has played a pivotal role in shaping Finnishness," says director Marja Sakari. "We wanted to examine the dynamics of inclusion and exclusion in how we tell Finland's story through art."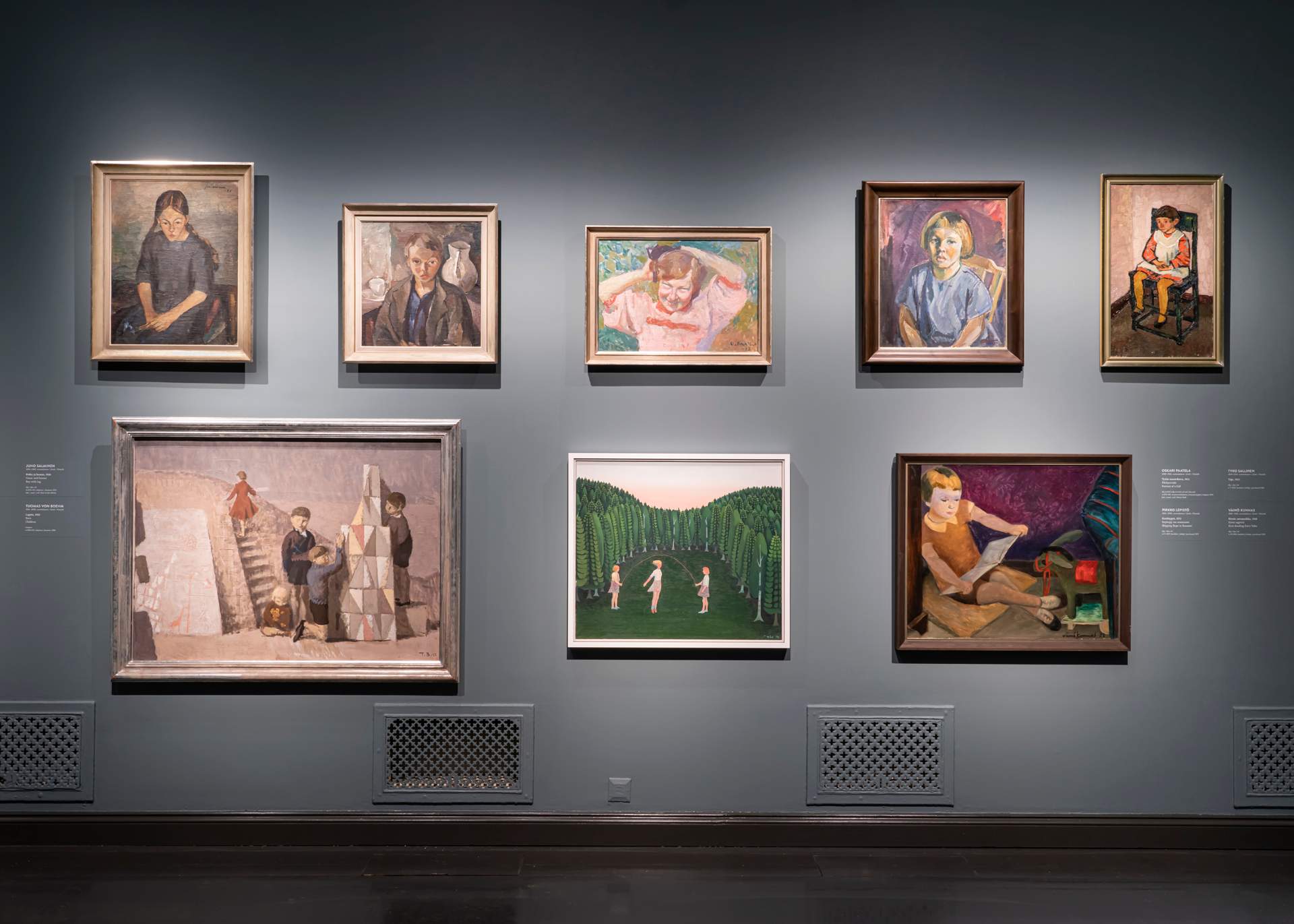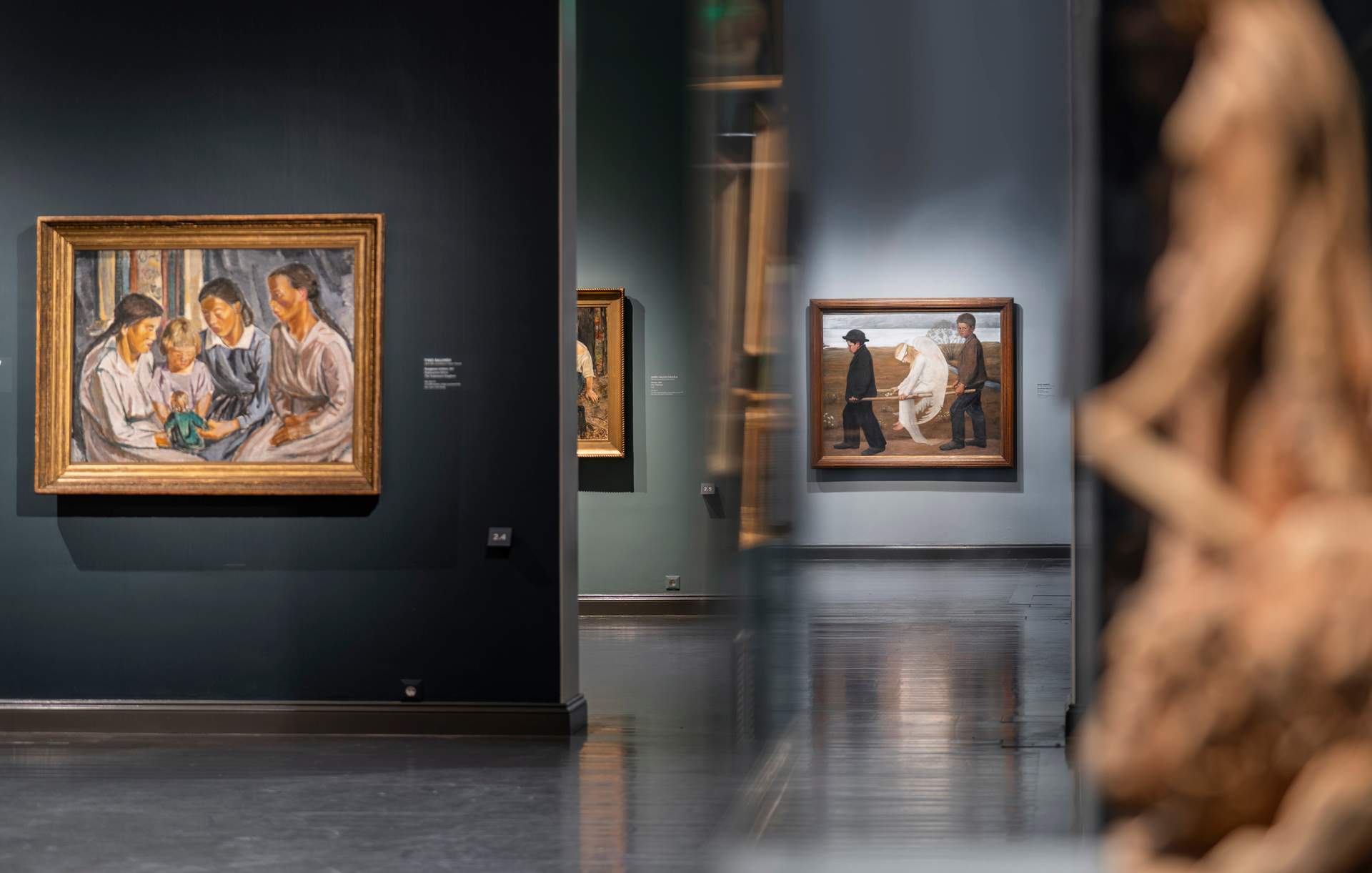 The refreshed display includes works that portray minorities such as the indigenous Sami people and people of colour. It forsakes art history's traditional chronological narrative, adopting a thematic approach instead. Works are grouped around topics such as modernisation and our relationship with the natural world. "People love Ateneum for its classics and they're still very much part of our collection," says Sakari. "But this thematic approach offers a novel perspective."
The new hang brings works such as the "Redbearded Moor" by the Lappish artist Reidar Särestöniemi and the monumental "Samiuela Elone (Tonga)" by Sirpa Alalääkkölä into the spotlight. 
venue
Slovak National Gallery
Bratislava
The giant inflatable spheres inside the Slovak National Gallery look as though they were measured specifically to be displayed in the gallery room, yet the colourful installation by Stano Filko was conceived in the 1970s to inject some excitement into the grey urban life of communist Czechoslovakia. When the museum acquired the artwork in 2015, it lacked a decent space to display it. Now the long wait is over and Filko's piece stands proudly at the heart of the institution's renovated venue in Bratislava. 
The gallery's display rooms range from baroque-era halls to modernist extensions by architect Vladimír Dedecek. Atelier bkps, which was in charge of the renovation, wanted to maintain the building's historic features but it has also transformed the tunnel-like technical rooms into loggias with spectacular views of the Danube and the city's ufo Bridge. "All of a sudden, the building is inspiring artists, architects, musicians and performers," says Lucia Gregorová Stach, the gallery's chief curator of modern and contemporary art. "Even the fact that it has connected the river with the city means a lot. It has created a new experience of the city." Gregorová Stach has worked at the Slovak National Gallery since 2010 but the reimagined site has allowed her to look at the location with fresh eyes and envision a new programme strand centred around the river and music. 
With the Austrian capital just an hour upstream, Bratislava has often been eclipsed by the vibrant Viennese art scene. Now, however, the National Gallery's new space is giving its team the confidence to claim the city's place on Central Europe's art map and present sometimes overlooked Slovak artists. Gregorová Stach will collaborate with museums in the region on an exhibition about expressionism in Central Europe. "Perhaps we don't need to start with Egon Schiele and Oskar Kokoschka," she says. "Instead, we can tell the story from our own point of view." 
The structure that now houses Paris's Hangar Y has lived many lives. Originally built as a pavilion for the third Paris World Fair in 1878, it was moved southwest to the Meudon forest, where it formed the skeleton of the world's first airship hangar. It then reopened in the 1920s as an air museum, which was moved to the 15th arrondissement, then shut down by the Nazis. By the time that entrepreneur Didier Gouband noticed the site, it had been abandoned for decades. "The building was falling to pieces, to be honest," says Aideen Halleman, Hangar Y's general manager. 
The vast hall has now been reimagined as a multi-use arts centre. Alongside exhibitions, Halleman hopes to stage theatre, dancing and even circus shows. "We want to explore new things and find the next frontier," he says. The surrounding nine hectares of forest have also been given an upgrade with a contemporary sculpture trail and a restaurant with views of the 17th-century Chalais basin.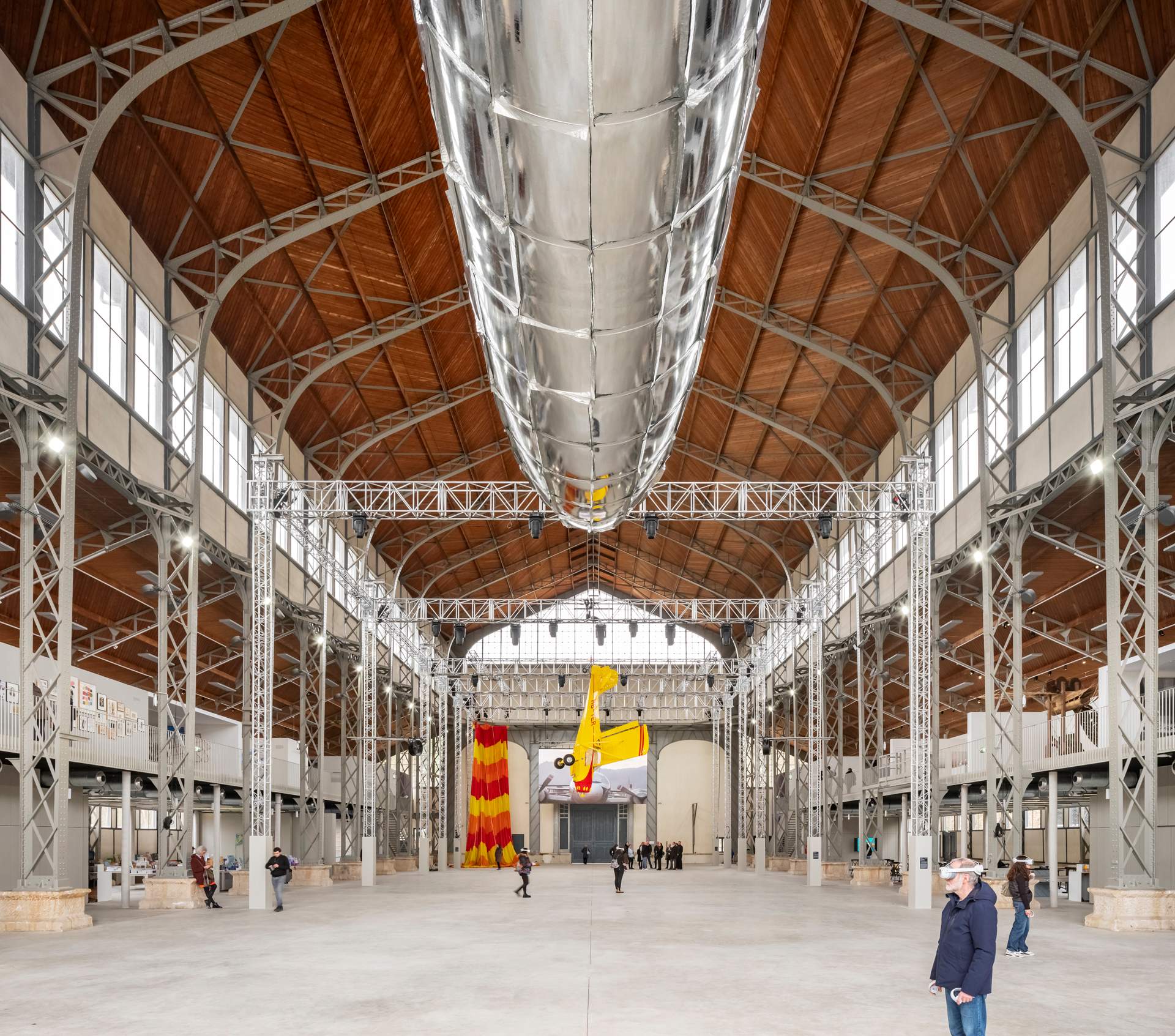 Bagnolet-based Data Architectes was tasked with renovating the space in a way that honoured its colourful past. "The idea was to bring a 19th-century spirit of innovation and exploration into this century," says Halleman. Hangar Y's modern glass façade gives the building the impression of being wide open – just as it would have been when it housed airships. 
A conversation between past and future is also evident in the opening exhibition. Titled In the Air, the Flying Machines, after the book Dans l'air by Brazilian pilot Alberto Santos-Dumont, it traces the enduring fascination with human flight in global art. The artworks on display, including drones and spaceships, are aeronautical innovations that Hangar Y's original inhabitants could only have dreamed of.
interview
Robert Ketterer
Ketterer Kunst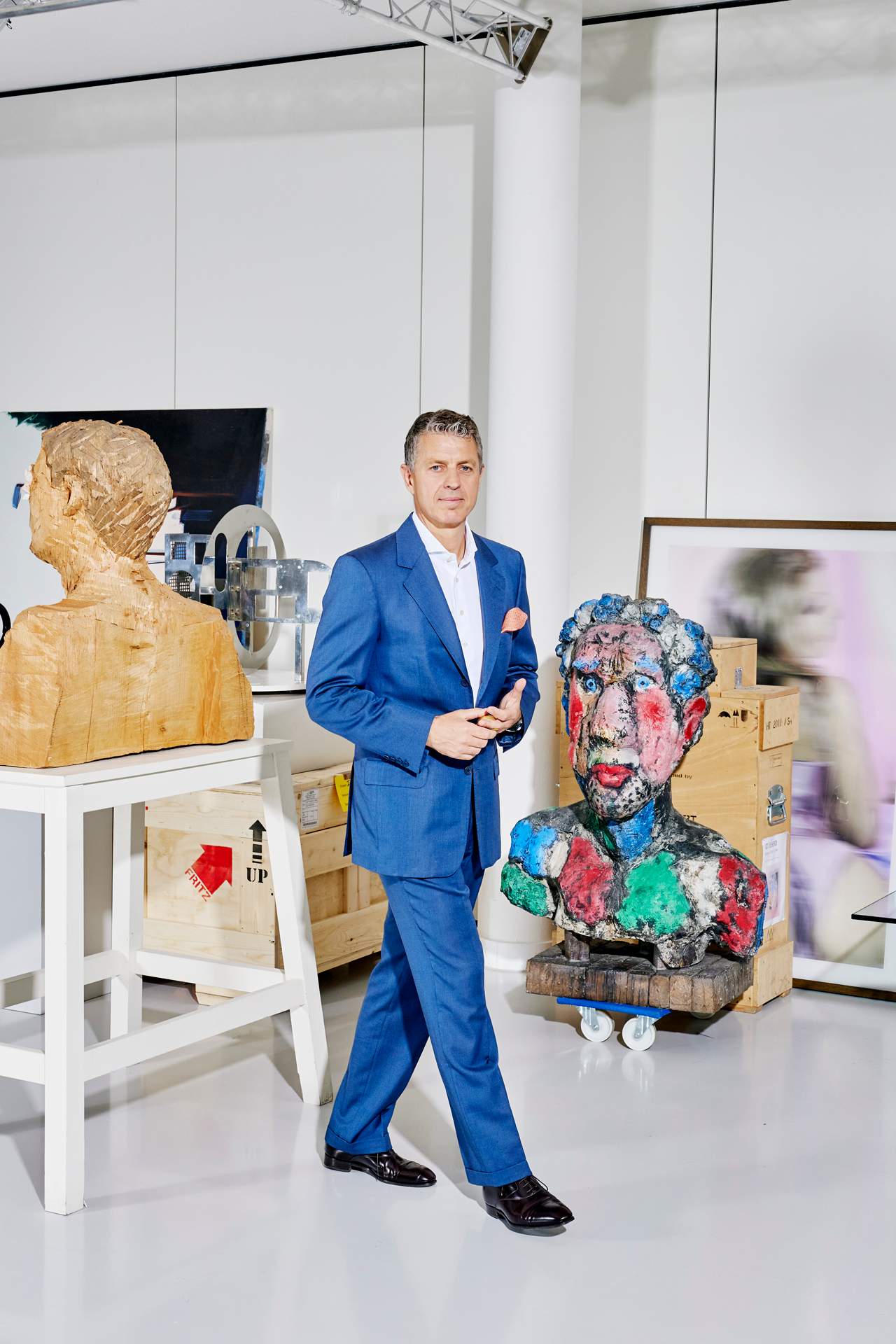 Founded in 1954, Munich-based Ketterer Kunst is a family-owned auction house specialising in art from the 19th to 21st centuries, as well as rare books. Last year it achieved a turnover of about €100m. Having taken over the business in 1994 at the age of 25, ceo and auctioneer Robert Ketterer leads the company from both boardroom and podium. He tells us how his clientele has changed in recent years and why auction houses outside the world's main art hubs now have a chance to shine. 
Who are Ketterer Kunst's clients?
It's an ever more diverse group. In the past it was the wealthy entrepreneurs of the postwar Wirtschaftswunder [West Germany and Austria's economic bounceback of the 1950s]. Then these were joined by a broad range of business owners or successful lawyers and doctors. In the past 20 years, I have seen an enormous change driven by the internationalisation and digitalisation of our business. We now have clients from around the world, mostly private individuals but also a number of museums and collections. We recently sold a Gerhard Richter painting to a collector in Hong Kong, other works to customers in the Middle East and Asia, and modern art to US bidders. 
As the CEO, why do you still choose to lead the major biannual auctions? 
I really enjoy it and it is where I excel. The key to being a good auctioneer is empathy, knowing the art and the audience. We have bidders in the room, on the phone and on the internet but I know who they are at every moment. You need to have good communication, to know when to push and when to stop – and to not be so fast that you miss bidders. I've been doing this for more than 30 years; there are many small tricks that come with the experience. 
What sets Ketterer Kunst apart from other auction houses?
Our auctions are quite small, with only 400 objects. We insist on printing catalogues in German and English, which is remarkable. Most houses have stopped printing catalogues but we send 10,000 of them all over the world. If you have the catalogue on your table, it commands more attention than a link in your inbox. Plus, consignors are more likely to sell at a higher price if their artwork is in print. We also started digitalising early, in 2007. During our sales, we have a video live-stream using up to nine cameras with three operators and three people directing what you see, with close-ups and different information – so it's not boring; it's like a television show. 
What do auction houses in mainland Europe have to gain from Brexit? 
Brexit changed a lot of things and so did the pandemic. In 2018 or 2019, there were two major auction spots in the world: London and New York. Now you can find big auctions in Paris, Munich, Shanghai or Hong Kong. We used to go to London for one week and it was fun to jump between the auctions at Sotheby's and Christie's but buyers now realise that they can go elsewhere. 
Looking ahead, what are you most excited about?
We hold big biannual auctions and our next one is in June, with names like Alexej von Jawlensky and Gerhard Richter. We have a Max Pechstein painting, which is amazing because until two months ago it was in the Nationalgalerie in Berlin. It's part of a restitution case and has been given back to the heirs of the collector. Restitution cases are really important in the global art market at the moment.
calendar
Auction round-up
Global
Helsinki Spring Sale
Bukowskis Helsinki
The Swedish auction house, acquired by Bonhams in 2022, will be presenting Nordic art, including standout pieces by Finnish painter Helene Schjerfbeck and writer-cum-artist Tove Jansson. 
Until 28 May; bukowskis.com
Summer Auction
Grisebach Berlin
German auction house Grisebach's summer sale is the occasion to pick up pieces by 19th- and 20th-century artists such as Jean Fautrier, Max Liebermann and Egon Schiele.  
1-2 June; grisebach.com
Pierre Boulez Collection
Artcurial Paris 
Composer Pierre Boulez's private collection includes pieces from the prominent artists he met during his career, including Alberto Giacometti, Joan Miró and Pierre Soulages. 
7 June; artcurial.com
Mary McCartney: Can We Have a Moment?
Sotheby's London
This selling exhibition pays homage to UK photographer Mary McCartney's 30-year career, displaying portraits, still-life images and landscapes.
Until 9 June; sothebys.com
Modern and Contemporary Art
Pandolfini Milan
Italian painter Antonio Ligabue's "Autoritratto" will go under the hammer for the first time in Milan, along with works by 20th-century artists such as Giorgio de Chirico and Carlo Carrà. 
21 June; pandolfini.it
Picassomania
Bonhams Paris
Bonhams is marking the 50th anniversary of Pablo Picasso's death with a sale of works by the master and other artists celebrating his legacy. 
29 June; bonhams.com
The Art of Hawaii
Bonhams Los Angeles
This sale features works by contemporary artists including Betty Ecke and Hajime Okuda, who celebrate the beauty of the Pacific archipelago. 
5-15 August; bonhams.com
David Hockney London Auction
Phillips London
The second edition of this annual sale offers the chance to secure a piece by the beloved British painter. 
20 September; phillips.com
interview
Eri Takane
Director, Tokyo Gendai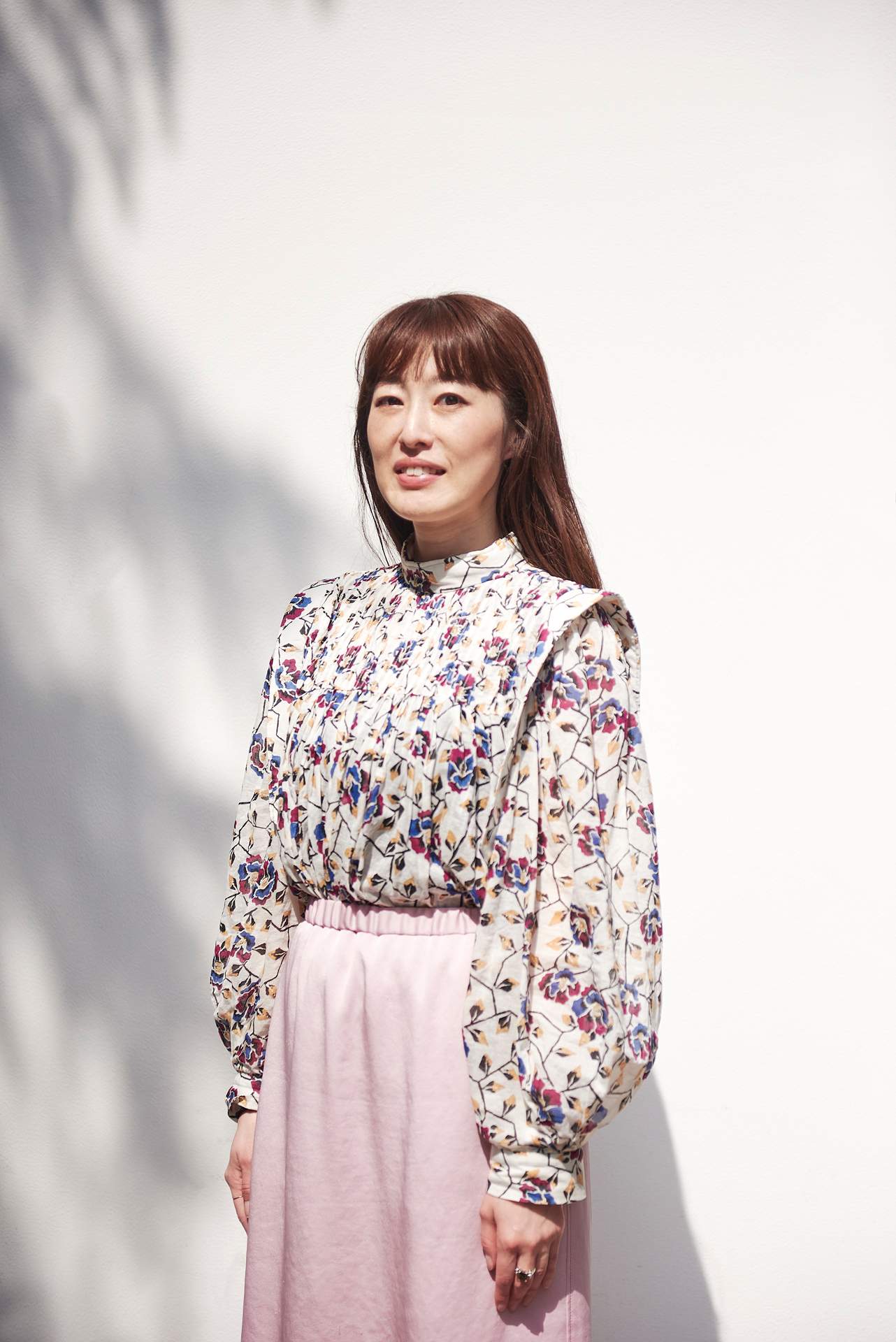 Tokyo is hosting a new international contemporary art fair this summer. Set inside the Pacifico Yokohama convention centre, Tokyo Gendai will bring together almost 80 galleries from Japan and beyond. The fair is organised by The Art Assembly, which is behind many of the largest art events around the Asia-Pacific region, including Sydney Contemporary, Taipei Dangdai and Singapore's Art SG. Tokyo-born director Eri Takane, who lived and worked in New York until 2016, tells us why it was important for the Japanese capital to have its own hallmark fair. 
Why Tokyo? 
It's about time! People have long been waiting to hold a big international art fair here. The last one, the Nippon International Contemporary Art Fair, was about 30 years ago. Recent fairs in Tokyo have been more focused on local galleries; we haven't had an event on this scale. This year we'll have nearly 80 galleries – 40 per cent of the exhibitors are Japanese, while the other 60 per cent are half Western, half Asian. We have a lot of amazing museums and galleries in Tokyo but the general audience hasn't connected visiting art shows to buying art. Taiwanese, Chinese and South Korean collectors are excited. They're interested in visiting Japanese art studios and galleries. 
What's the art-buying scene like in Japan now? 
There's a new generation of art buyers who have started collecting, many from IT backgrounds or start-ups. Beginners often feel more comfortable buying a painting but collectors are also getting videos, sculptures and different media. When you think about the contemporary art market in the US and the philanthropists paying for museums there, Japan is different. We have a lot of wealthy people but not at that level. There won't be so many takers for a $50m [€45m] painting but there is still huge potential, because a lot of people can afford a $50,000 [€45,000] work and those sales are important to a mid-size gallery. We have some big artists in Japan, such as Takashi Murakami, Yayoi Kusama and Hiroshi Sugimoto. But we're also looking at younger generations and different creatives. I'm enjoying the work of female artists using pottery, such as Namika Nakai. I'm hoping that this fair will highlight new names who might interest people in the future. 
What's on offer at Tokyo Gendai? 
We have four sections. The main one focuses on leading galleries from Japan and around the world. Then there are three more with Japanese plant names: Hana ("flower"), where you can explore up-and-coming artists; Eda ("branch"), which focuses on curated exhibitions or artists who are well known in Asia; and Tane ("seeds"), centred on new media, including nfts and digital art. We also have talks and installations, as well as a vip excursion programme for people to visit museums and studios in places such as Kyoto, Naoshima and Maebashi. 
Do you think there are too many art fairs in the world?
[The Art Assembly] is organising six art fairs in Asia under the same umbrella but we have different names for each one. We try to localise every event. There are more than 300 art fairs held globally every year but 90 per cent are in Western countries. If we can balance it out, that would be nice. 
Tokyo Gendai runs from 7-9 July; tokyogendai.com
photographers: Felix Brüggemann, Jack Orton, Jun Michael Park. Ériver Hijano, Evan Jenkins, Prarthna Singh. Aaron Wojack. Jake Norton, Andrea Pugiotto, James Reeve, Enebiriodo Ugochukwu. Timothy O'Connell, David Payr, Polly Tootal, Roderick Aichinger. images: Luc Boegly, Hayato Nage