My cabinet: The Salk Institute / Global
In their element
The dramatic open-plan offices of this scientific-research group make for staff with unrivalled chemistry.
When Jonas Salk, the American virologist who developed the polio vaccine, founded The Salk Institute in 1960, he told architect Louis Kahn to create a facility "worthy of Picasso". Kahn clearly succeeded. Nestled between a lemon grove and the shimmering Pacific Ocean, the San Diego-based non-profit research organisation's concrete headquarters are a remarkable backdrop. "Physical beauty is one of the reasons I love working here," says Gerald Joyce, who joined The Salk Institute as president in early 2023. "But mostly it's the unfettered scientific ambition: when we're not gazing at the ocean, we're thinking science." 
Within the walls of this modernist structure, researchers work on a bevy of endeavours to improve quality of life around the globe, from mitigating climate change to extending the human lifespan, as well as developing new methods to fight cancer. Since its inception in the 1960s, the institute has been affiliated with six Nobel Prize laureates; the next one could well be in the midst of those gathered around Joyce today. The team is now assembled in the courtyard discussing life, science and their research under the Southern California sun.But most of their usual working day is spent in the building's open-plan laboratories. 
The communal set-up might be common in creative offices but for many scientific disciplines – where specific instruments and high levels of ventilation are often required – the idea is more novel. According to Joyce, labs that implement the open-plan model tend to reap the benefits. 
At Salk, the feature has helped foster a crucial skill over the years: collaboration. "Kahn and Salk hatched this idea," says Joyce of the building's design. "They didn't just want the institute's headquarters to be a beautiful place; it also had to be an environment grounded in teamwork. They didn't want anyone getting closed off in their own research because science, at its best, is about teamwork." Joyce is reminded of this every day. "We make greater advancements and can tackle the really big challenges more thoroughly when we work together."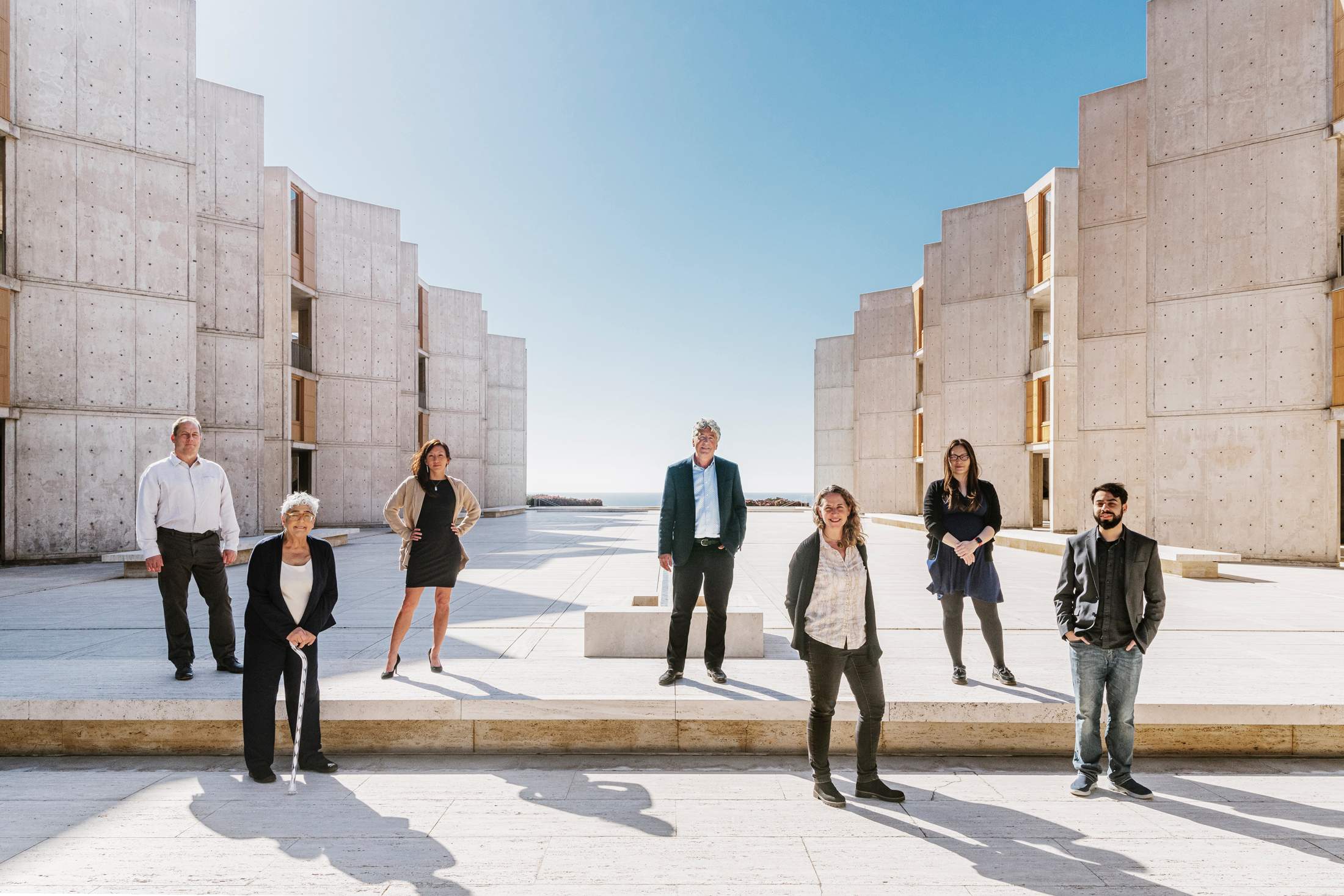 Born in Kansas and raised near Chicago, Joyce earned a medical degree and PhD at the University of California. His love affair with Salk started years before he became its president: he even held his wedding in the institute's courtyard. "It's easy to love this place if you love science," he says. He researches chemistry and biochemistry.
1. Jan Karlseder
Biology of ageing researcher
"Uncovers mechanisms of cellular division to improve interventions for ageing and cancer."
2. Joanne Chory
Plant biologist
"Optimises plants that store carbon in their roots to help mitigate climate change."
"Dissects the brain circuits that guide emotions and behaviours."
4. Susan Kaech
Immunologist
"Studies how immune cells fight viruses and cancer."
5. Dannielle Engle
Cancer researcher
"Explores ways to target and treat pancreatic cancer."
6. Talmo Pereira 
Computational biologist
"Develops computational models to study animal behaviour, brain function and plant growth."