Business: Mobility / Hamburg
Cabin fever
Every onboard innovation is enthused over at the Aircraft Interiors Expo, where the future of the in-flight experience takes shape.
There's no hard and fast rule about when the alcohol starts to flow at Hamburg's Aircraft Interiors Expo (aix). By mid-afternoon, stands have begun to host delegates ready to loosen ties and tongues – and likely get the bulk of the day's deal-making done. Lufthansa Technik, the design and maintenance arm of the German aviation giant, organises a "beer call", while Recaro Aircraft Seating's drinks are accompanied by a saxophonist. Having a well-stocked bar is clearly the key to an auspicious fair. "It's almost like a fraternity; it's a really tight community," says Aix's British events director, Polly Magraw. "All the top 100 commercial airlines come here, year after year."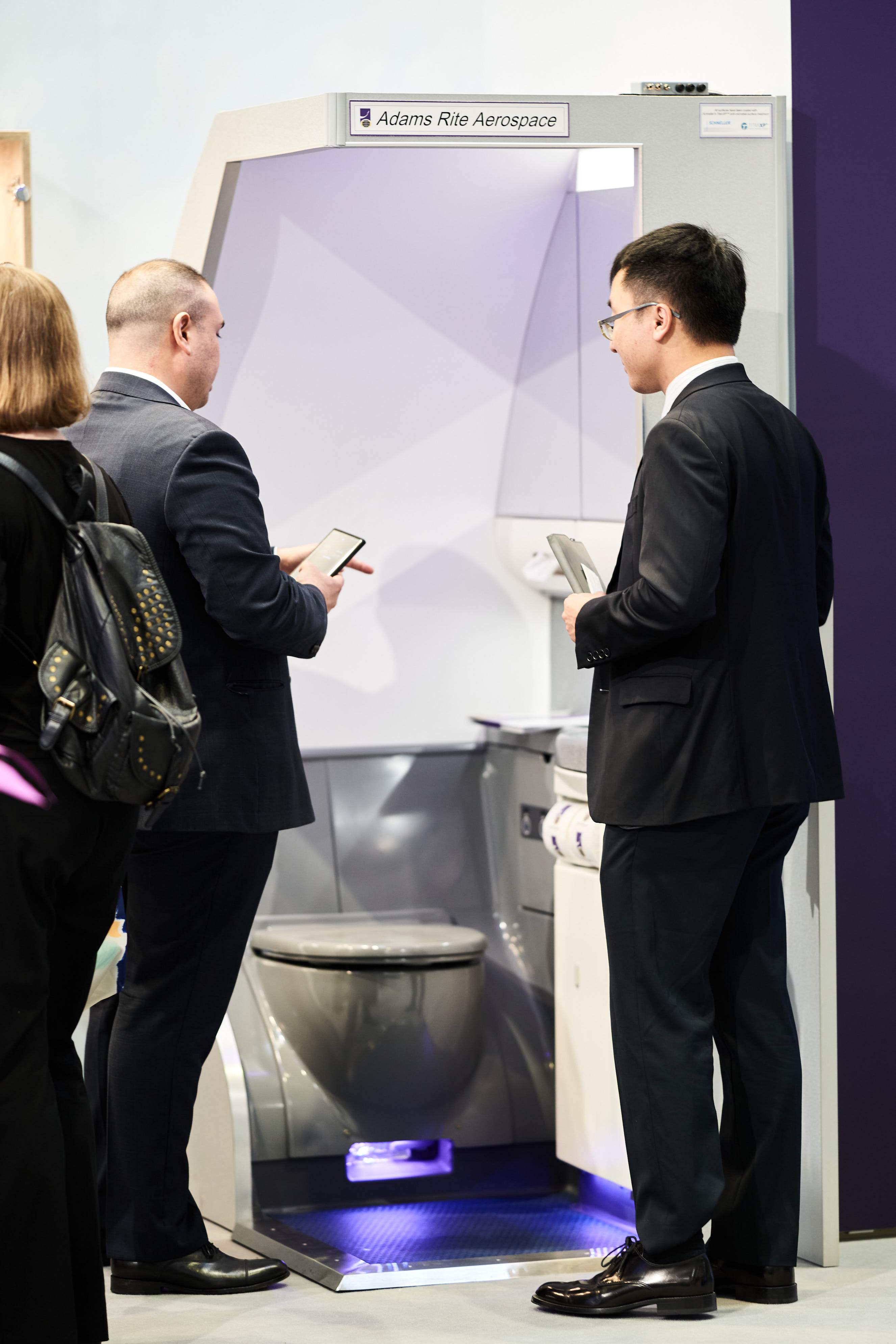 aix and its concurrent sister event, the World Travel Catering & Onboard Services Expo (wtce), offer a deep dive into the minutiae of the aeroplane cabin experience. Its niche of suppliers, manufacturers, designers and caterers see anchor floor fittings, led-lighting sequencing and optimised ceiling architecture where the average punter might only see seat rows, TV screens and overhead bins. It's no exaggeration to say that these three days of talks and meetings in Germany's second city help to shape what flying will look and feel like in the years to come. 
Magraw talks about the "resilience of the industry" after the bumpy ride of the past few years. Clearly things are starting to return to schedule. Wandering the whitewashed trade hall buildings of Hamburg Messe in June reveals a show that is busy without ever being overwhelmingly so, despite the breakout parties. With people wanting to travel and airlines recuperating the money they lost, the demand is certainly there, even if there are still supply-chain issues. Delegates clearly come to aix knowing who they want to talk to and what they need to get done.
Alongside the agreements, the expo services airlines' increasing desire to personalise their brands, a trend also populating life away from aircraft fuselages. "Not a lot of people even really know what aeroplane they're on, right?" says Andy Mason, the California-based vice-president of product development at Panasonic Avionics, standing in front of a wall of the company's new screens. "But the cabin is where [airlines] can differentiate."
That is where Panasonic comes in. Mason is showing off the company's new in-flight entertainment. Ranging from 13in (33cm) in economy up to 42in (107cm) for first-class, the screens are the first to use colour-popping organic led technology in 4K resolution, which Mason calls a "quantum leap" forward. The new Astrova software platform makes it easier for airlines to customise content and offer what Mason calls "engagement beyond entertainment". 
While Mason is adamant that seat-back screens are making a comeback, even if Europe is more reticent than the US and Asia, the real brave new world that aix reveals is how onboard connectivity is set to ramp up – bad news for anyone who enjoyed that last offline refuge up in the sky. Though not the only company doing it (Elon Musk's Starlink is another player), OneWeb could be changing the way we connect to the internet; it's working with distribution partners such as Panasonic to make it happen. 
For Nick Maynard, marketing director for mobility, OneWeb is helping firms "deliver on the promise of a connected airline". Since 2019, OneWeb has launched 648 low-Earth-orbit satellites, which he says will deliver high-speed internet anywhere without the latency issues experienced when connecting onboard using only traditional satellites that are about 30 times higher up. The US's Alaska Airlines is expected to start using the technology next year. 
From plane-makers to seating manufacturers, everyone seems to want to roll up to aix with either a prototype or an interactive experience. monocle finds itself sitting inside a full-size recreation of Boeing's wide-bodied 777x interior – set to enter service in 2025 – as Brenna Wynhof, regional director of cabin marketing, coos at the "cotton-candy gradients" of the lighting system's sundown effect. There is also a semi-transparent announcement monitor from Airbus – allowing crews to see through it from one side towards the passengers – and Recaro Aircraft Seating's Business Class prototype, featuring headphone-free audio built into the seat, where you can feel the bass ripple around your back. 
Perhaps the biggest punt is being taken by Italy-based aviation company Aviointeriors, which has come up with a pilot and passenger seat called "Seaty Flyer" for electrical vertical take-off and landing (evtol) aircraft. Small, helicopter-like electric craft are billed as the next big thing in urban mobility but they're yet to take off – literally. For Aviointeriors, aix is a vital place to get face-to-face feedback from industry insiders who can touch and feel a product, even if there are plenty of specifications and regulations to be worked out. Regular plane seating is still the core of the firm's business but there's logic in taking a chance on evtol, argues engineering adviser Gaetano Perugini. "It's better to be present today," he says. "When the market explodes, we will already have experience."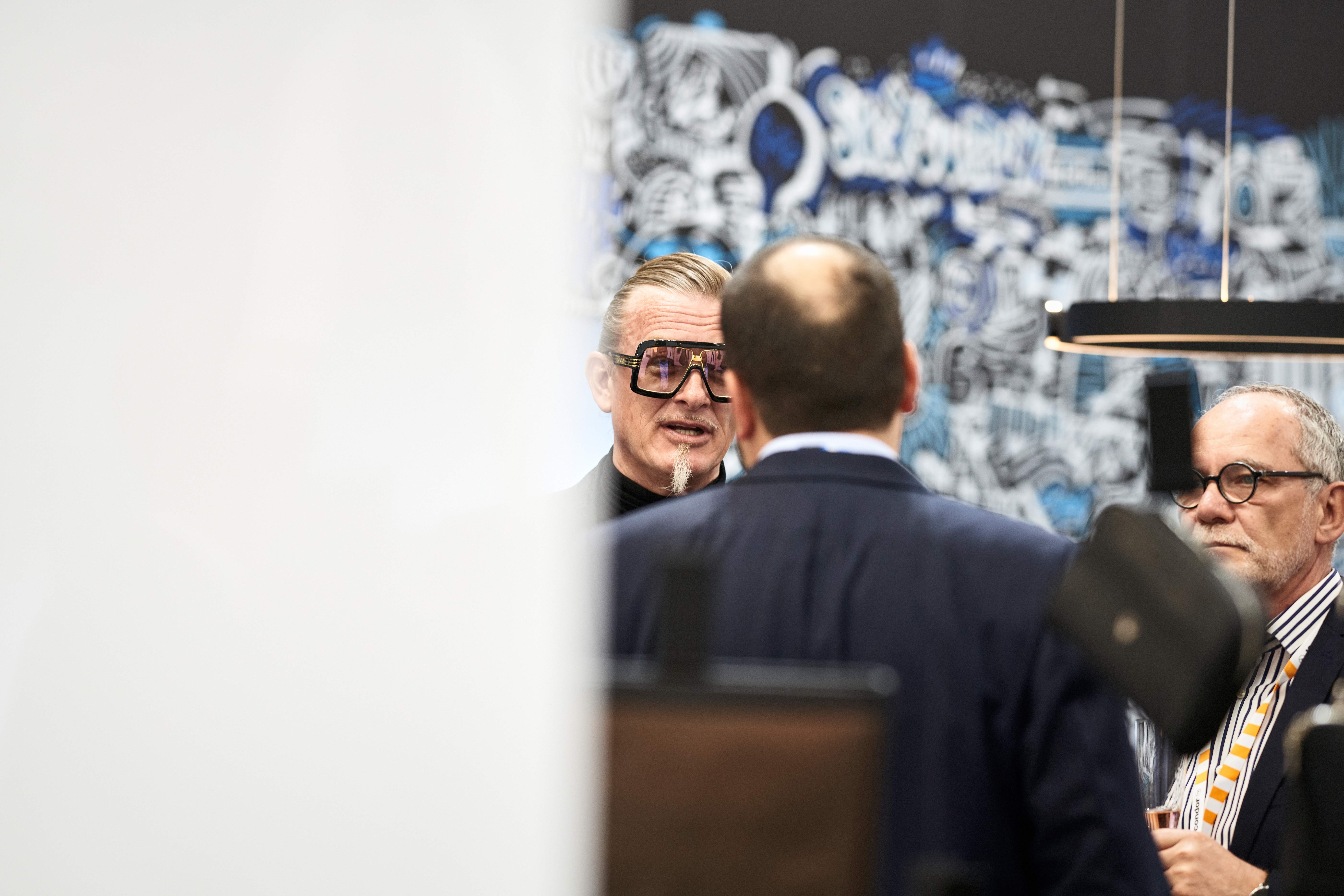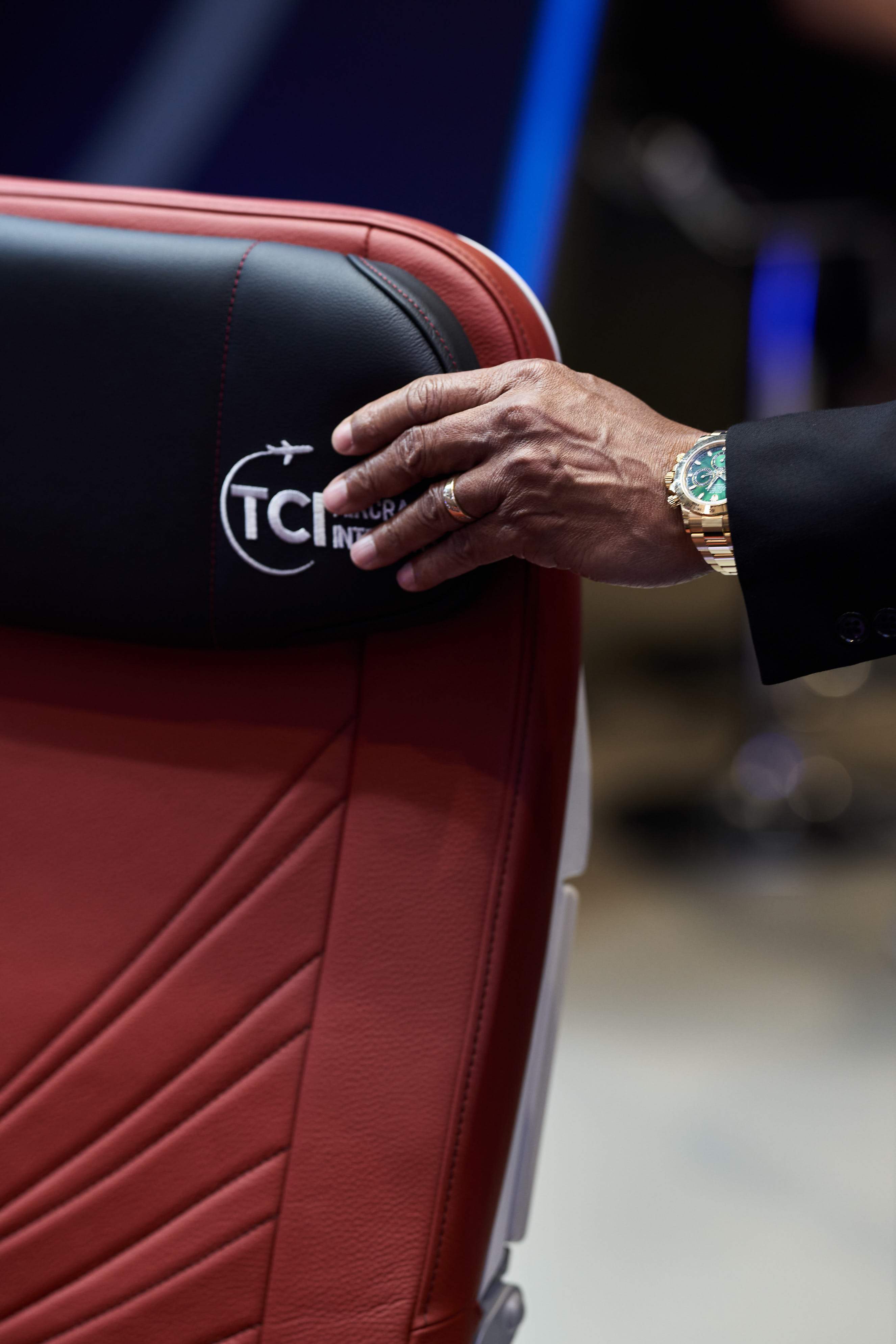 Many of the innovations on display in Hamburg aren't, however, aimed at new segments; they are plays on existing ideas, often with tweaks to make flying more environmentally friendly. An interiors expo, by its very nature, can't address the elephant in the room – engine fuel itself – but there are plenty of what event director Polly Magraw calls "quick wins" for those in the business of cabin furnishings, from reducing the weight of fixtures (so that a plane is lighter and consumes less fuel) to recycling materials. 
You can't walk very far at aix and wtce without seeing or hearing the word "sustainability", applied in every possible context. There are sustainable materials for seats, sustainable waste disposal solutions and sustainable prototype cups partially made from agave. One feels a little sorry for the ice company promoting individually wrapped ice packets: it seems to have misread the room. 
While some of the sustainability claims on display are questionable, one company that is looking to shake things up is Northern Ireland's Plaswire, which works across different industries recycling plastics (its biggest client to date is Danish wind giant Ørsted). It only launched its aviation product in June but Plaswire claims to have a solution for plastic offcuts and even end-of-life fuselages, using its technology to turn them into a polymer that can then be a replacement for precast concrete in the construction industry. "We're the only company that has addressed this problem," says ceo Andrew Billingsley, from his stand. "We can't change what comes out of the back end of the engine very easily but we can deal with the actual aircraft." 
It's easy to get stuck in the weeds in Hamburg. But it's also equally possible to zoom out and see the macro trends. Whereas privacy might be increasingly important after the pandemic, there seems little evidence that germophobia has left a mark on cabin interiors. aix does, however, offer further proof of the ever-reducing presence of First Class in favour of more profitable Business seating. And while much of aix is dedicated to the premium end of the market, there is a hint that some of its perks might filter down to coach, if Air New Zealand's bunk-bed concept, called "Skynest", is anything to go by. 
The trend towards airlines using narrow-bodied planes for longer-range missions also looks set to stay, offering new challenges about how to get the most out of space. "What airlines have are problems," says Anthony Harcup, senior director of airline experience at Teague, a design consultancy based near Boeing in the US's Pacific Northwest. "And problems, to us, are design briefs." Harcup and his team spend their days thinking about how to make a cabin feel airy and spacious, how seats can be redesigned to create more leg room and how people are going to feel after spending 10 hours on board. "Sometimes it takes a vision to inspire people," he says. Our onboard experience might one day be all the richer for it. 
The next AIX and WTCE will run from 28 to 30 May 2024.