Fashion: Fendi / Italy
Open house
From its lively HQ-cum-gallery in one of Rome's most imposing buildings to its modern Tuscan factory where workers are viewed as artisans, Fendi is proving itself a determinedly transparent and progressive brand as it continues to set standards in luxury fashion.
On the drive from Fiumicino Airport to the centre of Rome, one of the first sights to command attention is the Palazzo della Civiltà Italiana, standing tall on the horizon. The neoclassical building – its breathtaking scale has earned it the nickname Colosseo Quadrato ("Square Colosseum") – is now home to the headquarters of Roman fashion house Fendi. It stands as a symbol of the brand's powerful presence in its hometown, as well as its ever-growing ambition in the luxury market. 
Fendi has been part of Romans' lives since 1925 when it opened its first leather goods workshop on Via del Plebiscito. Almost a century later, having gained global recognition and backing from luxury conglomerate lvmh, the company plays an active role in preserving the city's heritage and telling new stories about the Rome of today. It funded the renovation of Palazzo della Civiltà before moving in, helping to remove any connotations with fascism (the building was constructed during the era of Benito Mussolini) and transforming it into a vibrant, cultural hub.
The house's design, communications and executive teams all sit in this Roman HQ and will confirm that walking through its grand entrance every morning, or looking up at the 68-metre-high concrete and travertine structure, never ceases to amaze. "This building now says Fendi just as much as our logo," says Serge Brunschwig, the company's French-born chairman and ceo, sitting on the airy balcony next to his office. "It has the same blend of classicism and modernity that we aim to express with our brand. I moved here five years ago and inspiration seems limitless."
Fendi makes a point of sharing some of these moments of inspiration by frequently opening the Palazzo to host public exhibitions. These offer a taste of what goes on the creative team's mood boards and of the infectious feeling inside the building, with elegant men and women constantly waltzing in and out holding stacks of paperwork, rolls of fabric or one-of-a-kind Fendi Baguette bags.
Most recently the brand held an exhibition celebrating Italian sculptor Arnaldo Pomodoro, showing some of his most recognisable bronze sculptures alongside sketches of unrealised architectural projects and a Fendi Peekaboo tote bag, customised by the artist. "Rome has so many different dimensions," says Brunschwig. "And since there would be no Fendi without Rome, we do anything we can to give back."
The beating heart of the Fendi business may remain firmly in place in the Eternal City but its ambitions today are as global as ever. The aim is to bring the world to Rome but equally to get out there, meet customers in new markets, gather inspiration from other cultures and build an international business. 
Thanks to a 54-year-old partnership with the late designer Karl Lagerfeld and the creative leadership of Silvia Venturini Fendi, a third-generation Fendi who now helms the business's accessories, children's and menswear divisions, the brand's name is well established. In any café in a big European capital, it's not uncommon to spot a woman wearing gold-tinged aviators bearing the famous FF logo, or clutching a Baguette bag, one of Fendi's many iconic accessory designs. Yet this is a smaller business with a lot of new ground to cover, especially when compared with some of its French counterparts in the lvmh portfolio, including Dior and Louis Vuitton.
According to Exane bnp Paribas, Fendi has surpassed the $1bn (€890m) mark in sales, while Dior and Louis Vuitton ring up $7bn (€6.3bn) and $20bn (€18bn) respectively. "This gives you the ambition to dream where you can go next," says Brunschwig. "We want to continue pointing to new ideas and expanding the family. We call it our chosen family; I was adopted."
Opportunities abound as far as Brunschwig is concerned. He has been spearheading retail openings in Tokyo's Omotesando district, Doha's new Hamad International Airport and the Dubai Mall in the past year. The arrival of British designer Kim Jones has also heralded a new chapter for the brand's womenswear and haute couture divisions; jeweller Delfina Delettrez Fendi (Silvia's daughter and one of Jones's muses) has joined the family business, debuting its first jewellery collection this year; while Silvia Fendi's menswear has been enjoying a renaissance of its own. "It's a brand established by a strong woman and addressing the type of man who is on the go, who has an international outlook and appreciates elegance," says Brunschwig, pointing to his own black, slim-cut Fendi suit. "There's a lot of potential to grow a business established on these principles." 
This summer the brand hosted one of its most impressive men's runway shows in its newly renovated factory in the Tuscan town of Capannuccia, a 30-minute drive from the centre of Florence. It signalled its ambitions to expand the reach of its chic menswear designs and to do so while retaining the highest manufacturing standards. The Capannuccia facility was renovated by Fendi's architecture department alongside Milan-based firm Piuarch, which developed the initial concept; it now resembles a modernist lab rather than a traditional factory, with state-of-the-art equipment and sun-filled offices. It was a worthwhile investment, given the brand's commitment to setting new industry benchmarks when it comes to transparency and ethical manufacturing in the luxury sector, as well as its historical ties with Tuscany.
Adele Fendi travelled to the region in the early 1920s to explore leatherworking and started the company as an accessories business with her husband, Edoardo, shortly afterwards, having fallen in love with the craft. Today most of the brand's leather goods are still produced in the region and the team of artisans remain Fendi's primary sources of inspiration when developing new patterns or innovative materials to update the menswear designs. It's why the investment in Capannuccia was about improving the team's quality of life as much as it was about guaranteeing the quality of the products they produce.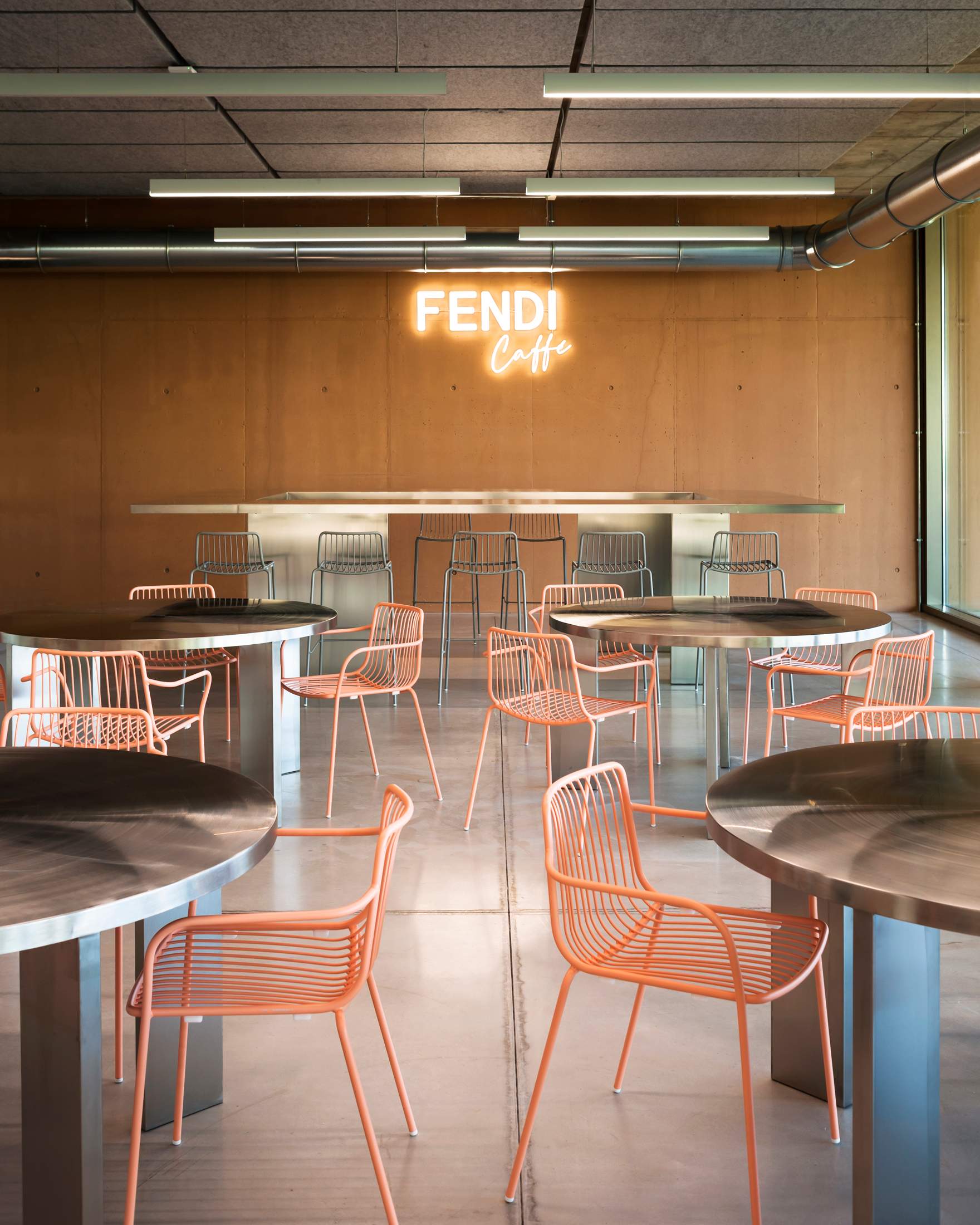 The new facility is surrounded by nature, including different species of Mediterranean scrub trees filling the courtyards, and a sprawling olive grove that might soon start producing Fendi olive oil for the employees. "There's this cinematic vision of the craftsman crouching over a table doing very repetitive work but today the reality is very different," says Silvia Fendi. "Our factory looks more like a science lab. It's where we do all our innovation research and we teach people all the skills they need to create a product from start to finish. It makes them proud of the products that they make and I know that in some bags there are even hidden signatures, so that they can keep track of who made what." 
Opening up the doors of the factory to host a runway show is one way of turning the spotlight on all those who are working behind the scenes, and sharing these moments of pride with the brand's broader audience. "We wanted to show more about ourselves as a company – our way of doing things," says Fendi, who also pays homage to the team through the understated, workwear-inspired designs she presents for the occasion. "I'm really interested in experimenting with fabrics and workmanship. If you have something as interesting as a handmade fabric or an intricate construction technique, the silhouettes you design should be practical and clean, or it becomes too much to take in," she says of the minimalist aesthetic that has defined her time as a menswear designer.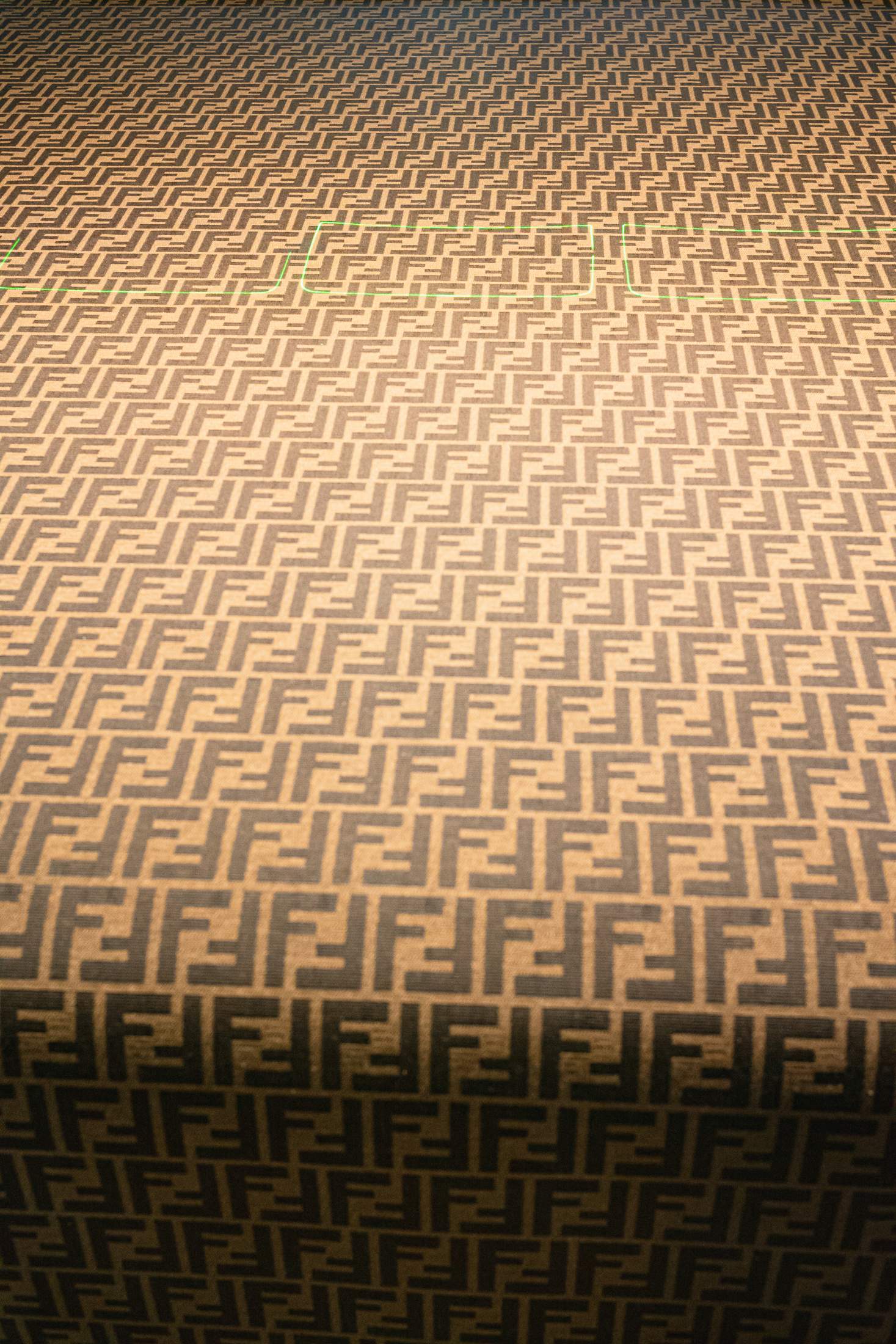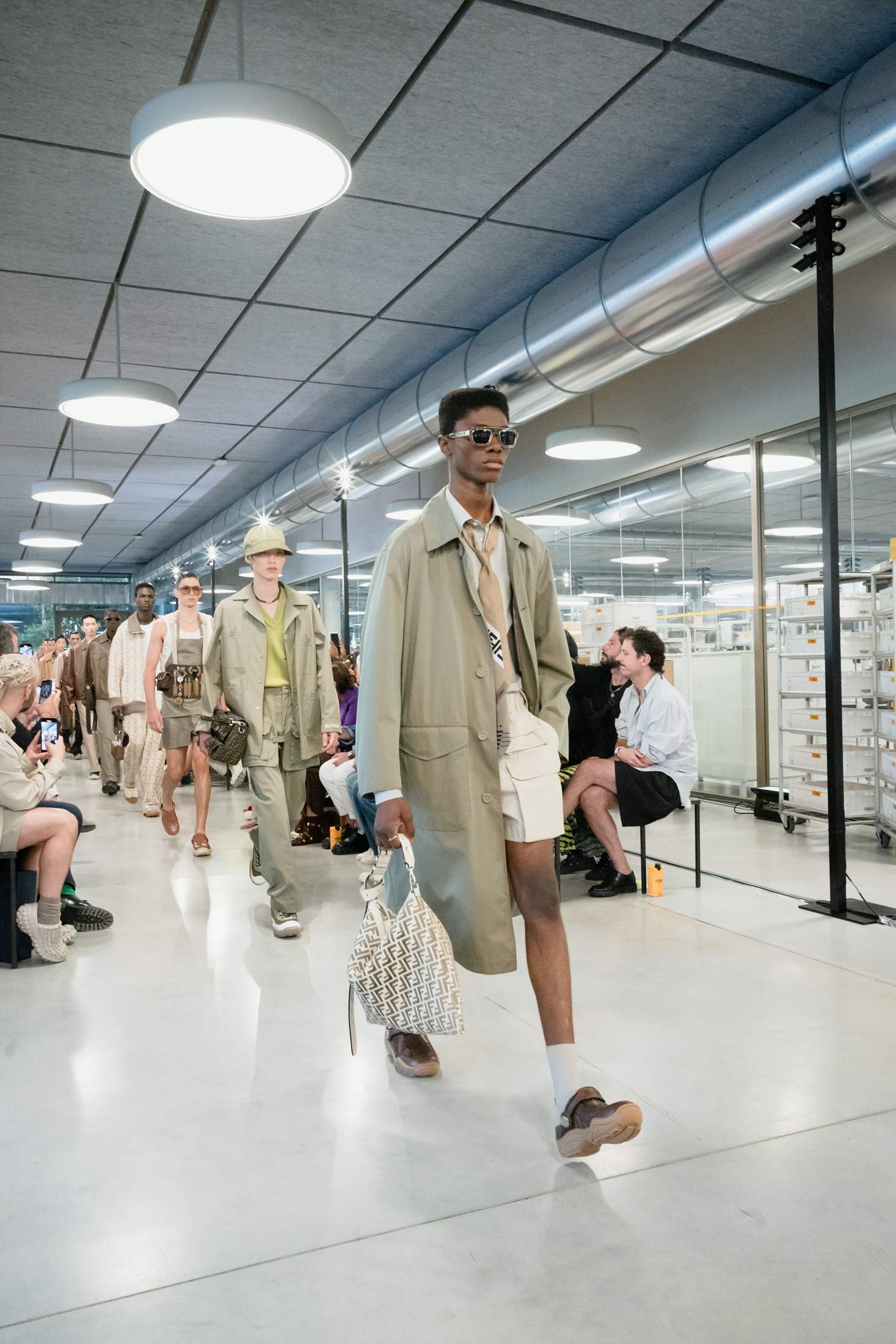 It's a refreshing approach that has helped evolve the brand's identity beyond obvious associations such as the FF logo. "I've always appreciated pragmatic clothing," says Fendi. "But today, with men's fashion becoming liberated from most rules, we can experiment much more with workwear and functional clothing. Maybe it's a result of more women designers doing a great job in menswear." 
The new collection features direct references to the artisans' uniform, via rubber-soled clog shoes, aprons worn over tailored trousers and shirts made from Japanese washi paper. "The classic uniform of the craftsman used to be made from paper," says Fendi. "I also wanted to add striped shirts with rolled-up sleeves and ties, because today to be an artisan you need to have manual skills but also an engineer's mind for using different machines. I'm always interested in this relationship between man and machine."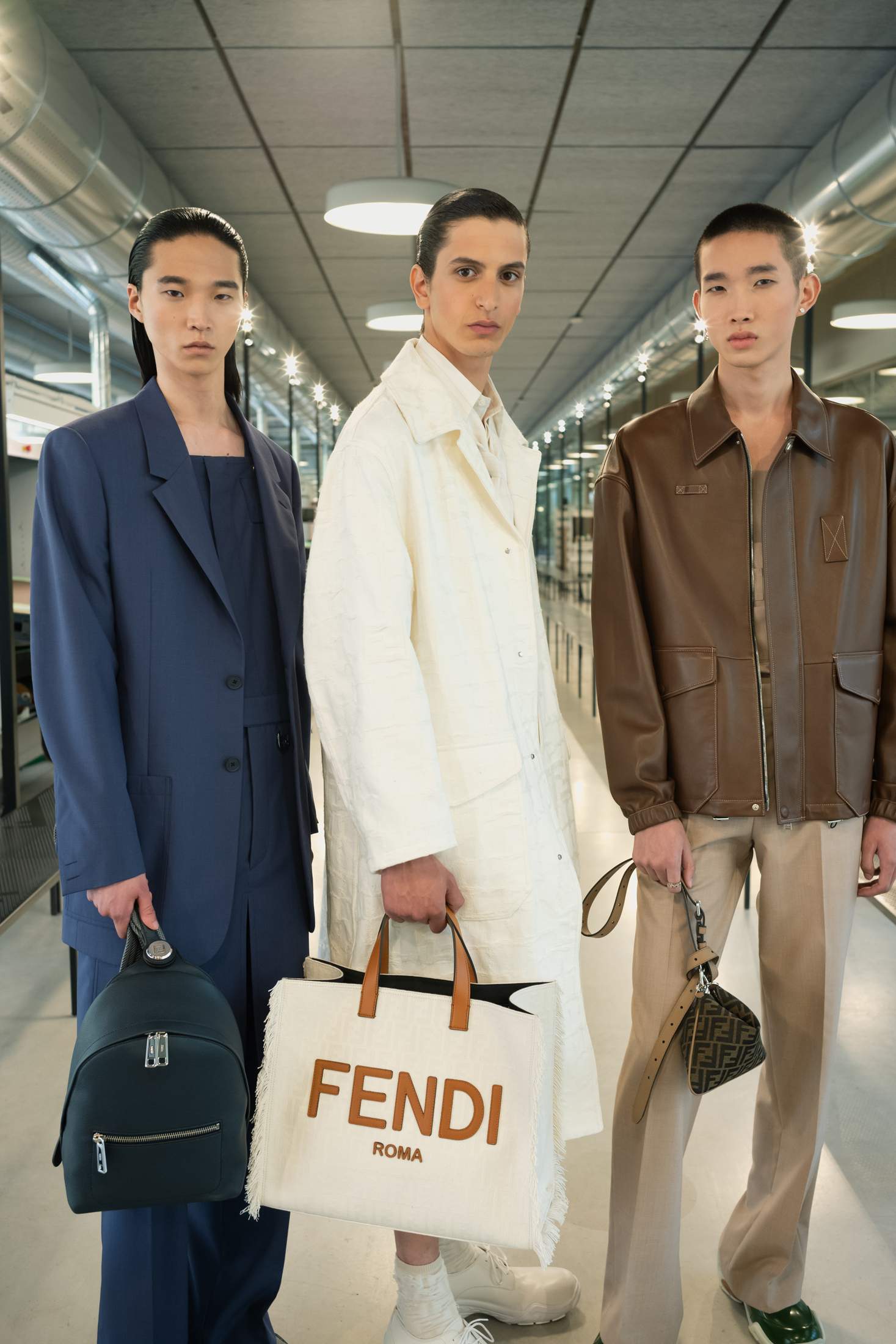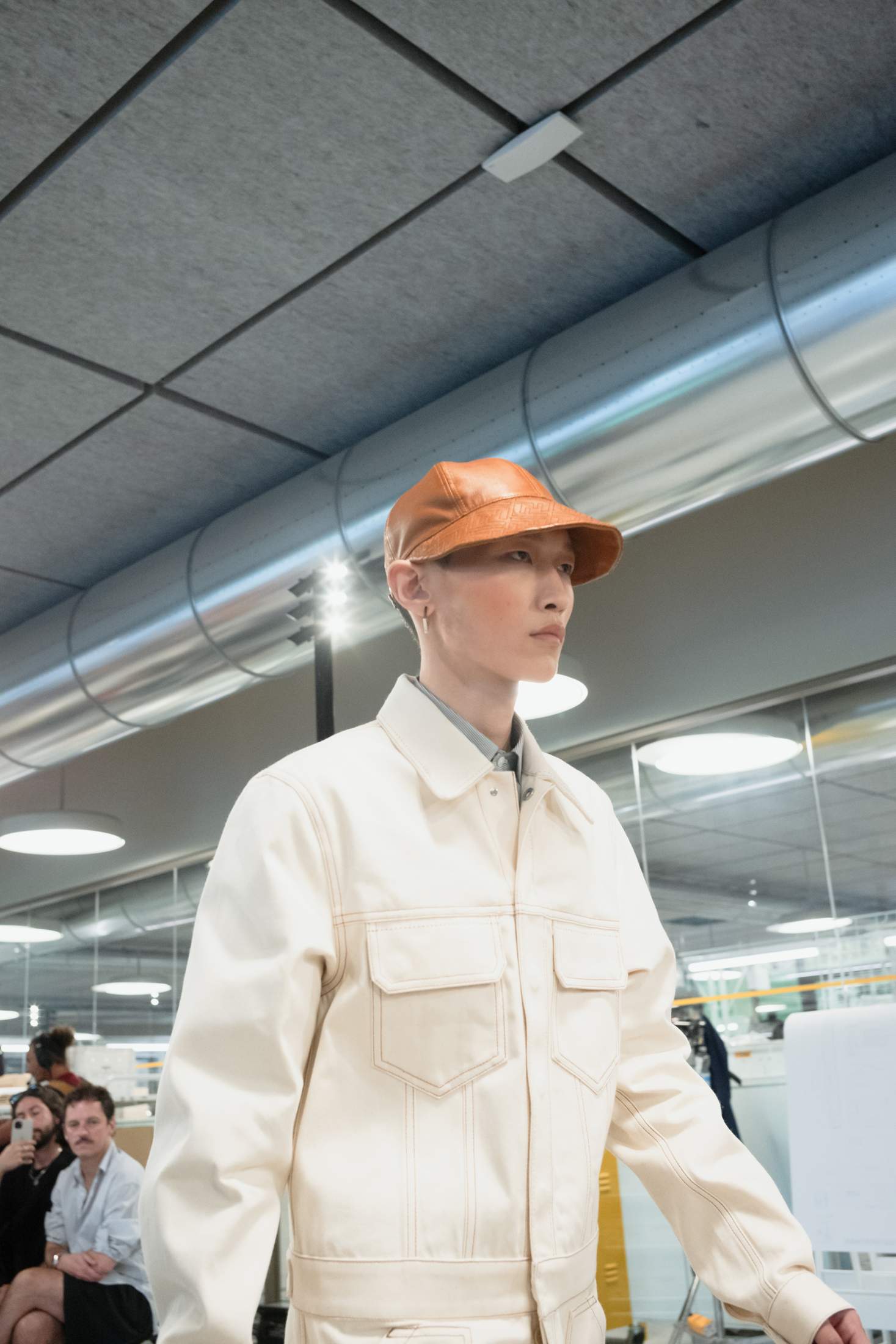 Unlined blazers highlight the skill and handwork that goes into creating a Fendi tailored jacket, while exposed backs add a touch of sensuality. "This is a sexy job, at the end of the day," says Fendi of her mission to modernise the image of this line of work and attract a new generation of artisans to Capannuccia. A walk around the factory's all-white office floors and workshops, buzzing with men and women of different ages (all dressed in their black FF branded T-shirts), suggests that she is well on her way. 
The show unfolds between the artisans' workstations while they continue sewing handles onto shoulder bags, cutting leather patterns and hand-painting the edges of intricately embroidered clutches, relatively unbothered by the fanfare around them. They only put their tools down during the show's finale, changing into white work coats and joining Fendi for her final bow. "The portrait of the solo fashion designer is very much in the past," she says. "We all now know that you can't do anything by yourself in this business. A designer is just a spokesperson for the brand. We work together with our colleagues, so I wanted to show how invaluable they are by making them part of this show."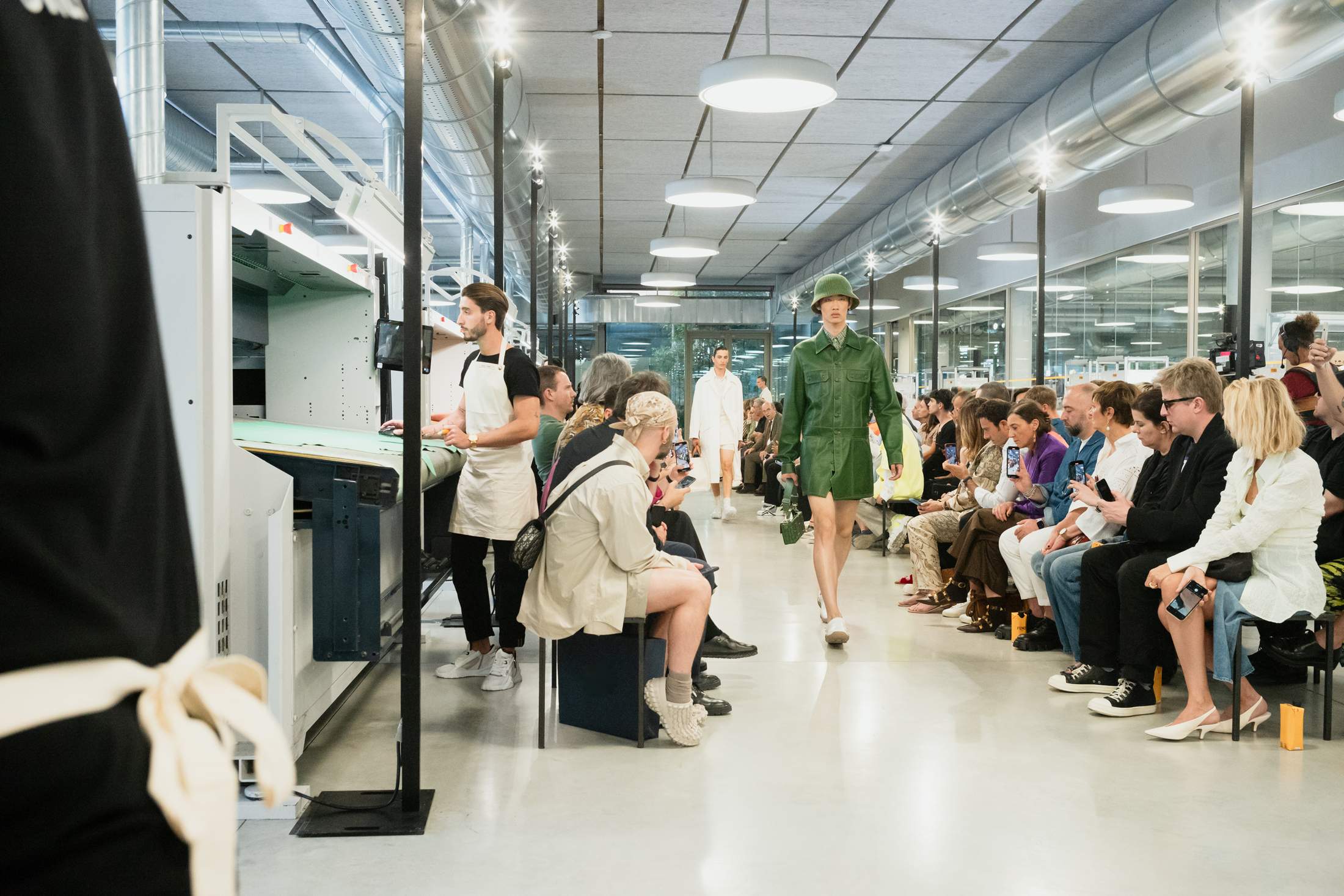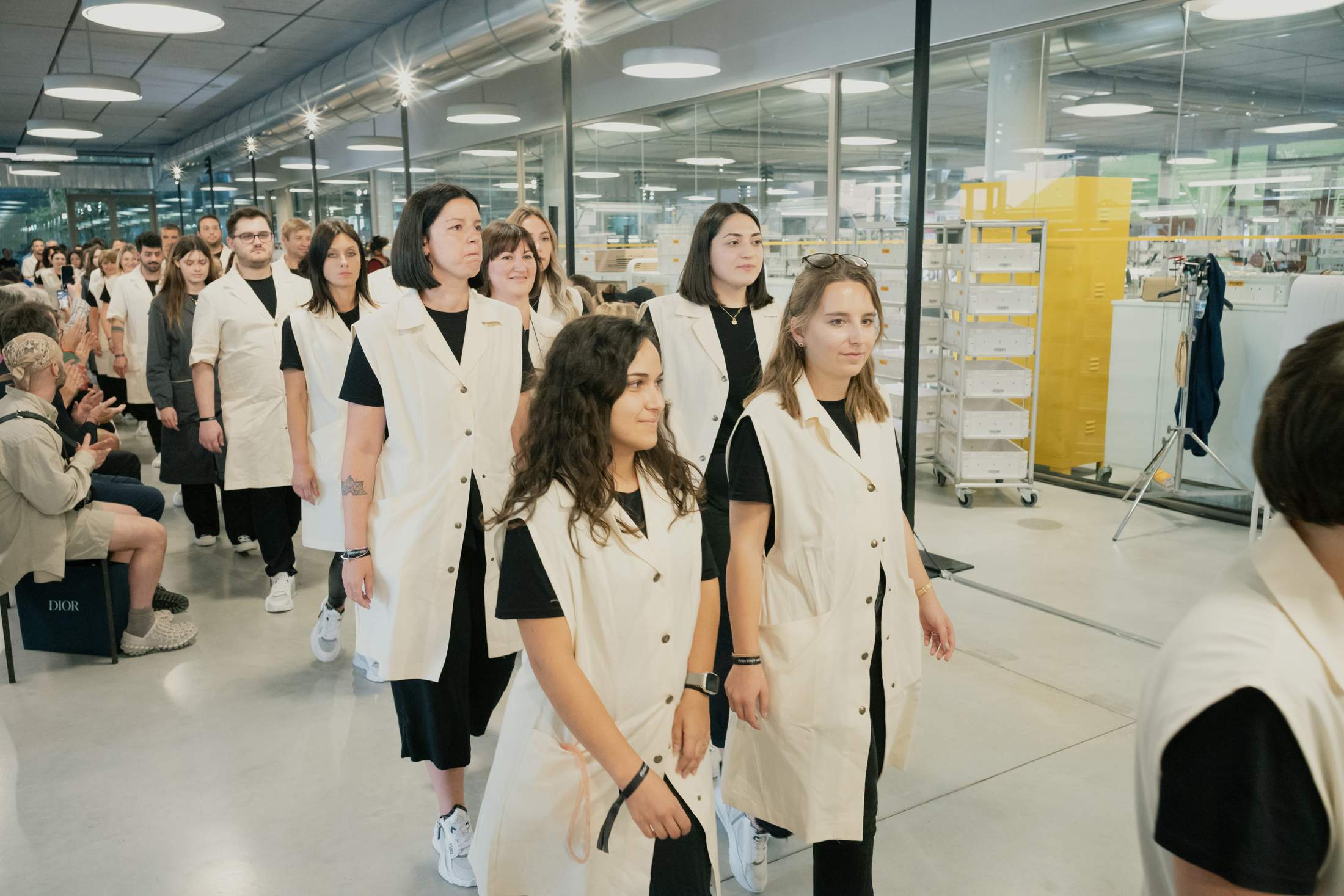 The family spirit shines through when the artisans join Fendi for that finale walk, as well as later in the day when they gather on the factory's rooftop, dancing the night away alongside DJ Diplo, Brunschwig, Fendi and her daughters. "This sense of community and ongoing conversation is important for us," says Fendi. "You can tell that there's still a family behind it all even if the family doesn't run the business any more. It's evident in our long-lasting collaborations with Karl [Lagerfeld] and now Kim [Jones], who joined us to oversee womenswear and works so closely with Delfina [Delettrez]. I guess people choose themselves here." 
The brand might need to return to its usual Milan showroom for next year's fashion show, yet the factory will remain Fendi's creative laboratory, where all the magic happens. Built for the future, it can accommodate double the amount of employees it currently has in its workforce. Given the new apprenticeship schemes in place – Brunschwig is working with the Italian ministry of education on an initiative dubbed Adotta Una Scuola ("Adopt a School") to promote craft to young talent – and the appealing working conditions on offer, there's renewed confidence that all the workstations will soon be filling up. "This is the place that will allow us to grow," says Fendi. She plans to continue her own frequent trips to the factory, to brainstorm with the team and recharge in its surrounding nature. "Working here is regenerating – just looking outside nourishes your soul. And at the end of the day, beauty attracts beauty."