The Agenda: Affairs / Global
Say it with flowers
The Japanese garden kickstarting global peace talks, working from home in Barbados and why Russia's isolation on the world stage is a conscious choice.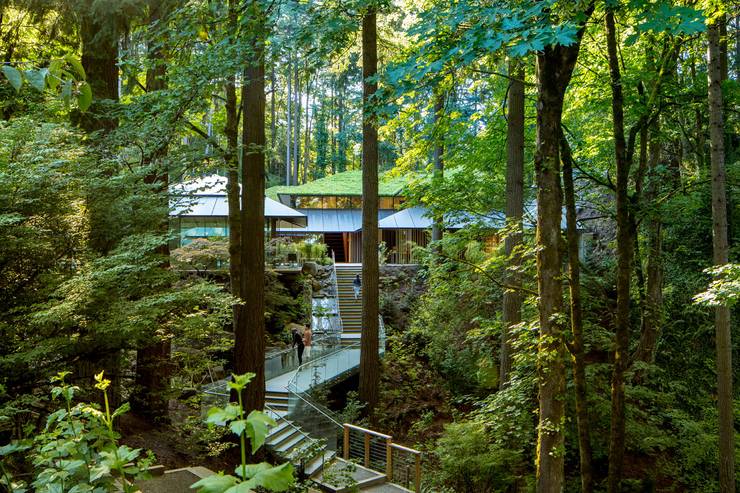 For nearly 20 years, Steve Bloom has been running the Portland Japanese Garden, often considered the finest of the estimated 635 Japanese-style gardens outside the motherland and a premier training centre for gardeners. But he has ambitions far beyond the horticultural, believing that "Japanese gardens create a state of mind and a state of soul". And, he says, this transformational power can even be tapped into for peacemaking. To prove his point, Bloom organises peace symposiums with a botanical bent where he introduces people to the garden's Japan Institute, which launched last year, aimed at fostering international dialogue via the soft power of the Japanese garden. After outings to Tokyo and London, he will be heading to New York in September, followed by Johannesburg, São Paulo and Sydney. 
The institute's physical home in Portland, will offer accommodation and workspaces for visiting artists and gardeners. Japanese architect Kengo Kuma, who has already designed the garden's tea-ceremony pavilion and art galleries, is converting an old chapel into an event space. "The institute is an incubator for thinkers and artists to live and create together through the lens of Japan," says Bloom. 
Today the Japanese Garden draws more than 500,000 visitors annually but it wasn't always that way. In the 1960s when Japanese gardeners arrived to plant a monument for postwar peace and reconciliation, protesters taunted them with racial slurs and one of their number was stabbed. Despite the attack, the 2.2-hectare project opened in 1967. "The community that didn't want this garden, to the point of nearly killing a man, has come to embrace it as the number one cultural jewel in the state of Oregon," says Bloom. 
And the city's Japanese perspective has also had a commercial impact: Ajinomoto, Muji and Snow Peak all chose Portland as their entry point to expand into North American markets. Now Bloom wants to aid diplomacy by using Japanese gardens as a backdrop for peace talks around the world. The first tour he led at the Portland garden was for ambassadors to the UN from seven Asian countries. "If we just had all of our negotiating meetings here, there would be world peace," he says. Now he is out planting that seed of an idea on a global scale. 
japanesegarden.org 
The FOREIGN DESK 
ANDREW MUELLER ON... 
Russia's reluctance to integrate 
July's Nato summit in Vilnius was, inevitably and rightly, largely about Ukraine. But covering the event for Monocle Radio's programme, The Foreign Desk, got me thinking about Lithuania – and about Russia. The summit occurred almost exactly 30 years since my first visit to Lithuania, as a 24-year-old with a backpack. The country had, like Latvia and Estonia, reclaimed its independence just a few years previously, following the collapse of the Soviet Union. 
I liked Vilnius instantly: it was (and is) pretty, friendly and a bit weird. But in 1993, Vilnius was also grimy, fetid and palpably bruised by history. Indeed, the guide who showed me the cells in the former kgb headquarters, now a museum, had once been imprisoned there. I've been back a few times since and always found Vilnius cleaner, nicer and happier than on the previous occasion. In the circumstances of this most recent visit, it struck me that Russia could have done this: become an agreeable, collegiate partner to Europe. There was a point at which the country appeared to want this. "I cannot imagine my country in isolation to Europe and what we often call the civilised world," said Vladimir Putin in 2000. "So it is hard for me to visualise Nato as an enemy." There was, at one fevered point, talk of Russia joining the alliance. 
It is important not to forget that Russia's line about its assault on Ukraine being a defensive manoeuvre forced upon it is nonsense. For all the designs on Russian territory harboured by anybody in Europe, the country's western frontier could be defended by a tollbooth. But Russia's internal reality is just as ridiculous – and just as much a choice. Moscow could have accomplished marvels with the billions of dollars, and thousands of people, it has instead ploughed into the fields of Ukraine in pursuit of some inane grandeur. 
Nato and/or the EU should never be romanticised untowardly. But membership of either necessitates and imposes a certain humility. Lingering imperial delusions must be discarded upon entry (the UK's reluctance to do so entirely is a partial explanation for Brexit). Lithuania had an empire once, or at least a Grand Duchy, which at its peak around the 15th century included a chunk of modern Poland and most of what is now Ukraine. Any modern Lithuanian politician who advocated recovering these territories would be swiftly and correctly assessed as a lunatic. But Russia has chosen not to get the message. 
The late, great American satirist PJ O'Rourke, once a guest on The Foreign Desk, reported from the ussr during its death throes. "Lots of countries are poor," he wrote. "And lots are dreary and oppressive. But the Soviet Union is a huge, healthy nation with more than 20 million college graduates. It has all the land and mineral resources national avarice could imagine. And Russia has been part of – at least an idiot stepsister to – western civilisation for a thousand years. There's no alibi for the place." 
Little, regrettably, has changed. Russia chose this war – and whatever its consequences might be.
Mueller is the host of Monocle Radio's 'The Foreign Desk'. 
The argument that the presidential jet is a depreciating asset appeared to be validated earlier this year when Mexico sold its presidential Boeing 787 to Tajikistan for $92m (€84m), a $126m (€116m) loss on its 2012 purchase price. Offloading the plane was both a longstanding ambition and characteristically populist stunt of Mexico's president, Andrés Manuel López Obrador, who believed it obnoxious and ostentatious – an indulgence, he scoffed as the sale was confirmed, of "little pharaohs". Amlo is wrong. The plane he has just sold might have overdone the marble bathroom counters and mahogany office furnishings but a dedicated presidential aircraft is both a convenient conveyance and a resonant expression of national prestige. A presidential aircraft taxiing onto a foreign airport apron says not only that your president has arrived but so has your country. Here are three of the best.
From regal to restrained 
Just as Air Force One is an airborne incarnation of the US – immense, loud, powerful and unmistakable – so the aircraft of the Lufttransportdienst des Bundes (ltdb), which fly Switzerland's Federal Council, are modest, quiet, unimposing and stylish. Pride of the ltdb's fleet is a white Dassault Falcon 900ex, marked "Swiss Air Force" and emblazoned with low-key Swiss flag roundels. While doubtless a comfortable ride for Swiss leaders, it is arguably something of a comedown for the aircraft itself, the previous owner of which was Prince Albert II of Monaco. 
Gift of flight 
Turkey's president, Recep Tayyip Erdogan, can at least argue that his fellow citizens were not obliged to pay for his aircraft: the Boeing 747-8 was a gift in 2018 from the Emir of Qatar, Sheikh Tamim bin Hamad al-Thani, who was still left with three others to play with. trk1, as it is known when the president is aboard, has been handsomely repainted, its undercarriage swaddled in scarlet, unfurling the crescent moon and star of the Turkish flag on the tailfin. 
Flag carrier 
Argentina took delivery of a new presidential aircraft in May. The Boeing 757-200, which boasts a paint job suggesting that it has had an Argentinian flag twirled around it, arrived in eye-catching style, making a hair-raisingly low gear-up pass over Aeroparque Internacional Jorge Newbery in Buenos Aires. Argentina acquired the new aircraft in a part-exchange for its long-mothballed predecessor, also a 757. It must be hoped, however, that its occupant will insist on restoring the previous plane's glorious callsign: Tango 01. 
There was an air of novelty in 2020 when Mia Mottley, the prime minister of Barbados, launched the Welcome Stamp, a visa aimed at allowing foreigners mandated to work from home during the coronavirus pandemic to do so from the Caribbean island. Even though coronavirus restrictions have gone, interest in the visa remains strong. 
Of the 5,000 or so people who have applied for the visa, close to 3,000 have been admitted. In response, Barbados's parliament has extended the scheme twice. 
Its success has spurred several other Caribbean countries to follow suit. The Bahamas, Bermuda, Anguilla, Colombia, Dominica and the Cayman Islands are among those to have launched, or enhanced, similar schemes to attract entrepreneurs and remote workers. For countries trying to diversify away from banking, finance and tourism, the schemes have been a boon for local economies. 
Nations elsewhere are also tweaking immigration policies to lure workers in specific sectors. In June, Canada launched a visa system for specialists in science and technology, either to find jobs in cities including Montréal, Toronto and Vancouver, or set up on their own. It is a response to cuts in the sector elsewhere. 
For smaller countries, the success of these "nomad visas" lies in the breadth of talent they attract. Barbados's immigration ministry says that entrepreneurs, teachers, agricultural workers, security personnel and healthcare employees have all arrived under its Welcome Stamp. Such visas are still too new for the full impact to be assessed, though the Organisation for Economic Co-operation and Development is among the bodies monitoring their efficacy. In the countries using them, however, there is a stamp of approval.