The Agenda: Opener / Hamburg
September
Ed Stocker hails a ride in Hamburg, a city determined to be the testing ground for autonomous vehicles.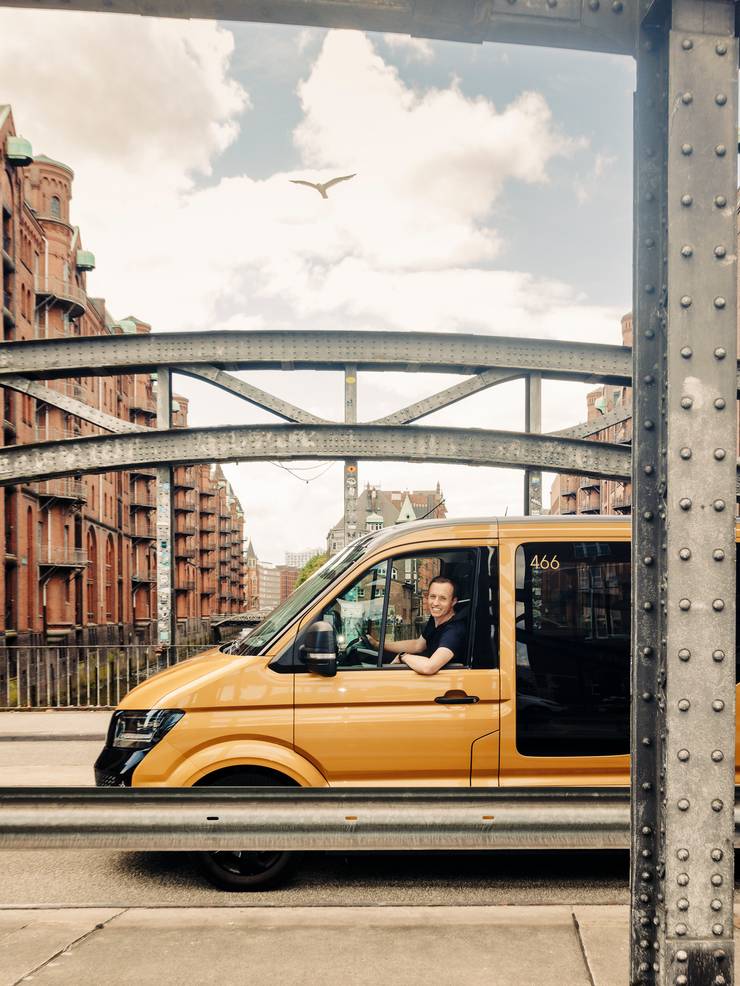 An impeccably polished gold-and-black van has pulled up on the street in front of me in Hamburg. At first glance, it looks like an electric Volkswagen Crafter but it's clearly custom, embossed with "Moia" in white lettering above the grille. As the door slides open, I get in and sit in one of the six seats that feel racing-car-like. With a form that curves around the sides at the top of the seatback for added privacy, they are intended to have a "cocooning" effect. There are also usb ports and wi-fi.
My trip to Hamburg Airport is part of an app-based ride-pooling service offered by Moia, a mobility start-up owned by the Volkswagen group (hence the vehicles), which has been operating in Germany's second city since April 2019 and Hanover since 2018. Ride pooling – point-to-point travel in which strangers share rides for lower fees, while accepting slight detours plotted by an algorithm as others are picked up and dropped off – is nothing new. But Moia, alongside its City of Hamburg partner, is involved in a huge experiment. The crucial part of the plan is that Moia will switch its human-driven fleet to autonomous vehicles by 2025. It will also scale up from the 300 vehicles it currently operates to at least 5,000 autonomous vans.
"Autonomous vehicles will be a game changer," says Moia's ceo, Sascha Meyer. Moia isn't currently profitable, he admits, as it's impossible for the company to reach the size it wants to be with human drivers. There's also the issue of rigid working patterns and what Meyer calls "the challenge of mixing the shift of the driver to the demands of the customers". For example, there might be a spike in usership on Monday morning but then there's a big lull, even though a driver's shift might only be half complete. On my weekday afternoon trip to the airport (€11.20; far cheaper than a taxi), only one other person gets in.
Clearly, Hamburg city hall sees the potential of Moia in pushing the boundaries of both electric and autonomous driving in a premium-feeling way. It already has an ambitious plan in place called Hamburg-Takt, aimed at getting Germans out of their cars and onto public transport. Hamburg-Takt envisions public transport acccess within a five-minute reach of every Hamburger. In order to meet these goals, public transport will need to become a lot more elastic. Which is where Moia comes in. "Public transport [here] is on time," Anjes Tjarks, senator for transport and mobility transition, tells monocle. "But it is hard to make the system flexible. And this is an interesting new dimension for public transport." Moia might be able to cut through from A to B where a train would take a more circuitous route; or offer a suburban or rural service that is responsive to demand rather than continuous. 
Wander around Wandsbek, the largest of Moia's three Hamburg hubs, and you'll see rows of neatly parked vans outside, many of them hooked up to high-speed Porsche chargers. But it's an inconspicuous room on the building's first floor – the service centre – where staff receive a constant stream of data about traffic flow, the position of vehicles, the number of passengers and the state of the battery. Moia might be live but its current phase is clearly part of an endgame as knowledge is acquired. "What we do in Hamburg is for testing; it's for learning; it's for creating the product," says ceo Meyer.
Of course, betting on autonomous technology isn't without its risks. The technology is still evolving and Moia's previous partner, Pittsburgh-based Argo AI – backed by both Volkswagen and Ford – announced that it was closing after failing to attract new investors towards the end of last year. But Meyer says that he is "really happy with the first results" of its collaboration with new partner Apex AI. Autonomous vehicles are now being tested on a track in Munich, while vans are going out on Hamburg's streets with a test driver. A closed group of passengers will be able to hop on an autonomous Moia vehicle next year, ahead of the 2025 switchover.
Though US cities might be ahead of the game in terms of autonomous driving, senator Tjarks believes that Hamburg can be "world leading" because of its focus on a flexi vision of what public transport can be, rather than using it for private cars. Moia's bold vision wouldn't have been possible without Hamburg being open to collaboration, formally incorporating the company into its transit network this year. "There are so many people who understand the importance of autonomous driving for the public transport system," says Meyer. "We get tremendous support and not a lot of push backs. 
  Ed Stocker is Monocle's Milan-based Europe editor at large.