Inventory: Hospitality / Amsterdam
Brown in town
Interior-architecture firm Studio Modijefsky is looking to the Dutch capital's past to inspire its forward-thinking designs.
It's one of those changeable Amsterdam days where you might experience all four seasons in a single morning. Outside, people are wrapped up against the rain, heading to a waiting ferry to cross the IJ river. Inside Polly Goudvisch, a restaurant that overlooks the departure bay, table-top candles flicker and patrons tuck into berry-laden portions of wentelteefjes (French toast to you and me). "Details matter," says designer Esther Stam, from her perch on a tall bar-stool. "That's what I like about hospitality over retail. You have people with you for a couple of hours. They have time to notice things."
Stam is the founder of Studio Modijefsky, the interior-architecture firm that she set up in 2009 that now counts a team of 12 women, and her work can be seen on some of the Dutch capital's most atmospheric bars and restaurants, including Polly Goudvisch. For each site, Stam tries to either tease out the place's history or create a new narrative. Polly Goudvisch, for instance, is based on an imaginary family with the surname Goudvisch ("goldfish" in Dutch), with shoals of clever references that reward a visitor's eye. The theme is in everything, from the shape of the door handles and the angular way that the tabletops have been fashioned to the design of the marble at the bar. After a couple of hours, and perhaps a few pints of Brouwerij't IJ's lager, even the least observant diner will understand the concept.
Stam's work is influenced by Amsterdam's historic "brown cafés", traditional establishments that take their name from the wooden panelling and details that dominate their interiors. "They have certain features: wood, marble, neon – but they're disappearing," says Stam, with a hint of nostalgia. "We wanted Polly Goudvisch to be a reinterpretation of those spaces but it was necessary for the end result to be contemporary – otherwise we're doing the job of a set designer."
Over the next few days Monocle hotfoots its way around Amsterdam, visiting various new and recently completed projects (the studio's work is in high demand) and popping into its office by a canal in the De Wallen neighbourhood. Studio Modijefsky often redesigns restaurants and bars, employing neon lighting or terrazzo (chips of marble set in cement) to create a sense of texture and tactility within the spaces. It also works with a range of artisans, some in the north of the city, including Dutch glass-blowers and woodworkers.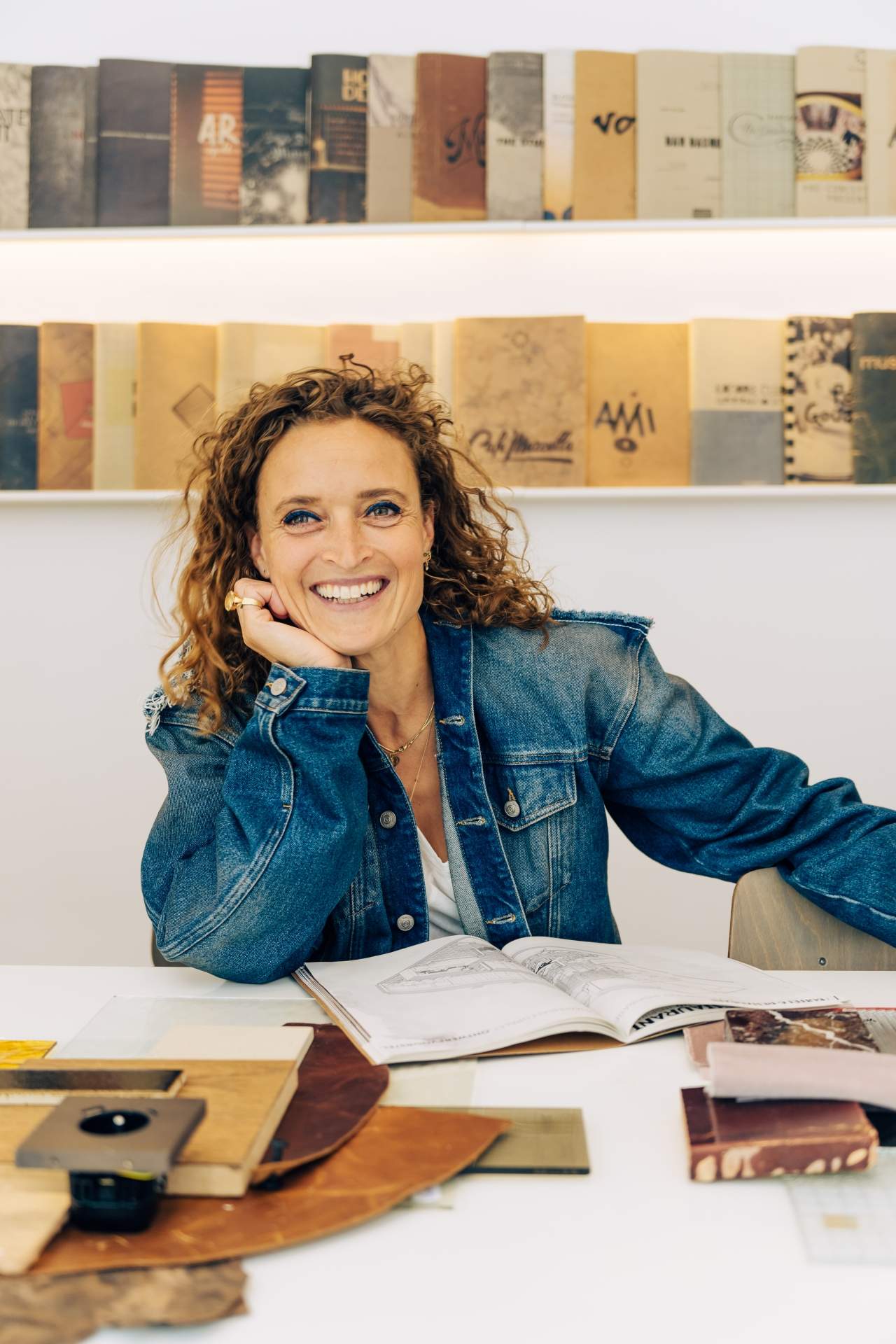 The smallest venue that the studio has designed is a neighbourhood bar called Café Marcella, which sits on the corner of a square that hosts a weekly flower market. The venue might be small but the project threw up some big challenges. It's a place where everyone seems to know each other; where you come for cake and coffee in the day and stay for a beer washed down with a jenever chaser in the evening. "Nobody drinks the cheap wine here," jokes the co-owner, Thijs Barelds, as waiters whisk around tables serving snacks, including bitterballen (fried meatballs) and slices of gouda, served with mustard and pickles.
Though the brown-café influence is present at Café Marcella, the interiors have been lightened with a marble-effect ceiling and art deco-style zigzag shapes around the bar. Traditional cursive lettering has been used to etch the name of the bar onto one of the large windows – a nod to its 19th-century heritage – while custom-made mirrors, which have been given a weathered feel to create a sense of intimacy, help the 39 sq m space feel bigger than it is.
It was a trip to New York to visit her uncles that awakened Stam's love for interiors. At the time, she says, the city was way ahead of Amsterdam in terms of the diverse look of its bars and restaurants, and she remembers being captivated by places that might be decked out in anything from sultry red velvet to Moroccan plaster. On her return to the Netherlands, she applied to art school and the rest is history. "What I still like about designing interiors is the power to create your own world," she tells Monocle. To date, the studio has worked on everything from the careful updating of the 1930s modernist Blauwe Theehuis (Blue Tea House) in Vondelpark, which is now a bar, to refashioning public spaces, such as introducing a huge neon chandelier at Museum Arnhem, an hour's train ride from the Dutch capital. The studio has also recently finished a brasserie and cinema in Dordrecht called De Witt and has begun work on its first hotel project in Amsterdam's city centre.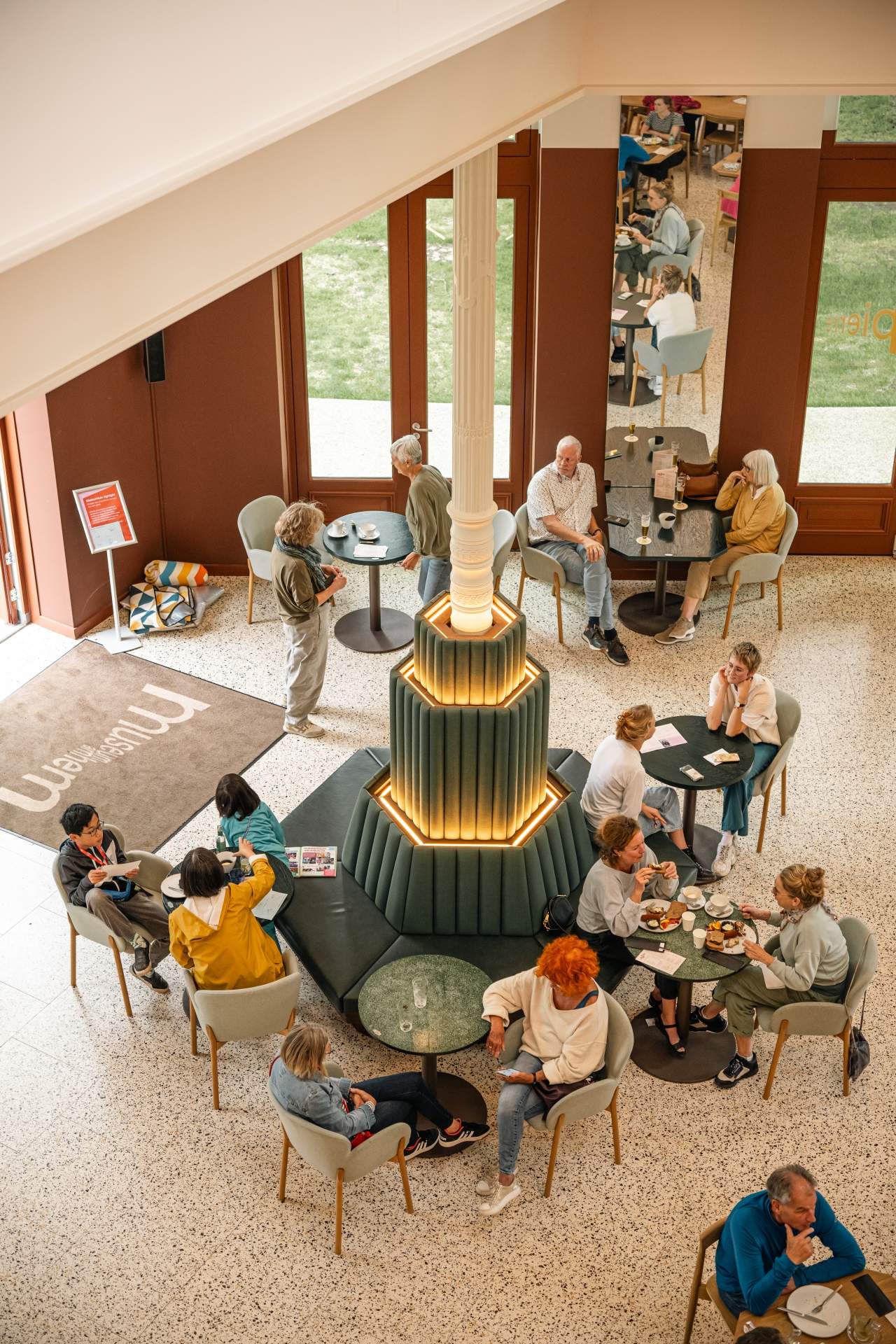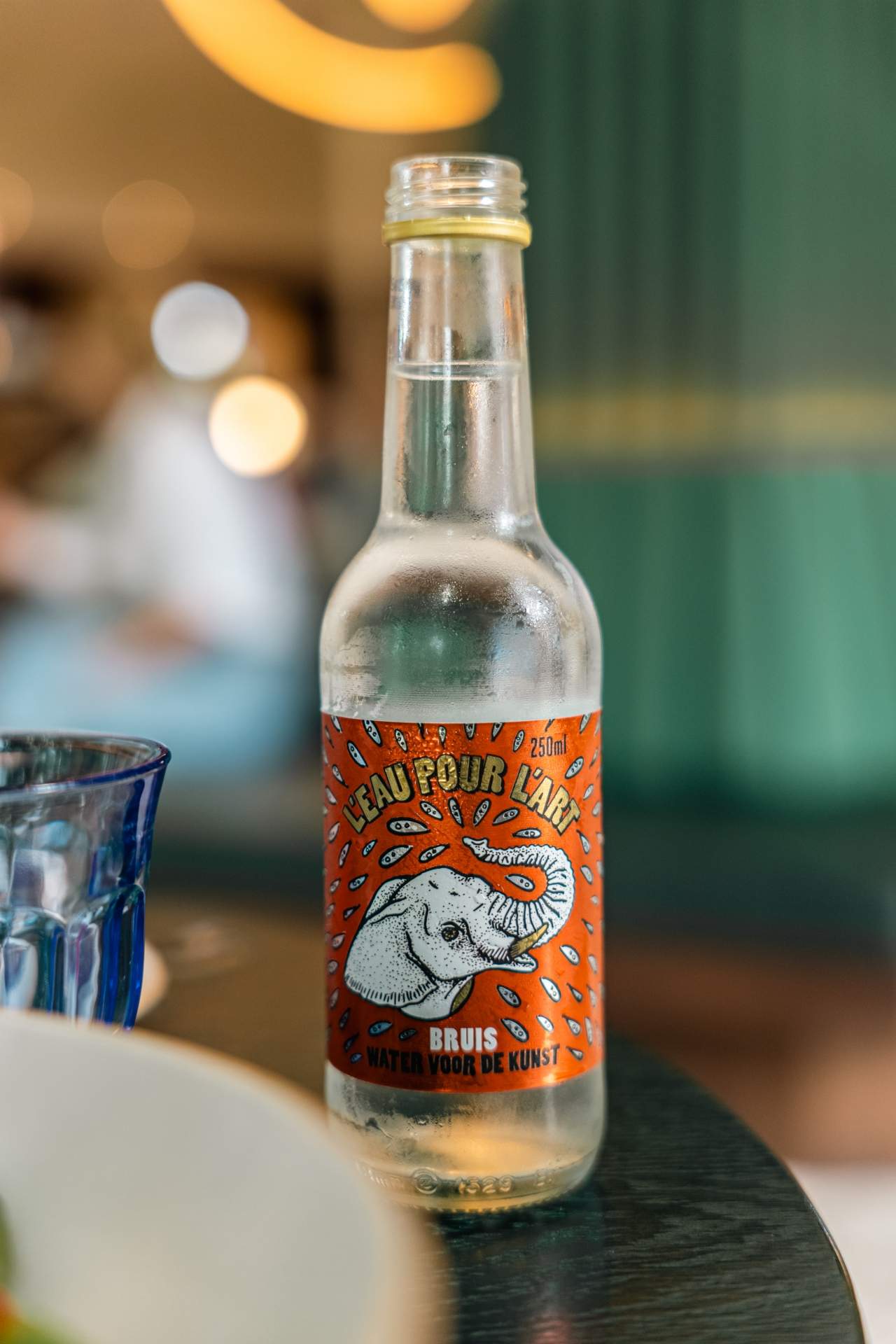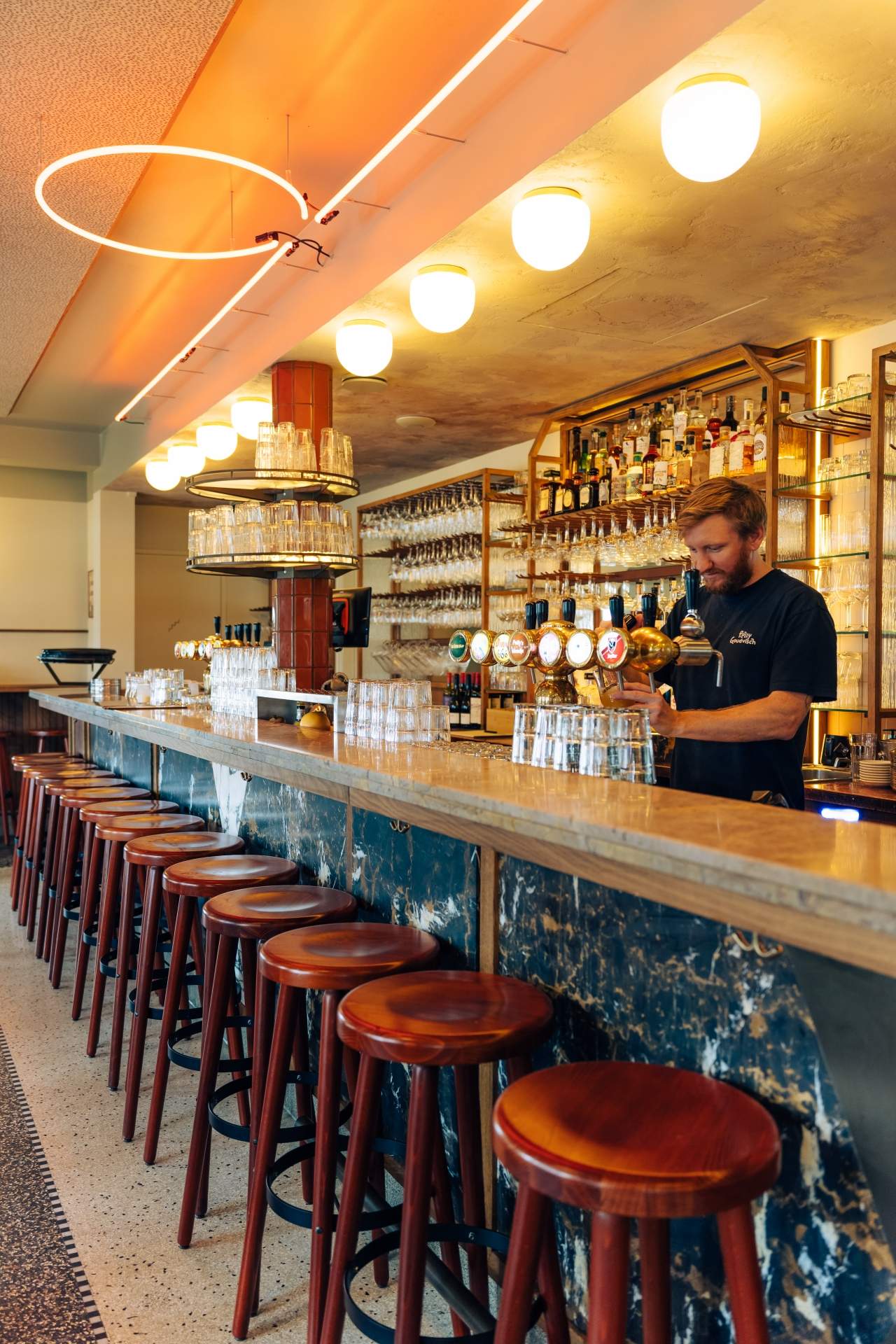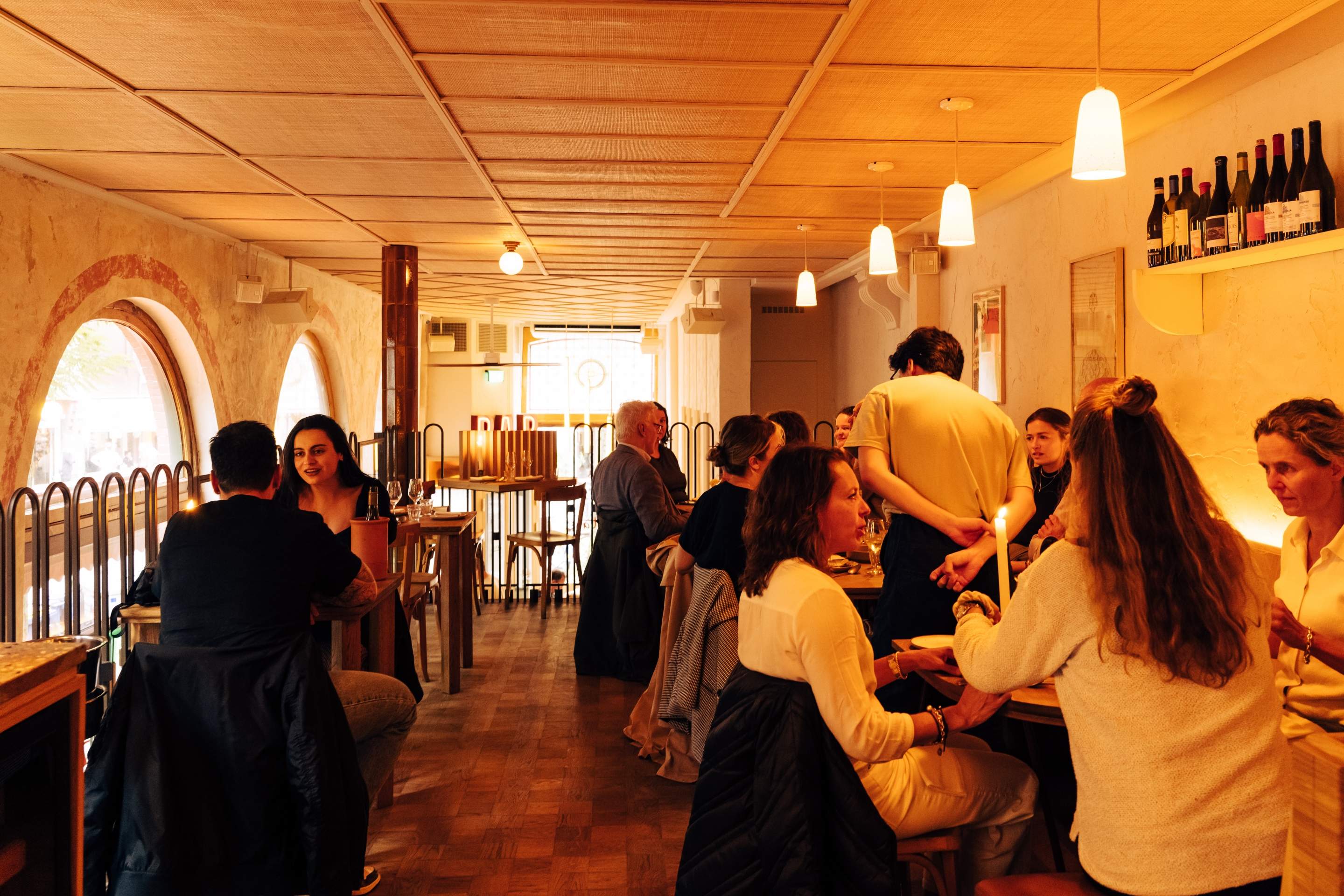 For all the focus on good looks, Stam says that the secret ingredient in creating a good F&B venue is making sure that it's more than the sum of its parts. "Everything has to flow smoothly," she says. That means the interiors, food, service, drinks and music should all work in tandem with each other. One of Amsterdam's most popular restaurants, Gitane, is perhaps the fullest realisation of this idea. The kitchen is overseen by Greek chef-owner Angelo Kremmydas, whose dishes mix Mediterranean, Middle Eastern and French influences with Dutch cuisine and ingredients. 
With its rattan ceiling, giant neon lettering above the entrance and integrated terrazzo surfaces, the restaurant is perhaps Studio Modijefsky's best to date and an indicator of the direction in which the firm is heading as it continues to experiment with and refine its palette. But it wouldn't be the same without the just-so lighting, the amenable waitstaff and, of course, the food. 
As people start to fill up the mezzanine, plates arrive from the kitchen, including taramasalata topped with trout roe, burnt leak and chives, and grilled yellow beetroot in a beurre blanc, sprinkled with tiny, electric-blue edible flowers. 
Kremmydas steps out of the small cooking corner for a moment to lean against the bar, clearly designed as a muster point for an aperitivo or a nightcap. "We wanted the restaurant to feel both rough and elegant at the same time," he tells Monocle. "And that's where Esther came in."
studiomodijefsky.nl
Amsterdam address book
The bars and cafés where you'll find Studio Modijefsky founder Esther Stam.
1. Bar Parry
Small dishes, charcuterie and cheese – plus plenty of wine. "I love everything about this little venue, from the staff to the ceramic wall," says Stam.
barparry.nl
2. Café-Restaurant Amsterdam
Restaurant in a former pumping station dating back to 1897. "You can come here with a big group of friends or with your kids for family dinners. Basically for everything."
cradam.nl
3. Café de Pels
One of Amsterdam's traditional "brown cafés". "Have a jenever with your beer, eat cheese and sing along to some beloved Dutch songs."
cafedepels.nl
4. Toscanini
An Amsterdam classic tucked away in the Jordaan district. "Have a spritz before an amazing Italian dinner. Guaranteed good food, including the daily specials."
restauranttoscanini.nl
5. Coba
Mexican restaurant in Amsterdam North. "I love the low-key interior."
coba-taqueria.com