The Agenda / Global
Business
The new special offer on Taiwan's shopping-mall scene, Ethiopian leather and electric flight.
The Entrepreneurs
Tom Edwards on...
Manufacturing with a conscience
"We want things to last," says Eyerusalem Kidane, co-founder of Ethiopian premium leather-goods company Sabegn. "It's a core value of mine: I don't want to keep buying the same thing over and over. This is also ingrained into how we design things. We use scrap; we use upcycled material. We don't want to use new things to make more stuff that ends up in landfill. This is our ethos."
From Sabegn's workshop in Addis Ababa, Kidane and her colleagues produce beautiful bags from waste leather, incorporating traditional weaving techniques and design flourishes. After working with European and US brands, Kidane now has global ambitions for her own range. Starting with a concept store that opened in the Ethiopian capital in 2018, Kidane has built a loyal customer base attracted by provenance as well as the end product.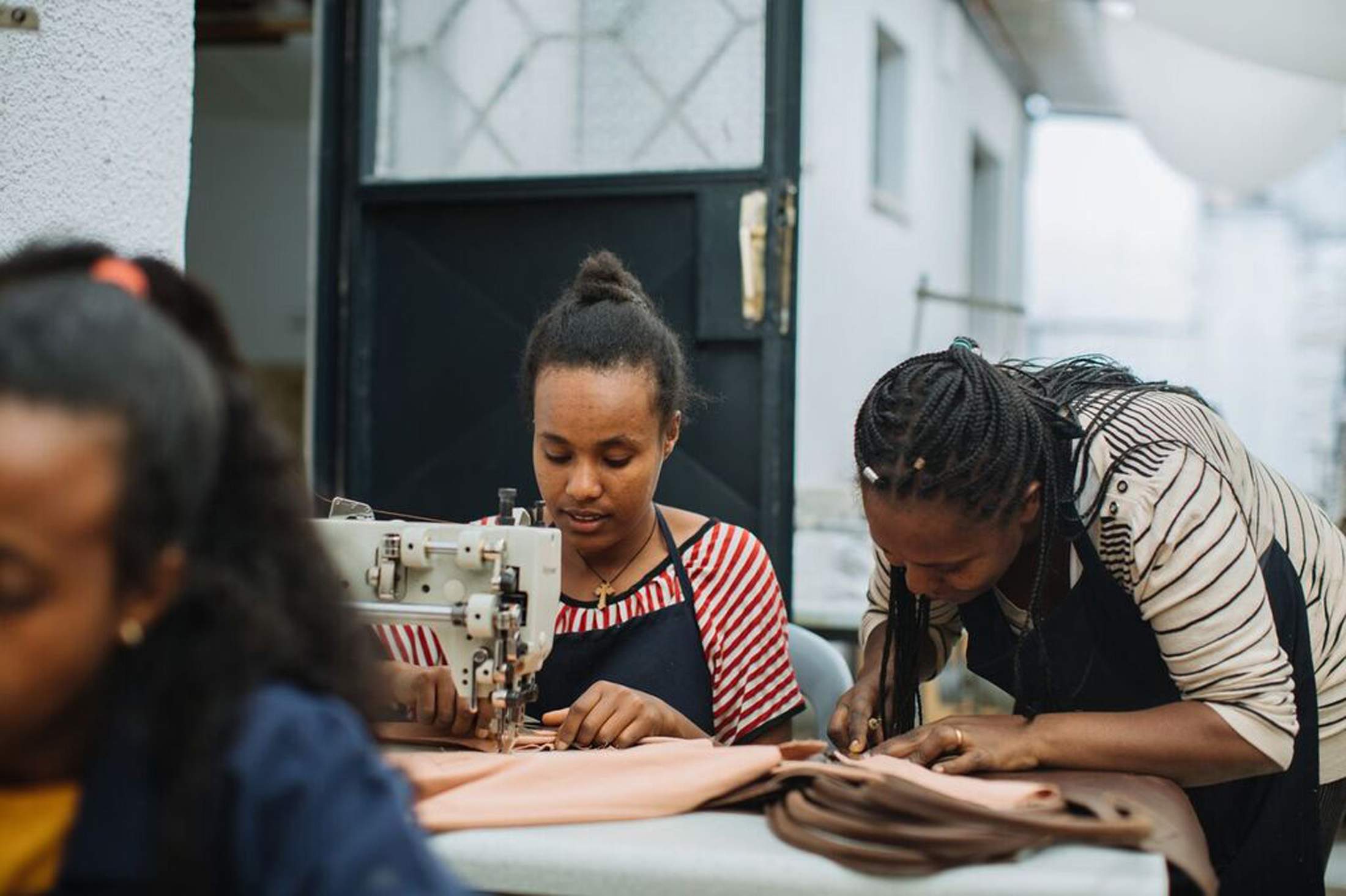 "We must use materials that are sustainable and we want the product we make to last," says Kidane of her ambitious social enterprise. "It's also one of the reasons why we went into a pre-order model: we don't want to make things that will end up being thrown away." The numbers certainly make impressive reading: as much as 10 tonnes of waste leather is used in a single collection of Sabegn bags. This is material that otherwise would have been destined for landfill. When Kidane and her sister, Elizabeth, founded the business more than a decade ago, they wanted to reflect the values of their family, which has been involved in the crafting of jewellery in Ethiopia for several generations.
As Kidane explains, however, Sabegn is about far more than artisanal manufacturing. "What brings us purpose is seeing our colleagues grow," she says. "This is something  that my mother taught me: to always help develop people. I think we have succeeded with that in Sabegn. My colleagues, mostly women, stay with the business for years. Paying salaries that make people able to save money for a better future is a vital part of what we do. The majority of people working in global fashion are not paid a living wage," she adds. "We are making a difference here in Ethiopia – and this is how we want to keep doing things."
To hear more from business owners on the move, listen to Monocle Radio's weekly programme 'The Entrepreneurs'.
---
aviation – NORWAY
On the crest of a wave
Elfly Group is developing electric aircraft from its base in Bergen, Norway – and it's on the ascent, not least thanks to an nok84m (€7.5m) grant secured in September from the Norwegian government. Its 20-person team has a handful of projects but their flagship product – and the reason behind the grant – is a commercial electric seaplane dubbed Noemi. Elfly released the specs and design for the aircraft in June and says that it hopes to have a prototype ready to take flight by 2025, with service entry in about 2030. 
On the surface, this might look like any other fledgling regional electric-aircraft project: Noemi promises seating for between six and 13 depending on configuration and boasts a range of about 170km, meaning that its use is somewhat niche. Yet, because it's a seaplane, that niche could turn out to be rather large. Designed initially with Norway and its challenging-for-transport terrain in mind, the aircraft could provide a whole new level of convenience and sustainability to any number of places – wherever there's water to land on.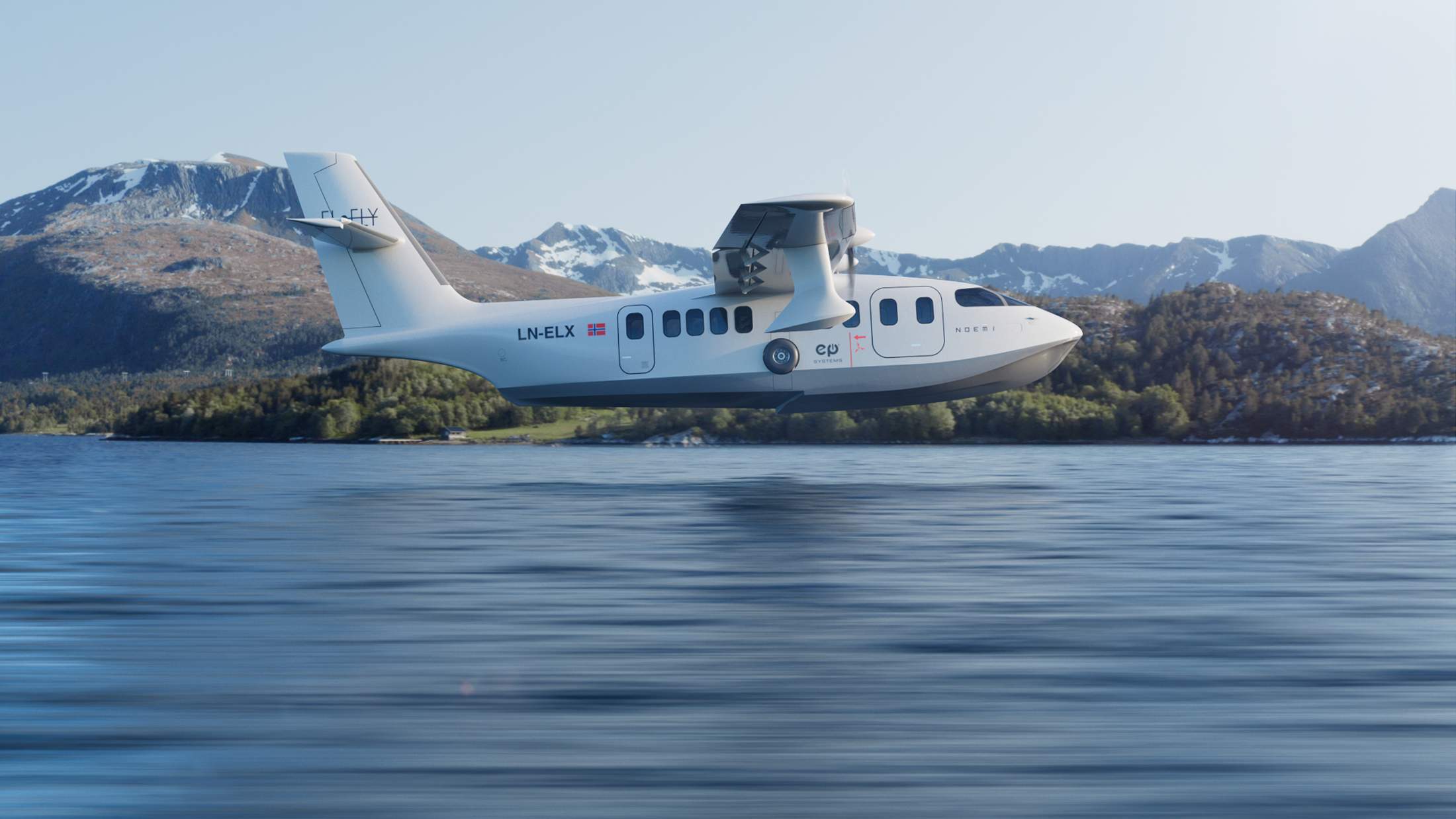 As a seaplane, Noemi can skip congested airports and deliver passengers from one city centre to another. But it also promises a revolution for those in remote communities – again, just look to the towns and cities amid Norway's west coast fjords, for instance. An efficient, emissions-free nine-seater could even mean guilt-free flights from Stavanger to Bergen, for example, whereas right now the journey by bus, car or ferry takes about five hours. Or how about Odense to Copenhagen over in Denmark? The list goes on.
That's not the only thing Elfly is doing differently. The firm plans to flip the traditional manufacturer-airline ecosystem and business model on its head by obtaining an Air Operators Certificate and operating the aircraft itself. That's right: the company does not intend to sell its aircraft to anyone. (Though if the idea takes off as it hopes, it's difficult to imagine that Elfly won't reconsider.) Running a global seaplane airline and an electric-aircraft manufacturing firm at the same time would present a series of challenges. But at home, it sounds like the perfect solution for an initial foray into the Norwegian market. And the idea already has a natural advantage in Norway because the government has mandated that all domestic flights be emissions-free by 2040. Elfly is well on its way.
An emissions-free nine-seater could mean guilt-free flights from Stavanger to Bergen, for example
Fittingly and unsurprisingly, the Noemi seaplane is modelled primarily after ships, though the aircraft's design is reminiscent of Northrop's famed Grumman g-73 Mallard too, another rugged and robust seaplane. Elfly says that it is designing the Noemi to be able to operate in waves of up to two metres in height. Whether passengers will accept flying (and landing) in those conditions is perhaps another question. Still, the Noemi sounds nothing if not capable – and highly promising. We look forward to climbing aboard.
---
retail – Taiwan
Scenes from a mall
Shopping centres are thriving across Asia and new players continue to enter the market. Among them is Taiwanese property developer jut Land, which has opened its first mall, Noke, in Taipei's Dazhi area. Designed by Michael Lin, the building houses 95 tenants over seven floors. The project has given the 35-year-old company, best known for building luxury flats, a new perspective on construction: rather than handing over the keys to buyers and closing the door on its way out, this time it's in it for the long haul. The ribbon-cutting at Noke was just the beginning.
"It's a living building that's open to the public so we needed to design a space that could grow and change," says Aaron Lee, jut Land's 52-year-old deputy chairman and the driving force behind Noke. Wearing cargo trousers by A Bathing Ape and Veja trainers, he gives monocle a tour of the €93m investment. It's a sizeable down payment by a company that turns over about €467m a year and there's a lot riding on Noke's success. "It's too expensive to be a one-off," says Lee.
On the day that we visit, every corner of Noke is busy. Visitors queue for an art exhibition on the ground floor and a longer line forms for takeaway Taiwanese tea. Upstairs, lunch is being cleared away at a hot-pot restaurant designed by Kengo Kuma, while young people skate on an ice rink. At the heart of it all is an open-plan Tsutaya bookshop; though Taiwan has its own bookshop chains, Lee (pictured) knew that Tsutaya would open doors to other Japanese businesses that he wanted to work with, such as Onibus Coffee. "[The Noke outlet] is the number-one Tsutaya for sales in Taiwan," says Lee.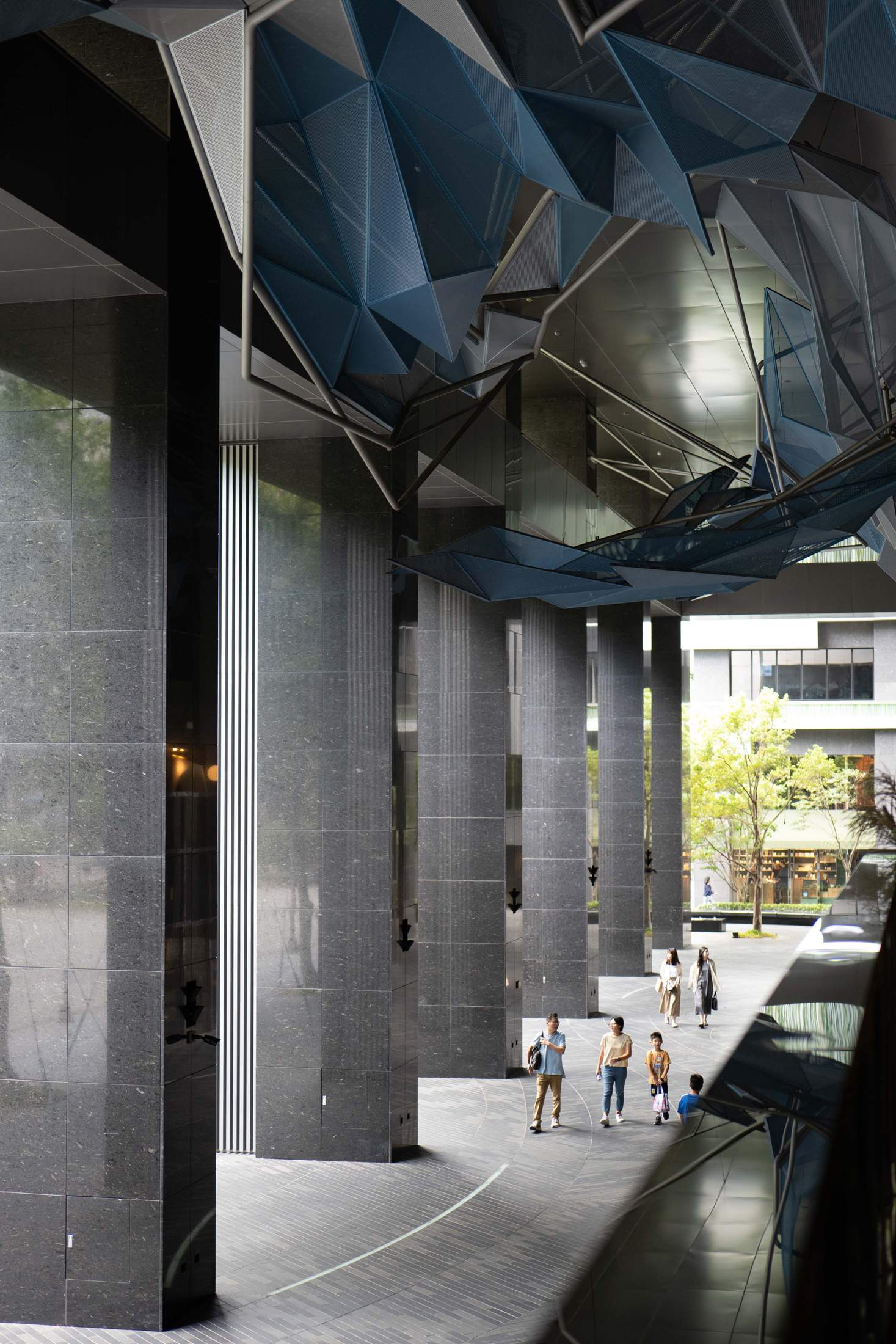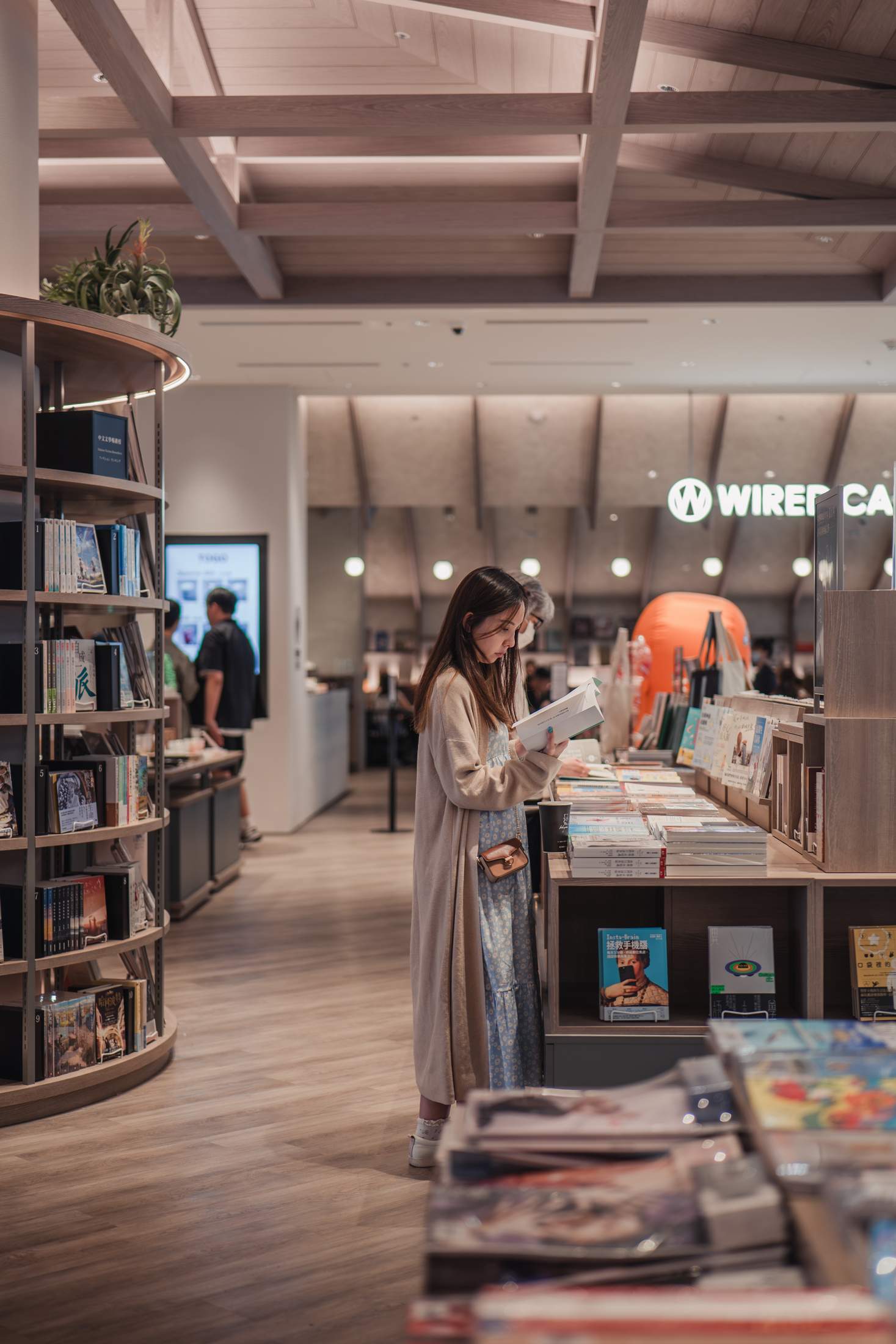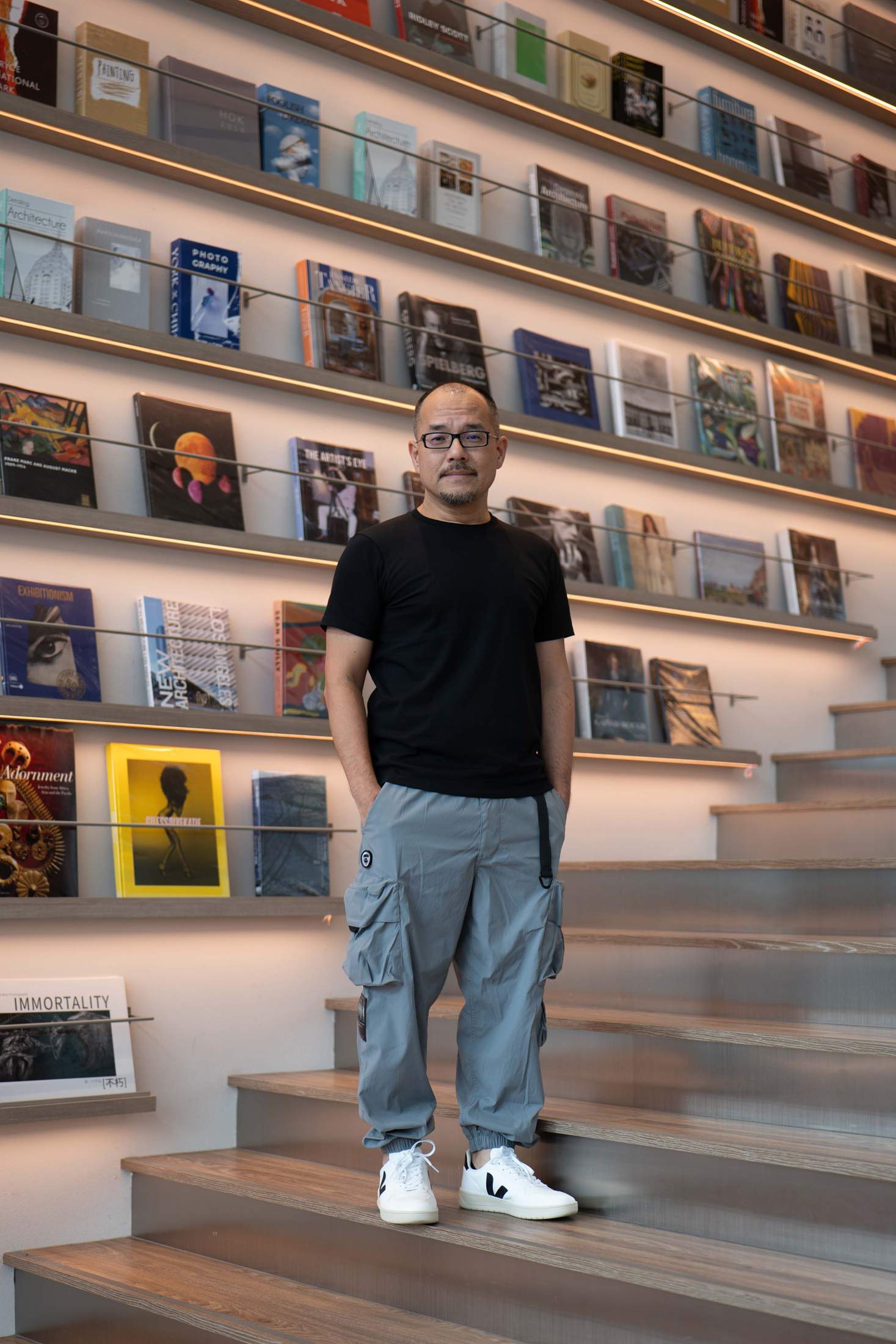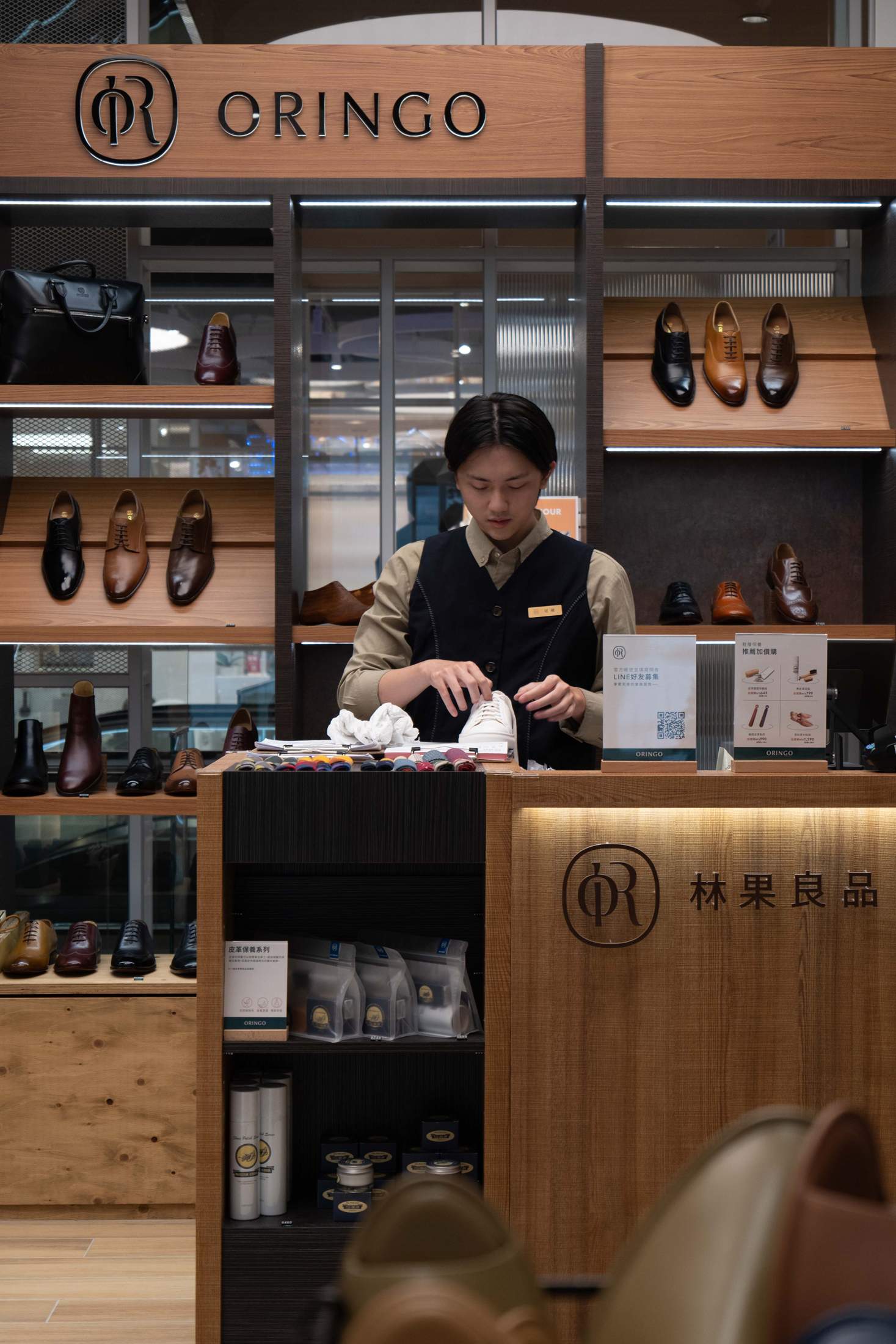 jut Land manages 15 shops at Noke. Most of these are in-house concepts created under Lee's stewardship. He joined his father's company about 25 years ago and started running its everyday operations in 2005. Since then his strategy has been to increase the number of transactions that customers make with the company from the current level of one property purchase every 20 or 30 years. His first move was to open an interior-design firm. Designer furniture showrooms came next, followed by flower shops, bakeries and cafés. A shopping centre brings them all under one roof. "We owned the land that Noke sits on for a long time without knowing what to do with it," says Lee, who used his strong background in retail to win the backing of his family members on the board.
Taking on a fresh challenge has clearly energised him. "The mall is only at passing grade right now – I give it 60 per cent," he says, spotting problems everywhere. The pandemic has prevented the leasing team from signing every tenant on his wish list and his biggest challenge currently involves talent. Experienced retailers are stuck in the past, he says, while outsiders with fresh ideas about the future of the shopping centre lack the industry experience to know what is achievable.
jut Land has been building apartments in Dazhi for more than 30 years. Noke could "jump-start the neighbourhood" as a workplace, according to Lee, who has plans to build six commercial towers in the vicinity over the next 10 years, including a new headquarters for the company and a tower by Japanese architect Tadao Ando. "Property is a very local business and every district has its own giant," says Lee. "We could quite comfortably keep doing what we have been doing but I want the challenge of turning jut into the big Taiwan brand." 
---
furniture —
china
Q&A
Demos Zhu 
Founder and CEO, Mingus
Mingus has nine furniture and home furnishings showrooms in China's four biggest cities. Founder Demos Zhu opened the first multi-brand showroom in 2019, before opening solo shops for the likes of usm.
How's business?
Our sales have increased but our stores are not going to meet the expectations we had at the beginning of the year. 
Your bestselling brand?
usm. Before they started working with us in 2020, they'd been in China for more than 10 years but were quite small. We did a marketing campaign and launched the flagship store in Shanghai last year. The whole store space is like an apartment; we positioned usm as residential.
What's the future for furniture retailing?
Consumption is now encouraged so people change their furniture more. My parents' generation bought expensive furniture and talked about it doubling in value in 10 years' time. People my age talk about design and comfort.