Fashion: Interview / Milan
Renaissance man
Remo Ruffini, chairman and CEO of Moncler, on bringing the brand back from the brink – and what comes next.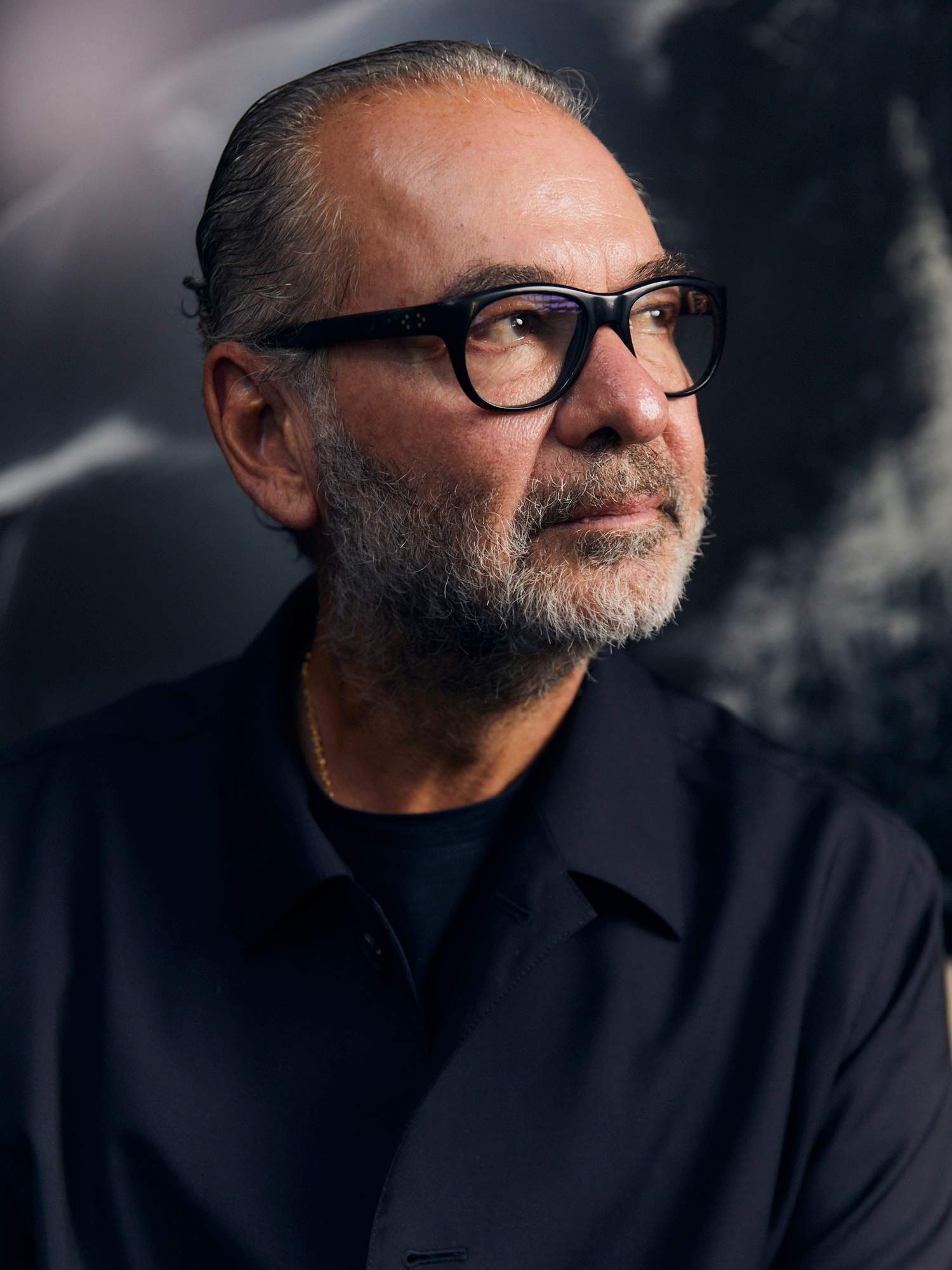 Remo Ruffini is dressed head to toe in navy: navy jacket, navy T-shirt, navy trousers. The only item that differs from this monochrome look is a small vape that he discreetly draws on, standing it on the table in front of him in between puffs. Reserved and softly spoken, the chairman and CEO of Milan-based Moncler – the high-end fashion brand renowned for its puffer jackets and ski wear that made more than €600m in net profits last year – is explaining the secret of staying relevant. "The game today is to attract different communities," he says. "The luxury community is one but there are a lot of interesting micro-communities around the world. And our job is to really attract them."
Few would question Ruffini's ability to attract new tribes since he took over in 2003. When he bought Moncler, founded near Grenoble in the French Alps 71 years ago, it was struggling. "In the 1970s and 1980s it was a huge brand for people living in northern Italy and going skiing every weekend," he says. "Then in the 1990s it didn't have a good moment." Ruffini put the decline down to losing touch with customers. Previously reliant on wholesale and distributors such as Decathlon, Ruffini set about a radical restructuring in a belief that the brand was "very solid". Shops were opened as part of a direct-to-consumer model, archive pieces were revived and the brand pivoted to high fashion through runway shows and collaborations with Thom Browne and Giambattista Valli. But that was then. Once Moncler had completed the methodical work of reorienting the brand, including successfully going public in 2013, it was time to try something new. "After 10 years I was bored and decided to move the strategy to this Genius approach," says Ruffini. He's talking about the decision to end the Gamme Bleu and Gamme Rouge collaborations with Browne and Valli and switch to Genius, a daring venture established in 2018 that joined Moncler's core collection and ski-centric Grenoble line. 
"He pays very close attention to where the consumer is moving and how consumer behaviour is changing"
Genius is based on a fluid collaboration model that might see Moncler team up with artists, designers or musicians on collections released eight or nine times a year – potentially appealing to different "micro-communities" each time. To date, everyone from Pharrell Williams to Alicia Keys (a collection inspired by New York), via designers Simon Rocha and Noir Kei Ninomiya, have been involved. 
Genius is a savvy move that appeals to the much-coveted Gen Z consumer bracket. It shifts the brand towards a younger, hipper demographic by creating the sort of social media buzz that leads to queues outside bricks-and-mortar shops. Ruffini says that Genius is "more of a street approach", though he won't go as far as calling it streetwear. And while he says that it was a turning point for Moncler in terms of communication, he argues that it goes beyond this. "It's also a way to learn a different approach from different designers."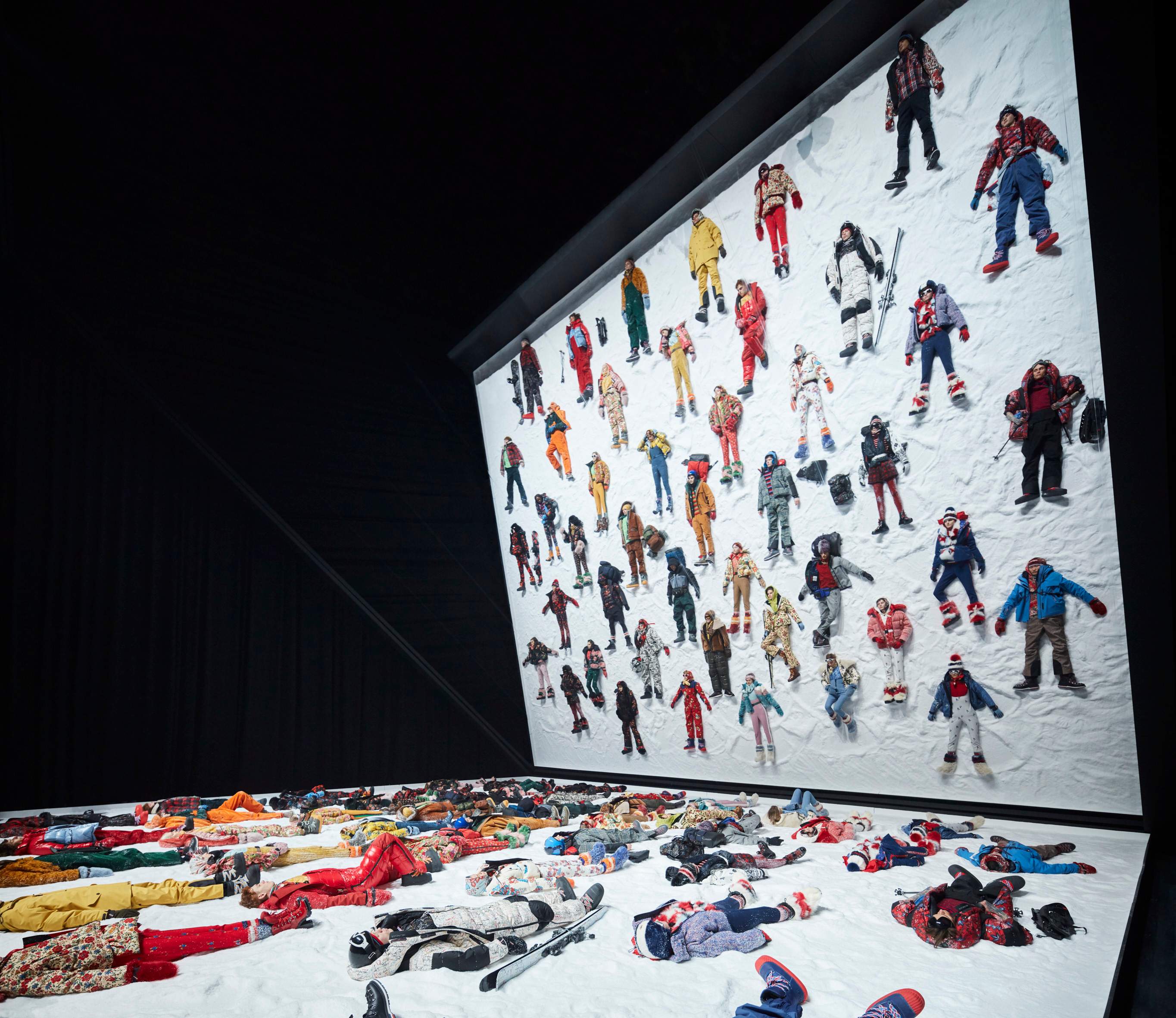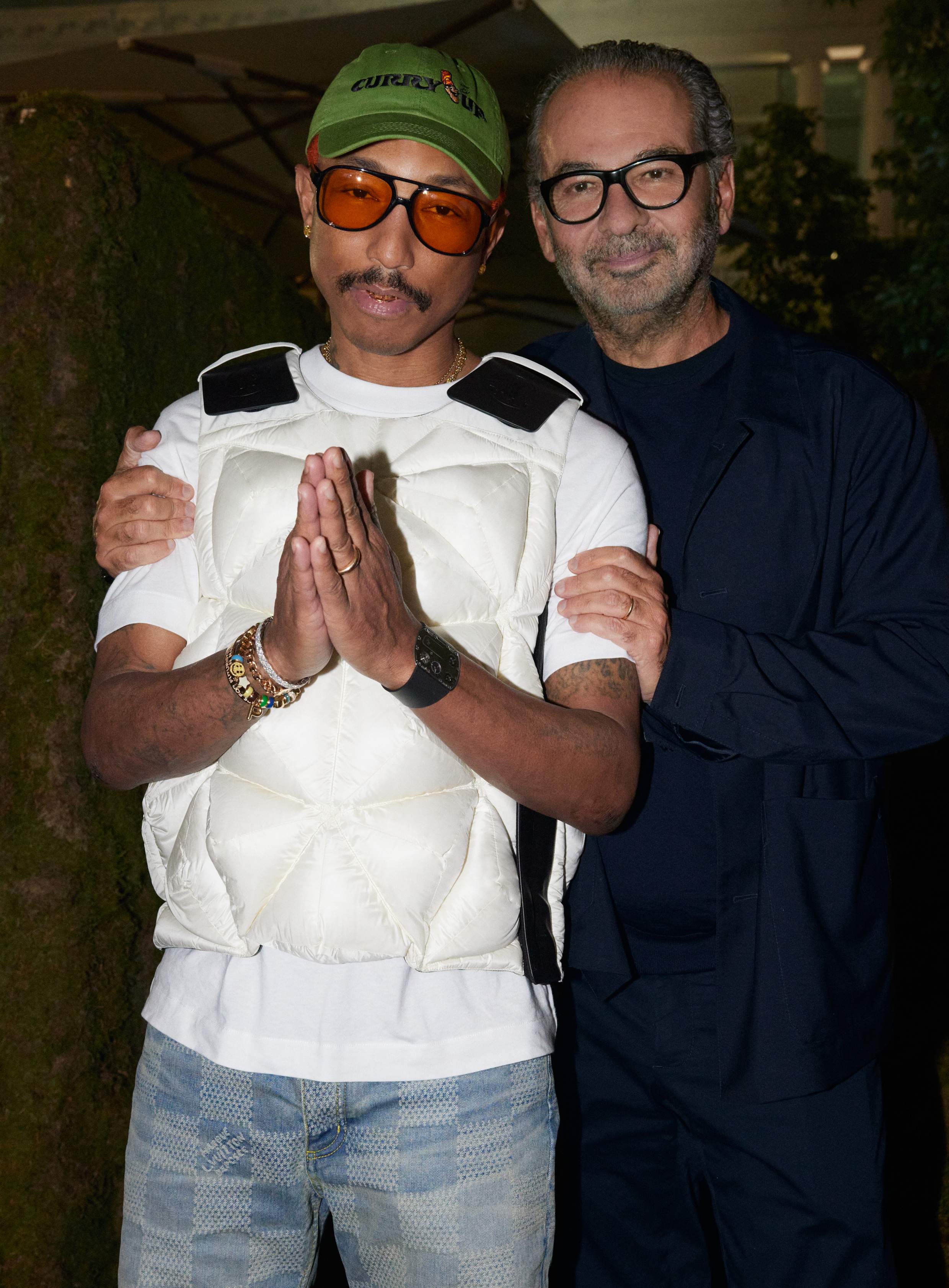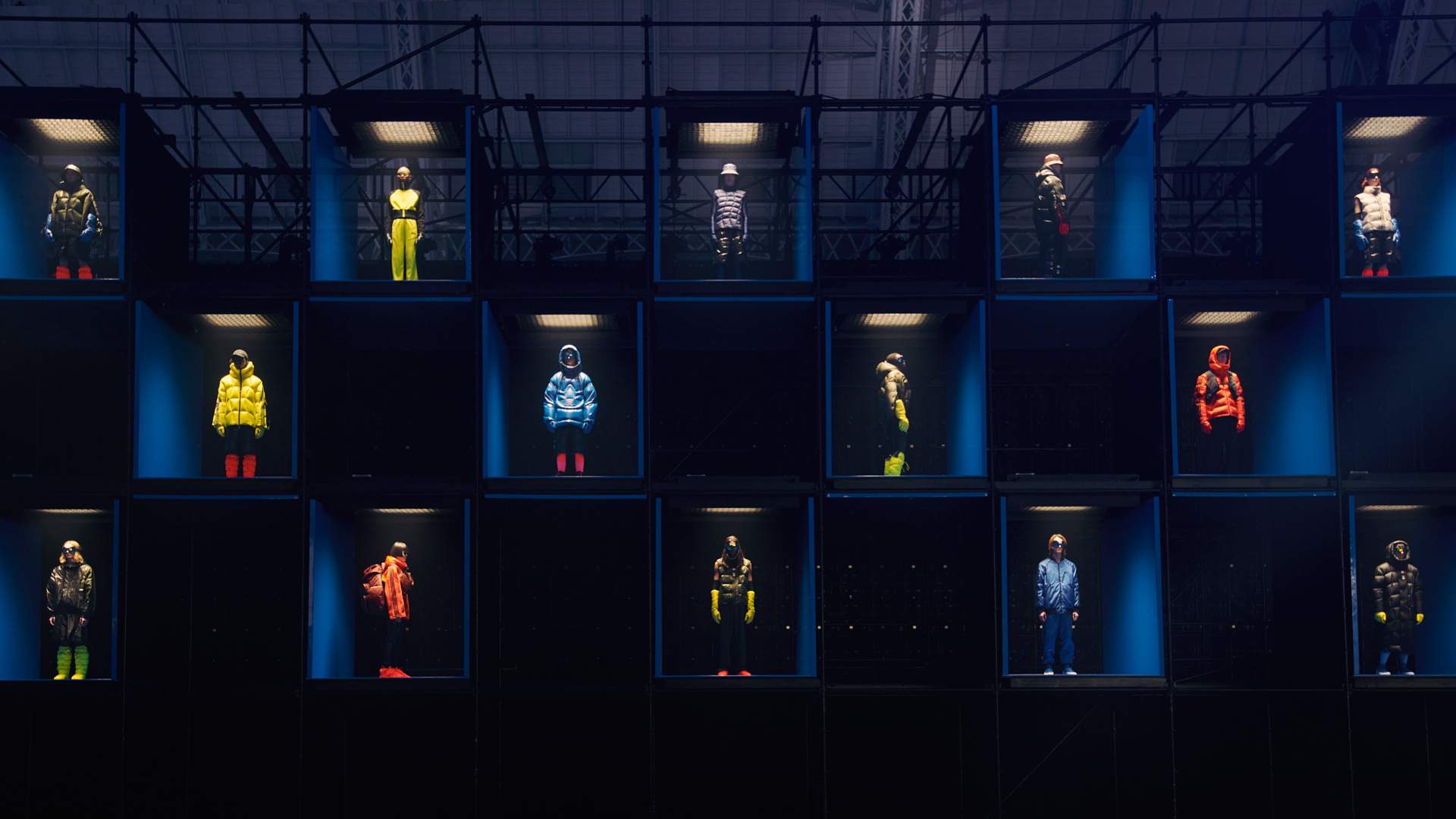 Located in a red-brick former industrial building in southwestern Milan, Moncler's HQ is a temple to the brand. There's a suited security guard on the door and stepping inside feels like entering a minimalist five-star hotel, with dark marble dominating the reception area. In a high-ceiling atrium filled with exotic plants, breakfast is being served. Staff chat over espressos dressed in T-shirts bearing the brand's tell-tale tricolour stripes. Others are decked out in Stone Island, the brand Ruffini acquired in 2020 for an eye-watering €1.15bn. Moncler's "M" logo is stamped everywhere, from the glassware to the floor.
For many industry watchers, the reason that Moncler continues to surpass expectations (Moncler Group sales were up by 24 per cent for the first half of this year) is down to Ruffini's management. "He pays very close attention to where the consumer is moving and how consumer behaviour is changing," says Lauren Sherman, a Los Angeles-based fashion correspondent at news website Puck. "He prides himself on that and takes it very seriously. I would say that he is a scholar of consumer behaviour." Indeed, during his Monocle interview, Ruffini launches into a detailed analysis of global macroeconomic conditions and their effect on luxury, from the real- estate crisis in China to post-pandemic slackening in the US. "The world is not easy but in general, the economy of the luxury world is quite healthy – especially for a good company," he says. 
Ruffini is also an avid people watcher. According to his communications team, when he travels somewhere new he likes to observe people's habits by heading down into the metro. It helps him get a sense of where trends are going and be able to "move around the world with the right taste", as he calls it. What he means is that Moncler needs to be agile enough to react to shifting consumer conditions and tastes, and he often likes to say in interviews (including this one) that Moncler thinks like a start-up. According to Ruffini, "streetwear is almost dead" and there is a move under way to higher sophistication, with cashmere proving popular. "He has a great sense of what the market wants," says Luca Solca, Geneva-based managing director for luxury goods at financial services firm Sanford C Bernstein. 
Remo Ruffini's CV
1961: Born in Como, northern Italy
1982-1983: Works in New York for his father's clothing business, Gianfranco Ruffini 
1983: Back in Italy, founds New England brand in Como
2000: Sells New England to Stefanel Group
2001: Becomes creative director of Moncler
2003: Buys Moncler 
2013: Takes Moncler public, with an ipo valuation of €2.5bn
2017: Announces retirement of Gamme Rouge and Gamme Bleu lines
2018: Moncler Genius established with eight design collaborators, including Jonathan Anderson and Pierpaolo Piccioli
2021: Moncler acquires Stone Island
2022: Takes over Milan's Piazza del Duomo to celebrate Moncler's 70th anniversary with 18,000 guests
2023: Brings on new collaborators, including Mercedes-Benz, Pharrell Williams and Alicia Keys
Soon Ruffini will embark on a multi-city tour of the US, another example of his hands-on approach. He plans to check out cities such as Austin and Cleveland to see if there is the right luxury market to justify a shop opening. When it comes to its retail strategy, Moncler has been planning to open about 40 new boutiques between last year and next year, with a particular focus on the US, where wholesale previously dominated, and Asia. But perhaps more interesting is that during the same timeframe, Moncler plans to move, refurbish or expand about 60 shops. The brand has, for example, already relocated its Shanghai outpost from the lower-ground floor of Plaza 66 to the more prestigious ground floor. "Relocation is super important in order to give more space to the customers, to the services," says Ruffini. It's not just about footfall on the street outside but the way the brand is able to communicate with buyers inside, especially for a company that has injected what Solca calls "huge doses of creativity" into its offering. Moncler is renowned for its visuals – from shop interiors and window dressing to its highly sensory fashion events – so having the best possible retail space makes sense.
Moncler might have evolved over the past few years but Ruffini isn't in a rush to turbocharge it. The chairman and CEO constantly talks about "the heritage and DNA" of the brand and he won't consider anything that falls outside that remit. "One thing he has done really well is keep the hero product evolving," says Puck's Lauren Sherman of the brand's down jackets. "Some brands go too far to grab new customers." This means that Moncler isn't about to abandon its Alpine heritage anytime soon, even if lighter pieces have been slowly introduced to its core collections to capture more of a year-round market. 
Taking things slowly seems to be the order of the day. For one, there's the mammoth task of sprinkling a bit of the Moncler stardust onto its new acquisition, Stone Island, including weaning it off its wholesale addiction. Ruffini is quick to dispel any suggestions of further expansions. "No, no, Stone Island is more than enough," he says and adds that there is no current interest in selling up either, despite the constant stream of interest, including reportedly from French luxury behemoth Kering. "Our journey is not over," he says. "But for sure we are on the right path."