Design: Heritage / Copenhagen
Silver surfing
The long legacy of Georg Jensen's silverware is kept safe in a secret archive to inspire today's artists.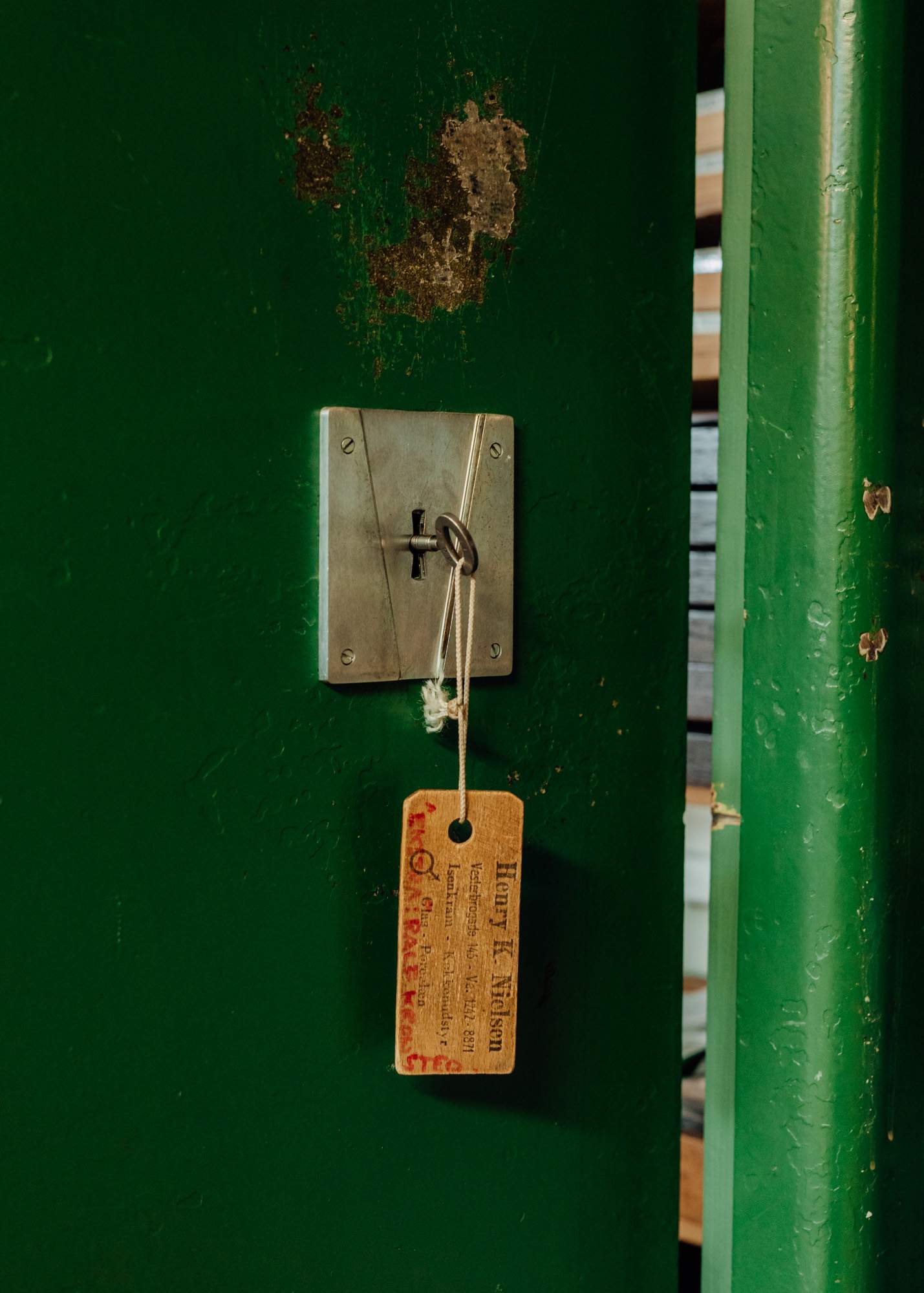 The archive of Danish company Georg Jensen – a maker of fine jewellery, watches, silver and steel homeware that has long been a purveyor to the Danish royal family – is in an undisclosed location inside its Copenhagen headquarters. To enter, written permission must be obtained and journalists have to agree that no windows are pictured in photographs of the space so as not to show neighbouring streets and inadvertently reveal its location. 
The archive is currently in the company's possession but an agreement involving the Danish government's committee on cultural values in 2000, when the company passed hands from Carlsberg to Royal Scandinavia, specifies that any future owner needs to respect that it is an essential part of Denmark's cultural history and must be kept on its territory. If Georg Jensen were unwilling or unable to run the archive, the Design Museum would have to approve what would happen to the more than 5,000 objects, 20,000 sketches, press clippings and miscellaneous memorabilia collected since the company was founded in 1904 by its namesake master silversmith.
The agreement ensures that the archive will stay rooted in Denmark, despite investment from abroad. The move shows some forward-thinking from the Danish design community, which, more than 23 years ago, foresaw the global appeal of Georg Jensen. The brand was bought by Finland's Fiskars Group this September, having been owned by Bahrain-based private equity company Investcorp since 2012. And, since 2003, part of its production moved to Chiang Mai in northern Thailand (though all of its silver hollow-ware is still made in Denmark).
Despite these tight bureaucratic controls, the atmosphere when MONOCLE gains access to the archive is surprisingly laid-back. 
Teapots, jugs, plates, cutlery, hollowware and more niche objects such as chauffeurs' hats, baby rattles and cantaloupe knives are piled on shelves or displayed on tables and counters. A tan-leather Egg chair by Arne Jacobsen from 1958 sits in the corner near a small library, flowers decorate a central table and pictures on the walls imbue the space with the warmth and hygge of a Danish living room.
Georg Jensen's friendly heritage and archive manager, Ida Heiberg Bøttiger, shows MONOCLE various silver pieces stored on shelves and in olive-green safes, explaining how every object links across time and aesthetic movements. "Working here, you can't help falling in love with the history and the stories of the products," says Heiberg Bøttiger, who assumed her current role in 2011, taking over from two retiring archivists who left her a manual of instructions, a paper model of the archive and a Post-it note with a phone number should she have any questions. "Passing that on is the best part of the job."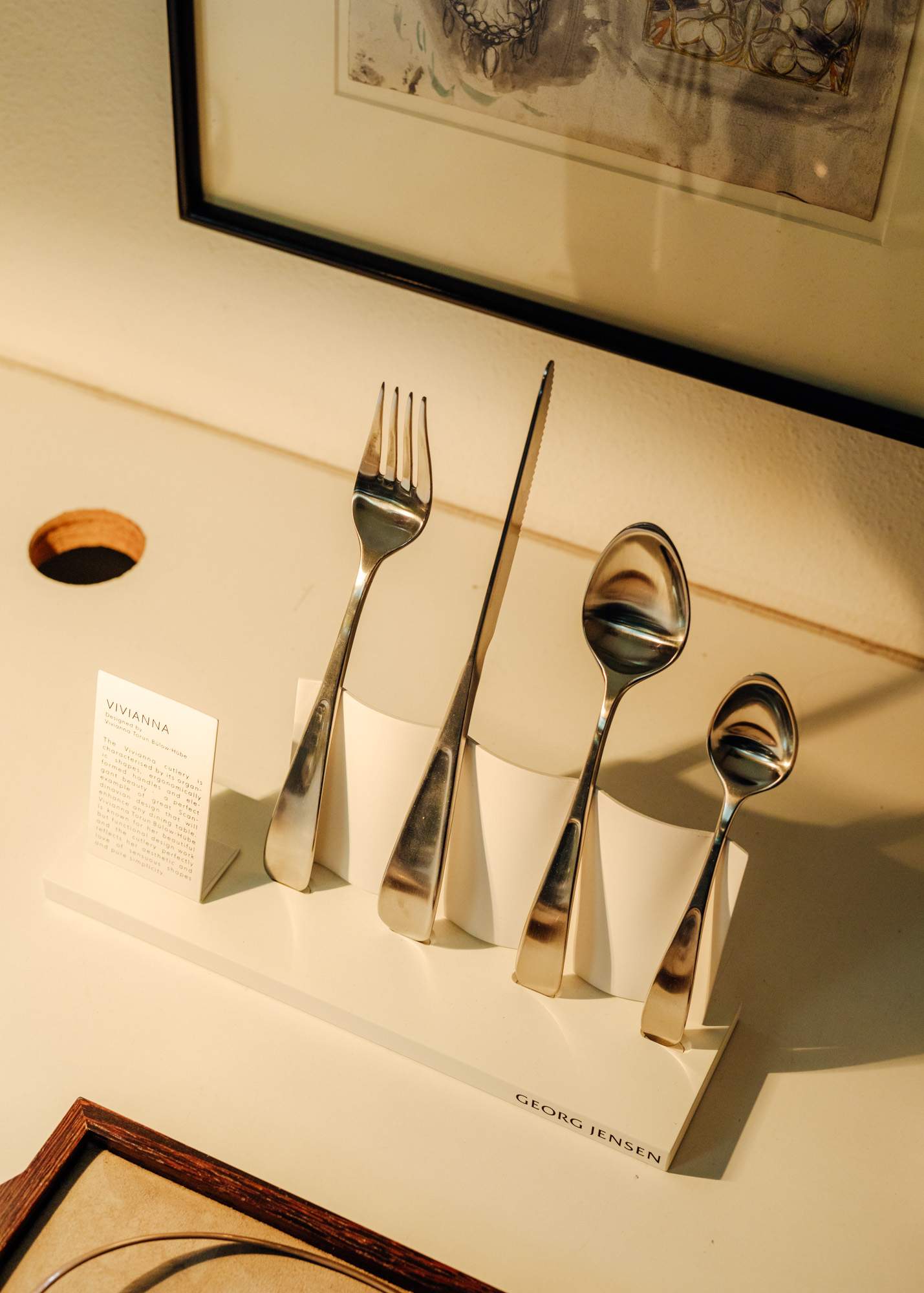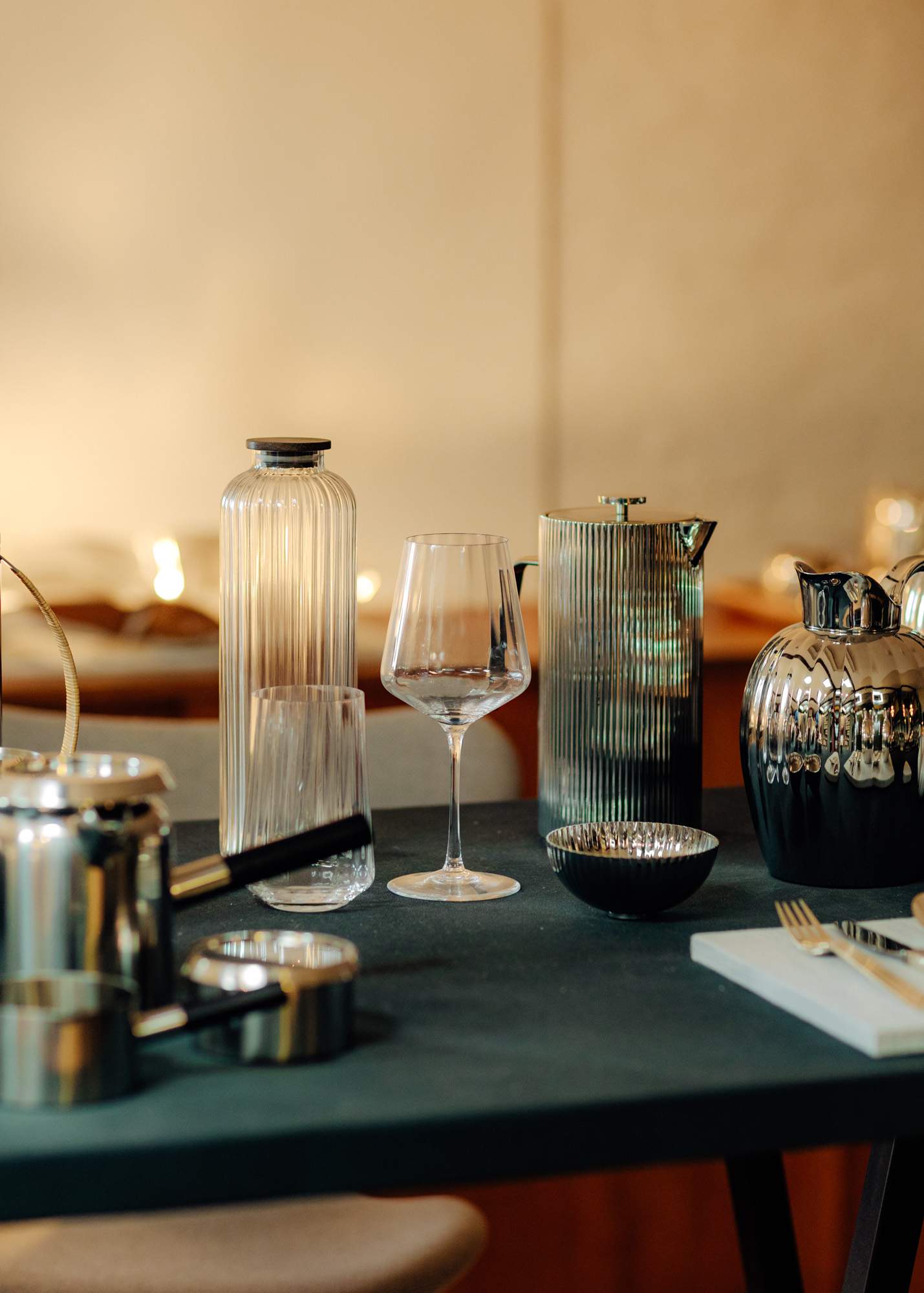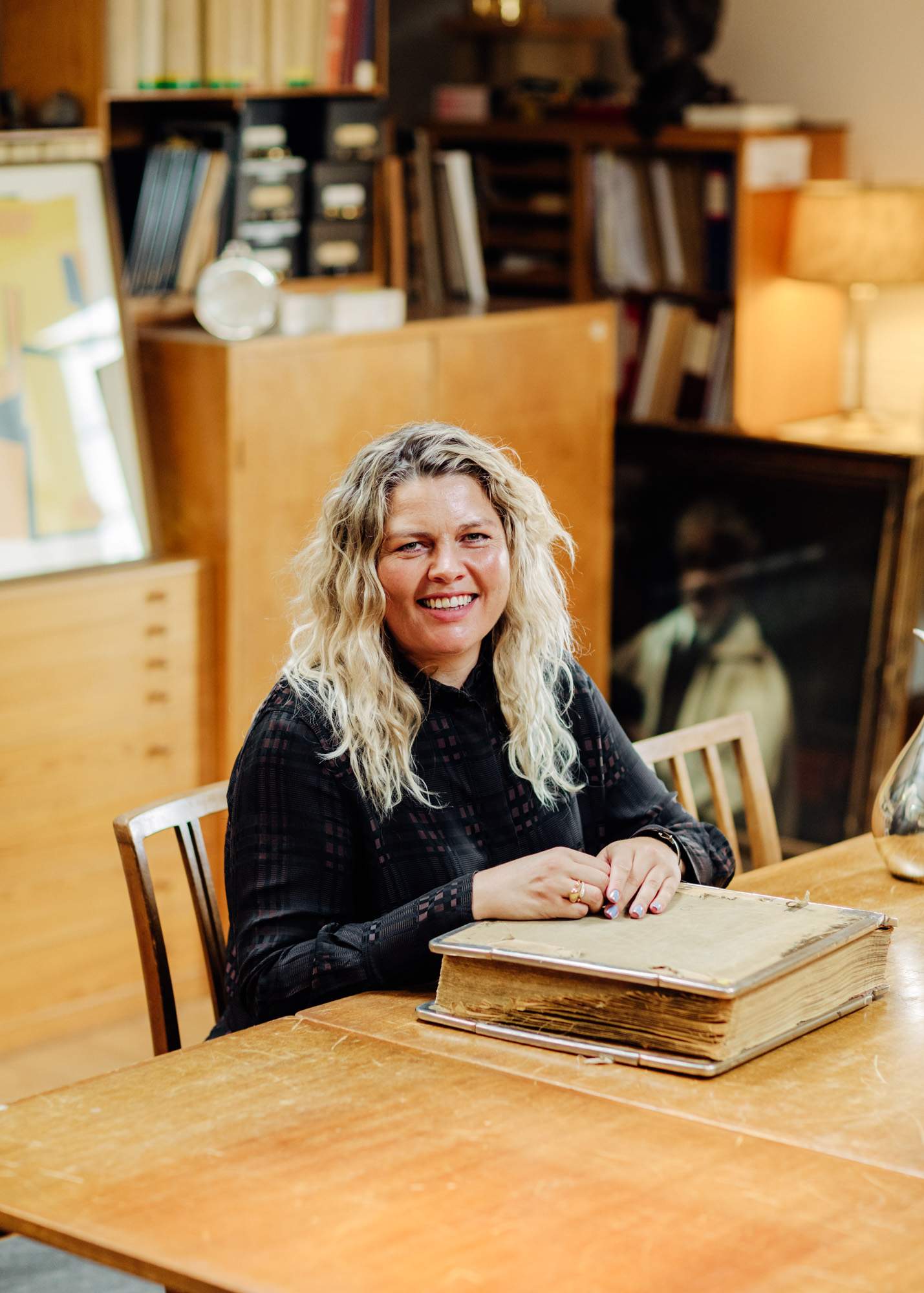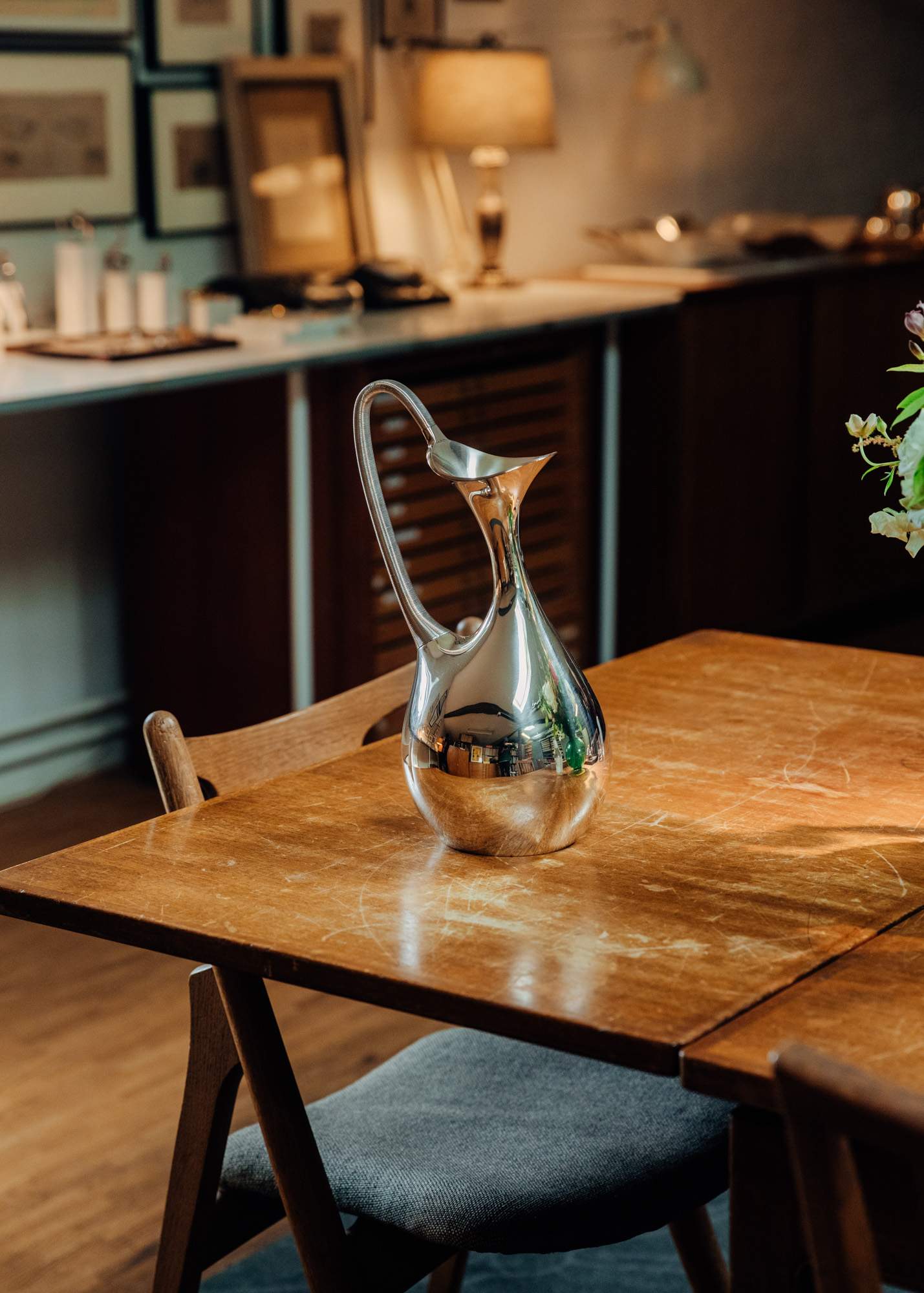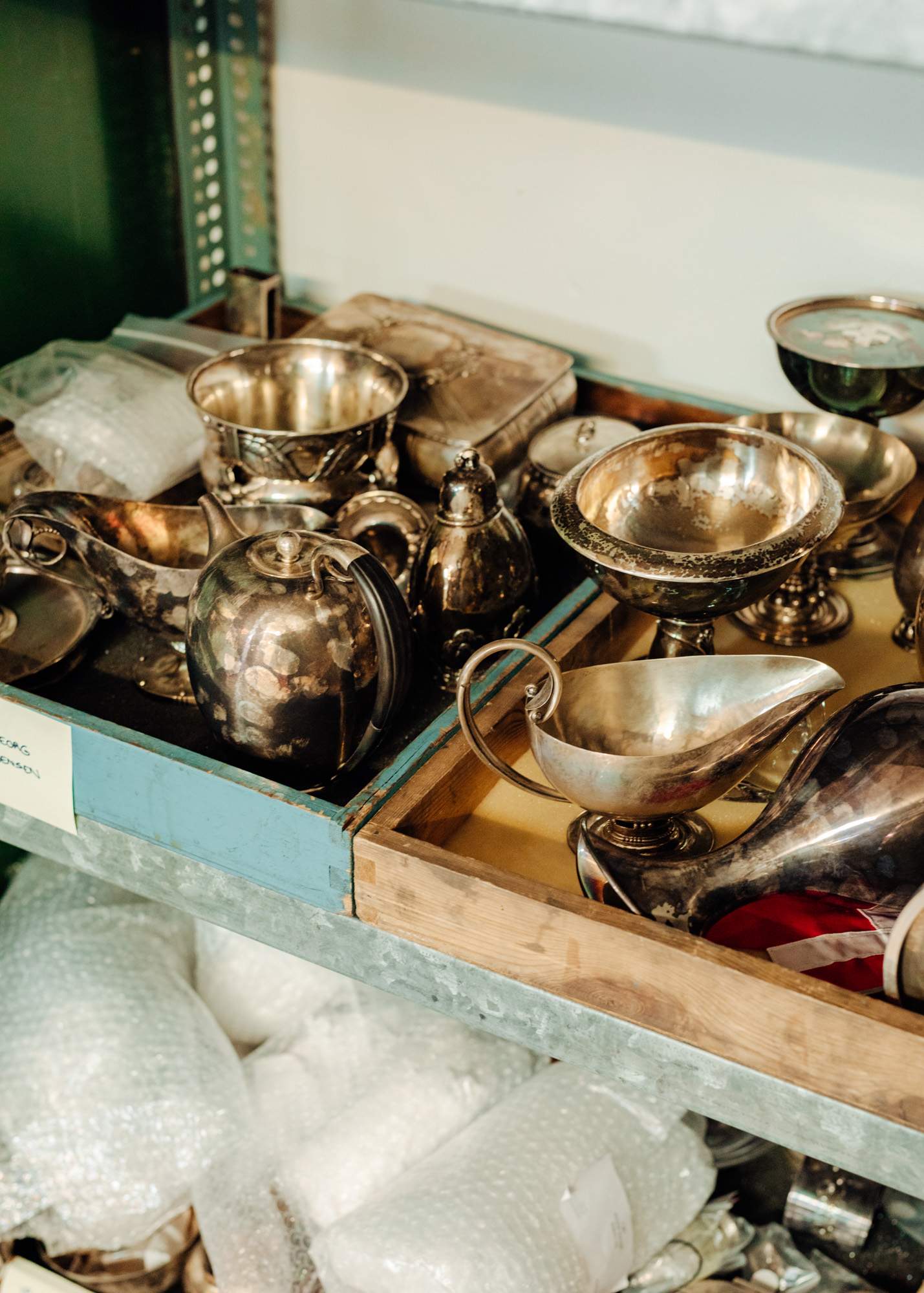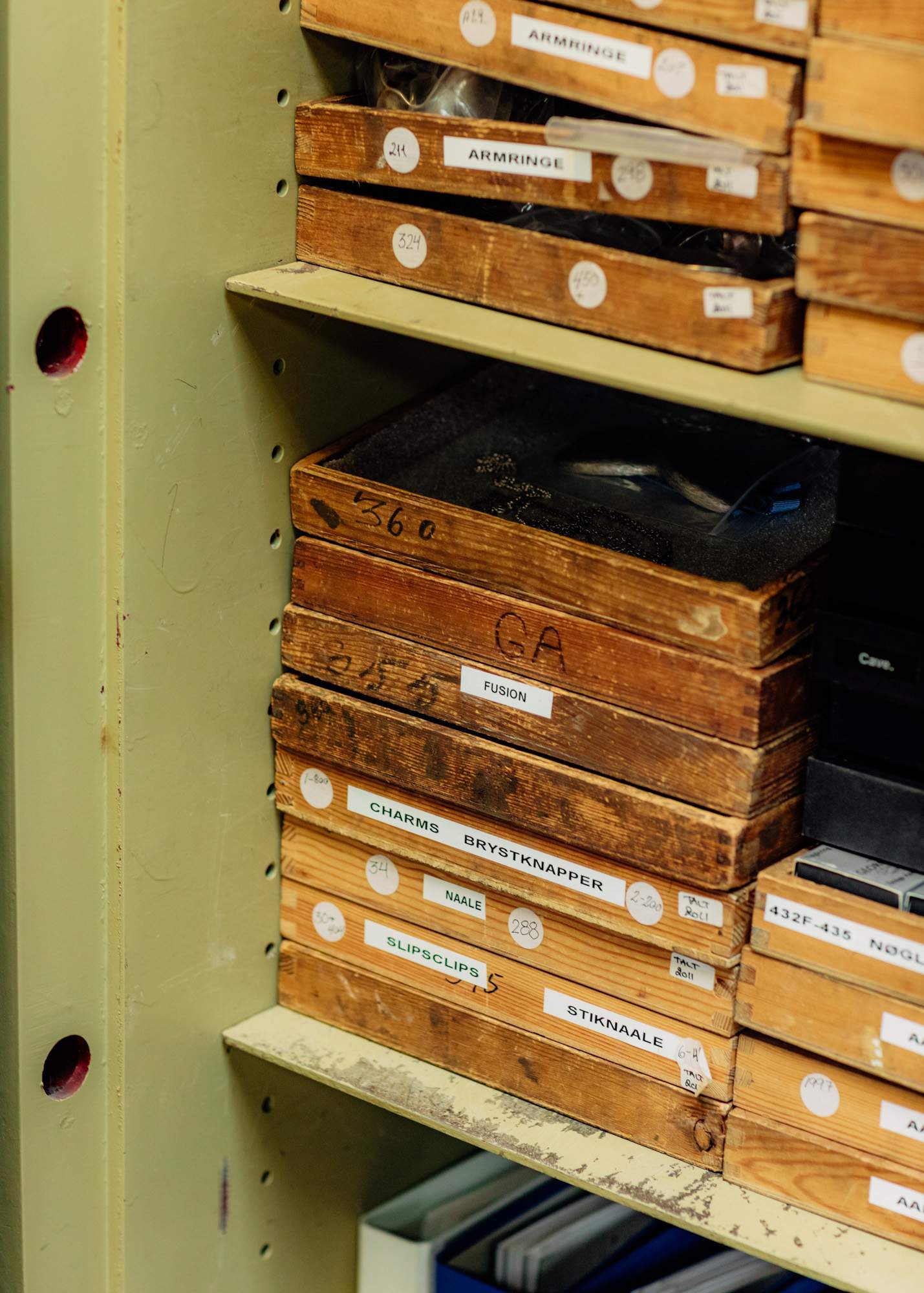 In civic-minded Denmark, the decision to keep a design archive off limits to the public might seem out of step with the national character, especially when heritage firms such as Fritz Hansen are upping the ante by opening their own museums. But pieces from Georg Jensen are regularly found in public institutions in Denmark and beyond (latest example: the loan of jewellery designed by Nanna Ditzel in the 1950s for an exhibition at the Trapholt museum in Jutland). "This isn't a public place," says Heiberg Bøttiger. "For now we collaborate with museums and institutions such as the kea Copenhagen School of Design and Technology. I also spend a lot of time answering questions from customers who want to know more about the history of their Georg Jensen objects. That's how we try to make our archive useful to the public."
The true use of the archive, however, comes to the fore when new Georg Jensen pieces are being developed. On such occasions, the silverware and jewellery are handled and used as references. The company's team of internal product designers also use its objects as inspiration when creating new tableware or expanding existing ranges. If a particular piece from the archive is being reissued, it is Heiberg Bøttiger's job to pull out as much information as possible to help Georg Jensen's silversmiths to craft it anew.
This year, a large tureen is being painstakingly recreated by silversmiths who have spent months hammering out the bowl and the intricate decorative details. And while the archive is expansive, it is not yet comprehensive; should a designer or silversmith need to refer to a design that's not physically in the collection, an array of sketches, images, film negatives and composition notes can be used to help fill in the gaps. Finding them, however, can be a challenge: up until Heiberg Bøttiger took over the archive, every record was kept in an analogue format. "Everything up here used to be registered by pencil on paper," she says incredulously. Over the past decade, she has been making strides towards digitising the inventory.
When designers are invited to collaborate with Georg Jensen, they start by visiting its smithy in Frederiksberg, just west of Copenhagen's city centre. They are then invited to the archive to get a sense of the craft and history of the company. Despite being responsible for a collection of rarities and priceless objects, Heiberg Bøttiger is not one for being overly precious, allowing her visitors to touch and feel the silver without gloves, even if it leads to tarnishing. "Designers need to see with their fingers," she says. "Some archivists swear that you should always wear gloves but, in my opinion, they make you clumsier. And we can always polish the silver when it's time for display."
One of the teapots in the archive belonged to regular Georg Jensen collaborator Henning Koppel's daughter and shows the marks and traces of a long and useful life. Many of the preserved objects were designed to fulfil a specific daily function, be it as a tureen for soup, an eel dish or butter knife. "It's not a matter of staying in the past; it's a matter of understanding it so that we can create the future," adds Heiberg Bøttiger. "Georg Jensen wasn't founded yesterday. We're proud of our heritage and history; it's something we lean on every day."
"Working here, you can't help falling in love with the history and the stories of the products. Passing that on is the best part of the job"
This spring, when creating a jewellery collection for Georg Jensen, Danish knitwear designer Amalie Røge Hove took inspiration from the silver beads found on the Moonlight Grapes range of tableware from the 1920s. A recurring collaborator, Danish architect and designer David Thulstrup, has dived into the archive on two occasions: once when designing Georg Jensen shops and, more recently, to create the silver sculptural hollow-ware piece Penumbra, released earlier this year. "Being Danish, I grew up with Georg Jensen in my veins," says Thulstrup. "The archive is a treasure trove with an overwhelming amount of beautiful objects, many of which I had never seen before. I found inspiration from large hollow-ware made between the 1900s and 1940s and the more functional pieces by Sigvard Bernadotte, who worked a lot with very linear and strict shapes." Penumbra, like any new addition to Georg Jensen's expansive collections, will become part of the archive and, in turn, part of Danish silverware history.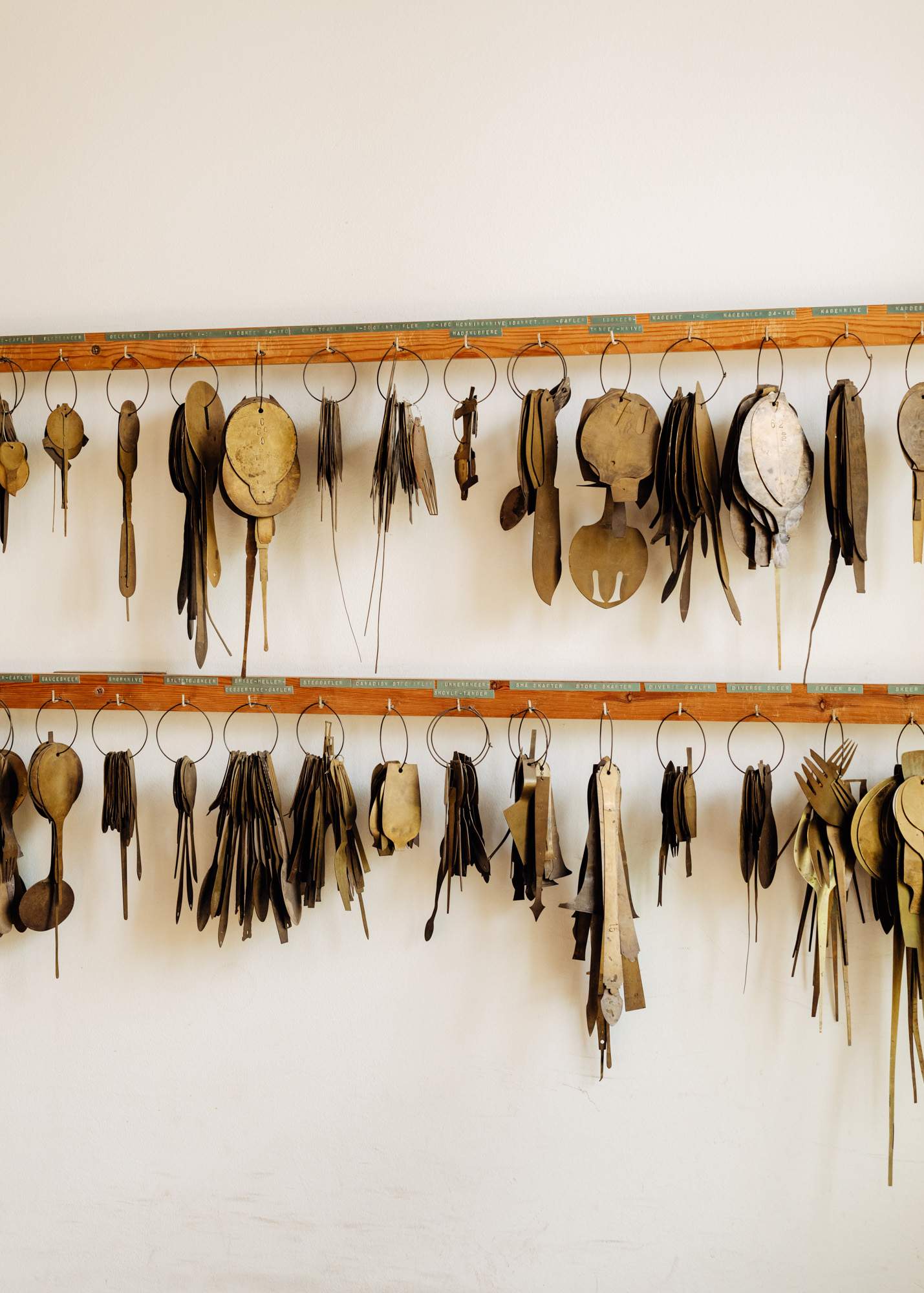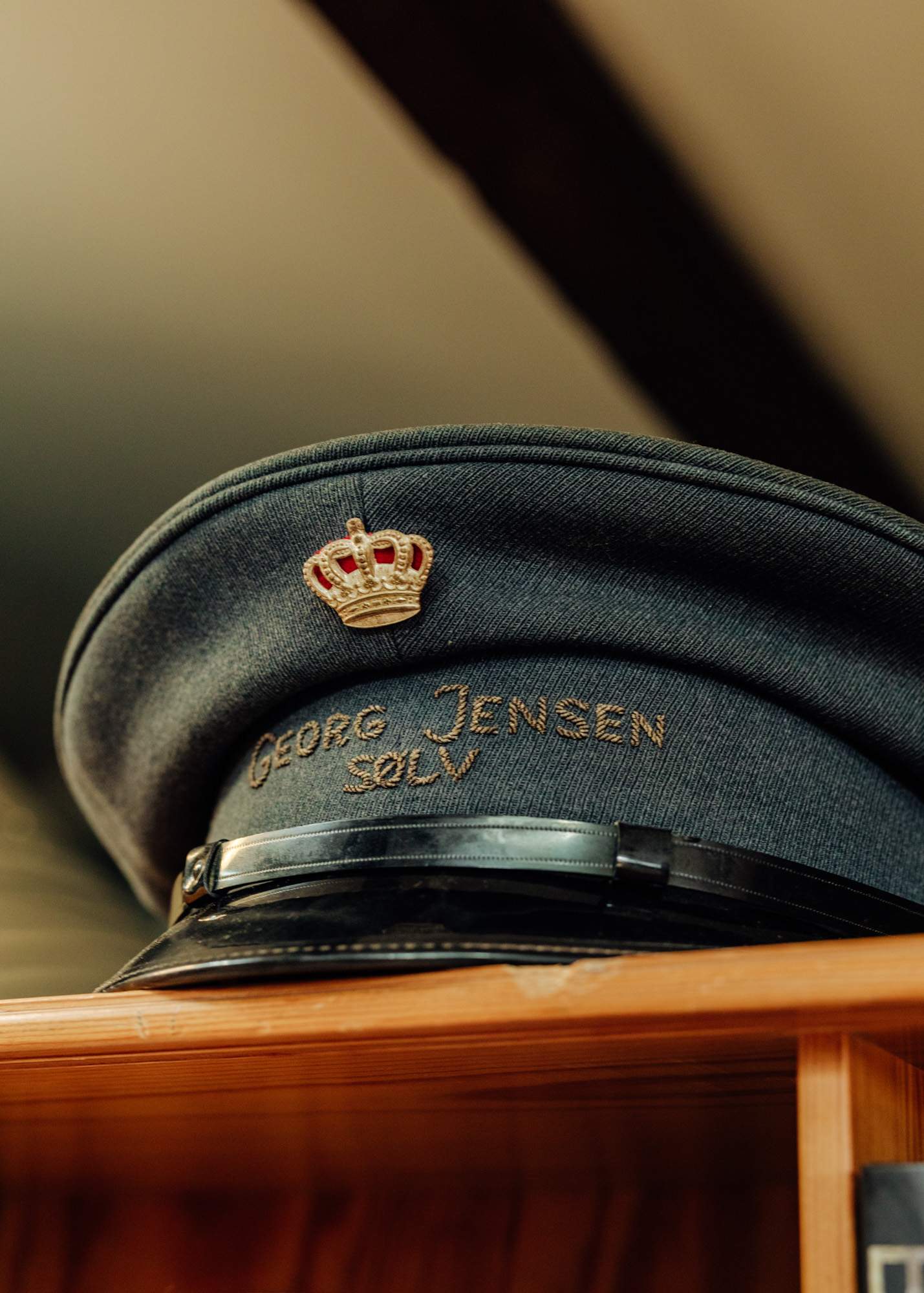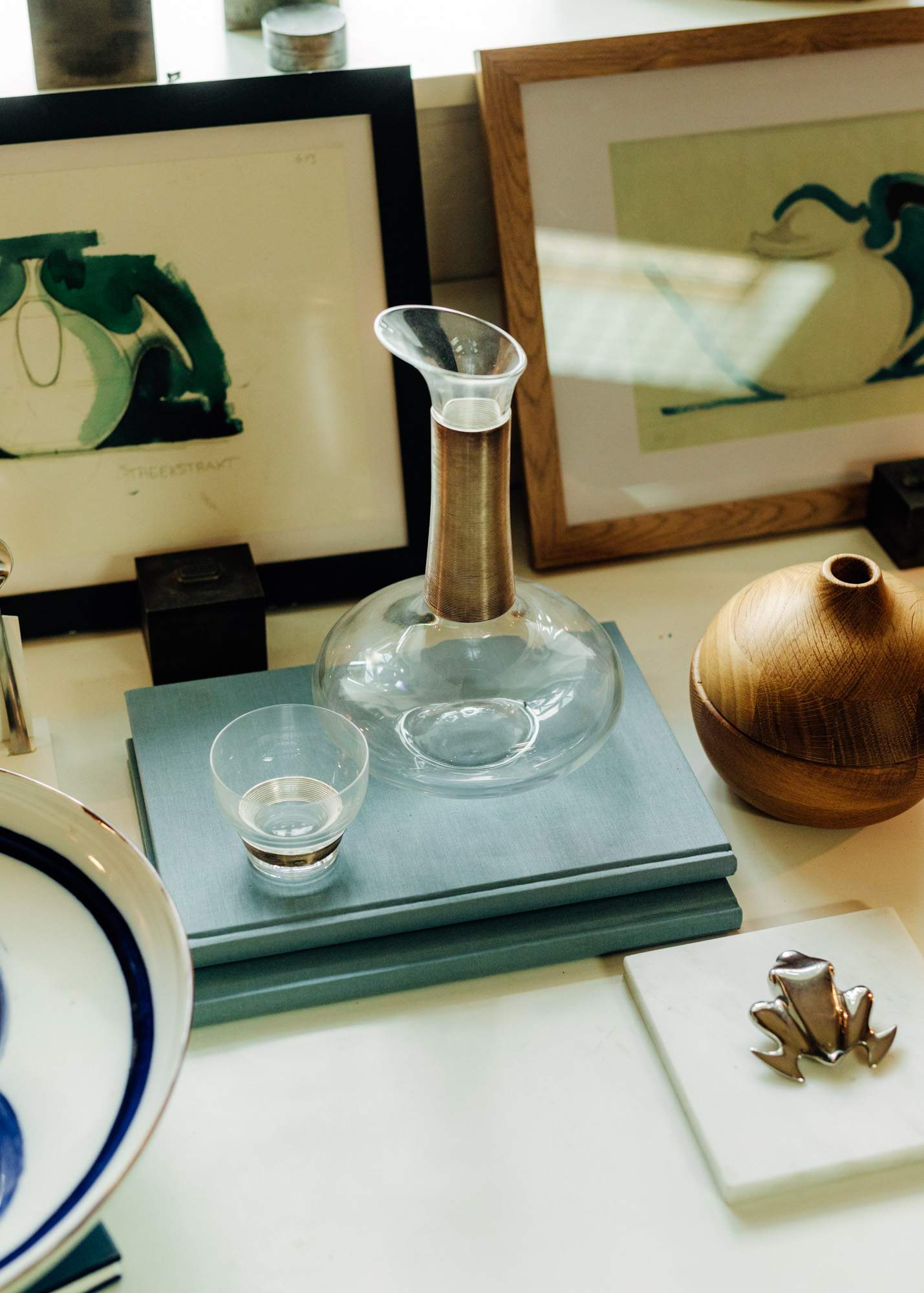 It's a prospect that might seem daunting, with new works landing alongside pieces by mid-century masters such as Verner Panton. "Designers like the challenge of creating for longevity," says Heiberg Bøttiger. "Many of our silverware objects from the mid-century look contemporary and remain bestsellers to this day, such as the Pregnant Duck jug by Henning Koppel from 1952."
"The archive is a treasure trove with an overwhelming amount of beautiful objects"
Heiberg Bøttiger draws monocle's attention to a tea set designed by Australian industrial designer Marc Newson. The rounded, hand-hammered silver pots, sugar bowl and creamer feature bases with rattan weaving and handles made from mammoth tusk (yes, you read that right). The five-piece collection was released in 2015 as a limited edition of 10 sets that sold for €93,500 each. "It wasn't in the archive but it's so special that we obtained permission to make the 11th iteration, so we could have a copy for reference." Given how covetable such a tea set is, maybe keeping the location of this archive secret isn't such a bad idea after all.