Culture: Recording studios / Global
Sonic wonderlands
From an artists' haven in rural Oxfordshire to a former cable factory in Czechia, we visit three recording studios around the world that are reimagining the craft of capturing the perfect performance.
Sound and vision
Studio Richter Mahr, UK
In the office of Studio Richter Mahr, there's a photograph of the building as it was in 2019 – a steel-framed barn with breeze-block walls lined with agricultural equipment and hay bales. For composer Max Richter and his artist wife, Yulia Mahr, it's a reminder of what they have achieved: buying a former alpaca farm in Oxfordshire and transforming it into a world-class recording studio and arts facility. Richter is among the most celebrated composers working today and has created soaring soundscapes for everything from Hollywood blockbusters to Royal Ballet performances and Dior runway shows. He and Mahr met in their twenties, when she hired Richter to compose music for a theatre production that she was working on. They have collaborated for more than 30 years, with Mahr producing visuals to accompany her husband's music. Today she is a multidisciplinary artist whose practice encompasses photography, video, installations and sculpture, and is preparing to launch a fine-art publishing imprint.
In 2015 the couple decided to leave their apartment in Berlin for a home in the English countryside. "It was a conscious choice to move out of the city," says Mahr. "When you are doing creative work, it's easy to be bamboozled by the pace of contemporary life." After finding the barn, the duo set about converting it. Architectural designer Charlie Luxton and architects James Renfrew and Eleni Papadopoulou worked on the shell of the building and domestic areas; specialists Level Acoustic Design and Studio Creations were called in to construct the music and mixing rooms, as well as Richter's writing space. "All of the music rooms form one unit," says Mahr, whose atelier spreads across another of the building's flanks. "It's like a suspended building within a building, with a sprung concrete floor. That's why we have such fantastic sound insulation. Max can have an orchestra playing a film score and we don't hear any of it."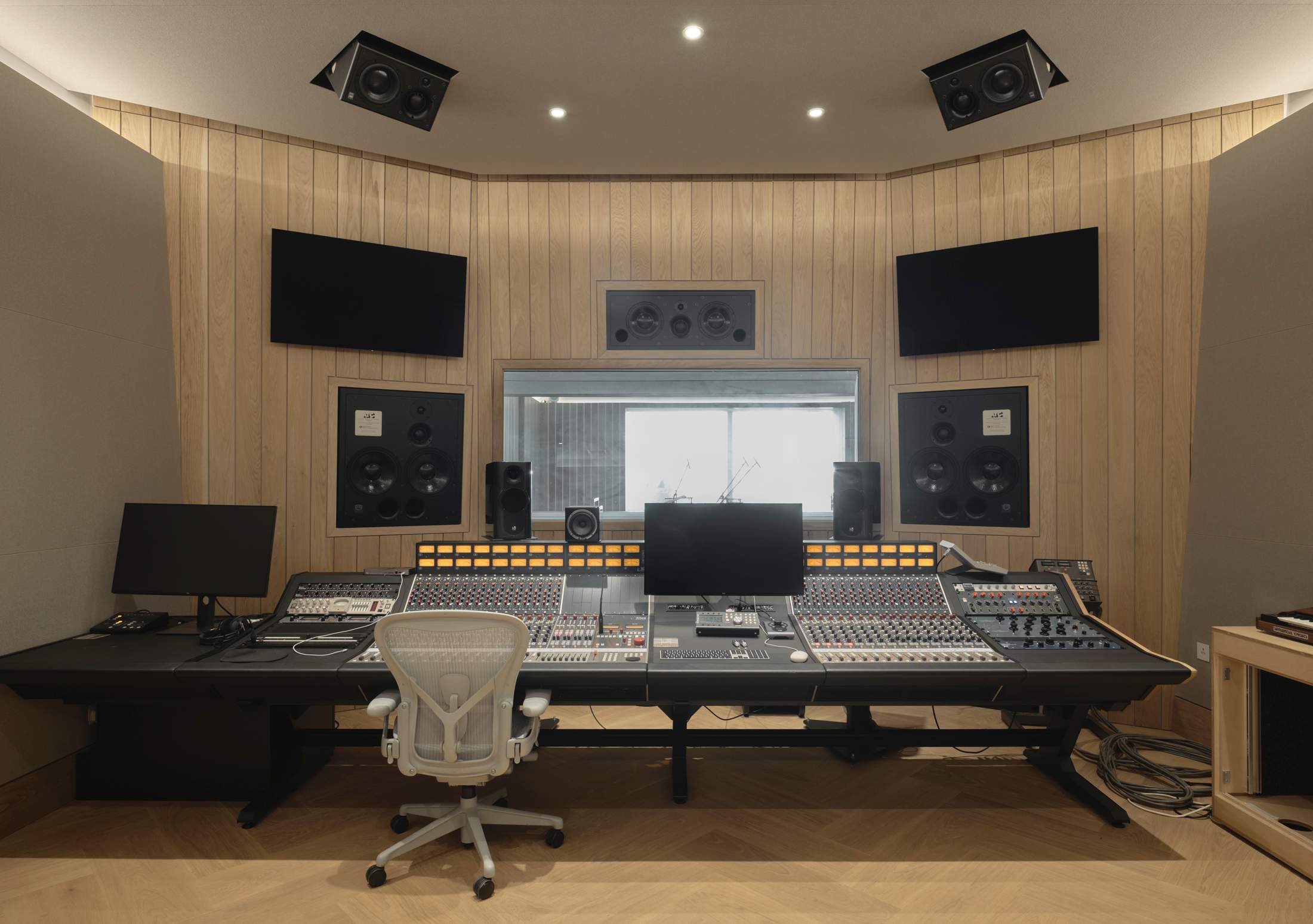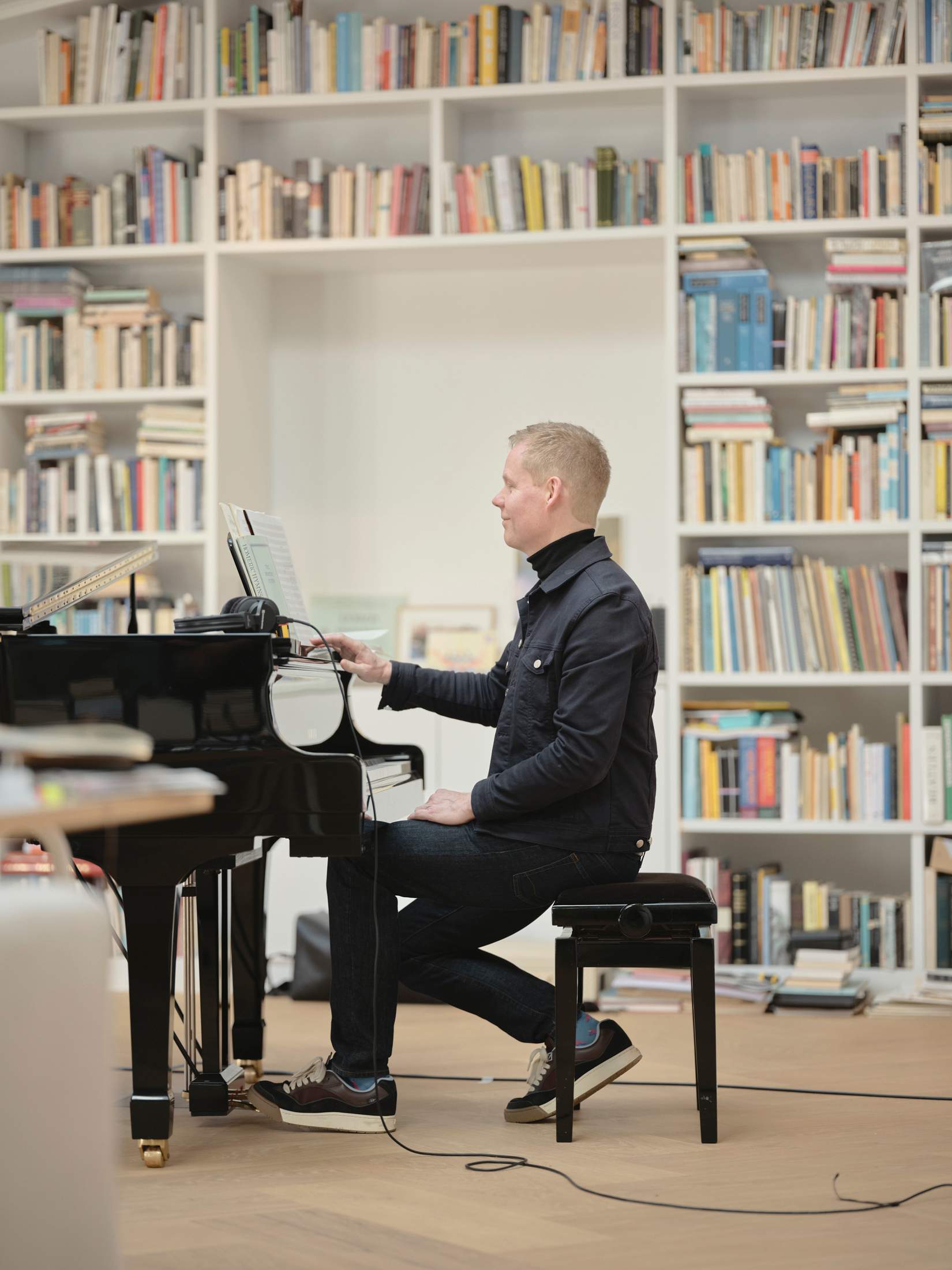 This section of the building contains Richter's personal studio and a live recording room. The equipment here is a mix of cutting-edge digital technology and lovingly restored retro gear. "We have all kinds of wonderful vintage microphones, which sound really special," Richter tells monocle. "There are two recording paths here – digital and analogue, in which everything is recorded on tape. We have machines from the 1970s that have been completely rebuilt so that we can use them as new." When Richter was setting out the specifications for the space, he ensured that the studio would be fully equipped for creating film scores. "We can record to pictures and deliver the music in full Dolby Atmos [surround sound]." With such high-spec kit, he no longer needs to journey all the way to facilities such as London's Abbey Road Studios or Hollywood's Capitol Studios to create work. "I never have to leave," he says.
Building a new life in a glade that borders 12.5 hectares of woodland has had a significant effect on both Mahr and Richter's work. "There's a natural rhythm that resets your radar," says Richter. One way in which the studio connects with the land that surrounds it is through its kitchen garden. Produce grown here, as well as eggs from the adjoining hen house, is used to make lunch for the studio team and everyone sits around a large table in the central atrium to eat together. "That goes back to my grandmother in South America and the meals that she used to cook for everyone," says Mahr. "I wanted to recreate that communal eating experience, so we thought that the heart of the space should be a café."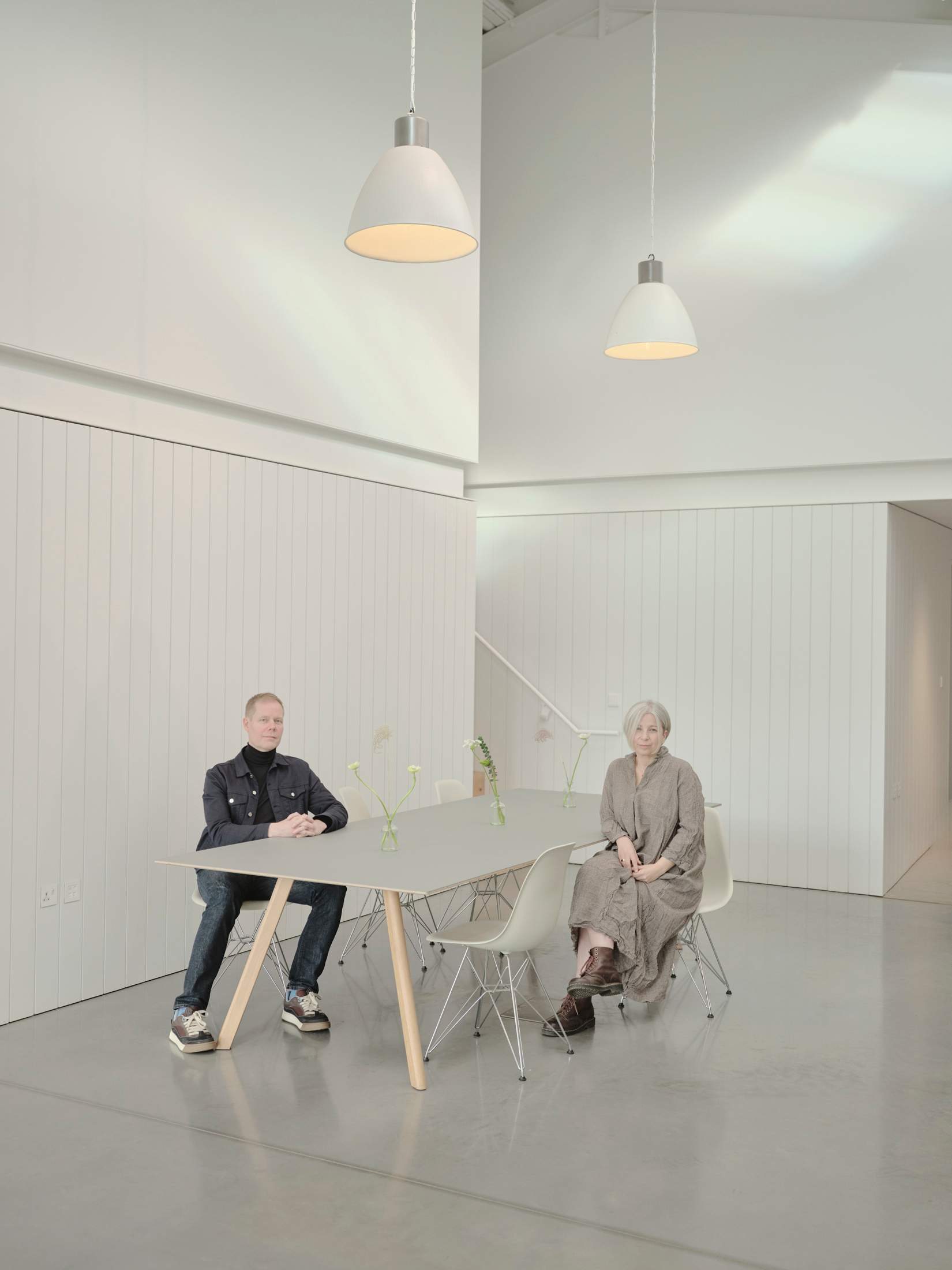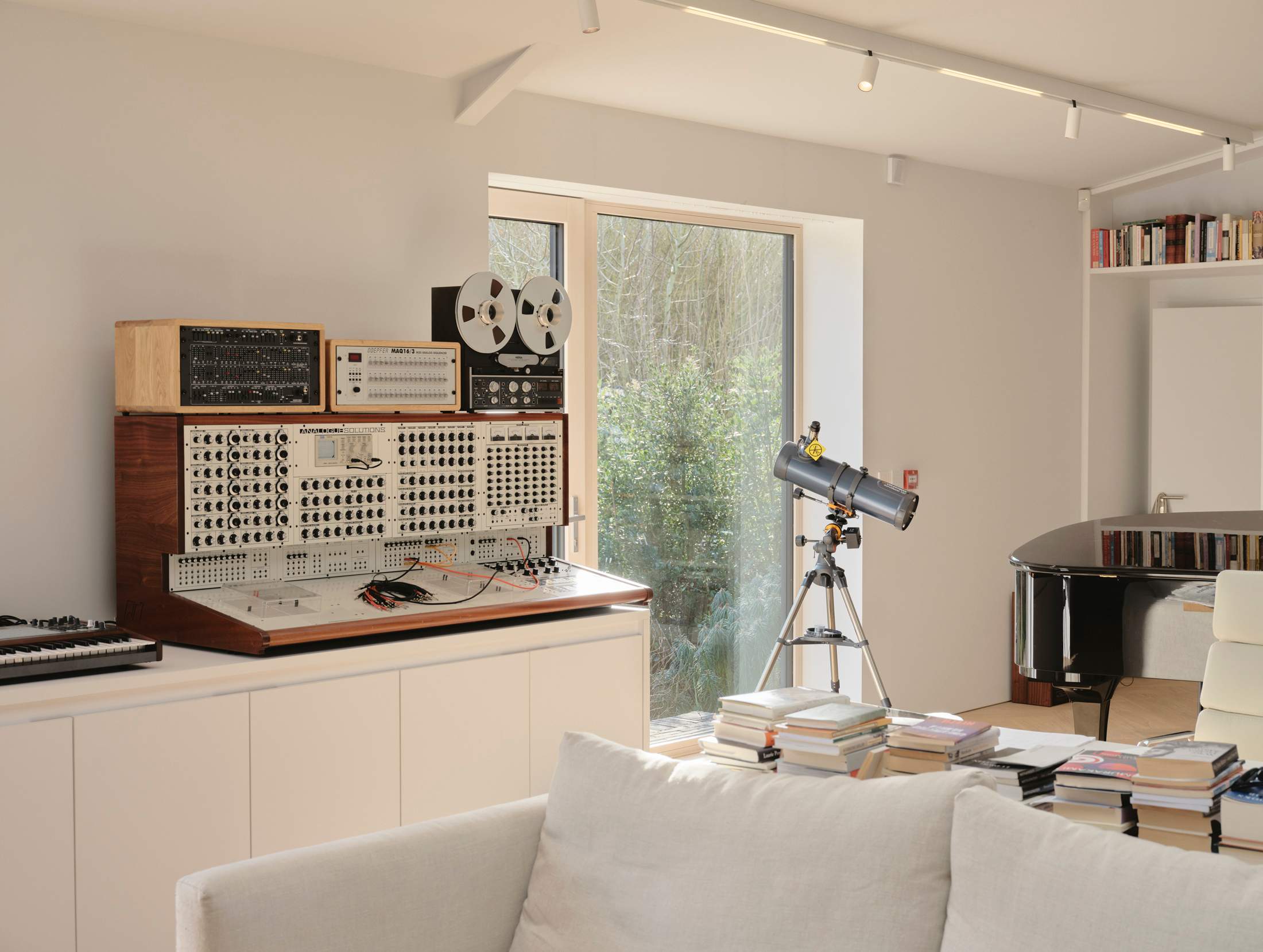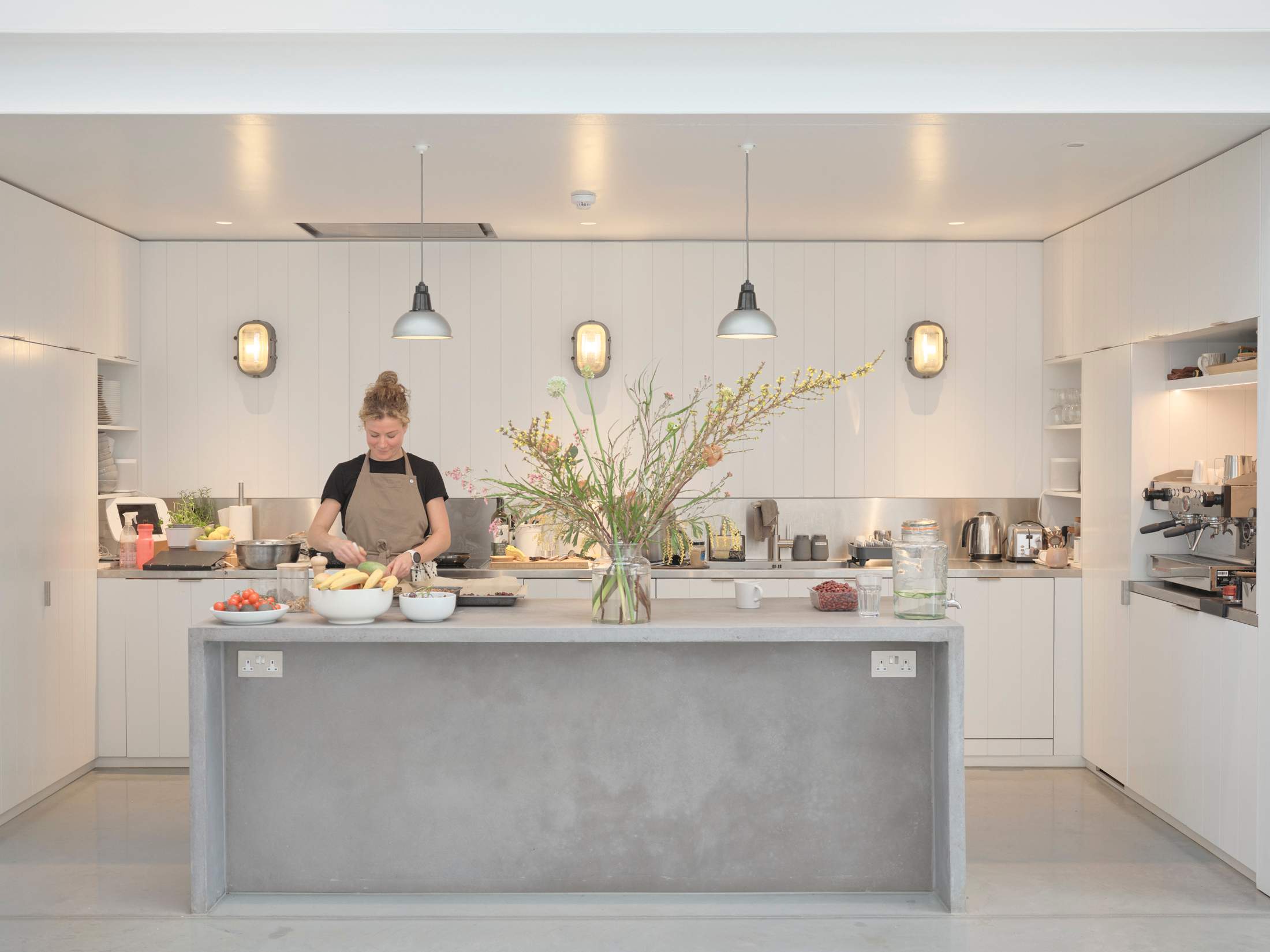 The couple aren't the only ones making work at Studio Richter Mahr. A crucial aim of the project is to help the next generation of artists and musicians to find their feet. Its residency programme, for example, invites creatives to stay in one of the studio's on-site shepherd huts and use the facilities to develop a project. Last year, Studio Richter Mahr released its first record, Free and Equal Vol 1. The EP features tracks by emerging musical talent such as Coby Sey and Duval Timothy, and all profits were donated to Médecins sans Frontières. The residency programme has focused on musicians so far but there are plans to welcome visual artists too. 
"We have always intended this space to be not just for us but for others who don't have the resources too," says Richter. "It has taken a while to figure out how best to implement that idea but it's exciting to see that part of it grow. It's like teaching: you encounter creative minds at different points in their career and that gives you new perspectives. It's great."
studiorichtermahr.com
2. 
Among the trees
Flow Studios, France
In recording parlance, "flow" denotes the sequence of stages that a sound goes through before you hear it. When Luke Aaron Clark decided to set up a studio in the village of Chailland, a short train ride west of Paris, he chose it as the project's name. "It was a bit of a play on words: the technical term used in the profession, the flow of the river [that runs next to the studio] and the creative flow that an artist seeks," he says.
As a composer and sound artist, Clark, who grew up near Brighton in southern England, has participated in residencies around the world. "I've always appreciated having a new environment to work in," says the 45-year-old as he takes monocle on a walk in the forest surrounding Flow Studios. "During a residency in Florida, I became interested in the relationship between architecture, sound and nature. So I built a human-scale beehive filled with microphones that transmitted the sound of people walking through. It gave me the confidence to create a more permanent structure."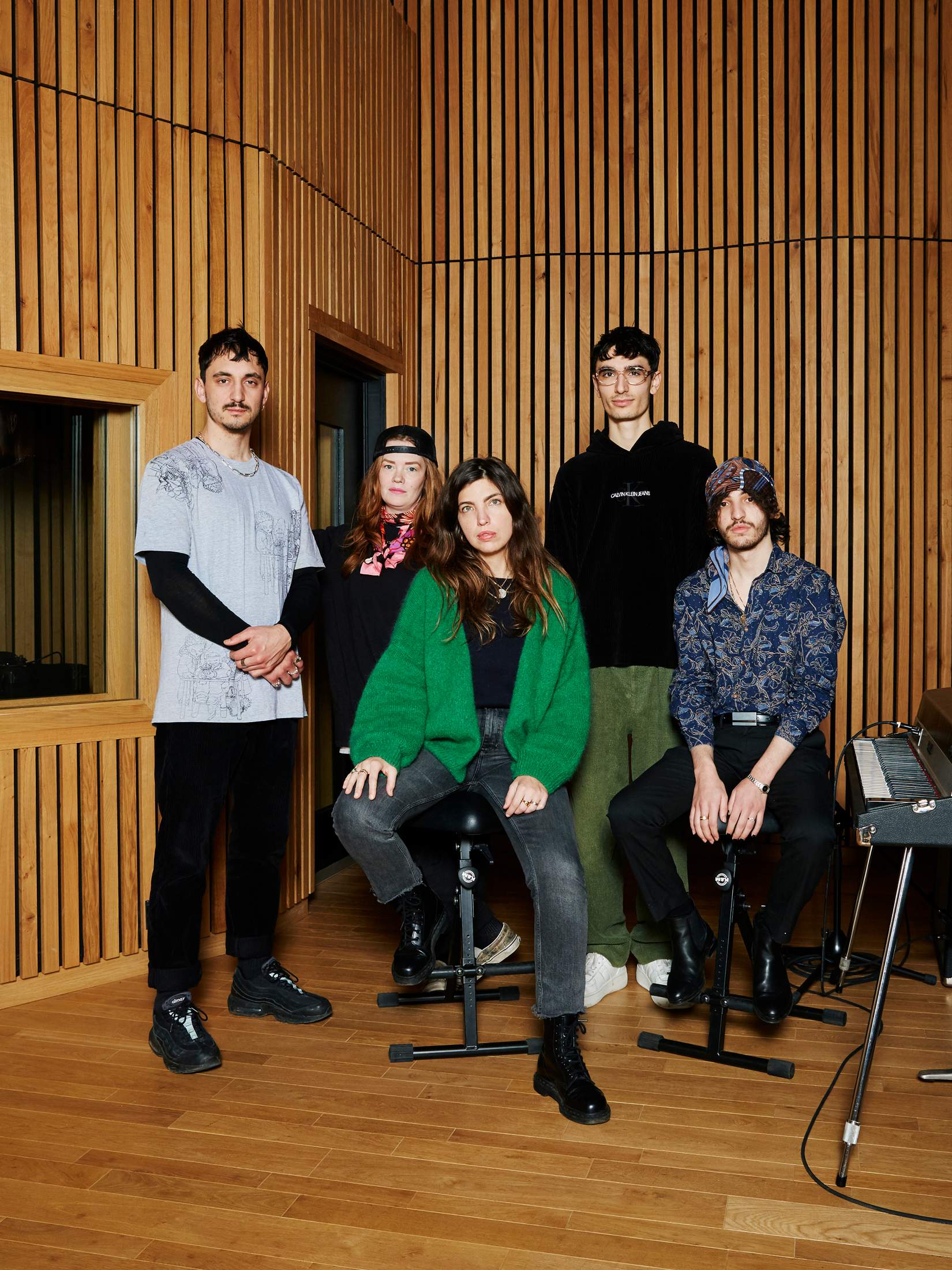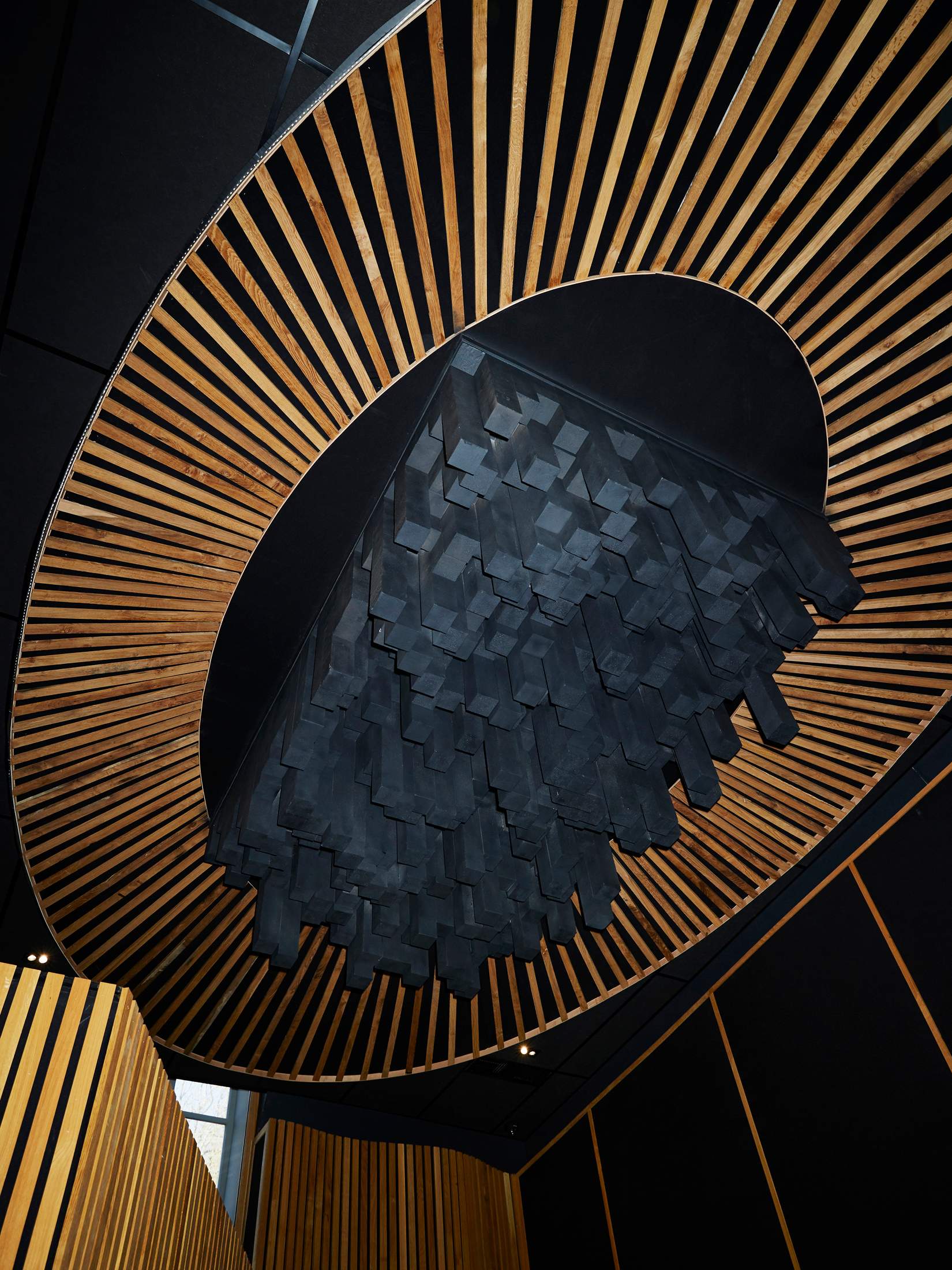 Opened in 2022, Flow sits in Chailland's former town hall, built in 1850. Since Clark acquired the building five years ago, it has been extensively restored, with the plans for the recording area drawn up by US studio designer John Brandt. A cloudlike oval diffuser hangs five metres high in the live room, where the sun streams through large glass openings that frame the view of the forest. Windows are unusual in recording studios, which tend to be dim. "As humans, we need natural light," says the 70-year-old Brandt, who has worked on more than 900 projects, from his office in Jakarta. "When an artist enters a studio, creativity should be encouraged. It should make you think, 'I can't wait to start working.'"
"Being tucked away in a quiet, little French town creates a certain type if isolation"
Those who have used the studio so far include labels such as Because Publishing and singer-songwriters Malena Zavala and Clou. "Being tucked away in a quiet, little French town creates a certain type of isolation," says Zavala, whose song "A Different Path" was recently recorded at Flow. "If you're stuck in the sound for several hours, a walk in the forest can be soothing," says Paris-based Clou, who created four songs with artists she brought with her on a three-day stay. "Everything at Luke's studio was made to help us work and only care about the music." In the piano room, Clark sits in front of a restored 1904 C Bechstein. "The studio is an instrument," says Clark, as he prepares to play. "Creativity is not an easy thing to reach so any help has real value." 
flowstudios.fr
3.
Music factory
Kabelovna Studios,Czechia
Czech composer and producer Karel Havlicek was bored of working in dull, windowless facilities but when he looked around Prague for a better set-up, he was stumped. His solution? To build his own. "I needed a space where I could feel the energy and have a lot of air and light," he tells monocle. When he and his business partner, sound designer Vladimir Chorvatovic, were shown an early-20th-century former cable factory, they knew that they had found the right spot. Havlicek commissioned architect Barbara Bencová to help turn the structure into a modern space while respecting its original features. 
Opened in 2022, Kabelovna Studios has insulated skylights, concrete floors, acoustic panels and steel-and-glass doors that lead to two recording rooms. With their porous properties, the restored brick walls have proved ideal for recording. The facility is equipped with the latest sound-editing kit, voice-over booths and a Petrof grand piano. "Because of the high ceilings, the piano sounds as though it's in a cathedral," says Havlicek. "It's amazing."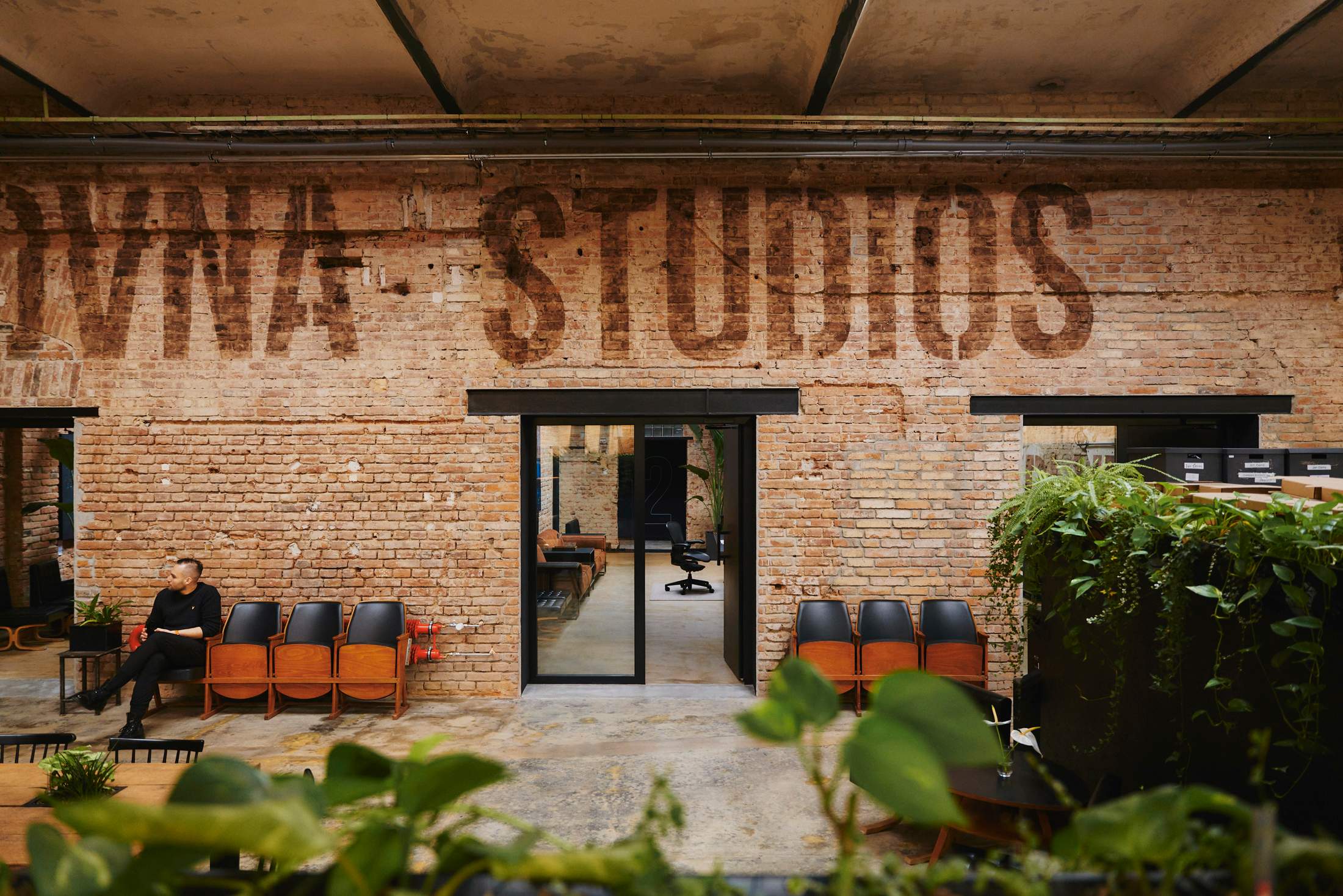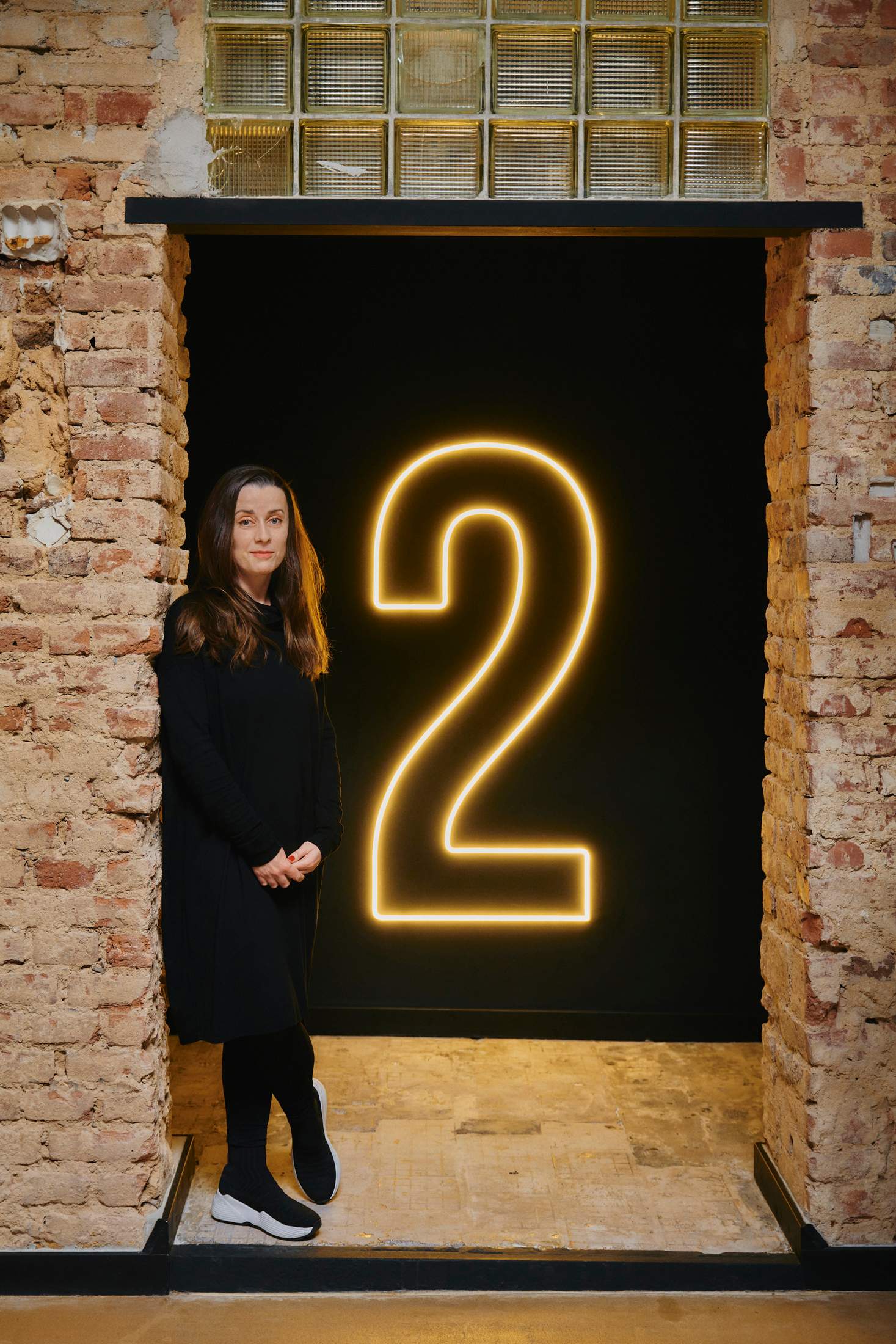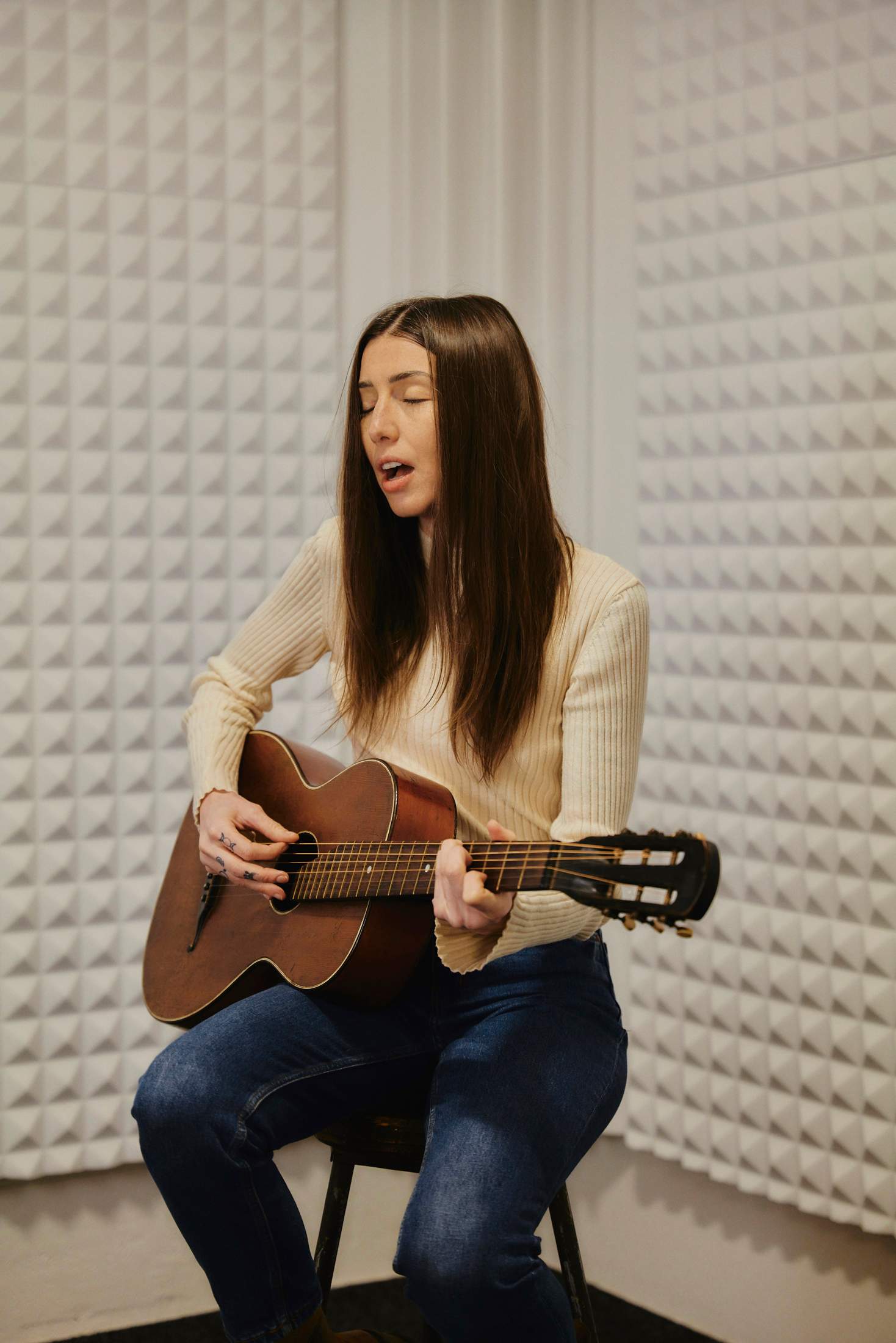 Havlicek and his team of sound designers and engineers work on everything from original soundtracks for film and television to voice-overs for commercials for companies such as Škoda and Apple. They have worked on feature films for clients such as Netflix and hbo, as well as on Havlicek's personal music projects. "I wanted to have a space for composing or recording classical and electronic music, and for audio post-production," he says. "It's really convenient to have it all under one roof." The studio allows Chorvatovic to try out new techniques too.
To help create an atmosphere that encourages creativity, Havlicek's twin brother, Maxim, supplied artworks that were added to the studio's acoustic panels. Aesthetic choices weren't made at the expense of functionality, however. "We have to be a proper studio and not compromise on the sound," he says. 
To that end, Havlicek snapped up hi-tech audio monitors by Finnish brand Genelec that allow the studio to calibrate the sound coming out of them to the space, which means that it could retain some of its architectural quirks and imperfections without compromising the working process. "Havlicek has perfect hearing," says Bencová. "The sound isn't recorded in entirely perfect conditions as we did many things intuitively, which makes it all much more natural."
kabelovnastudios.cz