Inventory: Food / Spreewald
Turning over a new leaf
The duo behind a beloved Berlin bolthole has built a beautiful new restaurant with rooms in an enchanting forest in eastern Germany. So what's on the menu?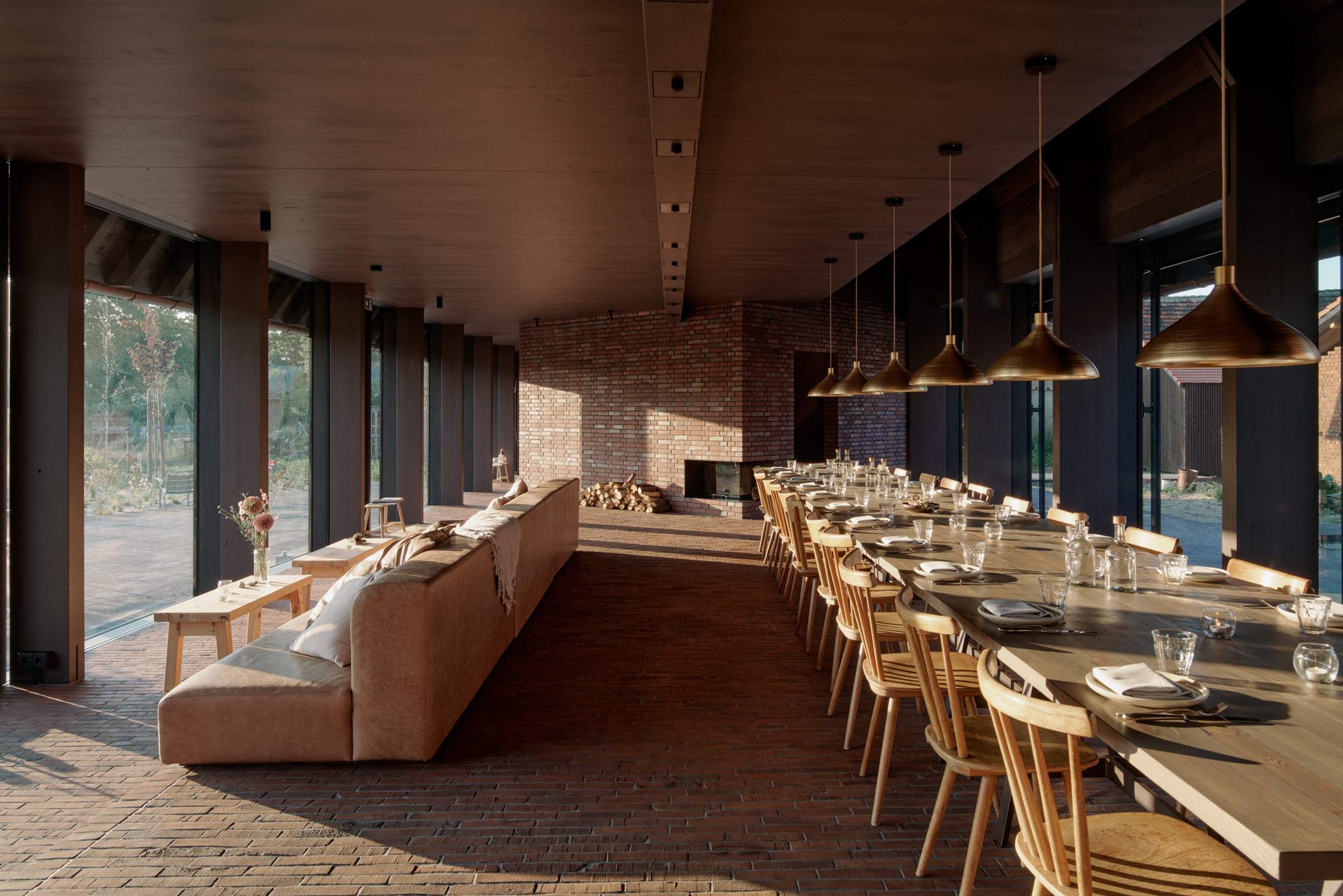 Less than two hours' drive southeast of the German capital lies a forest farm that seems as if plucked from a fairy tale. The Michelberger Farm's restaurant and rooms, set in the Spreewald reserve, are a far cry from Berlin's gritty Friedrichshain, where Nadine and Tom Michelberger founded the brand's first hotel, home to late-night blow-outs and after-hours DJ sets, in 2009.
Plans for renovating this sister space were laid in 2019, when Berlin-based Danish architect Sigurd Larsen scoped out a clutch of 19th-century agricultural buildings huddled around a courtyard. While one was replaced to make space for accommodation that sleeps 25 (and can be booked in its entirety), hallmarks of its past were retained and many of the old beams have been transformed into new furniture that now adorns the space.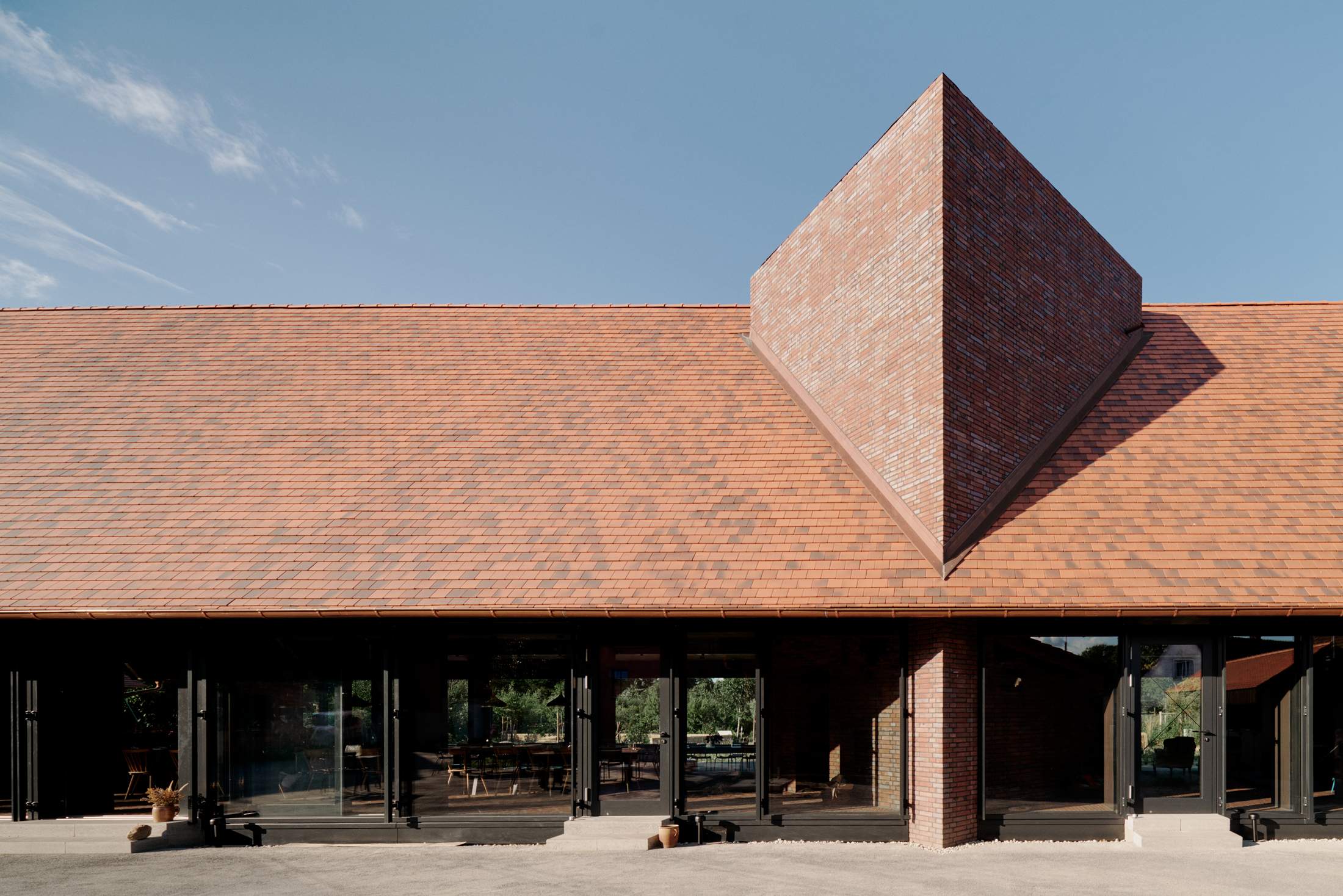 "Making the bedrooms smaller was our way to create the feeling of being in a house rather than in a traditional hotel," Larsen tells Monocle. "The windows are positioned low. When you enter a room, you see a view framing only the green field outside. But as you sit down on the bed, the horizon and sky become visible over the tree canopies."
The food and seasonally grown produce from the regenerative farm, as well as nearby producers such as Gut Ogrosen and Landgut Pretschen, are central to the Michelberger mission. The farm opens on Thursdays for dinner and closes after breakfast on Mondays; drop-ins are welcome to stop by for coffee and cake on weekends too.
Even with the cycling, canoeing and horse-riding offered by the Spreewald, returning home to the Michelberger Farm may still be the greatest pleasure. "My favourite part about the farm is waking up in the morning and opening the bedroom door," says Larsen. "You can hear the kitchen team downstairs preparing breakfast, all made using berries and crops from the field you see from your bed. It's like waking up at a friend's house in the countryside."
michelberger.farm
---
Inventory: Recipes
Comfort zone
Let these fresh, zesty and mouth-tingling twists on three Italian classics bring a sense of warmth on cooler nights.
---
Recipe
Ricotta and marjoram ravioli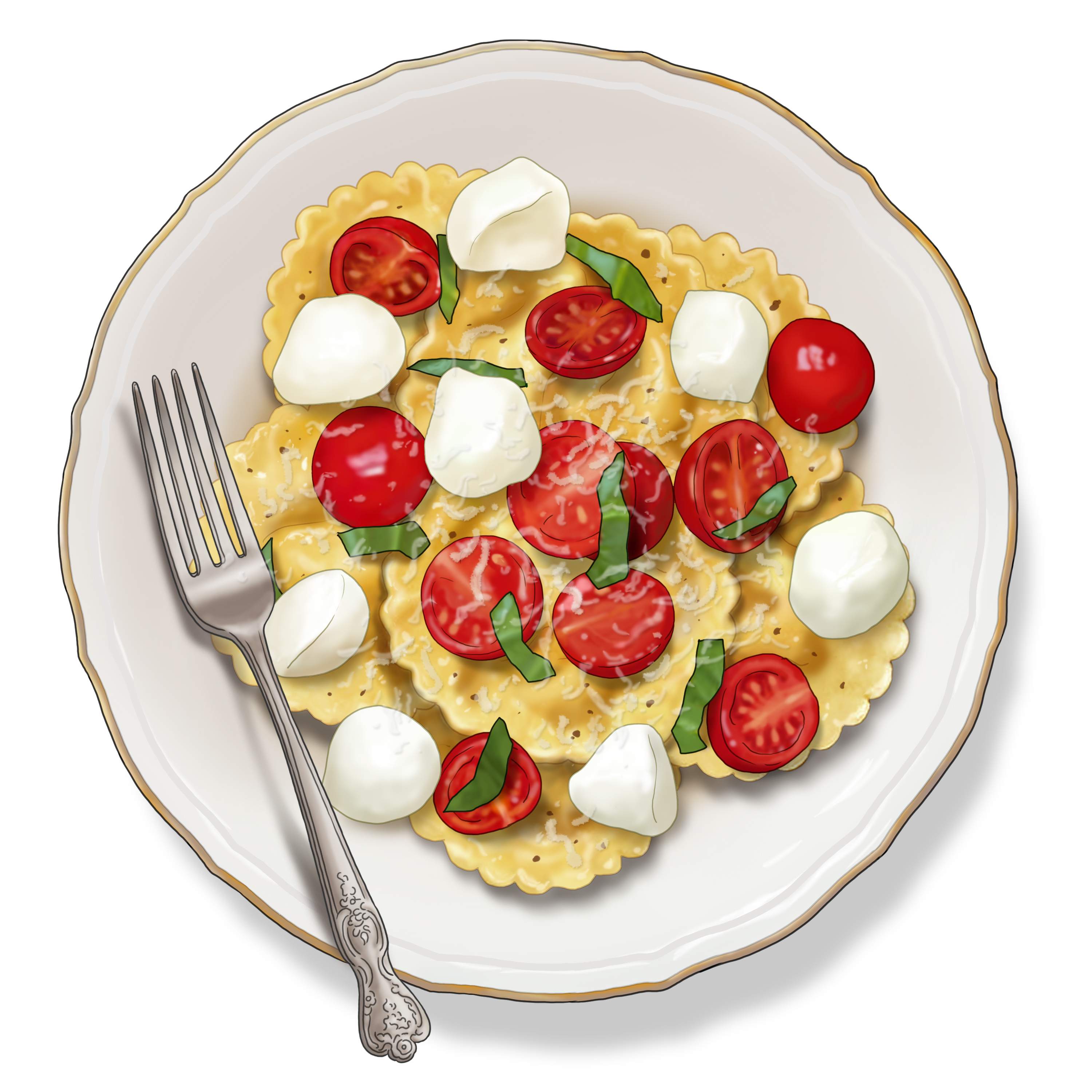 Swiss chef Ralph Schelling has whipped up this fuss-free take on ravioli. Every pasta parcel is filled with a delicate mix of marjoram and ricotta, and topped with garlicky tomatoes. Enjoy.
Serves 4, as a main

Ingredients
For the pasta:
300ml water
900g flour
For the sauce:
2 cloves garlic, peeled and chopped
3 tbsps olive oil
400g peeled cherry tomatoes
15g bunch basil
1 tbsp butter
For the filling:
900g ricotta
140g parmesan cheese
2 eggs
15g bunch marjoram leaves

Method
1. Begin with the pasta dough. Use a kettle or small saucepan to bring the water to a boil.
2. Pour the flour onto a clean work surface. Create a steep well in the middle of the flour. Pour the boiling water into the well a bit at a time and, using a fork, gradually mix the flour and water together until combined. Check it's cool enough to touch and then knead for 5 minutes. Let the dough rest while preparing the filling.
3. In a medium saucepan, fry the garlic in olive oil until golden brown. Add the tomatoes and leave them to sweat for 20 minutes while you assemble your pasta.
4. In another bowl, mix together the filling ingredients.
5. Use a rolling pin to flatten the pasta dough to a thickness of 2mm or 3mm. Cut in half to make two equal-sized pieces.
6. Place one sheet of dough on the work surface. Spoon small mounds of filling onto the sheet, leaving 2cm gaps between each. When finished, place the other sheet of dough on top and press the edges together with a fork to seal.
7. With a knife or pasta wheel, cut out the ravioli. Use a little water to seal if required.
8. Bring a large pot of water to the boil. When it begins to bubble, add a handful of salt. Put the ravioli in and cook until done; they will float when they're ready.
9. Return to the saucepan and add the basil, butter and salt to the tomatoes. Stir until combined. Add the drained pasta and mix until coated.
ralphschelling.com
---
Recipe 
Fettuccine with pea-and-mint pesto and lime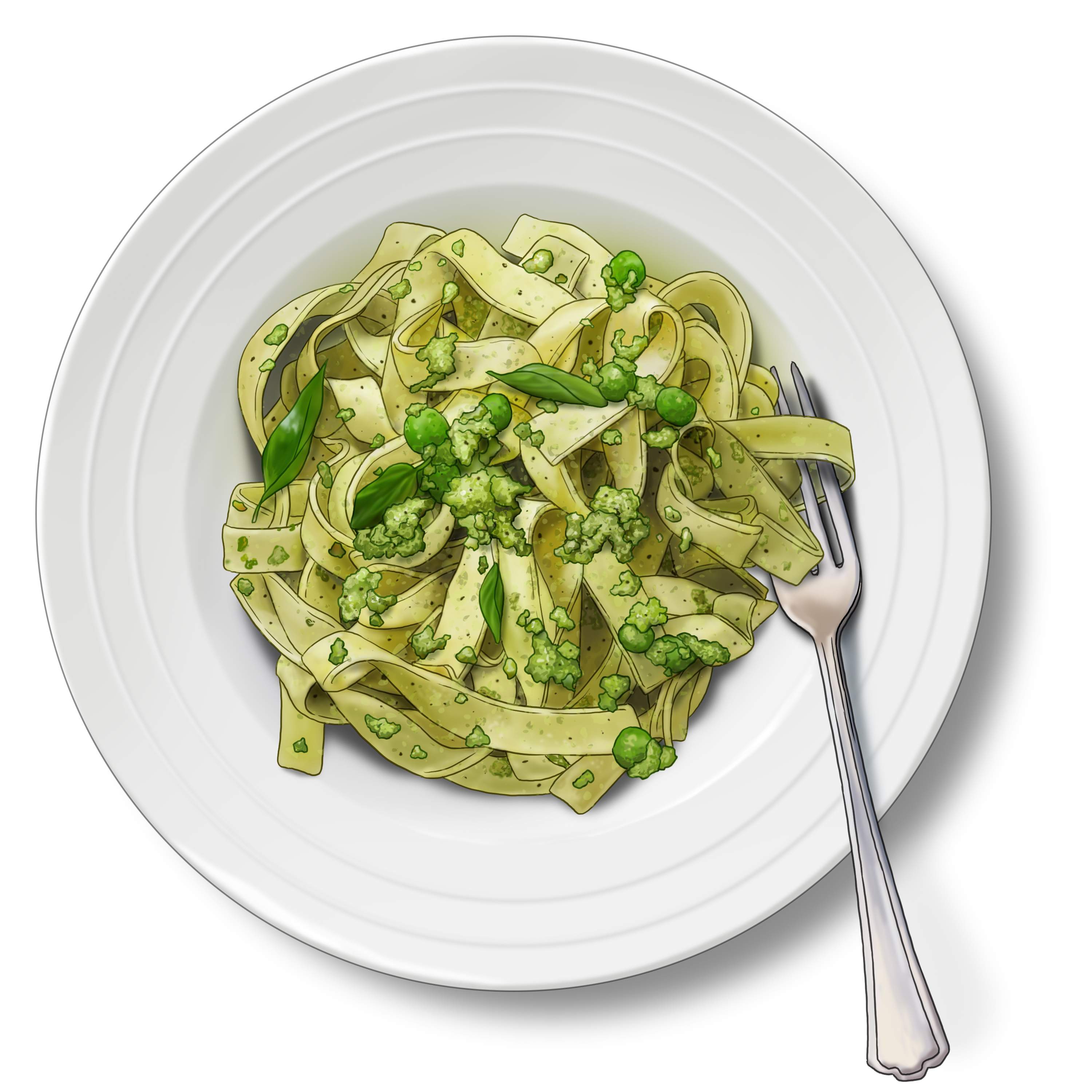 Ralph Schelling is keeping it simple with a riff on Liguria's basil-based pesto using fresh mint and peas. "Feta goes well with the mint if you prefer that to parmesan," says Schelling. "You can also use my pesto on bruschetta or as a dip for an aperitivo."
Serves 4, as a main
Ingredients
250g fettuccine pasta
250g fresh or frozen peas
2 cloves of garlic, peeled
100g parmesan, plus extra
10g bunch fresh basil
20g handful mint leaves
5 tbsps olive oil
1 lime (zest and juice)
2 tbsps pistachios (or pine nuts)
Salt and pepper to taste
Method
1. Cook the pasta in salted water according to packet instructions but take it out a minute early so that it's al dente. Drain and reserve 120ml of the pasta water.
2. Blend pesto ingredients to make a paste. Don't blend until completely smooth so as to leave a little crunch.
3. In a pan, add the pesto to the pasta along with the starchy cooking water and heat until warm again.
4. Serve with more parmesan.
ralphschelling.com
---
Recipe
Tomato, harissa and prawn pasta
Japanese recipe writer Aya Nishimura ventures across culinary borders to pair a classic Italian comfort dish with a spicy North African chilli paste. Needless to say, it works perfectly.
Serves 2
Ingredients
3 tbsps olive oil
12 large prawns, shelled and deveined
2 cloves garlic
½ medium-sized brown onion, finely chopped
Tin of chopped tomatoes
2 tsps harissa paste
2 tsps tomato paste
2 tsps anchovy paste (or a few finely chopped tinned anchovies)
2 tsps light brown sugar
3 tbsps ricotta
2 pinches of salt and pepper
200g linguine
Parmesan to serve
Method
1. Season the prawns. Pour one tablespoon of olive oil into a pan and fry the prawns until pink. Remove, set aside.
2. Add the rest of the olive oil and garlic to the frying pan and cook until garlic starts to become fragrant, then add the onion. Once softened, add the chopped tomatoes, harissa, tomato and anchovy pastes, and sugar. Cook over a low heat for 10 minutes until sauce thickens, stirring continuously. Add ricotta and stir until combined. Season with salt and pepper.
3. Bring a saucepan of water to the boil and cook linguine as per packet instructions.
4. Reserve a few tablespoons of pasta water before draining the linguine and adding it to the sauce. Combine with the prawns and toss until everything is mixed together. Serve with grated parmesan on top.
ayanishimura.com