October arrivals / Global
Inventory no.17
New guide books from Le Cool, retro Portuguese soaps, elegant Japanese disposable plates, Swiss wooden toys, plus a special round-up of chewing gum brands from around the world.
Guide books
Barcelona-based Swede René Lönngren and Briton Andrew Losowsky have finally followed up their iconic red guide book to the Catalonian capital with not one, but four further city companions. Each travelogue is written, designed, photographed and illustrated by the respective cities' residents, making them a refreshing and lateral peek down the less-travelled side streets of Lisbon, Madrid, London and Amsterdam. lecool.com
Toiletries
Back in 1887 Ferdinand Claus and Georges Schweder, two Germans living in Oporto, started up Portugal's first soap and perfume company. Claus Porto is still going strong with evocative soaps and lotions in a variety of scents including "Mimosa" and "Citron Verbana". clausporto.net
Portable chopsticks
Each year the Japanese use a staggering 25 billion pairs of waribashi (cheap wooden chopsticks). Increasing environmental awareness has led to the Japanese taking their own chopsticks with them to restaurants in a movement dubbed "my hashi" (hashi means chopsticks in Japanese). Keep up with Yuen'to's Eco Pocke My Hashi. Always a stickler for design details, the tips have a granulated texture for better grip. idea-in.com/yuento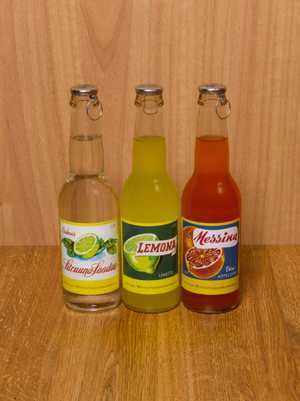 Sodas
It only takes a swig of pop to lift your spirits and put a dash of fizz into your day, especially if the flavours send you whirling back to days spent chasing dragonflies and grazing your knees. Finnish beverage maker Laitilan brews up a batch of old-time lemon, lime and blood-orange sodas that send us on our way with a giddy grin. laitilan.com
'Albarcas' sandals
Menorca often gets sidelined in favour of its more outgoing Balearic siblings, Mallorca and Ibiza. But, one reason to visit the island is José Riudavets's line of "albarcas". These traditional Menorcan sandals are soled with tyre and insoled with leather. Greased cowhide completes the upper and strap and unlike an espadrille the stitching is covered. They make the ideal marina shoe when you get sick of your portsiders. riudavetsmenorca.com
Paper plates
Japanese company Wasara has redefined the paper plate with a new range of porcelain-esque white paper bowls, plates and cups. Wasara products are also ecologically sound – everything is made from reed pulp, a plant blissfully unaffected by threats of extinction, and bagasse, a waste product from sugarcane that would otherwise be discarded. wasara.jp
Digital camera
Japanese photo chain 55 Station has developed a use-and-recycle digital camera with Plaza Create. Designed by Intentionallies, this waterproof model has an LCD screen and a 50-shot capacity. You receive a 10-second window in which to decide whether you want to reshoot your image before the memory stores it for good. At the end of the 50 you return the camera to the developer and receive a CD-Rom containing your images, at which point the camera is wiped and given to the next snapper. 55station.co.jp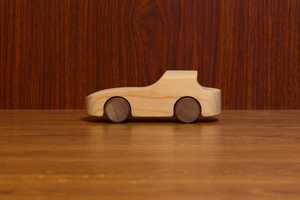 Wooden toys
The MC1 Architecture Box is a grown-up take on Lego. Each set comes with seven types of wooden brick, elegantly handcrafted from Swiss pear, and a booklet providing pointers on how to erect everything from a Gothic cathedral to a modernist skyscraper. Developed in 1945 by the late Italian designer Bruno Munari, who was also an acclaimed children's author, the toy is guaranteed to bring out one's inner starchitect. The MC1 is available through Corraini, a publishing house based in Mantua, Italy, that distributes Munari's writings. And for a motor to park up by your child's Byzantine creation, we'd opt for a To be Us "La Sportiva" car designed by Matteo Ragni and hand- made in Brianza.
tobeus.it corraini.com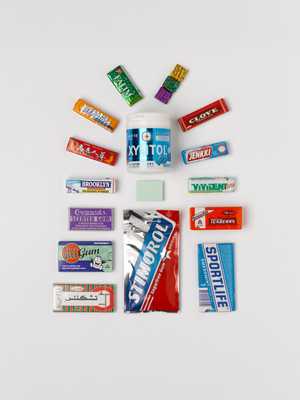 Gummy wares
International chewing gum
——— In the first of an international round-up of everyday staples we whizzed around a selection of newsagent countertops and supermarket check-outs around the globe to find the lesser-known names in the chewing gum world. Our favourite innovation has to be the tiny pad of Post-its that comes in the pot of Lotte Xylitol for mess-less disposal of your sticky wad. Mexican brand Teaberry created its own dance, "The Teaberry Shuffle" in the 1960s, while Chappies was the first brand with a social conscience and included trivia painted on packaging to educate underprivileged children in South Africa. Glee Gum from Providence, Rhode Island, is reputed to raise endorphin levels and contains chicle – the natural gum from the gum tree – a more expensive ingredient mostly used in Japan, and Chiclets are named after the Spanish word chicle (chewing gum). Toothsome fare, indeed.