Prêt à manger / Tokyo
Jean Touitou
Fashion designer Jean Touitou enjoys good food and eating in down-to-earth settings. For his 'last meal' he has chosen Maisen, a tonkatsu restaurant on a quiet back street in Tokyo's Jingumae district.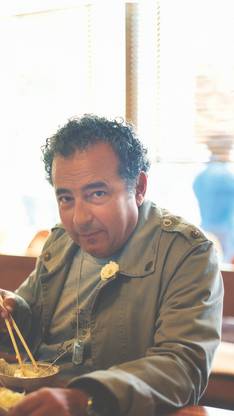 "In fashion, people only eat cigarettes. I have always preferred food. I try to eat exceptionally well every day. But I hate trendy restaurants – they make me feel nervous. They should be about the quality of the food not the attitude of the staff. That's why Maisen would be the ­setting of my final meal on earth. I first came to Japan 15 years ago and discovered Maisen last year, during a visit to Tokyo with my wife and children. We just wandered in for some food one day and straight away I knew it was a good place. I love the fact that there is no choice. You eat tonkatsu [the Japanese take on pork schnitzel]. Simple. I find it very boring sitting at a table in silence with everyone reading a long menu.
During my last meal, I would open a bottle of Condrieu, a delicious white wine from Côtes du Rhône. It is very difficult to make as it involves grape-pickers ­dangling off mountains. It is also hard to buy, even if you have money, as they only normally sell six bottles at a time. In terms of my favourite dinner companions, I would maybe like to have a drink with Bill Murray to talk about our Tokyo experiences. But my ideal dinner guest is in fact my 19-year-old daughter, who is studying philosophy and history. I love it when she sits at the table and asks about Nietzsche and his social organism theories or about the Russian Revolution and the roles of Lenin and Stalin. I may work in fashion but I always feel the need to be challenged in life and to think. But life does not have to be entirely heavy. I would also invite to the table one of my friends who is very good at gossiping. We all knew about Carla Bruni long before it all came out.
Either way, I would want guests who eat their food. So many people in fashion are obsessed with being slim. They think a few peanuts are the same as a meal. I am not a 'foodie' person. But I am a quality person. My first food memory was eating fish eggs in Tunisia. Bought fresh in the sac, the eggs are removed, washed, sprinkled in salt and laid in the sun to dry for a few days. I always used to steal my grandfather's fish eggs. I would scrape some off with a knife and eat them raw. They taste better than caviar.
Food in Japan is wonderful. I fell in love with sushi many years ago in Paris during my first fashion job with Kenzo. I found a plate of sushi one morning, which turned out to be Kenzo's supper from the night before. It was delicious, high-quality sushi. After that, I went into work extra early so I could eat his leftovers. I was very poor at the time.
Good quality food is so easy to find in Tokyo. Recently, I went to a local place and ate this crazy sushi – sea urchins and other creatures. It cost only ¥2,100 [€13]. You could never get that in France. Many restaurants in Paris are more concerned about the hair and make-up. They dress up poor-quality beef in a fancy sauce to make it look gorgeous. But you know exactly what you are getting at Maisen. My wife and I jokingly call having dinner at Maisen 'going for a Meisel' after the photographer Steven Meisel, because he is very over the top – the complete opposite of Maisen. In short, my perfect restaurant."
Tunisian-born Touitou moved to Paris at the age of nine before studying linguistics and history at the Sorbonne. After working for Kenzo and Agnès B, he set up APC in 1987 before opening his first store on the Left Bank the following year. Renowned for producing intelligent and functional fashion, there are 13 APC stores in Japan. His most recent branch opened in Kita-Aoyama in July. apc.fr
A legend among Tokyoites for more than four decades, there's often a queue snaking out of Maisen's door. Its décor is classic but simple and its legacy as a former public bathhouse can be discerned from the double-height ceilings. But centre stage is the mouth-meltingly tender tonkatsu – so soft it can be cut with chopsticks.
Main course
A tonkatsu set meal, the Kurobuta-Hirekatsu Zen, including tenderloin breaded pork cutlets, Akadashi miso soup, shredded cabbage, rice, pickles and cool, fresh chunks of tofu Drink
Green tea