De Kloosterstraat / Antwerp
Straat wise
Antwerp scores highest in the 'most attractive and interesting city in Belgium' category. Maybe it has something to do with the dock-lined River Scheldt that gives towering container ships access to the Port of Antwerp – the third largest in Europe – or its road of eccentrics and exceptional shopping.
Parallel with the Scheldt is one of the most eclectic shopping streets in the city. Since the ninth century, De Kloosterstraat has served as a thoroughfare between the old city centre and the now-fashionable neighbourhood of 't Zuid in southern Antwerp. De Kloosterstraat in St Andries was once a prestigious street, home to the St Michiels Abbey (Napoleon dropped by during the French Revolution and turned the abbey into an arsenal). In the 16th century the Belgian cartographer and geographer Ortelius – the creator of the first modern atlas – lived in the district. In the 1960s the neighbourhood evolved from a rather seedy place, where dockworkers flocked to the red-light bars, to a haven for furniture, art and design stores. In the 1970s a group of liberal-minded folks started opening up vintage clothing shops. Today De Kloosterstraat is also home to young families and creatives who want to live in the city centre but cannot afford 't Zuid.
The street is situated near the fashionable Nationalestraat, home to the Antwerp Fashion Academy. "I came here because the rent is a third of the price of De Nationalestraat," says German fashion designer Anja Schwerbrock. "Here, it's still possible to start new projects for creative, independent people." De Kloosterstraat, however, is much more than a random collection of antiques shops, restaurants and fashion stores. The excitement here comes from the people who populate it. Practically all the shop owners know each other and fraternise on the street together. They also organise an annual "Kloosterstraat Nocturne": a late-night shopping event with free drinks and food. Shopkeeper Michael Marcy recalls moving here 26 years ago and says the street already looked promising: "I must have had more than six different shops here. I bought buildings, renovated, and then sold again." He adds, "The huge loft spaces and former hardware shops were the perfect stage to sell high-quality 'brocante' and design bought on the Vogeltjesmarkt and the Vismarkt fleamarkets close by."
No 18 Caffènation
Owner Rob Berghmans is a barista for whom coffee is a serious matter. Customers are students from the Antwerp Fashion Academy and creatives from nearby firms such as Jo Crepain Architects.
No 26 Nadine Wynants
Custom-made jewellery made by one of Belgium's most famous designers. International clients visit Wynants for a bespoke service – the store also doubles as her studio.
No 48 Erik Toonen Books
An eclectic mix of new and antique books. If you're looking for that hard-to-find Joe Colombo or Vitra catalogue or a hand-written prayer book that costs €40,000, this is the place.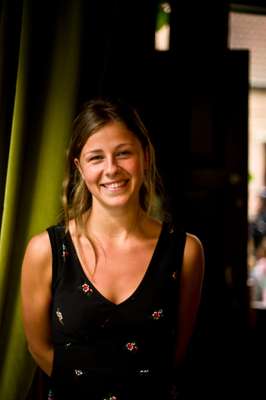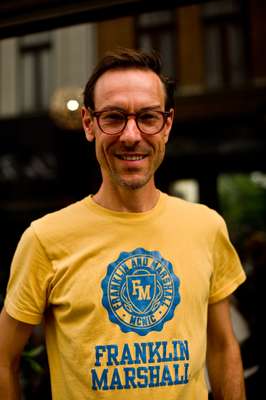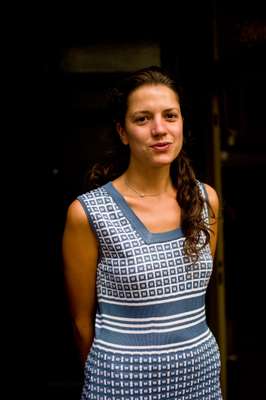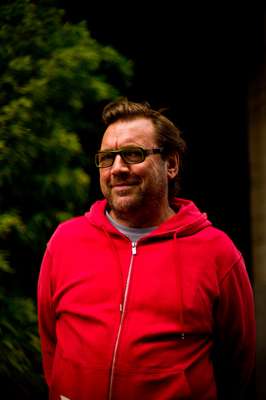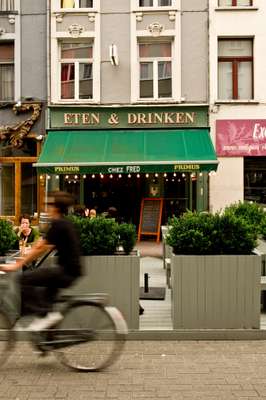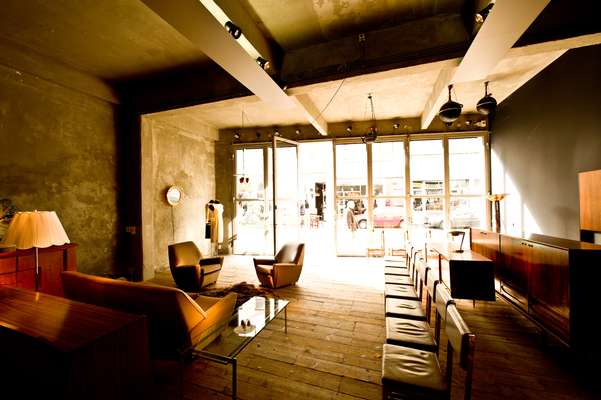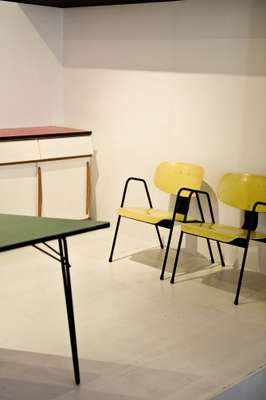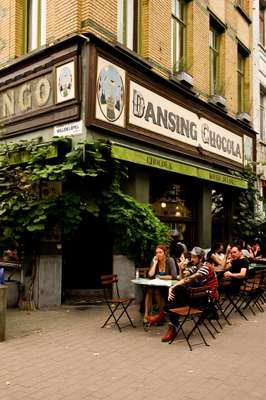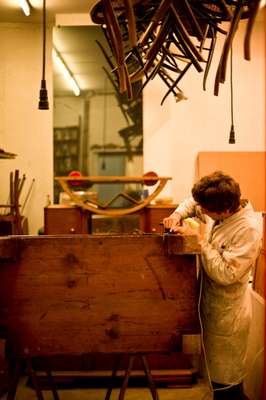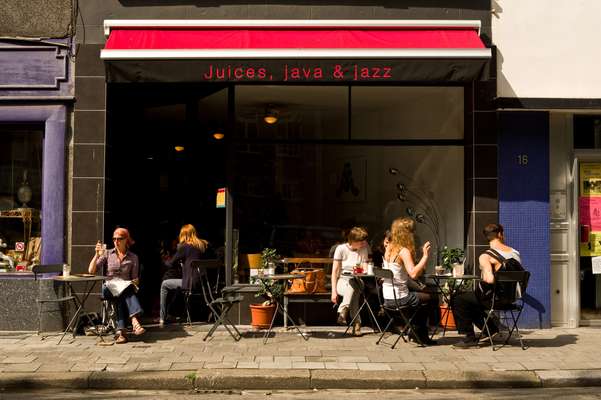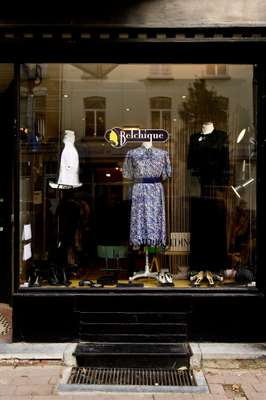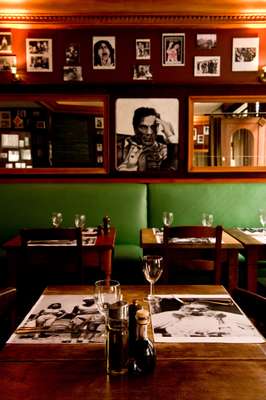 No 50 Take 5 Minutes to Paris
Drop by this bar at around 18.00 when all the antiques sellers shut up shop and pop in to count their money and have a relaxing beer. The hidden back garden is perfect in summer and in winter everybody comes here to taste one of the six fresh home-made soups.
No 65 Viar
This furniture shop is so huge that the owner sometimes places cars alongside his collection. All the furniture pieces are from between 1930 and 1980. As an aside to the furniture you'll also find clothes by Verlaine.
No 83 Brasserie Chez Fred
A French-style brasserie in an old pharmacy (check out the Durex sign), Chez Fred is small and intimate and presents Belgian-French dishes. Locals come here to drink cappuccino on the terrace or read the newspaper at the bar.
No 142 Belchique
Vintage clothing by the likes of Ann Demeulemeester and Chanel. Fashionable ladies with an eye for detail keep coming back because owner Maïta Muijres offers a personal service and remembers each client's individual style while sourcing garments.
No 156 Frank Croymans for Hispantics
No ordinary décorateur but an eccentric step into home decoration. Expect moose heads on the wall and a monkey skin carpet on the floor of this taxidermists-cum-furniture shop.
No 159 Dansing Chocola
Enjoy a late breakfast on the terrace of Dansing Chocola. It's always busy and people drop by to have a drink or eat chicken with stoemp, a hearty Belgian potato dish.
No 160 Limonsoda
Kids' shoe-shop selling P'tit Nathan and limited-edition collections by Lepi and Clic. Owner Mirja Maria Mariën also sells Essentiel and Aigle styles for women.
No 175 Anja Austa
Anja Schwerbrock opened this atelier after spending, a year working with Issey Miyake. Her autumn/winter collection is largely black and white and was inspired by theatre costumes.
No 5 (Arsenaalstraat) Michael Marcy
A charismatic original of the street, Michael Marcy offers rare furniture design pieces such as complete kitchens by Belgian designer Van der Meeren or cupboards from Le Corbusier.
No 11 (Steenbergstraat)I Famosi
(Just off De Kloosterstraat). Fabio, a Roman chef, sources ingredients from his dedicated Italian importer. Finding a genuine burrata or ricci in Antwerp is difficult but you'll find it here in a room decorated with pictures of Italian actors.
No 13 (Muntstraat) Arrangerie Int.
If the neighbouring shop owners want to renovate or restore a delicate piece of furniture or art they come to Arrangerie Int. The owners are three experts with over 25 years of expertise and with a very international client base.