The perfect newsstand / Global
Agents of change
The print media market is in a right old mess and half the problem is the way magazines and newspapers are sold. Mass brands and grocery stores have reinvented themselves – now newsagents and kiosks must do the same.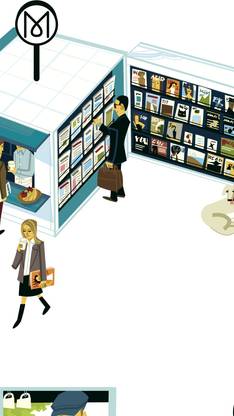 Newspaper and magazine conferences are perhaps some of the most depressing places to spend a morning or afternoon. On stage you have terrified CEOs and uninspired editors clicking through slides revealing little strategy and less innovation. In break-out sessions you have marketing people, ad sales executives and journalists all speculating on what big, global paper will shutter its business first and go completely online. These events also tend to have the sour aroma of nervous sweat hanging heavy in the air and for good reason – the print media market is a catastrophe.
By now we all know the reason why we're not so keen on reading daily papers anymore or stocking up on our favourite magazines. It's much easier and cheaper to consume media on the web. After all, news is easier to break when there are no clunky Heidelberg printing presses standing in the way, and good old magazines are just as interesting to click and flip through on a back-lit Sony screen. Or is this really the case?
For sure the web has dramatically ­altered the way media is consumed and has altered the metabolism of the average consumer. To blame the web exclusively, however, for the poor performance of newspapers and magazines on the shelves and in the racks of the world's kiosks absolves the guiltiest parties – the publishers and their collaborators in the distribution chain.
Let's be very clear: the printed word and image on glossy or matte paper is a very effective way of getting a high-impact message across on a single page or via a lush portfolio. Ask most brand managers whether they'd like to buy the outside back cover of their favourite magazine or take a banner on the same entity's home page and the back cover will win every time. As a media owner with some experience in ad meetings I say this with a bit of authority. The problem with print at the moment is that media groups were too quick to invest in magazine websites that weren't backed by proper business plans; too hasty to trim production costs on their core print products (you downgrade a consumer's favourite product and you expect them to pay even more while you give them less?); and have been too slow to realise that print products, in fact, need to be enhanced and reconfigured to compete with their digital siblings and same-sector competitors.
What's left is a rather lacklustre newsstand full of outstanding brands that now have all the production quality and innovation of a leaflet for a church bake sale. Down the hall there's a web team that's burning money supported by a digital ad sales team figuring out how to get clients to pay the same type of money they do for print. It's ugly and certainly not sustainable.
So what to do? Simple. Fall in love. Media owners need to put publishers and editors in place who love print and know what to do with it. The Monocle mantra of embracing craft has certainly been lost in the halls of many big publishing groups and this needs to be restored to bring back the clarity on page, the snap of the paper, the smell when you do a quick flick-through and the reassuring crack of the spine when you finally settle in for a big read. Media groups also need to show the way to the rest of the players in the distribution chain – all the way down to the small mom and pop shop that makes a meagre margin flogging copies of Vogue Italia, the FT and Heat.
In fact, the retail experience for newspapers and periodicals is one of the biggest problems. Where virtually every other area of retail has gone through a revolution that's seen mass brands such as H&M embark on collaborations with the likes of Comme des Garçons or simple convenience stores move upmarket in the case of Japan's Lawson and FamilyMart, the kiosk or local newsagent is a pretty dull affair. Even the big players who've made stabs at innovation have rolled out concepts that do anything but encourage the perusing that might lead to purchase.
The much-needed rethink of print media should be a two-pronged attack. From the top, publishers need to quite literally get a feel for what they're doing because that's their biggest advantage – newspapers and magazines are rich, tactile media. At street level, the world's top titles need to be displayed and sold in places where readers want to spend time and part with their pounds, euros, dollars and yen. At Monocle, we're doing our bit to challenge what a magazine can look, sound, feel and smell like. We've also spent a little time thinking about how we can improve the environment for selling dailies, weeklies, monthlies and perhaps a good late-morning macchiato.
Designed to slide in between shops on busy high streets, stand in lobbies, anchor airport terminal concourses or simply act as a much loved neighbourhood hub (as pictured here), the Monocle Kiosk's sole focus is on delivering a curated array of the best newspapers and magazines bolstered by a jolt of caffeine. In some locations it would be open around the clock, in others it would open at 05.00 and close at midnight. The staff would be charged with ensuring that everything from the most read mass titles to the completely obscure were always on hand and also delivering special, up-to-the-minute dailies that would be printed by a Xerox machine on site. At the counter there'd be excellent coffee, fresh juice and an opinion or two on the stories leading the headlines.
10% Casa News in New York for its buzz
10% Universal News in New York for its depth
12.5% Fabrizio Prestinari's kiosk on Largo Treves in Milan for its customer service and hub status
12.5% Fulham News in London for its cosy, neighbourhood feel
15% Papercut in Stockholm for its curatorial eye
15% Athenaeum Boekhandel in Amsterdam for its high-quality range
15% Tsutaya Tokyo for its up-all-night buzz and display concept
10% The Kiosk at Bellevueplatz in Zürich for its architecture
Der Spiegel
Casa Brutus
Esquire (Japan)
AD (Spanish edition)
AD (German edition)
Fantastic Man
The Economist
Brutus
Côte Sud
The Financial Times
Case da Abitare
The New Yorker
Il Foglio
Foreign Policy
Il Sole 24 Ore
NZZ
Liebling