10 brands to watch / Global
Brand stand
The companies that will stand out in the next year are the ones that are driven by high standards, innovation, creativity and a desire to make a difference. From a small Nigerian publisher to a Danish IT firm staffed mainly by people with autism, these are the brands Monocle will be keeping its eye on.
The Parton brothers from California – Stenn 22, Shea 24 (right) and Raan 27 (left) – are trying to corner the market in high-end socially responsible fashion. Apolis Activism makes classic Californian men's clothes, but also wants to make a difference in the world.
Apolis partners with textile cooperatives in the developing world, and tries to kick-start self-sustaining industries. In 2007, they launched a cotton initiative in Uganda and in 2009, will launch a line of cashmere sweaters in partnership with a Nepalese women's cooperative. Raan says, "While embodying people's values ... the quality has to be impeccable and this partnership in Nepal is a step in the right direction."
For most job interviews, autism might be best left off the CV. But at Danish IT firm Specialisterne (above), having autism is a definite plus. Around three-quarters of its 51 employees have been diagnosed with a form of autistic spectrum disorder (ASD), which makes them well suited to tasks such as software testing, which require concentration, patience and accuracy. Nearly five years since launch, Specialisterne is winning contracts from CSC Oracle, Microsoft, and Lego. The firm's founder Thorkil Sonne is only too aware of the challenges facing people with autism: his son was diagnosed with ASD at the age of three. So when a project has to be carried out at a client's premises, Sonne ensures ASD is explained to the rest of the team and his consultants are given the right tasks and place to work. Specialisterne (Danish for "the Specialists") has offices in Aarhus and Copenhagen with branches planned in Norway, Scotland, Germany and the US. The key to success, says Sonne, is not to seek special treatment from clients: "To wipe away their suspicions, we must exceed performance expectations every time."
A bit player on the global pharmaceuticals scene is shaking up the way medication is administered. Rather than tablets or injections, Australia's Acrux has patented new techniques to administer drugs via gels or sprays. The Melbourne-based company's current product, a menopause treatment, is on sale in the US, and licensing and manufacturing deals recently signed with US and Finnish companies will fast-track development and sales. "These represent important progress in the evolution of our business from that of humble start-up to a viable and sustainable enterprise," says CEO, Richard Treagus.
A male testosterone treatment – with a potential market approaching $1bn (€800m) – is undergoing trials and results are expected in 2009. Other products include a testosterone treatment for women and a spray-on female contraceptive. Acrux, which has been around for a decade and listed on the Australian stock exchange in 2004, aims to be profitable by 2010, "premised on a number of partnering deals and an increase in royalties", according to Dr Treagus.
04 BrightSource Energy
USA
The deserts of the American southwest may seem like scorching expanses of desolation, but some see the future of renewable energy here. A growing number of solar energy startups are racing to convert the sun's rays into power, and among the leaders of the pack is BrightSource Energy, a California-based company that landed a hefty contract this year to provide 900 megawatts of power to the Pacific Gas & Electric Company.
In 2009, BrightSource plans to begin construction on a 3,900-acre solar thermal complex at Ivanpah, California, in the Mojave Desert that could power more than 140,000 homes. The company's highly efficient technology uses the sun's heat to create steam that is piped to electricity-generating turbines, similar to traditional fossil fuel-powered turbines but without the carbon emissions along the way.
05 Cassava Republic Press
Nigeria
Nigerian literature has experienced a resurgence in recent years. But Nigerian authors are often better known in Europe and the US than at home because local publishers show little interest. Bibi Bakare-Yusuf, co-founder of Cassava Republic Press, hopes to change all that. Her small publishing house established in 2005 aims to bring new Nigerian authors to Nigerian readers. In the coming year Bakare-Yusuf plans to expand Cassava across West Africa. Publishing in Nigeria is an expensive – and so far not a profitable – business, but Bakare-Yusuf's ambitions are not just financial. "We want to reconfigure the boundaries of what African literature might be," she says.
"How come no one designs a lightweight bike for transporting two kids and a case of beer?" Danish newspaper Politiken asked 11 years ago in a review of a Copenhagen exhibition of bikes. "Well, I just might," thought mechanical engineer, Niels Holme Larsen, who started developing a prototype.
Today, approximately 5,000 Nihola bikes are ridden around the Copenhagen area, and even though Nihola makes several styles – such as postbikes and bikes for transporting your dog – nine out of 10 bikes sold are the family bike, which sells for about €2,200.In January, Nihola will set up shop in Berlin and Paris and in 2010 it'll be looking to the US and Canada.
Efforts by the US and others to wean themselves off oil and cut their CO2 output has lead to some unintended consequences. The push for biofuels has seen food prices soar as crops such as corn are used to make clean burning ethanol. Help is on the way, however. Canadian biotech firm Iogen is developing a next-generation ethanol made from what's left over in the field (wheat straw) that can run in the flex-fuel vehicles that have now being offered by automakers. So far, the technology is in trials but investment is pouring in from heavyweights such as Shell and Goldman Sachs. The Ottawa-based company is planning to build its first biofuel refinery in Saskatchewan.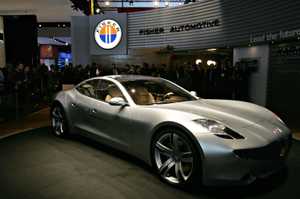 At last, a sexy hybrid saloon. The Fisker Karma is scheduled for launch in the fourth quarter of 2009 by the California-based Fisker Automotive. If they prove accurate, the Karma's vital statistics are remarkable: a top speed of over 125mph, 0-60mph in under six seconds, and, most importantly, an emissions-free range of 80km. Fisker claims that most owners will only need to refuel once a year, while a price of €62,000 makes it an intriguing alternative to mid-range German saloons. The company's Danish CEO, Henrik Fisker, unveiled what looked like the finished article – which will be built in Finland – at the Detroit show in January 2008. Rival Californian hybrid car firm, Tesla Motors, recently took legal action against Fisker over allegations of corporate sabotage and intellectual theft concerning its own hybrid saloon. But that car, which would have been a major competitor to the Karma, will now not be launched until late 2010. Fisker tells Monocle, "2009 is a critical year for us ... our first 100 customers will take delivery at the end of the year."
Apollo Tyres, India's largest tyre manufacturer, does things a bit differently. Apollo has built its $1.2bn empire from places not well-known for their automotive industries and infrastructure, such as South Africa and Zimbabwe. Run by the Kanwar family since 1975, it makes 35,000 tyres a day in eight plants in Africa and India. "Apollo comprises people who like big goals and tough challenges," says chief corporate strategist Sunam Sarkar. In 2009, Apollo plans to set up a factory in Europe, where tyres made for dreadful roads should be just the thing.
Forget extra-marital shenanigans and frisky underwear, the real French housewife's secret is Picard Surgelés, the gourmet frozen-food store. Thousands buy their frozen hors d'oeuvres and lavish main courses there every day, and pass them off as their own. Picard's warm, primary-coloured stores and high-quality (additive-free) ready meals dominate French frozen foods with a market share of 19 per cent and a turnover of over €1.2bn last year. The chain, founded in 1973 and owned by UK ­investment group BC Partners, has 750 stores in France and has moved into the Italian market, where it now has 28 branches. Director of communications, Georges Grunenwald, says its frozen vegetable sales should maintain the company's annual growth of 4 to 8 per cent. "We will open another 45 stores in France next year. Our target is 1,000, after which we may respond to the requests we have to expand into countries such as Spain, Canada and Saudi Arabia."