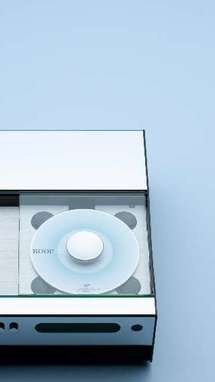 01
Aura
CD player/amplifier
Kenneth Grange is the quintessential British industrial designer. Responsible for some of the UK's most iconic products, from the InterCity125 train to the first parking meters, his latest triumph, the Aura note hi-fi, is a masterclass in mid-20th-century modelling. Grange was commissioned by the Korean electronics firm April Music to create a one-unit CD player and radio and, thanks to its future-proof parents, users can connect an iPod or laptop via USB. Just shy of €2,000, the Aura note is available in Japan, the US and, through the Swedish distributor Transient Design, in Europe.
www.aprilmusic.com
www.transientdesign.se
02
Salvatore Ferragamo
Espadrilles
Salvatore Ferragamo has raised the bar this spring with a Brazilian Bahia-inspired collection featuring lightweight trousers with just the right amount of float and a simple wardrobe of striped blazers. Despite a few pastel paisleys thrown in for bad measure, we were particularly taken with these calfskin espadrilles. We've always had a thing for the Ibizan rope-soled staples, but Ferragamo has succeeded where Gucci failed last spring and produced a pair of high-end slip-ons that won't make you look like Billy Ocean.
[www.salvatoreferragamo.it](http://www.salvatoreferragamo.it]
03
Alice Chocolates
Confectionery
Debuting in New York, Alice is a dainty new luxury chocolate bar. With a brilliant white flip case and iconic silhouetted branding, Alice is almost too good to eat. As if. Slide open the flap, undo the silver wrapping, and indulge. The chocolate fingers, handmade from Amazonian Criollo cocoa, come all the way from Swiss chocolatier Confiserie Tschirren, in Bern. "We wanted to create the Coco Chanel of chocolate – make an absolute classic," says Steven Mark Klein, who co-founded Alice with Michael Felber. A global launch is imminent.
www.alicechocolate.com
04
BSA Clothing
Utility jacket
After two years of tinkering in the workshop, Cathal McAteer has given Monocle an exclusive preview of BSA's forthcoming clothing line. 01 He is the owner of Folk and Shofolk, two boutique London labels that produce simple, streamlined clothes with idiosyncratic details. His first collection for BSA includes new takes on the classic leather jacket, soft plaid shirts and our particular favourite, this khaki utility jacket. With its British provenance and detailed tailoring, we're predicting .it and .co.jp suffixes on BSA's website before the year is out.
www.bsaclothing.co.uk
www.folkclothing.com
05
Ransmeier & Floyd
Hard drive
Netherlands-based design duo Ransmeier & Floyd are attracting attention from New York's MoMA and prestigious manufacturers Droog, but not for their look-at-me designs. Recent projects at their studio in Eindhoven have included a humidifier, a doormat and a hard drive (pictured), which hardly scream transcendental creativity – but that's the point. Leon Ransmeier and Gwen Floyd have decided that they only want to design something if they can provide a solid justification for doing so. This hard drive is simple, elegant and covered in a tactile rubber, as if – in the manner of all the best modernists – they haven't tried to design it at all.
www.ransmeier-floyd.com
06
Schlossberg
Bed linen
A few kilometres outside Zürich in Turbenthal, Schlossberg Textil AG designs, manufactures and distributes the highest-quality bed linens for both home and the hospitality industry. Schlossberg makes linens to fit any international bed size and we buy the classic white Jersey Royal sheets to fit a Nippon bed custom-ordered from the Park Hyatt Tokyo.
www.schlossberg.ch
07
Kohi-wagons
Coffee carts
Japan has many outstanding culinary and cultural exports, but one that's not spreading fast enough are the customised VW vans and retro Daihatsus crammed with perfectly roasted beans, espresso machines and organic milk from Hokkaido. From the backstreets of Aoyama to office plazas in Sapporo, coffee wagons are stealing business from local branches of 'bucks and Tully's and creating a whole new mobile beverage sector that's just waiting to jump the Sea of Japan and the Pacific.
08
Face Stockholm
Sunglasses, bags and cream
Swedish cosmetics brand Face Stockholm 02 turns 25 this month and celebrates with the launch of its e-commerce website on 1 April. Now we can get our Face Stockholm shopping fix online. A few must-haves? The unisex nylon Dopp kits that double as make-up bags in chic neutral midnight navy and army green. The Healing Hands lemon verbena hand cream in attractive aluminum tubes. And the newly launched sunglasses from Face Stockholm's Eyewear line – think a chic-er, more feminine version of the classic Ray-Ban Wayfarers.
Available at FACE Stockholm shops in New York, Stockholm, Dubai and New Zealand. www.facestockholm.com
09
Agronatura
Skincare
Japanese organic skin and body care brand Agronatura has been appearing in select shops and hotels in Japan since last year. Now, with the opening of its first store in Tokyo, fans will be able to get their hands on the full range of products. Top pick: a selection of body shampoos including Antos, which combines honey, soybean and olive oil. All the base ingredients are biodynamically grown in Italy, giving this brand a "Made in Italy" marque.
www.agronatura.jp
Airline news
Jazeera Airways
Kuwait-based Jazeera Airways is taking its fleet of A320s and plush leather seating to Dubai, where it has just established a strategic second hub. Launching throughout March, Jazeera's Dubai base will serve both Gulf and Indian destinations from the Middle East's busiest airport. With Delhi-Dubai fares starting at just over $100 (€75) and a separate Jazeera Plus premium cabin, all-coach competitor Air Arabia might want to consider an upgrade.
www.jazeeraairways.com
ANA BusinessJet
Japan's ANA has beaten everyone else in the region to the punch with its new BusinessJet concept based on a Boeing 737-700ER platform. Set to launch on the Nagoya-Guangzhou route at the end of March, the carrier will fly a Tokyo-Mumbai service from September, when it launches an all-business-class service. As airlines scramble to secure orders for Boeings and Airbuses, watch out for others jumping into the super-niche game.
Flybaboo
Ever since Crossair morphed into Swiss, Europe has lacked a chic airline to serve its top resorts and specialised business centres. Geneva's Flybaboo may or may not be the continent's most catchily named carrier but it's on its way to filling a void left empty by Moritz Suter. With a new order for Embraer 190s to extend its range, Flybaboo has its sights set on London City and other lucrative land strips.