Ski maker / Norway
Chip off the old block
Rønning Ski has produced wooden skis in the village of Skotterud in Norway since 1936. While other manufacturers die out, switch to fibreglass or move to China, Rønning keeps modernising the wooden ski and finding new fans.
In 1936, when Paul Rønning started making wooden skis in his home in Skotterud, eastern Norway, there were about 100 similar companies in the country. Today, Rønning Ski – run by Ulf Rønning, Paul's son, and Jonas Rønning, his grandson – is on its own.
Times have changed, but Rønning still makes skis based on Paul's know-how and design. Not a single piece of plastic or fibreglass is added, which, according to Ulf and Jonas, makes for a better ski. "Modern skis have wood in the middle. Ours are made entirely of timber, making them more stable for downhill skiing," says Jonas, sitting in the little factory next to his and his father's house.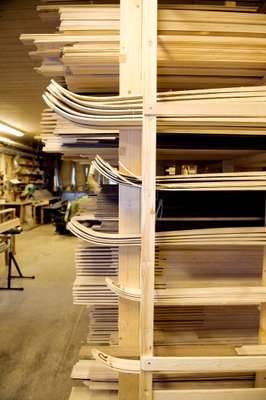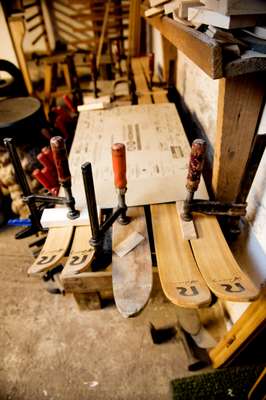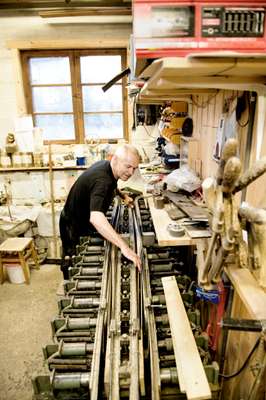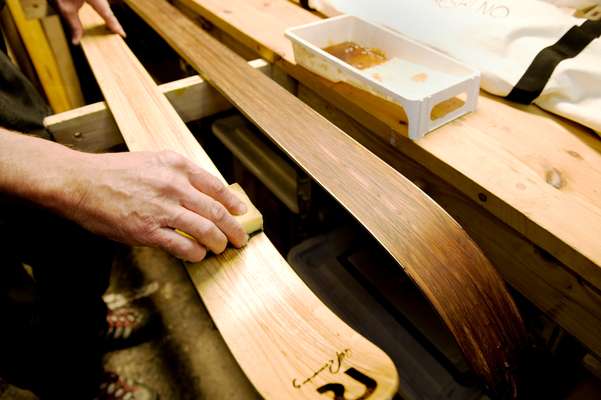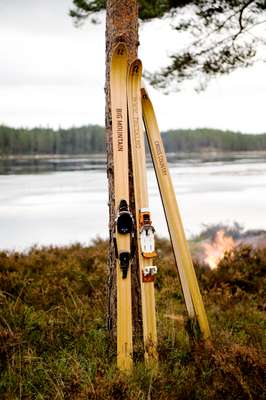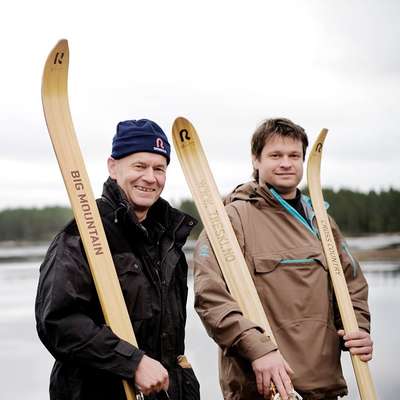 Jonas, 36, took over as owner of the company four years ago, but Ulf, 64, still works in the factory. Every pair of skis is personally cut, assembled, pressed, polished and oiled, and often customised for the client – although not much has changed in the manufacturing over the years. The Rønnings still use sturdy ski presses from the 1960s and apply tree oil using simple kitchen sponges – when the generation shift happened, however, the family realised the company had to evolve to survive. A new logo and website were created, and the Rønnings sat down to develop new models that would attract younger customers.
Today, along with the traditional cross country skis, they make telemark skis and two types of mountain skis, ideal for loose snow, that retail for between €450 and €670. Most models feature a complicated structure, making the ski stronger and more flexible. "Our biggest ski is made of 50 pieces of laminate and four different wood types: birch, pine, ash and beech Lignostone, for the edge," Jonas says.
So, what does the future hold for Norway's last wooden ski manufacturer? In the 1930s, the factory produced 6,000 pairs of skis a year; today only 300. But Ulf and Jonas feel the company is now the perfect size, focusing on an exclusive niche product. In fact, the wooden ski is seeing a comeback, with other manufacturers such as Lacroix and Bogner introducing wood-clad models.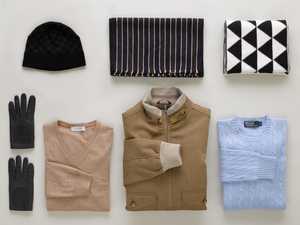 After a day trussed up in breathable synthetics on the slopes, wrap yourself up in a selection of more comforting natural knits.
We spend so much time packing for the piste that après apparel is too often left unconsidered – throwing a ski jacket over a T-shirt and thermal zip-up is just lazy and lacks imagination. There's nothing more satisfying than kicking off your Strolz ski boots and peeling out of your long-johns, hot-tubbing for half an hour before nuzzling into a pure wool pullover and lacing up a pair of sturdy snow boots.
Top
01 Hat by Louis Vuitton, louisvuitton.com
02 Scarf by Aquascutum, aquascutum.com
03 Scarf by Lyle & Scott for Dover Street Market, doverstreetmarket.com
04 Gloves by Louis Vuitton
05 V-neck jumper by Ermenegildo Zegna, zegna.com
06 Jacket by Montedoro, montedoro.com
07 Cashmere jumper by Polo Ralph Lauren, ralphlauren.com
Bottom
01 Trousers by Woolrich, woolrich.com
02 Cardigan by D.S. Dundee, dsdundee.com
03 V-neck jumper by Ermenegildo Zegna
04 Snow boots by Shöfolk, shofolk.com
05 Heat-tech thermals by Uniqlo, uniqlo.com
06 Trekking boots by Marmolada