February 2009 / Busan
Expo 20: All at sea
The South Koreans have become the globe's most successful shipbuilders – the country is home to the three biggest shipyards in the world, all based around the port of Busan. That's great when the global economy is in full steam but not so good when it gets that sinking feeling. But innovation and the arts can stop Busan becoming the Detroit of the East.
Many cities over the centuries have come to be associated with a single product – cotton in 19th-century Manchester, cars in present day Detroit (for now, at least) – but few have been quite so dominated by an industry as the South Korean city of Busan. The industry is shipbuilding, and the manufacturing headquarters of the three biggest shipbuilders in the world are all within striking distance of the country's busiest port.
Hyundai Heavy Industries is in the town of Ulsan, 70km to the north of Busan. Daewoo Shipbuilding & Marine Engineering (DSME) is in Okpo, and Samsung Heavy Industries in Gohyeon – both on Geoje island, 40km to the south. At Busan's Gimhae Airport, a fleet of helicopters waits to take executives and potential clients to each of the shipyards. There's no better way to get a sense of the scale of these shipyards than by air. Thirty-five years of shipbuilding have transformed the small town of Okpo into a clanging, buzzing forge of steel, salt water and oxy-acetylene torches. This sheltered bay is the site of the Daewoo Shipbuilding yard: 4 sq km in area, the biggest dry dock in the world. An array of vessels is under construction: containerships, oil tankers, drill ships, carriers, offshore rigs and to one side, the "special" vessels, which include anything from car ferries to more sensitive military ships.
The scale is monumental. Standing next to an 11,000-ton container ship, with a deck as large as seven football pitches, you start to understand the insignificance of your place in the universe. At over 100m high, the Goliath crane (one of two) that looms above the shipyard is the tallest in the world. From the observation platform at its summit, hundreds of tiny workers can be seen teeming over a titanic oil tanker that is nearly half a kilometre long. Some 120,000 people live in Okpo on Daewoo's account – 28,000 workers and their families, both Koreans and an international brigade of a thousand Romanians, Uzbeks, Vietnamese and Chinese. They come here for a simple reason: Daewoo's Okpo and the Hyundai town of Ulsan are the most prosperous cities in South Korea, with an average income that's 50 per cent higher than the national average. Daewoo produced 44 ships in 2008 and expects to deliver 77 more this year and 80 in 2010. While other industries are collapsing and workers are being laid off, the big three shipyards have back orders to keep them occupied for the next few years.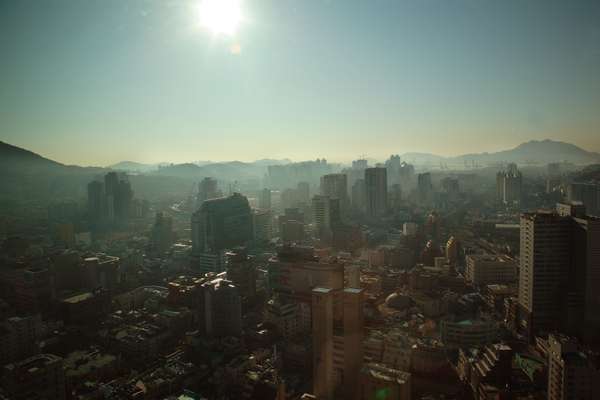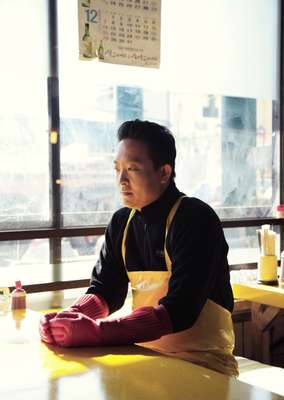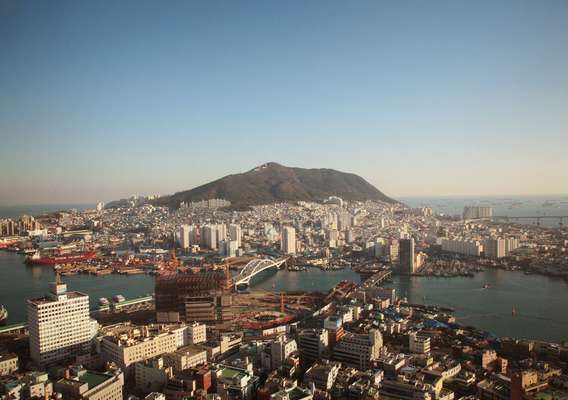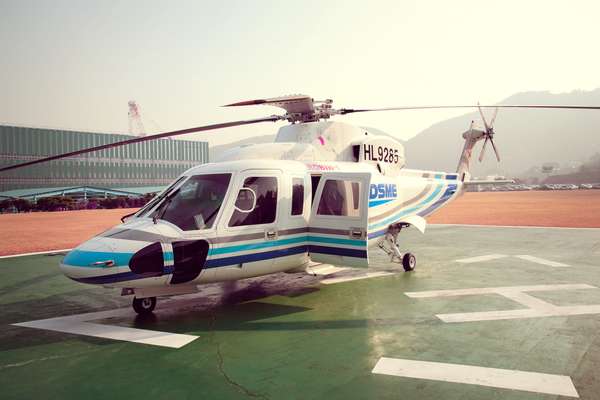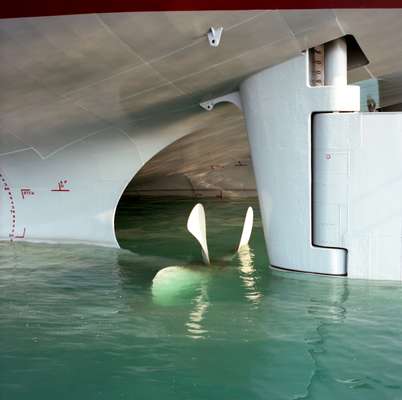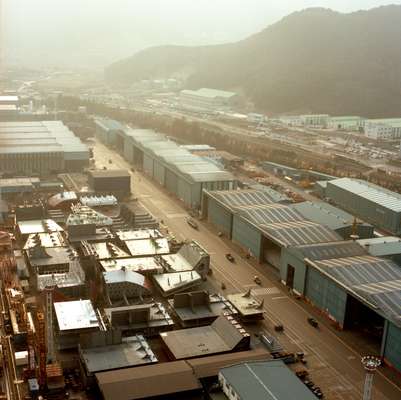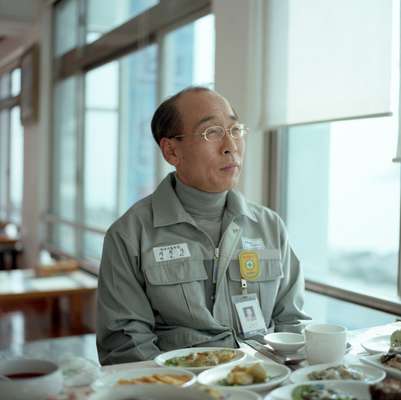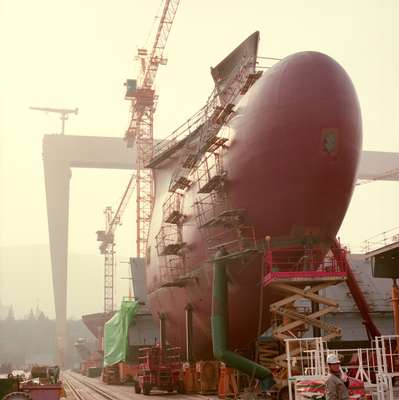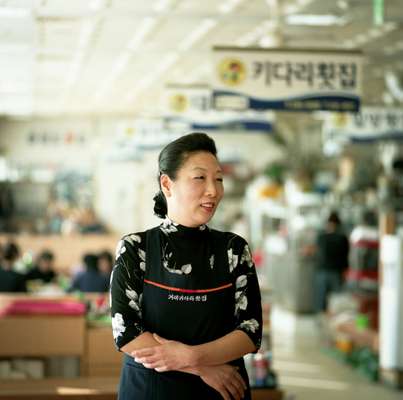 Daewoo will be at full capacity – in its steel block factory in China and yard in Romania, as well as the Okpo site – until the middle of 2012. But in a world of shrinking credit, strangled spending and dwindling exports, how long can it continue? "I've seen bad times before – in the 1980s when we only had orders for a few ships," says Lee Chul Sang, a Daewoo vice president who has worked for the company for more than 20 years. "But nothing like this. This crisis is affecting every aspect of the business from the banks to the ship owners." Daewoo works with the biggest names in the oil, gas and shipping world, including Chevron, Total, Qatargas and Exmar, and it's building everything from oil tankers for Saudi clients to offshore drilling rigs for Norwegian companies such as Odfjell and Seadrill. Daewoo says that although its clients are not cancelling orders (and even if they want to, their contracts won't allow it), they are negotiating delayed payments; and new orders have, for now, dropped sharply. All over the world, trade is slowing down – and as cargo volume drops, so does the demand for container ships.
Meanwhile, international banks that have been driven to the edge by years of rash lending are suddenly reluctant to offer credit. More vulnerable than the likes of Daewoo and Hyundai are the medium-sized yards building speculative vessels. As Lee says: "Almost 80 per cent of new builds are financed through banks but even they're in trouble." "The situation is changing every day," says Daewoo's chief production officer, Ki Won-Kang. "This difficult time could last for a year. We have to make sure we survive, streamline and strengthen our competitiveness over the next 10 to 20 years. We take the view that people will always need to transport; they'll still need ships." Daewoo faces further uncertainty since it is in the process of being taken over by the Korean conglomerate Hanwha, which is hoping to buy the controlling 50.4 per cent stake from the Korea Development Bank.
The other looming threat is the rise of the shipbuilding industry in neighbouring China, where shipyards have mushroomed in the past five years. Today Korea and China share nearly three quarters of the global order book for new ships. Japan occupies third place and Europe is a distant fourth. "China is aiming to be number one," says Lee. "Korea is ahead for now but not for long." Ki Won-Kang predicts that many of the smaller Chinese shipyards will go under, but that the state-assisted ones will weather the economic storm. As Korea watches China eat into its shipbuilding market, the general consensus is that the big Korean shipyards will have to play to their strengths – experience and superior technology.
They might have to concede the less complicated tanker, carrier and medium-sized container market to the Chinese, but in future they will be able to focus on more profitable, hi-tech projects such as deep sea rigs and vast carriers for liquefied natural gas and creating more efficient, less polluting ships. The Korean shipyards all spend lavishly on research and development – Daewoo has 1,800 designers and engineers at Okpo alone – and it's a worthwhile investment. The year 2007 was a bumper one for Daewoo with orders exceeding $20bn (€15bn) for the first time, in part due to an order from Total for a $1.5bn (€1bn) oil processing and storage vessel – the biggest single order ever for a shipyard. When it is delivered to offshore Angola in 2011, it will be capable of producing 232,000 barrels of oil a day and storing two million barrels. It is now bidding to build another floating production vessel worth a staggering $5bn (€3.7bn), which will process natural gas into its more transportable liquid form. In a world that's still hungry for resources, everyone is looking to new territories, and moving into deeper, colder waters – an expansion that can't happen without innovative new vessels.
Daewoo is developing an idea for a new Arctic drill ship that is capable of working in extreme, sub-zero conditions. Aside from the commercial business, Daewoo is also planning to build a submarine for the Korean Navy by 2014, and is also in the running to build a tanker for the British Royal Navy, although given recent spending cuts in the Armed Forces, that plan must surely be in jeopardy. If it wins the contract, it would be the first for a Korean yard. But some kind of contraction is inevitable, and it will be as dramatic for Busan as the travails of the car industry are for Detroit. The already stagnant construction industry is contracting and the small- and medium-sized businesses that make up the bulk of the local economy are particularly vulnerable to a shrinking of the domestic market.
Busan's energetic mayor, Hur Nam-Sik has ambitious plans to enhance the city's position as a regional trade and transport centre. He is focusing on 10 projects in Busan that include redeveloping the city's North Port and lining it with glossy new skyscrapers, lifting green belt restrictions for a new industrial zone, building a new airport, creating a financial district, and working on Busan's bid for the 2020 summer Olympics.
Another plan, supported by the central government, is to make Busan the centre of the Korean film industry. The city's film festival, now in its 14th year, has already established itself as the most important in Asia. Busan has built two large film studios and has just opened a large post-production facility, which it hopes will attract film-makers from outside Korea. Busan, Korea's second city, is facing tough times, but Mayor Hur is bullish. "The impact of the current economic crisis is being felt all across the world, and is affecting the plans of government and private companies alike but, as the saying goes, 'with every crisis comes opportunity', and I believe that the economic outlook will improve." All over the city, posters proclaim: "Dynamic Busan!" But can dynamism alone keep Korean shipbuilding afloat? "The campaign word," says Lee Chul Sang, "is 'survival'."