Aptomar / Norway
Far sighted
Set up nearly four years ago by three engineering graduates, Aptomar is one of the many innovative young start-ups thriving in Trondheim, the tech capital of Norway. The firm's latest maritime navigation equipment is not only state-of-the-art in terms of technology, but it's also rather beautiful to look at. Monocle visits the company's headquarters.
"It just did a 360! Perfect," laughs Lars André Solberg, tweaking a joystick and watching the swivelling white machinery in front of us do a full turn. This is no ordinary tech-toy though – it is Securus, a new tool that is revolutionising the shipping industry.
The device (a bit of a Wall-E lookalike) is a safety and navigation product for ships. It has sensors – a searchlight, video and infrared camera – attached to it, and is placed on top of vessels. It can spot and track movements, colour, heat and shapes in water (vital for search and rescue efforts) and monitor oil spills.
The data is relayed in real-time on to a navigation chart, displayed on a single touch-screen. Using the map, you can clearly see how best to navigate the boat. It also gathers information from other equipment on the vessel, streamlining it into one easy-to-use portal. Controllers back on shore can hook up to this system using a remote server. It means split-second decisions can be taken – and those decisions can help save lives.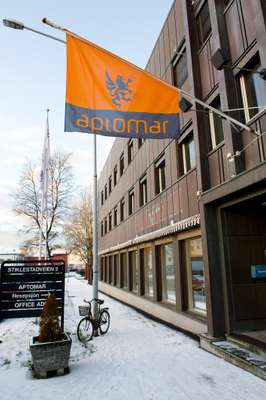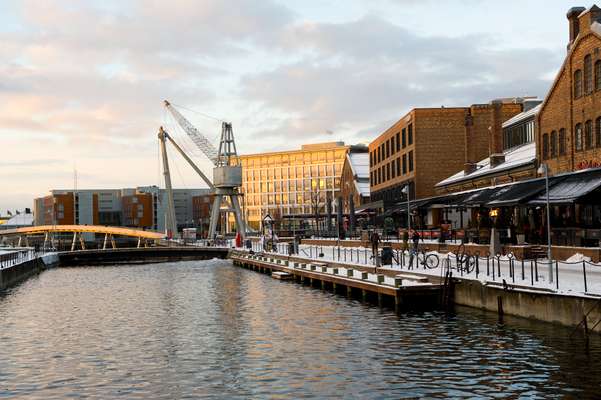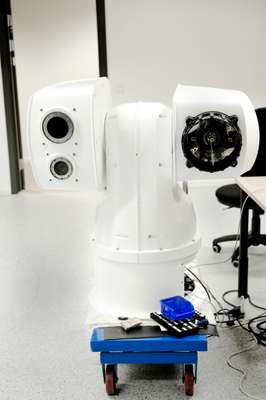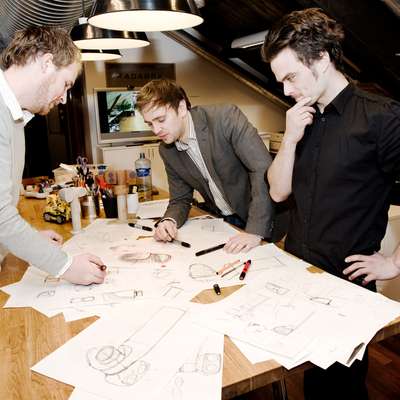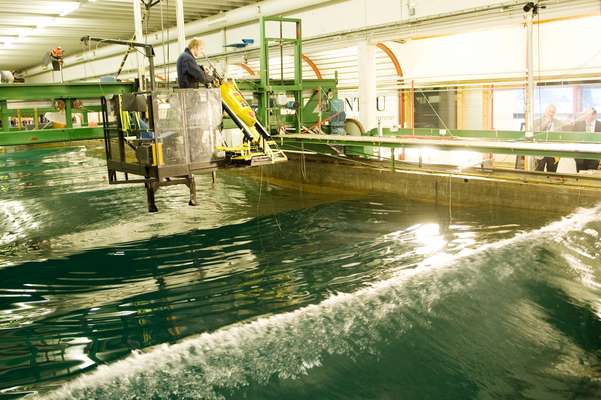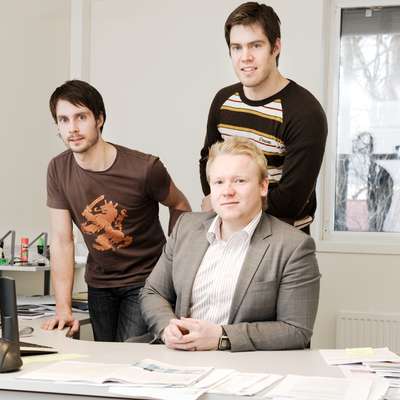 The ingenious bit of kit is the brainchild of three young engineer graduates from the Norwegian University of Science and Technology (NTNU) in Trondheim. Jonas Aamodt Moræus, Håkon Skjelten and Lars André Solberg started working on the SECurus concept as part of a university project to design a searchlight that didn't move around with the motion of a boat. In 2005, the trio set up their firm Aptomar in Trondheim, adapting the concept after spotting a gap in the market. "On vessels you have the radar, GPS, lots of things. What you want to know is what is actually happening outside, independent of weather and light conditions. This is a tool for gathering information to the users on the vessel and getting it from sea to the decision makers on land. Everything is about giving information you don't see with the eye," says Solberg.
Despite a population of just under five million, Norway is one of the world's leading maritime and shipping nations. The industry employs around 100,000 and generates between €11bn and €12bn. There are the shipyards, maritime equipment manufacturers, service suppliers and off-shore shipping firms (Norway is the world's third largest exporter of oil and gas).
The industry is concentrated in Oslo, and along the west coast, but Trondheim, a small city by the water, with a population of just 167,000, is the tech capital. The city is crammed with consultants, research firms, engineers and scientists. The NTNU is the R&D nerve centre – start-up firms spin out of the classrooms straight into offices in the quiet streets. "It's easy to get good people here. There are a lot of bright minds," says Solberg.
Orders are coming in fast for Aptomar – there are around 20 customers already, including StatoilHydro and Havila Shipping. In 2008, four vessels were fitted with SECurus – this year 14 more installations are planned. Each unit, made up of around 400 parts, costs between €120,000 and €330,000. Solberg has meetings lined up with the US and Canadian coast guards and other products are in the pipeline: Lighthouse Information Highway is a more complex system that can link up data from a fleet of vessels – the first installation will be in February. "We are 23 staff at this point. We were three guys back in February 2007, so it's grown really fast," says Solberg.
It's the design-led approach that gives Aptomar and its products a head start. The Securus prototypes are crafted in Danish cast aluminium. To ensure good looks, Aptomar appointed industrial design firm, Kadabra.
The team has designed everything for SECurus, from the slim-line manual through to graphics and product. "You've got loads of equipment which has found its form, such as the radar and all these antennas," says Kadabra co-founder Espen Jørgensen. "But this one is new. Being smooth, it looks more dynamic and ­contemporary."
What could have become just another bit of clunky, ugly equipment becomes a sleek, striking object. "We've used design to ensure the product stands out. We're in an area where there is a lot of old school producers. We're trying to think new," says Solberg.
Three more Trondheim wave makers:
Gazelle Technology
"We're trying to create unique products and introduce ecological thinking into our designs," says Øyvind Hukkelberg, founder of Gazelle Technology. This firm designs and builds passenger boats and vessels for police and rescue organisations. "To have a base in Trondheim is important as we can co-operate with the R&D institutes in the region," says Hukkelberg.
gazelle.no
Terravision
Terravision was founded by Erik Harg and Håvard Sjøvoll, both computer science graduates from Trondheim's Norwegian University of Science and Technology. Gaming is not all about beat 'em ups – this studio creates conceptual games for the oil and gas industries. For StatoilHydro, the duo designed a game that transforms geophysical data into a virtual car race. There's also Tyrihans Offshore Explorer, an educational game designed to boost recruitment in the local oil and gas industries.
terravision.no
Marintek
If you're building a vessel, Marintek should be your first port of call. The Norwegian Marine Technology Research Institute in Trondheim was founded in 1939. It's nestled on the Norwegian University of Science & Technology campus (there are also offices in Houston and Rio de Janeiro). From here, scientists test and develop new solutions for the shipping and off-shore industries in its "labs", which include one with an impressive 80m long pool, complete with wind and wave machines. sintef.no