My last meal / Stockholm
Mathias Dahlgren
Celebrated Swedish chef Mathias Dahlgren enjoys preparing complex dinners at work but likes to keep things simple in his free time. For the setting of his last meal, he would choose the quiet Nyckelviken forest just outside of Stockholm for a rustic rye and cheese sandwich and a robust cup of black coffee.
"In my line of work it's easy to spend several hours of the day indoors. For most of that time I'm stressed out. That's why it's great to be able to feel the calm and balance nature has to offer. Nyckelviken forest is where I walk my dog every morning. It's close to home. I grew up in northern Sweden, in Umeå, where people spend most of their time outdoors. As a little boy, we were never indoors, we always played outside.
These days, weeks can go by and you don't get out properly. Sometimes it dawns on me, when I'm out walking, and I see a deer or a bird. I think to myself, when did I last see something like that? You rarely see any animals in the city, so that's why I chose the outdoors as the setting for my last meal.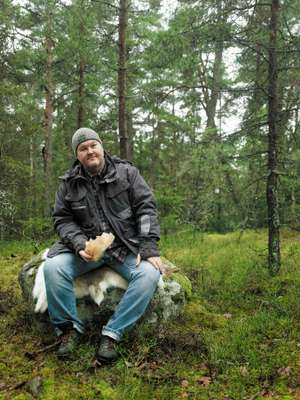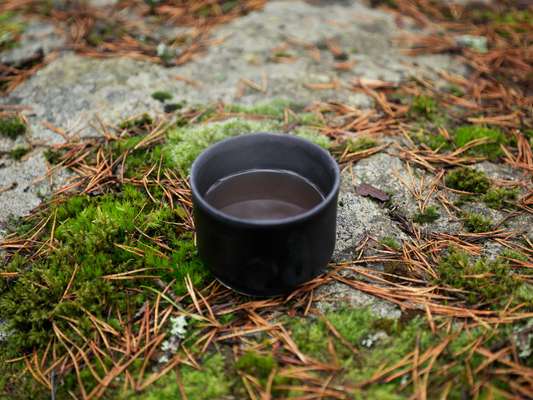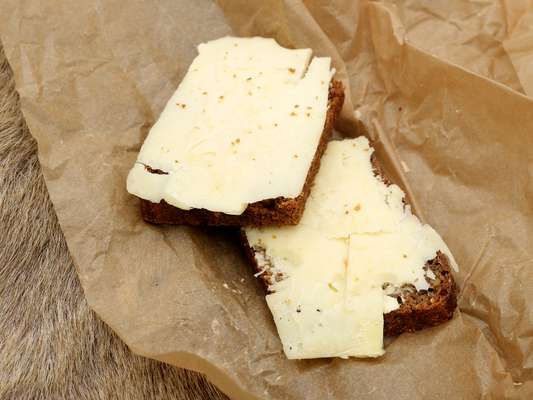 My earliest memory of food dates back to when I was three years old. My mother and grandmother would attend a community baking house, and I was allowed to come along. They would make flatbread, baked in a big wood-heated oven. I remember the whole process – the smell, how they would roll out the dough. But the best thing was the result, getting a piece of warm bread in your hand which my mother would spread with butter. That's an experience you want to return to every day – if I'm too busy to eat properly for several days, the first thing I miss is bread, cheese, butter and coffee.
Often, when people eat something really good, they say that it's something they "could eat every day". But in reality, few things are like that. Bread is one of them, and that's what I'd like to have as a last meal, because of its simplicity. Food was part of my life from very early on. I grew up on a farm and we were mostly self-sufficient and we would often pick berries and mushrooms. I've always been fascinated with food and how exciting it is to eat: tasting different things and trying to understand why some things taste so good. Maybe that's why I became a chef. I like cooking at home, too, although in a completely different way than at work. In the kind of restaurant I run, you need a whole team of specialists. Fine dining is a lot about timing and coordination that is impossible to achieve at home. At the restaurant you may need four people to prepare just one dish ­because everything has to be perfect at exactly the right time. At home I would much rather buy an organic chicken and stick it in the oven, make a salad, open a good bottle of wine and eat the meal with a piece of good bread.
As a chef I realise a meal is not just about the food. It's also about the company. In our society today we have so little time to be with the people we care about most. How often do we get to have a two-hour lunch with friends? So when we do, food probably isn't the priority. For my last meal, I would ask my wife Anna to be my dinner companion. For me, that's a given. Your last meal would be something you want to share with the person you love most."
Mathias Dahlgren
Mathias Dahlgren, 39, began his career as a chef in Umeå, northern Sweden, in the late 1980s. In 1991, he moved to Stockholm with a dream of setting up his own restaurant. Between 1996 and 2005, he ran Bon Lloc in Stockholm, gaining a Guide Michelin star. In 2007 he opened the Mathias Dahlgren Restaurant in Stockholm's Grand Hôtel, earning a Michelin star less than a year later. The guide praised his "vibrant use of high quality ingredients" in "tasty and inventive modern Swedish cooking".
Situated just 10 minutes southeast of central Stockholm, Nyckelviken is an idyllic nature reserve offering a calm spot for busy city dwellers. The scenery is varied, featuring open meadows, thick forests and clifftops with spectacular views towards the capital's inner bays. The old woods offer a perfect habitat for rare flowers and birds, such as owls and green woodpeckers.
Main course:
Rye bread with butter and mature cheddar cheese Drink:
Black coffee