Running products / Global
Run in top gear
Getting into shape is hard work, so we need all the help we can get. Here, Monocle selects the most comfortable trainers, the most useful gadgets and the most nutritious supplements to help you get fit.
Running apparel 01: Top by Falke, falke.com
02: T-shirt by Brooks, [brooksrunning.com](http://www.brooksrunning.com]
03: T-shirt by Casall, casall.se 04: T-shirt by Casall
05: HeatTech T-shirt by Uniqlo, uniqlo.com
06: Trackpants by Falke 07: Hat by Brooks
08: Shorts by Asics, asics.com
09: Track top by Uniqlo 10: Gloves by Brooks
11: Gloves by Asics
12: Socks by Falke
13: T-shirt by Asics Accessories
14: 'Runner's World', runnersworld.co.uk; 'Running Style', runningstyle.jp; Takatatta, 'Trail Running Magazine', sideriver.com
15: Reservoir II Hydration System by Hydrapak, hydrapak.com
16: Hydration Reservoir cleaning kit by Camelbak, camelbak.com
17: Power Breathe lung exerciser, powerbreathe.com
18: Gel Bot liquid and gel flask by Hydrapak
19: Flask by Camelbak
20: Hydration waistpack by Hydrapak
21: Gatorade, gatorade.com Sustenance
22: Energy chews by Lunasport, lunabar.com
23: Energy Gel by Gu, guenergy.com
24: Clif Energy shot, clifshot.com
25: Electrolyte hydration by Nuun, nuun.com
26: Goji Berry Green tea drink tabs, uhydration.com
27: Shot Bloks by Clif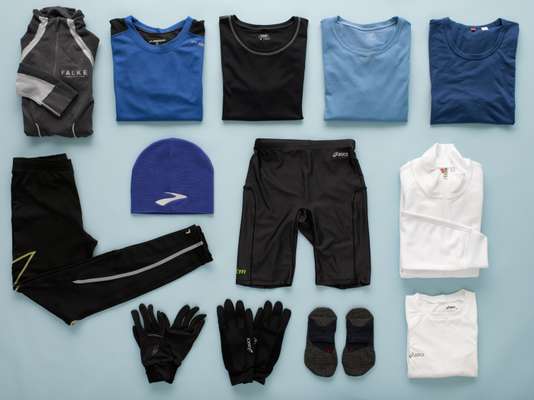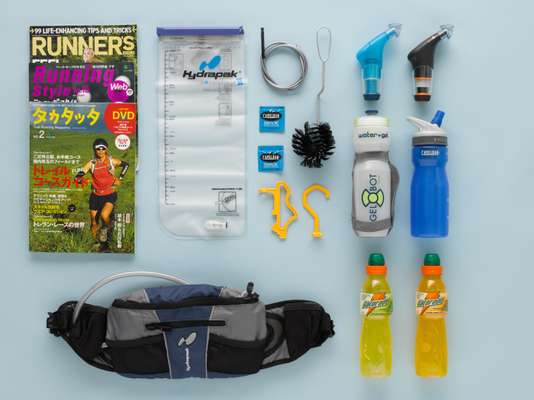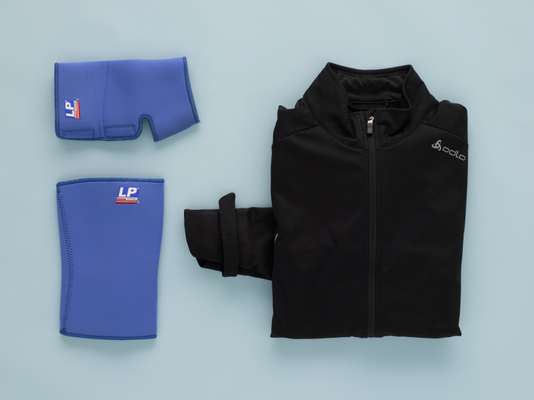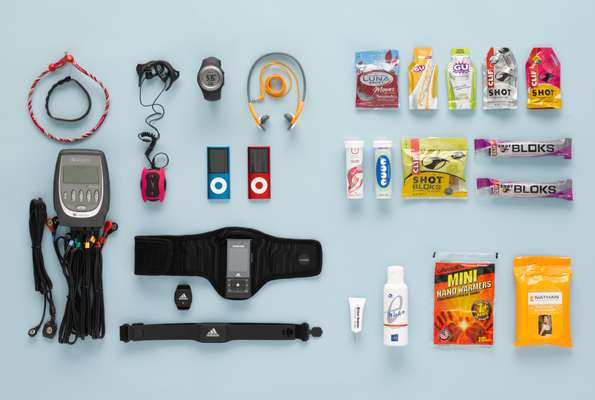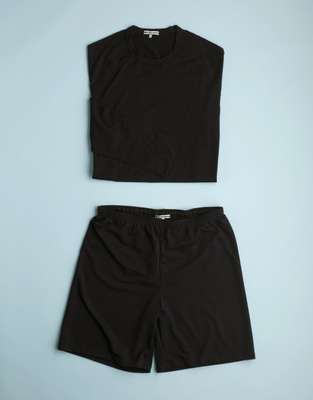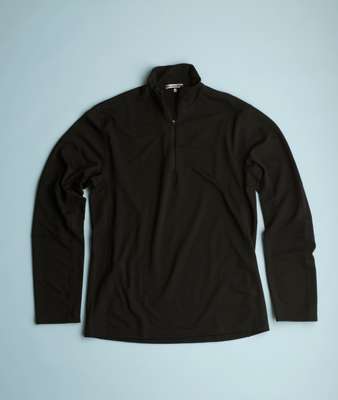 Clothes 01: Neoprene Knee support, lp-support.com
02: Zip-up track top by Odlo, odlo.com
03: Phiten Rakuwa Aqua Titan necklace and bracelet
04: Speedo mp3 player, speedoaquabeat.com
05: Garmin Forerunner 405, garmin.com
06: Sennheiser PMX 80 Sport II headphones, sennheiser.com
07: Compex Runner, compex-runner.com
08: iPod nano, apple.com
09: Samsung x Adidas micoach SGH F110 phone with heart rate monitor and pedometer, micoach.com
10: New Balance 576 trainers, newbalance.com
11: 'Athlete' insole by Sof sole, sofsole.com
12: Propel Gel insole by Sof Sole
13: Socks by Sof Sole
14: Shoe Freshener by Sneaker Balls, sneakerballs.com
15: Asics Gel-Oberon 3 trainers
16: Brooks 'Trance' trainers by Brooks
17: Asics 'Gel 3000'
18: New Balance 'NB 1224'
Five top training tips- running
Cardiovascular exercise is the best way to get fit and lose weight, says Monocle's trainer, Ben Soames.
01 Train three to four times a week, at least 50 minutes a session. Train in the morning – it's harder but you will not put it off.
02 Keep your body guessing by varying your workout. Example: Monday morning – long steady paced run; Wednesday – incorporate 10 or 15 30-second sprints; Friday – have a speed session and time it to see your improvement.
03 Warm-up, stretch, abs and balance. Start each session with a gentle warm-up jog lasting four minutes. Then have a standing stretch of all your major muscle groups: thighs, hamstrings, calves etc. After your workout warm down for a few minutes and then do some developmental stretches to increase flexibility.
04 Set goals for the short, medium and long term. For example, a timed 10k run in under 50 minutes, then entering into the local half-marathon. Your long-term goal might be the New York marathon. 05 Listen to your body. If your knees ache then go and see a physio. The problem can often be sorted with some simple exercises. Address these issues before they become serious. Lastly, enjoy it!
Starter's orders: Athlonia
Having built up one of Japan's most successful houseware retail chains and also trimmed and toned himself over the past two years by entering the triathlon circuit, Tokyo-based Fumio Takashima is moving into the high-performance clothing business with Athlonia.
Up first will be a series of garments for swimming, cycling and running, then a retail outlet and soon bicycles. Watch this brand find an audience that's also content with a simple 5km jog. athlonia.com
A keen interest in sports led California designer James Perse to set up his own West Coast lifestyle brand that sells high-quality sportswear (pictured). Zip-up streamlined track tops and shorts in breathable merino wool are refreshingly logo-free. With eight stores in the US and an online shopping site, Perse is set to open a boutique hotel that encapsulates the brand's elegant yet understated style. jamesperse.com
Five running-store buyers
01 Angelo Ceruti
Koala Sport, Milan
Opened in 1978, Koala's staff handle queries from all over Italy. The tiny, no frills shop features a wall of vintage running shoes and athletic posters. koalasport.com "Adidas has made some progress with its Supernova Cushion model, which is great for training. I also like Saucony's ProGrid Ride."
02 Jennifer Abshier
Active Imprints, Boulder, CO
This is a favourite among experienced runners due to its personalised assessment of foot-types and custom-made foot supports using a patented system developed by the owners.
"My favourite bit of kit is Spibelt, an expandable belt that doesn't bounce or shift while running. You can't beat Newton Running shoes. They have great energy return and shock absorption."
03 Sabrina Gregath
New York Running Company
The New York branch of the 12-store Running Company is a one-stop-shop for serious runners and offers everything from shoes to gait-analysis sessions. herunningcompany.net
"The Garmin 405 is an incredible piece of kit. A GPS system that tracks speed, distance and heart rate."
04 Ryo Takei
Sounds Good, Tokyo
Launched in 2007 by United Arrows, Sounds Good is the sports concept store with a heavy fashion focus. sounds-good.jp "I love the Reebok Taikan IB. They were designed for Japanese feet and prevent the runner from leaning back by stopping the heels from sinking."
05 Hiromi Sawada
Asics Store Tokyo
This branch of Asics caters to the elite of the city's athletes. So much so, it has showers and locker rooms for members. asics.com
"The Japanese tend to wear five-toed socks when running. People like them to prevent them getting blisters. The Australian brand Skins sells well."