Firm favourites / Global
What crisis?
While bankers on Wall Street continue to sweat and plan new career moves, their colleagues in Beirut are literally counting their good fortunes. Book publishers in London and armoured car manufacturers in Bogotá are also feeling secure about their prospects. Monocle looks at the firms bucking the market and finding new opportunities.
America may be at the heart of a global economic storm but once its new president gets his feet under the table, there is hope on the horizon for those in the lines of business he has promised to support.
Obama has grand plans to rebuild the country's infrastructure (good news for anyone in construction) and wean the country off oil and electricity (roll up all you wind farmers and solar panel makers). Pharmaceuticals are also a safe industry. There will always be a demand for new, effective drugs.
Elsewhere, countries where the economy relies heavily on small, nimble businesses (Germany comes to mind) are best equipped to cope in turbulent times.
We asked our correspondents around the world to name the sectors and brands that are "doing just fine thanks".
01
Champagne Indage: drinks
India
For India's wine leader, financial strife means it's time to shop. Champagne Indage, a subsidiary of the €1.93m Indage Group, has spent millions snapping up one British and two Australian wineries in just over 18 months."Assets are available at good prices," explains managing director Ranjit Chougule, son of Shamrao Chougule, who founded Indage's wine business in 1982.
Every year, India's oldest wine producer bottles 40 brands – 1.5 million cases nationally and 4 million cases globally. It controls three-quarters of the national market and has grown at 40 per cent a year. It is now also branching out into wine bars.
02
The cancer drugs market is set to grow by more than 12 per cent a year and be worth €58bn by 2012. So drugs firms can consider themselves relatively safe. Anglo-Swedish AstraZeneca, a leader in the cancer drug sector (€4bn in sales in 2007), is launching new treatments for lung and prostate cancer as well as brain tumours in the next two years. "Drug development for any therapy area or disease is always a costly and risky business," says spokesman Christopher Sampson. "People need healthcare regardless of what the economy is doing. That's why pharmaceutical firms have been seen as a defensive stock in difficult times."
03
Italian firm Fabriano has a business model that's seductively simple: it makes money by printing banknotes. One of a handful authorised to produce the euro, central banks call on it to supply crisp bills when worn notes can no longer be read by sorting machines and ATMs.
Founded in 1782, the company began with handmade stationery before expanding into currency. Soon, it was supplying lira to the Bank of Italy.
Today, its cotton-fibre security paper is used for many of the 12 billion euro banknotes in circulation, a number set to rise as more countries are expected to join the single currency.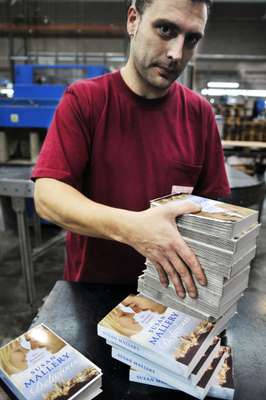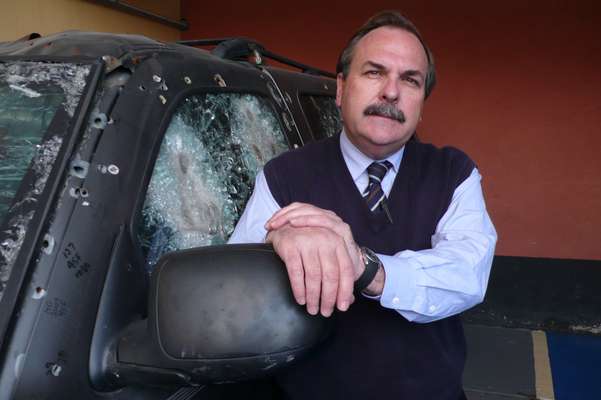 Helping business further is the current economic crisis. Some see a greater demand for hard currency in the short-term as panicky investors pull their funds out of banks. "Invest in cash," says Guy Hewitt, an analyst at Investec Securities in London.
04
Bank Audi: finance
Lebanon
"Up until now, 2008 is the best growth year for Lebanese banks," says Marwan Barakat, head of research at Bank Audi, one of the country's main banks. Since the beginning of the credit crunch, Bank Audi has seen an influx of foreign deposits, mostly from Lebanese living abroad. At Blom, Lebanon's biggest financial institution, the pace of deposits also increased dramatically. "A lot of Lebanese repatriated their assets to Lebanon," says Dr Fadi Osseiran, manager of Blom's investment banking arm.
The reason for this influx is because Lebanese banks did not get involved in sub-prime, have a third of assets in liquidity and maintain banking secrecy. Depositors feel that after all the country has gone through, it will weather this storm too.
05
SunPower, headquartered in San José, California, makes and installs solar cells and panels for businesses and homes across North America, Europe and Asia and leaner times have made this source of energy more attractive than ever.
"More people are buying solar," explains SunPower's CEO Tom Werner, "because they want to hedge against future increases in energy."
President Barack Obama's ambitious energy plans also help. He has pledged to ensure 10 per cent of US electricity comes from renewable sources by 2012, and 25 per cent by 2025. In addition, the president wants to spend $150bn (€113bn) to create five million "green collar" jobs over the next 10 years. All this is good news for SunPower, which boasted an estimated €1.1bn in revenue for 2008.
"Obama's team understands and appreciates that we [the industry] can reduce greenhouse gases, improve energy security and create jobs," says Werner who is confident that his firm will be one to reap benefits from the change of resident at the White House.
06
Fromm: packaging
Switzerland
There's a lot of careful packaging that has to happen to get products such as CDs and books from manufacturers to logistics suppliers to couriers to front doors. At the heart of this chain is Switzerland-based Fromm and its machines that make plastic straps to keep everything from pallets of produce to bundles of magazines in place. The firm's line-up also includes machines that wrap boxes in clingfilm and devices that make Airpads – those air-filled plastic puffs that keep goods from rattling around inside boxes. Fromm wouldn't speak to Monocle but is one of those firms that make basic tools for a series of sectors that couldn't function without them.
07
Equity Bank: finance
Kenya
Equity Bank loses customers every day. But chief executive James Mwangi isn't worried. "Once our customers reach a certain level we gladly allow them to join another bank."
Equity has styled itself the "poor man's bank", succeeding by targeting customers ignored by others. The average account has just €150 in it, while loans are as low as €3. Equity's ATMs can be found in villages and Nairobi slums – areas where other banks would not bother. "We have low margins but large volumes," Mwangi says.
Equity has around 2.8 million customers – almost half of all Kenyan bank accounts – and more ATMs than all the other banks put together. It has been heavily insulated from the global crisis as its customers are not involved in international trade.
08
Alcohol is a thriving business in Dubai, despite the UAE's strict rules on its consumption. It is only available at licensed hotels and to non-Muslims who have obtained a licence at two shops. One is Maritime & Mercantile International (MMI), a joint venture between Heineken and Emirates Group; and the other is African and Eastern, run by Foster's Group.
And sales are rising. "We don't believe we will be heavily affected by the economic downturn," says Iain Delaney, marketing manager for MMI.
"There are fewer Russians in town, but the residential population continues to grow."
And many of those may even need a stiff drink in 2009.
09
Mills & Boon: publishing
UK
"He was rugged, sardonic and virile, and despite herself the heroine found herself drawn into his arms." You already know how the story ends. They fall in love and live happily ever after.
In these tough days, a happy ending has never been more welcome and the sales of Canadian publisher Harlequin, which owns the UK brand Mills & Boon, are going through the roof.
"What comes up time and time again is that it is a quick fix of happiness and readers recognise it as such. It is an indulgence," says Claire Somerville, marketing director at Harlequin Mills & Boon, which sells a book in the UK every three seconds.
In fact, romance is a global export and the firm's authors sell their books in over 100 countries and publish in 26 languages. The Mills & Boon imprint launched in India in 2008 and can expect to gain many followers on the Subcontinent.
The books can be a gateway into the pleasure of reading and are popular among readers of English as a second language. It also becomes a habit and most readers don't stop at one book, buying two or three at a time to get their fix
10
Blindex: security
Colombia
"The issue of security is always going to exist. And people are prepared to pay for peace of mind," says Laurent Fossaert (pictured above), vice-president of Blindex, a leading manufacturer of armoured cars that's based in Bogotá. Not only is Blindex in a growing industry but it has made its reputation by delivering custom-made cars to clients in less than five months, around half the time its competitors take.
In 1997, a Colombian army chief survived a bomb attack while sitting in an anti-explosive car made by Blindex. The incident led to a boom in domestic sales. More recently, the wars in Iraq and Afghanistan have brought Blindex its main foreign clients: the US and UK governments. Increased foreign investment in Colombia and rising crime in Mexico have also increased business for Blindex and oil giants are buying the cars for use in countries such as Nigeria and Angola.
Today, Blindex ships over 60 per cent of its cars abroad to more than 30 countries. In 2007 it exported some 270 cars, up 65 per cent from 2006. Business continued to grow in 2008 and sales for 2009 look good, says Fossaert.