Radio star: KCRW / Los Angeles
Friends eclectic
LA's KCRW sounds like the future of radio. Small, perfectly formed and with an influence that travels far beyond its American HQ, the station breaks bands and sets the soundtrack for Hollywood's films and its residents while also changing listening habits across the world.
In an unmarked basement under the cafeteria block of Santa Monica College lies an unlikely goldmine. It's early morning on Martin Luther King Day and students knock their alarms to snooze while roadies haul drum kits and guitars through the swing doors next to departmental notice-boards, and a Southern Californian sunrise bathes the day orange. At 89.9 across Los Angeles and across the world online, Morning ­Becomes Eclectic, KCRW's esteemed breakfast show, is getting a kick-start from cups of black coffee and the bustle and blast of New York indie favourites The Walkmen tuning up through the glass in the next-door studio.
KCRW's new music director and MBE host Jason Bentley has only been working this celebrated morning shift for a month, but his neat style and emollient delivery bear none of the nervy hallmarks of some of the bands that play on the show. "We try not to mention that Nina Simone and Tom Waits have played that piano, that we've had some of the greats in there," says Bentley conspiratorially. "It can kind of freak them out a little."
Since KCRW went online in 1995, Morning Becomes Eclectic has become extensive; international lovers of genre-melting playlists supplying cutting-edge and classic rock, electro, samba, jazz, alt-folk, bossa, blues, tropicalia, afro-beat and soul as well as unfashionably high-quality news and current affairs programming have suddenly had a place to call home on their virtual FM dial.
A global audience is whispering LA's best-kept secret. Norah Jones, Coldplay and the then-unsigned Beck broke after playing in KCRW's modest studio. As the station has become a touchstone for undiscovered gems, its DJs are underground heroes. The station is a community. "In LA, there's never really been a downtown in the usual sense because it's such a car culture," says Bentley, "so I always saw KCRW as that downtown – except everyone's sitting in their car listening to it."
"K" – the call-sign for all radio stations lying west of the Mississippi – "CRW" for College Radio Workshop, began in the humbler-still surroundings of the junior high school across the street from the college under which it now lives.
It was 1945 and GIs returning from the Pacific were training for jobs in radio; it was said that James Dean, studying at Santa Monica, spun discs in the early days. Tom Schnabel arrived in April 1977 fresh from the beach. The music journalist and local lifeguard remembers the rudimentary set-up: "When I started it was like Frankenstein's laboratory," says the affable and encyclopedic music director during KCRW's 1980s, "when there was a thunderstorm and you were sitting next to a 26,000 watt transmitter and a 110ft metal radio tower, you'd think, 'hell, this show'd better be good because I could die at any minute here!'"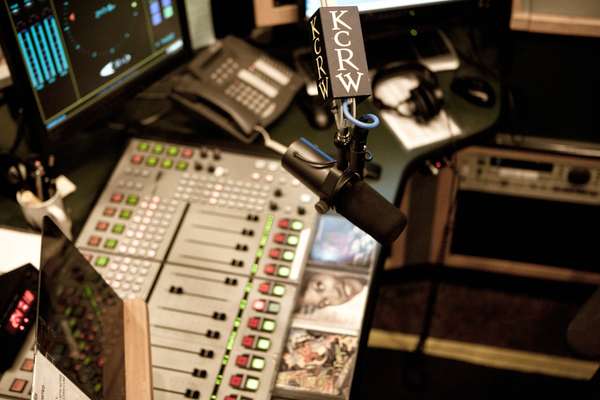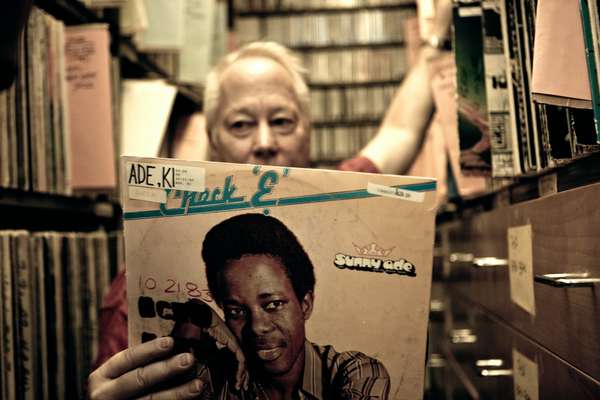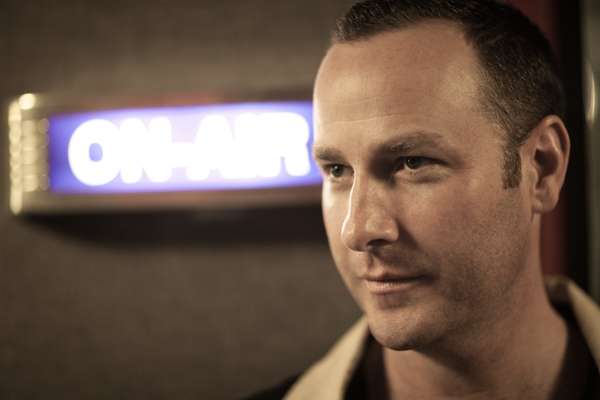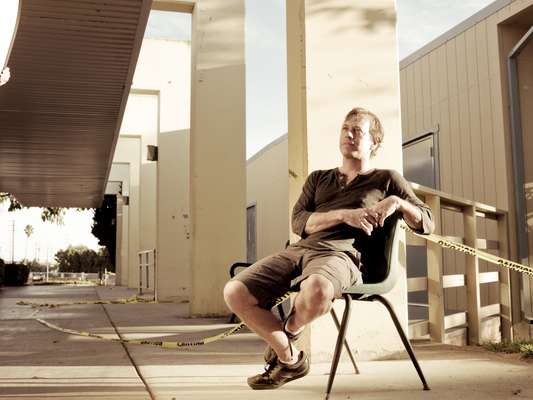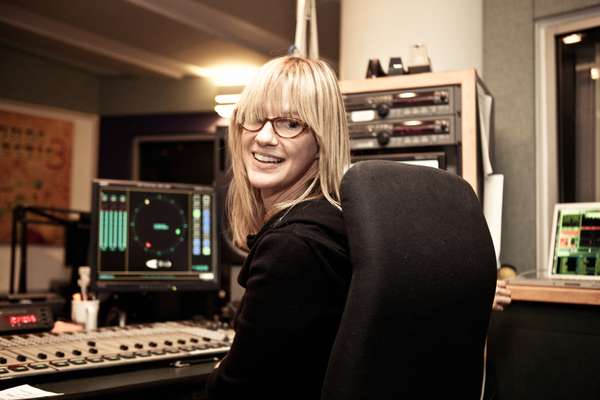 KCRW was the epitome of local. Real local. "It didn't get past Robertson Boulevard," says Schnabel, "and that's really not very far away." After David Was – later of Was (Not Was) but then a journalist for the now-defunct Herald Examiner – described the station's poor signal as "fading out like a junkie on a $20 fix", things changed. General manager Ruth Seymour got a grant that gave the station wider coverage and Schnabel altered the turgid classical and jazz playlists – differing little from those in the 1940s – to include his love of Brazilian and African artists and to reflect the change that had swept through music following punk, the advent of the drum machine and the birth of electronic music.
"I got in trouble with people who said 'jazz is the only original American art form'," says Schnabel with a shrug, "but I just thought – we have to do eclectic shows here." KCRW's current generation of listeners, accustomed to swaying along to obscure Nigerian dub followed up by Lykke Li's Swedish electro have Schnabel to thank for this anti-format format; this eclecticism.
"It all comes down to the old thing," says Schnabel with a chuckle, "find something you love doing and then find a way of getting paid for it." And then he disappears into his beloved African section of KCRW's highly catholic music ­library; a bearish Victorian botanist happily swallowed by his leafy glasshouse.
Chris Douridas and Nic Harcourt were the pair of young gun music directors that bestrode the station across the 1990s and 2000s respectively, building on Schnabel's foundations to transform KCRW into the freeform free-for-all it has since become. Morning Becomes Eclectic was coined to name the breakfast show, and the station – unrecognisable from its former incarnation as a shirt stuffed with Glen Miller and Ravel – soon gained a reputation amongst LA's in-car downtowners as appointment listening. And, it being LA, there were some remarkable commuters calling in.
"I'd be sitting here in the morning playing Bill Frisell and I'd get a call saying, 'Hi, this is Ry Cooder – who's that guitarist?" says Chris Douridas, throwing his hands in the air with incredulity. "Michael Mann would call from his car-phone – they were quite new then – saying, 'yeah – what was that song again, Chris?' He'd call every day while he was about to start shooting a film here," says Douridas. "I was about to have a baby, we make very little dough here, we do this because we love it and so I said to him, 'you know, you can hire me as a consultant' and he did and so Heat was my first movie."
The punchy but self-deprecating Douridas had plenty more "serendipitous moments". Mike Myers called about a new comedy for which he wanted a "shagadelic" soundtrack. After hiring Burt Bacharach (whom he'd learned was "waiting for a phone call" after interviewing him on KCRW) as composer, Douridas' suggestion of Quincy Jones' "Soul Bossa Nova" convinced Myers to rewrite the film's infamously amusing opening sequence around the tune. This not-so-cottage industry as music supervisor to Hollywood is serious business for movie-makers unsure of the musical world in which their story should sit and for KCRW DJs that have the power to break an artist.
"I got sent a home-made 12-inch from a guy named Beck; he was unsigned and the song was incredible – I put it on the air thinking, all hell will break loose," says Douridas of "Loser", the artist's original smash hit that became known as the ultimate slacker anthem. KCRW was its first ever radio play. "He came down here with a drummer, a busted guitar and a boombox and played 'Loser' and 'MTV Makes We Want To Smoke Crack' then he did a show at the Troy Café here – people were hanging from fences to watch him on this tiny stage and he was as weird as can be and they loved him!"
Nic Harcourt is a British-born virtuoso reality dodger who ended up in LA in 1998 after six years in Australia and a decade spinning the wheels in Woodstock. His accent is attendantly stretched between those points of the compass and he sounds fantastic – in all senses – on the radio. Off it, Harcourt is opinionated, amusing and refreshingly honest. His tenure as music director and host of Morning Becomes Eclectic after Douridas might be summed up thus, "I've always just thought, 'fuck it' – what do I want to play?" Luckily for Harcourt and his station, he played what they wanted to hear – even if they didn't know it yet.
Harcourt gave Coldplay their first live US radio airing, had Norah Jones crooning into the morning traffic before she became huge and "played the fuck out of" Damien Rice's debut a year before anyone else would air him. High points have also included entertaining Willie Nelson "and his funny Spanish guitar with nylon strings" and Morrissey ("well, he's Morrissey, isn't he?").
Harcourt claims to have only been nervous twice – once when interviewing Paul McCartney for a special at LA's Amoeba Records (see issue 20), the other when the Jon Spencer Blues Explosion played one morning. "They were playing so fucking loud and he looked so fucking threatening I was just scared shitless," says Harcourt with a grimace, "I thought, 'Oh my God – and I have to interview this guy now?'"
Harcourt's handle of the station's – and his own – reputation as tastemaker are straight-talking, too: "I never thought about any of the responsibility I'm meant to have. Chris told me when I started, 'play what you love.' I just come in here and play what I play and hopefully enough people like it. It really is that simple."
Against a backdrop of increasingly homogenised stations – extensions of centralised entertainment corporations that play hits made hits by virtue of their regimented rotation, stations that hire "vocal talent" to read pre-written links between tracks chosen by a computer programme – against that, of course KCRW's professional passion jumps off the dial.
"We offer a curated listening experience," says Bentley sitting in the sun after the morning show. "Our responsibility is as a filter." The music director is also keen to stretch his remit. "I'm trying to broaden the definition of eclectic, if anything," he says. "If the news can come from the four corners of the world, why shouldn't the music?"
Animal Collective – My Girls
Wild Light – California on My Mind
Röyksopp – Happy Up Here
Amadou & Mariam - Sabali
Peter Bjorn and John - Nothing To Worry About
Ida Maria – I Like You So MuchBetter When You're Naked
Boxer Rebellion – Silent Movie
First public radio station to stream and podcast original programming
Chris Douridas hosted Beck's first on air performance
The first public radio station to do remote broadcasts from SXSW and CMJ music festivals
Nic Harcourt hosted Coldplay's first ever performance on US soil
First radio station to have a million podcasts downloaded in a month
Listeners: 340,000 FM plus 615,000 online visits a month Subscribers: 50,000 Employees 55 full time, 120 station volunteers, plus hundreds who answer phones during pledge drives Funding: KCRW pays over $1.2m a year to air NPR programming, receiving just 10 per cent of its budget from government sources. The rest of the $11m station budget is raised from listeners and corporate supporters.