Africa/Middle East / Global
Africa/Middle East
Briefing
Kenya's drink-driving crackdown, a new island in the Med and a new metro for Algiers, 40 years after its initial conception.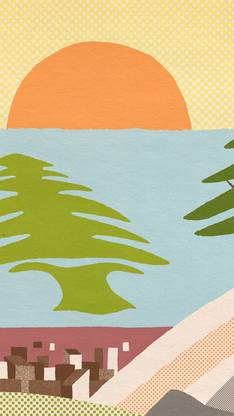 Dubai syndrome
Lebanon [NEW ISLAND]
The Mediterranean might be getting a new island. Lebanese businessman Muhammad Saleh, who built the Rose Tower, the tallest hotel in Dubai, is planning an artificial island in the shape of a cedar tree off Lebanon's coast. If Cedar Island gets built, it would be a new playground for wealthy Arabs full of luxury commercial and recreational facilities and villas for "VIP residents". It would also have hotels and a golf course for wealthy tourists and the visiting Lebanese diaspora.
Noor Holding, the company responsible for the project, is optimistic. It says the island plan has the blessing of the Ministry of Tourism and is just awaiting a decree from the Lebanese president before contractors can start work. Others are more sceptical. Some ­critics have raised concerns about the environmental effect of building an island in the Mediterranean. Others fear that it could be a target in any future conflict. And many are not impressed by the lack of original thinking.
"All they want to do is cut and paste ideas from Dubai. Since we're in Lebanon, they chose the cedar tree. Next thing we will hear about is a maple leaf island in Canada," says Guillaume Boudisseau, a Beirut estate agent. Dubai's Palm Jumeirah has been marred by recent plunging property values and doubts over the quality of its construction.
Isles of man: more artificial islands
The Pearl – Qatar
Built on a former pearl diving site "The Pearl" hopes to be a kind of Riviera on the Arabian Gulf.
Palm Jumeirah and the Palm Trilogy – Dubai
The largest reclaimed land project in the world. Two other islands are under way, the Palm Jebel Ali and Palm Deira, expected to be the size of Paris when finished.
The World – Dubai
A set of 300 islands which, when seen from space, look like a map of the world.
Tulip Island – The Netherlands
The Dutch government is considering building an island in the shape of a tulip, to shield the coastline from the rising North Sea.
Close enemies
Somalia [GOVERNMENT]
Somalia's new president, Sheikh Sharif Sheikh Ahmed – a 44-year-old former teacher – took a leaf from Obama's book and brought a man from a rival clan into his team.
Omar Abdirashid Ali Sharmarke was made prime minister in February. The president hopes to create the first functioning government in 20 years. For now, he has so little control that talks to form his cabinet have to be held in safer countries nearby.
Bad breath
Kenya [DRINK DRIVING]
Drinking and driving in Kenya is not a crime. To some people, it's a right. But fresh legislation setting alcohol limits for drivers is in the pipeline. "We need it very much," says police spokesman Eric Kiraithe. "Some drivers have been drinking all night."
A previous attempt failed to introduce Breathalysers when courts ruled that they infringed the "constitutional rights" of Kenyans. There is an extremely high alcoholism rate in Kenya and around 55 car crashes for every 10,000 vehicles a year (by way of contrast, Norway has 1.2).
Delayed train
Algiers [METRO]
Almost 40 years after the idea was conceived, Algiers Metro, linking 10 stations along a 9km route in the Algerian capital, is finally set to open in August. Around 40,000 commuters are expected to use the new underground system each day and there are plans to extend it east out of the city, with 30 stations along a 16km route. City officials hope that the metro (costing an estimated €900m) will be good for business and help unclog the city's roads.
"In the past five years Algiers appears to have turned into one big traffic jam," says Robert Parks of the American Institute for Maghrib Studies in Algeria. "This metro could change the face of the city." The idea of a metro was first discussed in 1970 but it was not until 1982 that work began – slowly. In recent years, Abdelaziz Bouteflika, the president, was finally able to kickstart things as oil prices began to rise again. The first, 9km phase should be fully operational by this summer.
Over the past 20 years, conflict has cost the Middle East an estimated €9 trillion. It's also been estimated that Israelis and Palestinians are earning half what they could if 1991 peace talks had succeeded.