Ekaterinburg / Russia
Deep freeze
Russia's boom years raised the profiles of its 'second cities', nowhere more so than in Ekaterinburg. But even as the cranes fall silent, the city's entrepreneurs say the good times are not over yet.
It is minus 22C outside and we're thousands of miles from the sea but Andrei Gavrilovsky is having tiger prawns for lunch. From the windows of his restaurant, Antei, located above an upmarket mall of the same name in the centre of Ekaterinburg, Gavrilovsky's latest project dominates the view: the first Russian skyscraper outside Moscow. The 54-storey tower, also part of the Antei complex, is still under construction; blue glass has been fitted around two-thirds of its concrete shell. That it exists at all is testament to the phenomenal growth Ekaterinburg has experienced in recent years, but the stationary cranes show that the global financial crisis is hitting here too.
Gavrilovsky's story in many ways mirrors the story of Ekaterinburg. He grew up in poverty and as a teenager sold potatoes in the market to help his mother make ends meet. In the 1990s, the city – which during the Soviet era had been closed to outsiders – began to open up and Gavrilovsky started a furniture import business. After losing everything during Russia's 1998 financial crisis, he moved into construction, and went on to become one of Ekaterinburg's most successful businessmen.
With a population of around 1.4 million, Ekaterinburg – named after Catherine I of Russia – is Russia's fifth-largest city. Capital of the vast Urals region and strategically located on the Trans-Siberian railway, it has pulled in the money made in the surrounding industrial towns as well as the oil fields further north. All the major Russian companies, such as Lukoil, Alfa Bank and Gazprom have a presence here, as well as international firms including Ernst & Young, KPMG, and Citigroup and ubiquitous brands Ikea, McDonald's and Coca-Cola.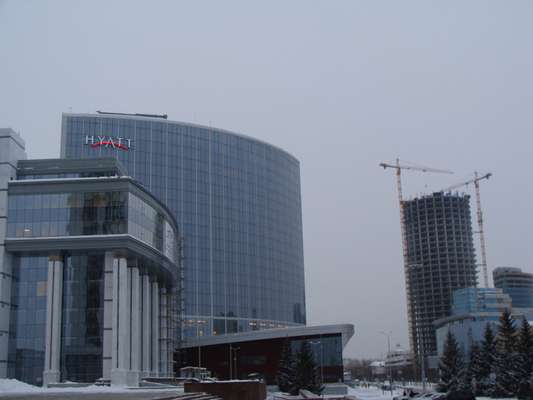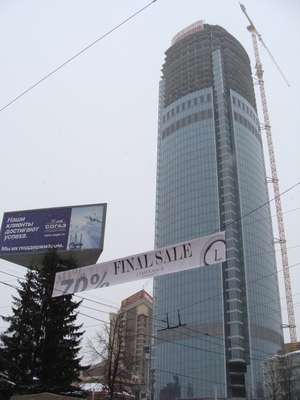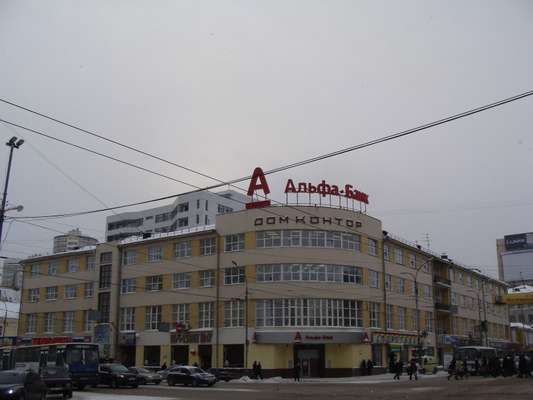 Now, as the credit streams run dry and the price of oil falls, the time has come for introspection. As everywhere in Russia, rents and demand for office and residential properties are down and many large-scale construction projects have been put on ice. Recently opened luxury goods stores have "Sale" posters or more telling "Opening soon" signs; regional banks such as Severnaya Kazna have gone bankrupt and production in many of the factories in the industrial belt around Ekaterinburg has ground to a halt.
The highest-profile casualty is Ekaterinburg-City, a business development of skyscrapers just outside the old centre that has been put on hold indefinitely. "Perhaps some of the plans were a bit too ambitious," says Dmitry Reoutt, a local developer who is seeking investors to build a multi-purpose tower designed for the city by British architectural firm RMJM. "This is a regional city, after all. We should be realistic."
Ekaterinburg, however, has long punched above its weight and has been the backdrop to some of the crucial events in Russian history. It was here that the last Tsar, Nicholas II, and his family were murdered in 1918, and it was in a village near here that late president Boris Yeltsin was born. Yeltsin returned to the city frequently in his last years and was amazed at its progress, says Ekaterinburg's mayor Arkady Chernetsky.
"In the 1990s, local business trusted us, and invested here instead of taking their money abroad," says Chernetsky, who has headed local government in various roles since 1992. "The economic success is based on the close interaction of businesses and the authorities." Critics suggest that this may equate to corruption, but there is a sense among many of the local elite that they would rather invest in Ekaterinburg than in Moscow or abroad. "People come from Moscow and they expect you to get down on your knees and thank them just for gracing you with their presence," says Gavrilovsky.
Additionally, a growing number of countries have opened trade delegations or consulates in the city, signalling "an increasing international recognition of the region's importance", says British consul general Jenny Lock from the small ­consulate housed in a pre-revolution ­red-brick building. Most of the diplomats are from European countries, but there is also a US consulate and, somewhat mysteriously, a Congolese Honorary Consul.
In June, the city will host the presidents of the Shanghai Cooperation ­Organisation, a loose security alliance of Russia, China and the Central Asian states. City officials expect 2,000 delegates to attend. In the same month it will also host a summit of the four BRIC presidents. A much-delayed Hyatt hotel is scheduled to open before then, a welcome change for business travellers who currently stay at the mediocre Park Inn.
Chernetsky insists that after a "period of realignment" everything that was planned for the city will come back onto the agenda. But he also points out the progress that has been made already. "Recently we showed a photograph to Yeltsin's widow Naina and she had no idea where it had been taken," says the mayor. "It was the view from the window of the house in which they used to live."
"Friends of mine will perhaps go to Moscow or abroad if they're offered a good job," says Maria Vinenkova, a glamorous TV presenter who also has the lead role in a musical about Catherine the Great, which opened last year. "But most people who were born here are happy to stay. As long as you have the money, you can buy and do everything here."
Five things that would improve Ekaterinburg
Get on the cultural map
Ekaterinburg is still off the radar when it comes to international cultural events.
Build indoor public spaces
All major new buildings should have innovative public spaces where people can gather in the cold months.
Hire traffic consultants
The economic boom has left the streets clogged with cars. Public transport and traffic planning need improving.
Service culture at the airport
The city's new airport is one of the most pleasant in Russia but all the bad service habits are still there.
Embark on an international PR campaign
Awareness of Ekaterinburg and other provincial Russian towns is growing but is still minimal internationally.