Media / Global
Media
Briefing
Monocle talks to the head of the French edition of the most established internet journalism brands - the political and cultural website Slate. Plus, Saudi Arabian satellite channel for poor people and a Belgian film museum.
Chic flicks
Belgium [CINEMA]
A nation with such a distinct cinematic past as Belgium needed a fittingly modern venue to celebrate its love affair with the screen, and the reopening of its film museum – also now home to the Royal Film Archive's collections – as Cinematek manages just that.
Renovated with an astute sense of the institution's cultural importance and architectural heritage (Cinematek is housed in Belgian architect Victor Horta's Centre for Fine Arts), architects Robbrecht&Daem have cleverly updated the old structure. There is now light wood and polished concrete flooring in the previously sombre entrance hall, moonlight-effect lighting in screening areas, and seating designed by Finnish manufacturer Korhonen.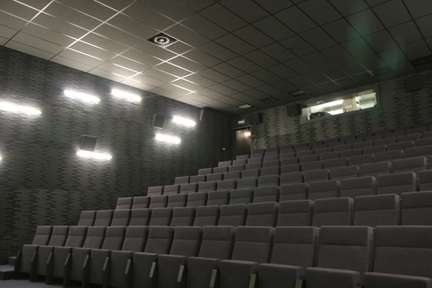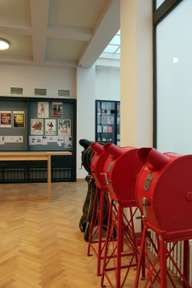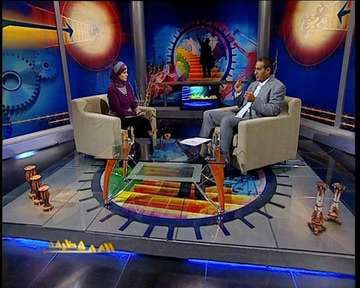 Having only reopened to the public at the end of January, the premises are still incomplete, although its eclectic screening programme is already underway. Movie-goers are as likely to walk into a late-night screening of Scorsese's Raging Bull as they are to see a night of Belgian feature films. Parents and children are catered to with Sunday matinees of family-friendly films.
"We've tried to create a mix that caters to all tastes, bringing the love back to old films as well as focusing on short films, documentaries and animation," says Gabrielle Claes, Cinematek's conservator. But Cinematek's best-kept secret is that, complete with accompanying pianist, it is the only cinema in Europe that screens more than seven silent films every week.
News twenty-poor
Saudi Arabia [NEW TV CHANNEL]
While rolling news and sports channels exist the world over, Saudi Arabia claims to have set up the first satellite station dedicated to poor people. With studios in Riyadh, Jeddah and Cairo, "Al Insaniya" – "the humanitarian" – appeals to the underprivileged masses in the Middle East, highlighting their daily problems. Entertainment mixes with worthiness, too: sport and cooking will rub shoulders with news across the channel's 18-hour schedule. Programmes in English are also under way in the next year. Launched two months ago, Al Insaniya is backed by a prominent member of the ruling royal family.
For Saudi Arabia, which, despite beheadings and hand choppings, also refers to itself as "the kingdom of humanity", the channel soothes its self-image as the "benevolent caring country – a good fit with Islamic principles", says Naila Hamdy, assistant professor and chair of the Journalism and Mass Communication Department at the American University in Cairo. Hamdy also suggests that Al Insaniya has been launched to counter what she calls "broadcasts aiming to target the underdogs in Saudi Arabia or neighbouring countries and keep their hearts focused away from Shia'a satellite competitors or Saudi dissident radio or television programming". The channel, targeted at the "Arabian, Sunni, family", is beamed from Nile Sat which reaches beyond the kingdom to Egypt, Syria, Iraq and the Palestinian territories.
Show-time on Al Insaniya
(Tagline: "Promote humanity through shows that interest the Arab family.")
Al Insaniya Al Youm – "Al Insaniya Today"
Live programme that tries to solve people's social, religious or parenting problems, with guest appearances.
Anamel – "With your hands" (literally, the work of your fingers)
Sign language tutorial for deaf people.
Asrar Manal – "Manal's Secrets"
Cook Manal Al Aalam shares the culinary tricks
up her (long) sleeve.
Shahbna bil Khair – "Our Good Youth"
Features youthful role models for youth audience.
Ana bee Khair – "I'm Doing Well"
Pairs up viewers in need with the right charities.
Q&A: Jean-Marie Colombani
President of political and cultural website Slate.fr, France
Slate, the online magazine created in 1996 by Microsoft, may be the most durable journalistic brand on the internet: it has survived webs 1.0 and 2.0 while keeping its distinct voice – cheeky and swaggeringly contrarian – intact. Now owned by The Washington Post Company, the New York-based Slate is on an expansion spree. It recently launched The Big Money (business website), franchised its first foreign edition, and is soon to launch the online magazine Double X (women's issues).
The Paris-based Slate.fr is an independent operation, backed by a group of individuals including former Mitterand adviser Jacques Attali and ex-editor of Le Monde Jean-Marie Colombani, producing much of its own content with French journalists and swapping choice bits with the original site. Colombani will be president and a regular contributor, although he seems to be still struggling to get the Slate sensibility (typical US headline: "In Defense of Armchair Generals") into his prose (first essay: "One Must Really Believe in Obama's America").
Why launch a new website?
The age of the internet allows us to be more subjective in our approach and more profound with news analysis for an audience that is already well informed. On the internet in France, you have sites linked to newspapers or TV or radio and a few pure players – mainly journalists making a maximum of noise with what they call their revelations or scoops. Our job is to bring the biggest added-value possible with professional journalists: this didn't exist at all on the internet in France.
Is there an advantage to independence?
When you are linked up with a newspaper or another group, you are dependent on them, and it doesn't always allow you to develop an internet strategy. The internet is becoming more a media by itself. We have to understand the logic of this new media: we are more able to do this if we are by ourselves than if we are a dependency of the paper. I believe strongly in the autonomy of a team dedicated to the net.
The US Slate has no partisan or ideological attachments. How does that go down in France?
This is difficult, because France is still an ideological country. When you look at our press, you'll see it rests on reflexes rather than reflection. We would like to bring back a way of argumentation and discussion rather than slogans and a kind of Pavlovian way of thinking.
What do you think of Sarkozy's offer of government support for newspapers?
It's a good initiative because without this help a lot of newspapers would collapse, although of course the best outcome would be to avoid any sort of state help.