Porntip Rojanasunan / Bangkok
No. 1 lady detective
Forensic scientist Porntip Rojanasunan is loved by the Thai public for her fearless exposing of corruption in high places – and also for her unconventional dress sense.
Few people in Thailand dare to cross the all-powerful police. But Porntip Rojanasunan has become a national icon because of her ability to run rings around corrupt officers with her forensic pathology skills. She is now Thailand's most famous civil servant, an acclaimed writer, media darling and fashion icon.
Porntip's work as the director-general of the Central Institute of Forensic Science reveals flaws in accusations made by the police and she draws the media to her like moths to a flame. Not surprisingly, many in the police force, which has more skeletons in its cupboard than Davy Jones has in his locker, take a dim view of Porntip and the institute.
"They don't want to have this institute in this country. They don't want to lose power, they don't want to be checked by other agencies. More than that, some of the politicians are under the police because to get elected often needs help from public officials," says Porntip.
A devout Buddhist, Porntip is often on television or in the newspapers speaking frankly about police corruption, injustice and the poor state of human rights in the country. Recognition of her work has come from the pinnacle of society: in 2003 the King honoured her with the title Khunying, or Lady, awarded to women for outstanding public service.
Her 30 pocket books on crime, thought and Buddhism are in bookshops and 7-Elevens across the kingdom. And she is instantly recognisable because of her spiky hair that's dyed orange or yellow or streaked with highlights. She describes her style as "punk and rock".
"Fashion only helps my work, it's a simple way to power. Every day I feel happy with my dress and hairstyle I can work harder," she says, sitting in a black lounge chair wearing a Cop Copine skinny black skirt and a figure-hugging 2026 black top, with chains hanging from her wrists and neck. The French label Cop Copine was unknown in Thailand until women's magazines began following Porntip's dress as closely as the newspapers follow her crime-fighting.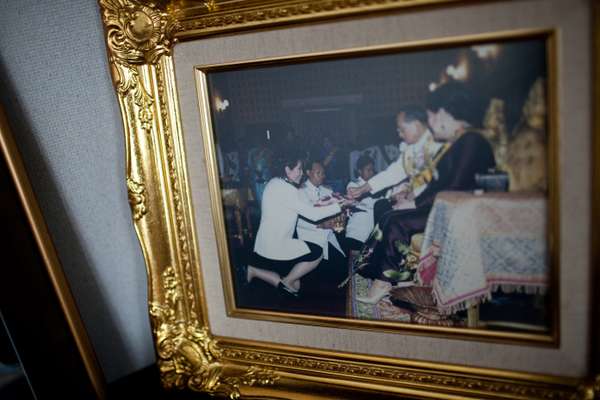 She might have become a crime ­statistic herself had a close brush with the police in 1976 turned out as badly for her as it did for many others who disappeared during that tumultuous decade. "Police accused me of dealing with the Communist party," she says. Porntip insists she was not politically active and had nothing to do with any rebel group.
After finishing medical school Porntip chose to specialise because she didn't want to be a general doctor assigned for years to remote rural areas. And Hollywood had given her ideas.
"My favourite show was Colombo, the detective, which sparked my interest in forensic pathology." During the 1980s she was a forensic pathologist in rural northern Thailand. Her first big case came in 1998. She was teaching forensic pathology in Bangkok, where she now lives with her banker husband and daughter, when one of her students, Jenjira Ployangunsri, disappeared.
"Only I thought she might have been killed; she had good grades, no problems with family or money. After two weeks the police tried to get information from her boyfriend. He confessed he killed her in a hotel room, cutting the body into small pieces and disposing of them in the toilet," says Porntip as we sit in her cramped office at the Institute's headquarters in Greater Bangkok.
That settled the case for the police. Porntip had doubts. She did not find traces of what must have been a very bloody murder. Bones later turned up. "The police forensic doctor diagnosed the skull as being of a male. I thought it was a woman. It was my medical student. Finally, because of me, he confessed to killing her in his apartment. This began my conflict with police."
Solving a gruesome murder and proving the police wrong by using forensic techniques was unheard of then in Thailand. The following year her stature grew when Hangthong Thammawattana, a rich politician, was found dead. For the police it was suicide. "I disagreed. The position of the body and the pattern of the blood from the gunshot was incompatible with suicide. This was confirmed by pathologists from the UK and Denmark." Ten years later the unresolved case, which involves a large inheritance, drags on, with Hangthong's brother fighting a murder charge.
Her public stand for justice and human rights has drawn many cases to her, often presented by people with nowhere else to turn. After reading one of Porntip's books, the family of a man shot dead by police for allegedly trying to run them down contacted her seven years after the case was closed.
"The autopsy report said that the gunshot wound was right to left, not front to back. What the police said about the ­direction of the truck was not compatible with the gunshot. Gunshot residue was found around the wound, which happens with gunshots of less than 18 inches," recalls Porntip.
Not only was police dishonesty hung out in public but officers were put in the dock. Many cases do not get that far because the bureaucracy rarely gives up its black sheep without a bitter fight – and occasionally a dead body. She wasn't making friends in the bureaucracy, but she was gaining fans among the public.
The Central Institute of Forensic Science began work in 2002 in the wake of a new constitution that required more checks and balances on the bureaucracy. "At that time the permanent secretary of the ­Ministry of Justice was the brother-in-law of [prime minister] Thaksin Shinawatra. There were obstacles everywhere," she says. Porntip was appointed acting deputy director, finally becoming director general of the institute in 2008.
Money was another problem. Many Thai government agencies, especially the police, make ends meet, often with plenty left over to line pockets, by soliciting bribes. "Every year we have budget problems. Politicians say the money isn't there, but there is still enough for a lot of corruption," says Porntip.
The Institute has five forensic pathologists. Five more should be trained within five years, and there are a handful serving with the police force. But Porntip believes Thailand probably needs another 140 forensic pathologists.
She now spends much of her time working on cases in the troubled far south where ethnic Malays are in revolt, partly because of years of abuse by police and troops. "My last project will be to establish an institute of missing people. I don't want remains to be left unidentified. For me I never give up because of the strength Buddhism gives me and my duty to the spirits of the dead."
Super sleuth
Porntip Rojanasunan CV
1954: Born in Bangkok 1973: Mahidol University medical school 1979: Internship in Phitsanulok 1980: Residency in pathology at Ramathibodi Hospital, Bangkok 1983: Forensic pathologist in Phitsanulok 1990: Lecturer in forensic pathology at Ramathibodi 1998: Solves her student's murder 2002: Central Institute of Forensic Science established, appointed acting deputy director 2003: Receives the 'Lady' award 2005: Acting director-general of the institute 2008: Director-general of the institute