Yomiuri Shimbun / Tokyo
Paper weight
For our series that decodes the DNA of success, we peruse the Japanese daily paper "Yomiuri Shimbun", which has the biggest circulation in the world and is part of a group that owns a baseball team and department stores.
The Yomiuri Shimbun is one of Japan's oldest national dailies and the bestselling paper in the world, with a daily morning circulation of just over 10 million copies.
The Yomiuri (shimbun means newspaper, and yomiuri means read-sell) prints two editions every day with regional pages covering each of Japan's 47 prefectures. It also has a small English-language edition, the Daily Yomiuri. The Yomiuri is regarded as right of centre, and takes a conservative position compared to its biggest rival, the more liberal Asahi. But it surprises its readers from time to time, too – for example, with its intensely researched investigation into those responsible for Japan's role in the Second World War, on the 60th anniversary of the surrender in 2005.
The newspaper is headquartered in the Otemachi business district of central Tokyo. At the morning conference, held every day at 9.30am, the editors gather and the branch offices in Osaka and Seibu in Kyushu join by video link. Like any big Japanese company, the Yomiuri Shimbun has a sense of corporate unity. Its reporters (who, like most Japanese newspaper journalists, rarely see their bylines in the paper) have little say in choosing their assignments: a crime reporter might be transferred into public relations, and a foreign correspondent can be moved to the lifestyle desk. Most foreign newspapers would envy the number of journalists working for the Yomiuri: 2,400 in Japan, as well as 60 foreign correspondents.
Like the rest of the world's media, the Yomiuri is feeling the affects of the economic downturn, but the massive circulation of Japanese newspapers (even the Asahi, at number two, sells eight million a day) is kept stable by Japan's unique system of subscription and home delivery. Advertising accounts for 30 per cent of the newspaper's revenues, sales of the paper for 70 per cent.
Yomiuri Shimbun Holdings, the newspaper's parent company, has numerous media interests beyond the paper, including ownership of Japan's oldest professional baseball team, the Yomiuri Giants.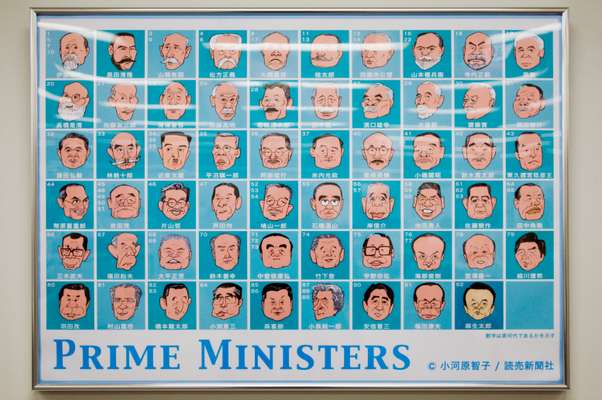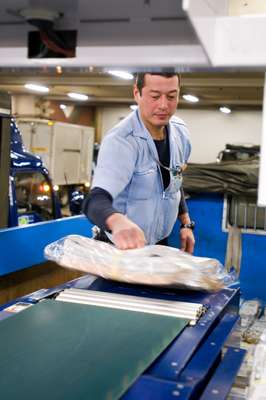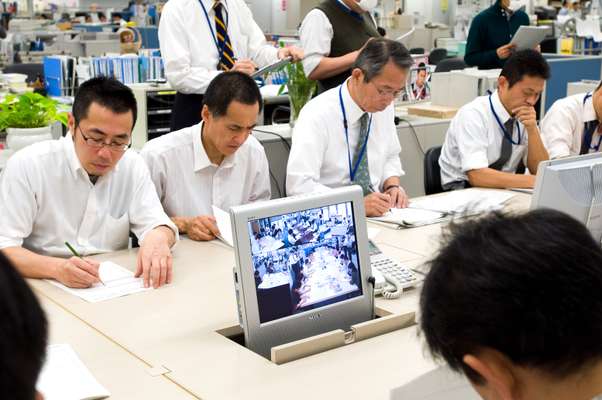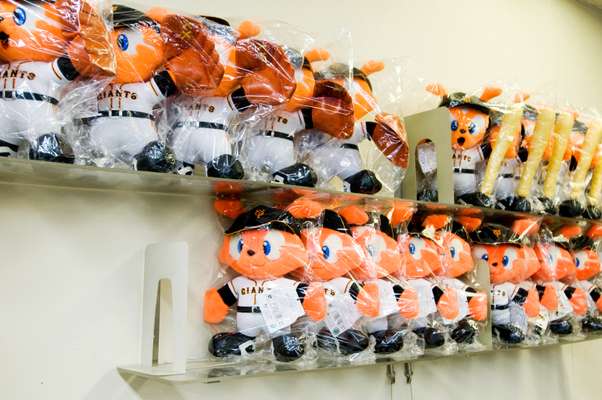 Domestic news
Team Tokyo
The Yomiuri has nearly 350 news offices in Japan with 5,000 staff, including 2,400 reporters. Each region has its own edition of the paper featuring relevant local news. The Tokyo city news desk views itself as the heart of the paper; its 100 reporters cover everything from crime to politics.

Lifestyle & culture
Women's issue
Once known as "Women's Pages", this section can cover anything from advice columns and cooking to education and issues affecting women's rights. Yukiko Furusawa (left) is one of the section's staff writers. "When I first joined the paper in 1987, maybe 10 per cent of the reporters were women – it was even worse before the Equal Employment Opportunity Law in 1985. It's better now." Women make up nearly 25 per cent of this year's graduate intake.

Efficient printing
Quick time
There are 29 printing locations for the newspaper around Japan, including the basement of the Otemachi head office. The Yomiuri has won numerous awards for the quality and speed of its printing. The machines are fast and accurate, printing 1,200 copies a minute. Print workers stand by machines checking for any faults. A paper can go from screen to truck in five minutes.

Distribution
Express delivery
Some 99 per cent of the Yomiuri's circulation comes through subscription and home delivery. There are 7,000 agents and an army of 100,000 delivery workers. Apart from holidays, papers are delivered every day, morning and evening, rain or shine. Papers are exempt from Japan's anti-monopoly laws, which means they are delivered at a flat rate to anywhere in Japan. An attempt to revise the law in 2005 caused a storm of protest from political parties, the Japan Newspaper Association and the public and the home delivery system was protected.

News conference
Hot desk
The desk editors gather in the Tokyo newsroom every day at 9.30 and 17.30 to discuss stories for the paper's two daily editions. (Combined, the circulation of the morning and evening editions is nearly 13.8 million copies a day). Editors from the newspaper's regional offices are also present at the conference, appearing on television screens.

Cultural sponsorship
Art to baseball
The Yomiuri supports 300 cultural events and art exhibitions a year and also sponsors the Yomiuri Nippon Symphony Orchestra. Perhaps the Yomiuri's best-known connection is with Japan's biggest (and oldest) professional baseball team, the Yomiuri Giants, whose home is at Tokyo Dome. At the newspaper's Otemachi HQ, there's a gift shop selling Giants goods, ranging from hand towels to furry mascots.

Cub reporters Next generation
Graduates vie for places on the Yomiuri's graduate scheme. This year they will be taking 72 newcomers who will have had to pass a stiff set of exams. After an orientation period at one of the three main offices, the new recruits are sent to the provinces, where they usually work for several years.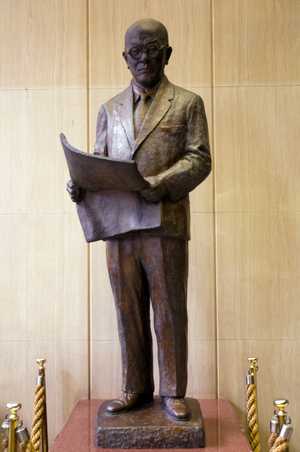 1874: Yomiuri Shimbun launches 1931: First issue of evening edition 1950: The company name becomes Yomiuri Shimbun Co Ltd 1955: Issues English-language paper, which later becomes the Daily Yomiuri 1971: Builds Tokyo head office in Otemachi 1977: Becomes Japan's biggest circulation paper with morning sales of 7.2 million 1995: Launches news website 2002: Yomiuri Group is reorganised into five companies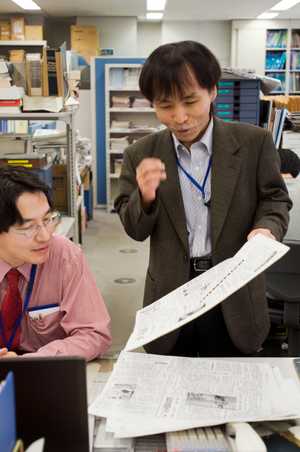 Q&A: *Ryuichi Otsuka, international editor*
How many staff do you have overseas?
Sixty reporters in 35 bureaux. Our emphasis is on the countries that most affect Japan: the US and China. We have seven reporters in New York, seven in Washington, two in LA and six in Beijing. We also have 12 in Europe, including five in London. We only have one reporter covering central and southern Africa – the same goes for South America. But we have stringers all over the world.
How do you cover dangerous stories such as Iraq?
We don't have a bureau in Iraq but when there is a big event, like the elections, we send in two correspondents from our bureau in Cairo. Gaza was covered by correspondents in Israel and Egypt. We also have a correspondent in Tehran.
Any star correspondents?
Of course, some reporters are better than others but Japanese papers don't like to cultivate personality journalists. Names can be good for a brand though, so maybe that will change.
Do your correspondents contribute to the website?
At the moment, only 20 to 30 per cent of articles go on the website. I would like to see all the international content on the web – we have to attract young readers who aren't reading newspapers. It's something we're looking at.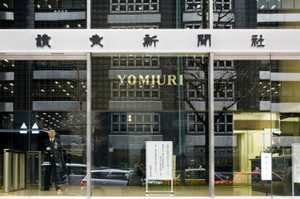 Yomiuri Shimbun Holdings is the paper's parent company. Chairman and editor-in-chief – an honorary title – is Tsuneo Watanabe. The firm's interests include:
Yomiuri Land, an amusement park near Tokyo built in 1964.
Chuokoron-Shinsha, a 120-year-old book and magazine publisher.
Nippon TV (NTV), a major network based in Shiodome in Tokyo.
Department stores Printemps Ginza and Ginza Marronnier Gate.
Yomiuri Giants baseball team, based in Tokyo.