ISH bathroom fair / Frankfurt
Bath time
The most anticipated date on the bathroom industry calendar is the ISH (International Sanitation Heating) fair in Frankfurt. Monocle was there to seek out the latest and the best in taps, sinks, baths and toilets.
There are a lot of knowing looks at ISH, the world's biggest and most important bathroom trade fair that takes place in Frankfurt every two years. When you're talking toilets and taps, there are plenty of unmentionables but staff in crisp suits and sporting neat name badges do their best to gloss over the basics with a practised flush and a smile. Others take a more direct approach: "This shoots water up your butt," says one impeccably dressed sales rep during a matter-of-fact demonstration.
Manufacturers from around the world come to ISH to show off their latest innovations, in everything from sinks to saunas, baths to radiators and, of course, toilets. Security guards are on hand to swat away photographers (like any fair, there are the prowling spies from copy-cat manufacturers) and weaving their way around the maze of aisles, you'll find architects, journalists, retailers and distributors, here to swap business cards, be inspired and get a glimpse of new trends.
Making its European debut was Toto, the Japanese bathroom brand founded in 1917. Toto made the Washlet a household product in Japan and is hoping to do the same in Europe with the launch of three collections specifically designed for this market. "Why do Japanese people use the Washlet? It makes you feel better, it makes your day definitely happier," says Hiroshi Tanie, executive vice president at Toto. The impressive 800 sq m pavilion was designed by Swiss firm Mach Architektur (with interior spaces by Guise, e15 and Intentionallies). "We wanted to make a big entrance," says Tanie.
German manufacturer Duravit also hoped to make a big splash with the launch of its 10 new collections. "Business in total is of course a bit affected by the economic environment but it is worthwhile to invest in new products," says Franz Kook, CEO at Duravit. Debuts included Philippe Starck's first kitchen sink and a slimline bathroom collection by German firm Phoenix Design. "It's important to have a more feminine approach. Women are the decision makers, especially in the bathroom," adds Kook.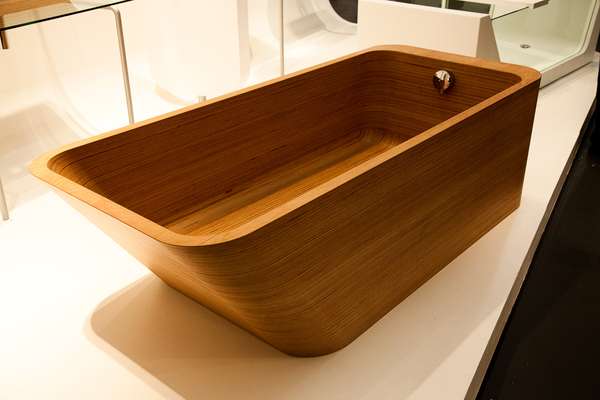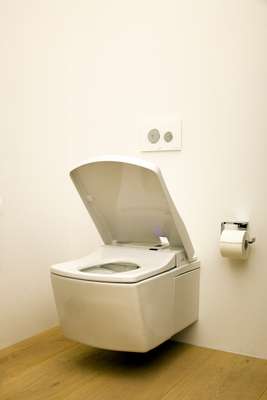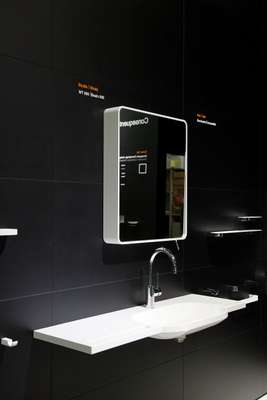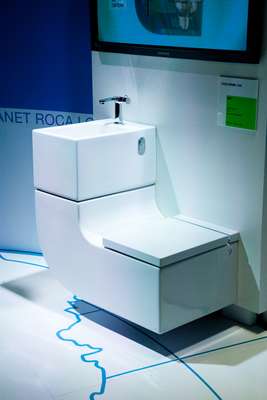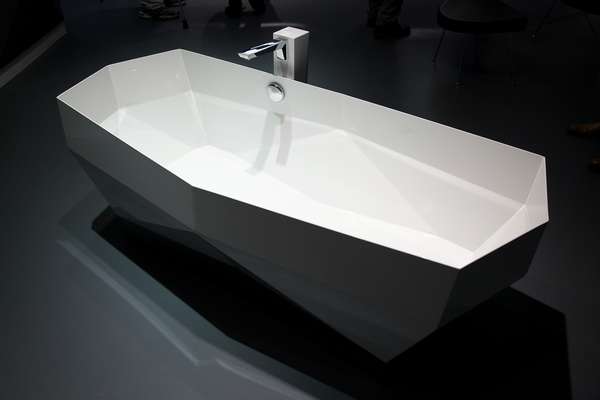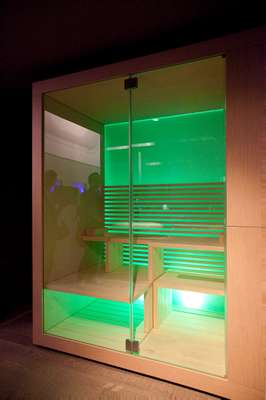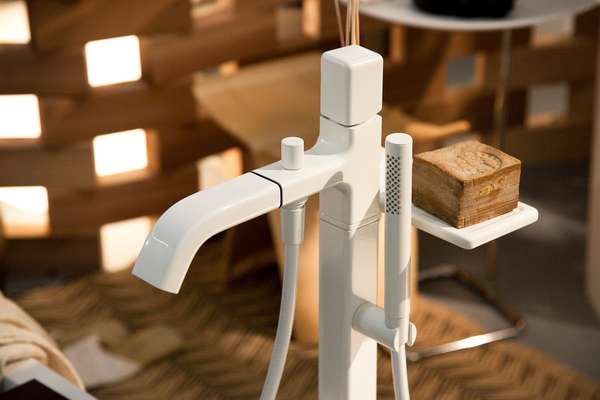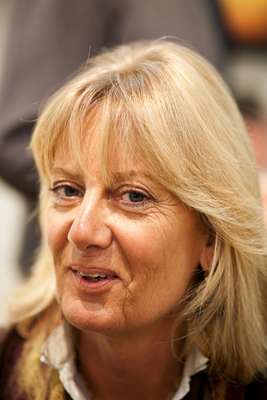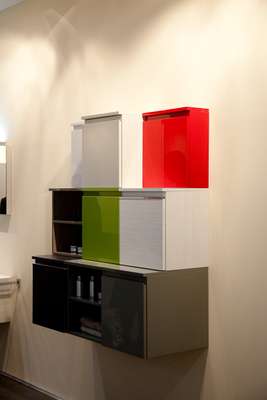 This softer, subtle design current was evident in other collections. Grohe showed off 300 products created by its in-house team under the direction of senior vice president of design, Paul Flowers. "We're pushing this trend of sensual minimalism, trying to have things iconic and geometrically simple," explained Flowers.
Dornbracht pushed a more glamorous side with Supernova, a collection of fittings featuring crystal-inspired shapes designed by German group Sieger Design, crafted in chrome and platinum. The Champagne version in 22 carat gold was a little too ostentatious.
The playful mood continued at Hansgrohe, where Spanish designer Patricia Urquiola showed off her concept for its luxury brand Axor, incorporating potted plants, vintage-style accessories and his 'n' hers stand-alone bathtubs. Zucchetti.Kos had fun with its Faraway collection, a portfolio of over 80 products designed by Roberto and Ludovica Palomba, which mixed up materials such as metal, wood and cristaeplant.
"I wanted to create a hybrid landscape where time and inspiration live together," says Roberto Palomba, strolling around, touching taps and stroking surfaces. "People want something beautiful and simple. This is contemporary, sensusal, tactile." And perhaps a soothing bath is what we all need right now.
Hear more from ISH on edition 12 of The Monocle Weekly. You can find the full archive of our audio bulletins at monocle.com. You can also download the show from iTunes.
Fair folk (left to right)
01 Italian designer: good looks from a low-pressure nation.
02 Japanese technician is horrified by Europe's top offers.
03 Shower models pretend being naked in the Messe is fun.
04 German industrialist selling Baden culture to the globe.
05 Chinese spy looking for ideas for his Guangzhou boss.
01 Mechanisms and plumbing are being hidden away. The result is super-sleek silhouettes.
02 A softer, more feminine approach means fewer boxes and more gentle lines and curves.
03 Wood is making a comeback – it features in everything from baths to trimmings.
01 Toto Neorest Series/LE: Award-wining Washlet.
02 Roca's W+W toilet and washbasin system: by Gabriele and Oscar Buratti.
03 Mirovia: Glass sink by Kohler.
04 Free-standing basin by Roberto and Ludovica Palomba for Zucchetti.Kos: Part of the Faraway collection.
05 Hewi's S01: Toilet and wash unit with fold down functions, designed by NOA.
06 A radiator that doubles up as a room divider by Patricia Urquiola for Hansgrohe's Axor range.
07 Lb3: wood veneer tub from Laufen, by Ludovica & Roberto Palomba.
08 Senza: a free-standing bathtub for Burgbad, by Nexus Product design.
09 Inipi: Duravit's first sauna designed by EOOS.
10 Ondus Digitecture: Ultra-thin bathroom collection with digital capabilities, by Grohe.