Oceania / Global
Oceania
Briefing
Samoa mounts operation healthcare and the truth about those fit Aussies - they are actually too busy on twitter to play sport.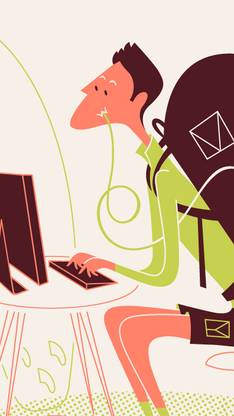 Wired up -Australia [media]
Australians are traditionally believed, not least by themselves, to be outdoorsy, sporting types, more comfortable wrestling crocodiles than spreadsheets. It's an image due for a rethink, according to the latest Nielsen Online Internet & Technology report. The survey of more than 2,000 Australians reveals their dependence on technology to verge on android-like, spending almost 80 per cent of their waking hours consuming some variety of media.
Tony Marlow, Nielsen's Asia-Pacific ­research director, explains that Nielsen ­assumed a daily average of eight hours sleep, and discovered that of the remaining 112 hours a week, Australians spent 89.2 of them interacting with media. "It may be more than that," Marlow notes. "A lot of multi-tasking goes on – 61 per cent reported watching television while they were online."
Media consumption among Australians has leapt in recent years. The 2008 figure is up five hours a week on 2007, and nearly 18 hours on 2006. There are, however, only so many hours in the day. "We are approaching a media saturation point," says Marlow. "There are a finite number of waking hours, and it does become increasingly difficult to take on new activities." Which may be excellent news for a world long weary of being thrashed at every known sport by smug Antipodeans.
Ten nations glued to their computer screens
France: 95hrs 19mins
US: 76hrs 30mins
UK : 56hrs
Spain: 50hrs 37mins
Italy: 46hrs 14mins
Australia: 41hrs 20mins
Japan : 38hrs 21mins
Germany : 37hrs 48mins
Switzerland : 37hrs 11mins
Brazil : 37hrs
Nielsen surveyed these countries for the average time spent per person on a PC in February 2009
Dr Yes - Australia [immigration]
It seems counter-intuitive that Australia should worry about immigration at all – it is occupied by just 21.4 million people, and more than half of those huddle in five coastal cities. There's plenty of space. But immigration has been a dominant issue throughout Australia's history – rarely more so than under Australia's previous prime minister, John Howard.
However, it is Howard's successor, Kevin Rudd, whose government has announced the first lowering of immigration numbers in more than a decade, reducing them by 14 per cent – to around 115,000 in the next year. The Critical Skills List, with which Australia prioritises applications, has been pruned – Australia, it seems, has all the bricklayers, welders, plumbers and carpenters it needs. IT, healthcare and engineering expertise is still required, and the news for tradespeople is not all bad – gas fitters and aircraft engineers remain sought-after.
Life saver - Samoa [health]
Samoa is to splash out on its first modern hospital – and save 8m tala (about €2m) it currently spends each year flying people to Australia or New Zealand for complex operations including open heart surgery. Building of the state-of-the-art health facility is due to start in 2010, part funded by the government and part financed by …guess who? The Chinese.
On auto pilot - New Zealand [education]
Not enough New Zealand kids dream of becoming pilots when they grow up, apparently. The country has a shortage of new blood in the aviation industry – most of its engineers are over 50.
A tiny secondary school at the bottom of South Island has come up with a solution. It has put aviation on its syllabus with a course that uses a 3D software system until now only used by the likes of Boeing and Lockheed. Some 60 teenagers at the school and in bedrooms around the country can take classes with their teachers electronically, opening and sharing books and dismantling and reassembling model planes.
"The students love the course," says Allan Jon, deputy principal at the school. And in a sparsely populated country like ours "electronic learning allows us to really break down the distance and isolation barriers that some students face". The course has the backing of New Zealand's Aviation, Tourism & Travel Training Organisation.
With the aviation industry expected to grow in the long term, despite current troubles, Air New Zealand is also keen to find new talent. It plans to open an academy to train up to 300 new pilots and engineers each year.
CEOs in Australia's 15 biggest firms earn around €4m a year, 135 times as much as the average employee in those companies.