Art market / Global
Art market
Briefing
The Russians are coming - well that's what London hopes. Plus, Swiss design under the hammer in Paris and plot the market's progress with the Fine Art Index.
Modern and contemporary design "Swiss Made" Artcurial, Paris 16 June 2009
Leading Parisian auction house Artcurial didn't have a design department until 2002, when the inspirational Fabien Naudan – formerly at Paul Smith and APC – came aboard. "The idea was not to compete with other auction houses but do things a bit differently," he says, "which is why we're organised into three categories: 20th-century interiors, major design auctions and thematic sales."
This last category of long-term collaborative and curated sales, which includes the forthcoming Swiss sale, has in the past included "Noir", focusing on the colour black in design, art and photography, as well as American, Italian and Indian-themed design sales.
The Swiss sale features pieces by Wohnbedarf Corbusier, Willy Guhl and Big-Game as well as the first Swatch, dating from 1983, set against an almost identical one by Patek Philippe that costs many times more. "Swiss design is about trying to get to the essence of the object, rather than creating a whole new school. In that way it is truly radical," says Naudan.
Various
London's Russian Art Week June 2009
The bubble may have shown signs of bursting in the Russian art market in the past six months, but with Roman Abramovich on side, a little recession shouldn't worry dealers. This month sees the arrival of Russian Art Week in London. Christie's South Kensington will host its "treasures" sales on 11 June. At its King Street sale on 9 June, our favourite is an oil from Vasilii Shukhaev. Sotheby's will hold four sales, the contemporary sale on 9 June being the highlight of the week.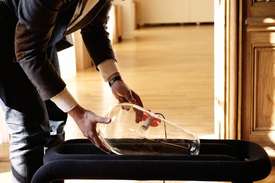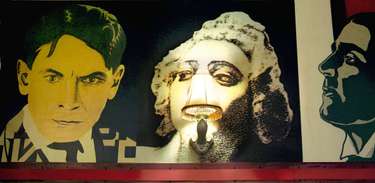 Highlights 1. Christie's Russian Art sale, 9 June 2009 Vasilii Shukhaev (1887-1973) A Finnish Village, Painted circa 1920 (estimate: £300,000-£500,000)
Sotheby's Contemporary Russian and Ukrainian sale, 9 June 2009 Arsen Savadov (1962-) Parliament Lights (estimate:£8,000-£10,000)
Q&A: Michael Moses — Co-founder, Mei Moses Fine Art Index
Contemporary art prices
If you believe art critics, for the past decade the contemporary art market has been a victim of irrational exuberance, and like proper bankers and tax collectors, it's time for a reappraisal of values. About 10 years ago, retired New York University economics professor Michael Moses and his colleague Jianping Mei set up a database to chart the value of art works over time compared to other financial assets.
How does the index work?
Art is like real estate in that every object is unique, so to track financial results you have to compare apples to apples. We developed a database based on auction sales. If an object appears more than once at auction we can find a purchase price and a sale price and add it to our database.
What is the current state of the art market?
If we don't get a dramatic improvement over the next quarters this will be a hard year for art. Everything has gone down, but impressionist and modern paintings have gone down the least. Postwar and contemporary has gone down the most, but even with its current decline it is the strongest performing category over the last 25 years.
Are any types of works doing better than others?
In general, we have found that high-priced paintings [more than $1m] tend to underperform. Lower-priced paintings [under $50,000] tend to appreciate more over time, so the adage that you should always buy masterpieces or buy the best is not borne out by financial returns.
Art is more democratic than that from a financial point of view. You're just as well off being a low-priced collector as a high-priced collector.
The one thing I can say is, art is not for day trading. You have to have some specific information to buy a painting and sell it six months later, like if you think the painting is a Mike Kelley and it's being sold as a Mike Moses. But other than that, short-term trading in art is very difficult, and should be left to the professional.