Milan residence / Milan
Ship shape
Milanese architect Claudio Dini was handed a brief to create a residence with a maritime feel, without going overboard on the nautical theme, so that the occupants could feel all at sea in their city dwelling.
Come summer, many Milanese long for a leisurely sail along the Ligurian coast to escape the city's hot and humid weather. Unfortunately, work often torpedoes such plans, so one seafaring executive decided to call in Milan-based architect Claudio Dini, himself a seasoned yachtsman, to engineer a solution. His brief was to convert the 200 sq m attic of a stately palazzo in via Manzoni into a three-bed flat that evoked life at sea.
Nautical touches are visible but Dini's design steers clear of mariner kitsch. A low-ceilinged corridor between the entertaining area and sleeping quarters subtly recalls a ship's passageway. Bespoke mahogany cabinetry is used throughout and conjures up the classic sailboats of Italian manufacturer Sangermani. "The idea was to recreate the pleasures of boating," says Dini.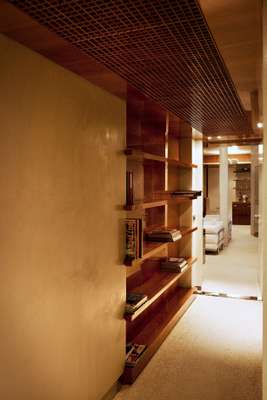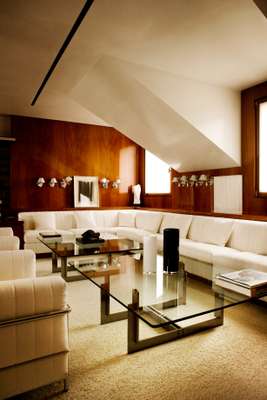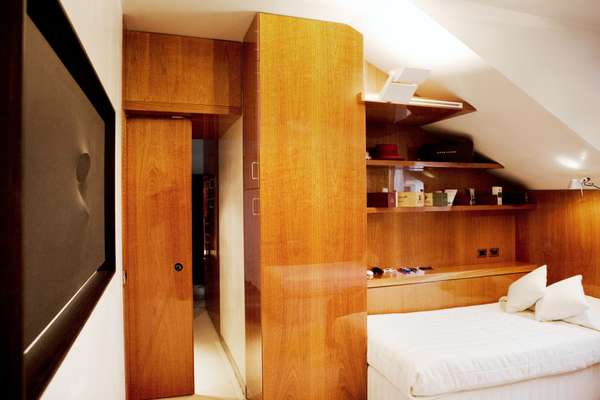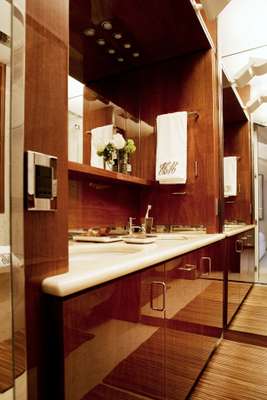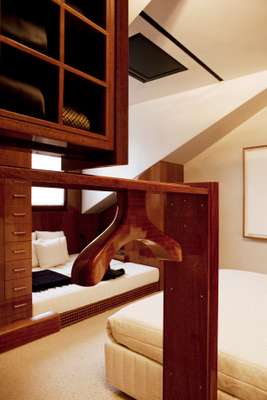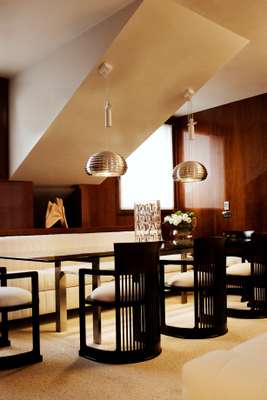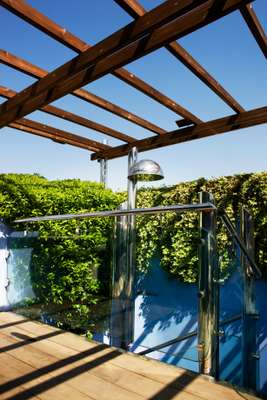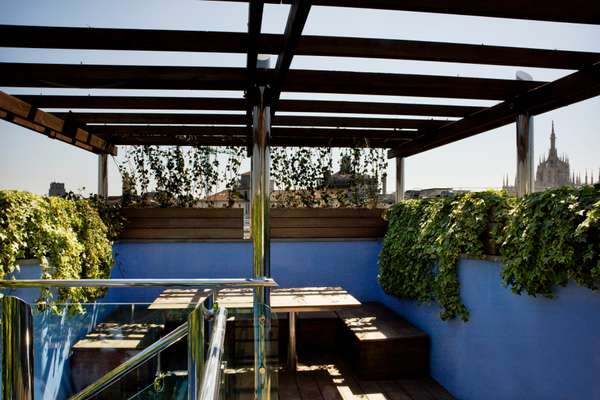 Like the interiors on yachts, there's abundant storage creatively positioned to maximise space. In the master suite, the television recedes into the ceiling and a sliding valet stand disappears into the wall.
Another room features a pair of mattress bases on wheels that can be joined to form a double-bed. "There are lots of tricks to gain space," says Dini, as he opens a bathroom wall panel to reveal a hair dryer. Lattice screens on cabinets conceal home entertainment paraphernalia and the pattern is used to stylish effect on the kitchen doors. Heating and air-conditioning ducts are also hidden away.
To avoid feelings of confinement, rooms receive natural light from square-shaped windows. Bathrooms, too, get lots of light – a few of the five even have boxy portholes. Showers with hi-tech nozzles are decorated in faded pink Portuguese marble. The home's centrepiece, however, is the lounge, divided into eating and living zones. Unusual for Italian homes, there's carpeting – a cotton and wool weave that is also used in the bedrooms. "The owner didn't want the cold spaces of designer homes so we looked to create something with more warmth," says Dini.
Sofas and armchairs, including a pair of LC3 single seaters by Le Corbusier for Cassina are upholstered in a white linen and silk fabric. A set of Frank Lloyd Wright's Barrel chairs, another Cassina classic, surrounds a Carlo Scarpa dining table made from steel and bronze. Lighting includes Italian classics, with Splügen Bräu fixtures, designed by the Castiglioni brothers, suspended from above and Gae Aulenti's Giova lamp-cum-vase brightening up the room on two fronts.
In another nod to the maritime theme, Uruguayan artist Pablo Atchugarry's marble sculptures, which mimic the folds in sailcloth, are positioned in various nooks. And should the house's occupants want to feel the wind at their back, the ­architect allotted space for an observation deck upstairs. Crafted in teak, it offers views of the Alps and the city's principal landmarks.
Since 1961, Claudio Dini has designed offices, hotels and private residences. He currently runs Dini Architettura Associati with partners Attilio Garuti and Tommi Sassi in Milan. Ongoing projects include the conversion of Milan's Garage Traversi into a mixed-use development and a trio of apartment towers in the city's Portello neighbourhood.
diniarchitettura.it