Same Deutz-Fahr tractors / Italy
The X-tractor
In the next in our series decoding the DNA of success – of anything – we visit a 90-year-old tractor firm in northern Italy that through innovation and careful brand acquisition has quietly remained an engineering power house.
Though not a household name, Italian tractor-maker Same Deutz-Fahr is as much of an engineering phenomenon as Ferrari. Founded by two brothers in Treviglio, east of Milan, the firm's vehicles – first sold under the SAME brand – have recorded several milestones.
In 1927, elder brother Francesco Cassani, known for constructing makeshift cars out of used aeroplane parts, introduced the world's first diesel-powered tractor. After watching four-wheel drive US Army Jeeps effortlessly climb hills during the Allies' liberation of Italy, he went back to the drawing board.
In 1951, he unveiled the twin-cylinder DA 25, the first all-wheel drive tractor. The breakthrough raised the firm's profile and it soon took market share from the Fords and Fergusons that Italian landowners had preferred up to then. By the 1970s, the business was in full throttle and cash rich enough to rescue ailing competitors Lamborghini and Hürlimann, a Swiss brand known for handcrafted machines. In the 1990s, the company again went shopping and bought Deutz-Fahr, a German rival that boosted its engineering know-how.
Through its careful acquisition strategy and focus on its core business, the firm, now styled Same Deutz-Fahr, is now a leading player in agricultural machinery. Despite the financial crisis, 2008 sales were up 10 per cent to €1.2bn. More importantly, its legacy as an innovator is intact thanks to its recent work with biofuels, which led to the development of the Agrotron NaturalPower, a tractor than can run on rapeseed oil.
1927 Francesco Cassani invents first diesel-powered tractor
1942 Cassani brothers set up SAME
1951 SAME unveils world's first four-wheel-drive model
1956 Builds 85,000 sq m factory and HQ in Treviglio
1972 Takes over Lamborghini tractors
1978 Purchases Swiss brand Hürlimann, moving its plant to Treviglio
1995 Buys German competitor Deutz-Fahr; becomes Same Deutz-Fahr
2003 Buys 30 per cent stake in Deutz.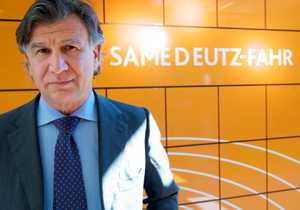 How do you reconcile the different brands?
We view it as a strength because of the mix we offer: German hi-tech [Deutz-Fahr] with lots of horsepower, the sportier Lamborghini, which sells well in Mediterranean countries and which we market to younger farmers, or the traditional SAME models used by family farmers in developing countries.
How are you making farming greener?
We were the first to adopt solutions with biodiesel and our innovative vegetable oil fuel [rapeseed]. Before, tractors were built to last 20 years but with emissions rules changing they now need to be updated more often.
How important a role does innovation play?
Throughout its history, Same Deutz-Fahr has taken significant steps forward, with the first four-wheel-drive model and so on. We are continuing that tradition. We've patented a cab, the Galileo, which stays horizontal while the tractor is on an incline.
Angelo Gaja
Winemaker, Barbaresco, Italy
"The company is focused on innovation. We have vines on steep terrain and the Krypton [SAME] with a load on it works great. Our mechanic attended special courses at their factory to get better acquainted with the machines."
Elwyn Hanson
Apple farmer, Herefordshire, England
"I have an R2 [Lamborghini]. It's small enough to work in the orchard but big enough to work on the rest of the farm. Better-known tractors I've used before haven't matched up. I spend up to 10 hours a day in it and it's very comfortable."