Arup / London
Building the dream
Engineering company Arup is the name that connects the Sydney Opera House to the proposed Guggenheim museum in Abu Dhabi. The owner-operated firm's pioneering staff are the go-to guys if you want to construct the impossible.
There are many things that contribute to creating a great city: iconic buildings, ­efficient public transport and green space to name just a few. And you could argue that today the list should also include Arup, the engineering firm that made its name helping architects achieve the seemingly impossible and which has now extended its remit to include urban planning, design, transport infrastructure and consulting.
It's a powerhouse of a firm. Mention a major city-based project anywhere in the world and chances are that Arup is involved – from Abu Dhabi's ambitious reworking to New York's first new subway in over 50 years, London's King's Cross redevelopment and China's new eco-towns, the company has a hand in them all. Perhaps the only blot on an ­otherwise clean company copybook is London's Millennium Bridge, now colloquially known as the "Wobbly Bridge" after it famously closed two days after opening because it swayed when large groups of people crossed it.
Headquartered in London, Arup has more than 90 regional offices across Asia, Africa, Australia, Europe, the Middle East and the Americas. The company has a broad scope with a remit that extends from working with security services and consulting on the bomb-proofing of buildings to advising governments how to re-work cities. "Our aim is to refashion cities. The way to influence real change is not through engineering projects but through land use planning and government policy. We want to move from cities that are wired for the industrial age, reliant on high amounts of fossil fuel, towards cities designed for the ecological age, with low carbon footprints and using fewer resources," says Peter Head, director and head of integrated planning.
Arup's London HQ feels more like a creative space than a technical office. Models of projects abound, design software spins ideas across a vast flat screen and people work collaboratively around large tables. It reflects the firm's move beyond the equations of engineering to support more creative endeavours.
"Arup is a creative powerhouse," says Cecil Balmond, Arup director and founder of one of Arup's best known groups, AGU (Advanced Geometry Unit). Set up in 2000, the unit focuses on design, collaborating with architects such as Rem Koolhaas and Daniel Libeskind. "I can envision any number of crazy projects and I have an infrastructure behind me of the highest ability that enables me to deliver them. The whole is greater than the part," Balmond says.
AGU takes a serious, academic approach to design. "AGU is chipping away at how we imagine space. We revisit the Greek classics and Greek texts. Numbers and geometry were immensely powerful once but a lot of that has been lost. Architecture today is highly stylistic and sensation-seeking but it may not last the test of time. I'm looking to create something deeper, using numbers and geometry and adding in the power of computing."
While the firm has had a hand in some of the world's most iconic buildings (from the Sydney Opera House to the Centre Pompidou) it also has a more subtle role to play in developing our cities. Arup's head of integrated urbanism, Malcolm Smith, sums it up: "You need humility to design a city because 80 per cent of what you design is background. We live in a 'look at me' society and everyone wants to create beautiful buildings but people get bamboozled by too many calls to attention," he says.
That attitude reflects the company's founding ethos. Established by Danish engineer Ove Arup in 1946, the firm is built on Scandinavian liberalism and a refreshing lack of ego. It's a flat organisation; even the role of chairman rotates every three to five years.
Current chairman Philip Dilley was appointed in April and has clear aims. "I want us to focus very hard on seeing everything we do as design, be that a beautiful building or a procurement system," he says. "I've also introduced a bit of a cultural shift by focusing us on four key external markets: energy, property, social infrastructure and transport." In the past the company did not consciously group its projects by sector. "We attract clients with complex issues," says Dilley, and the world requires more joined up thinking than ever before."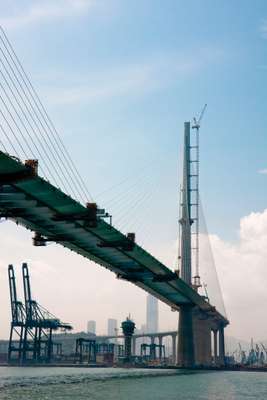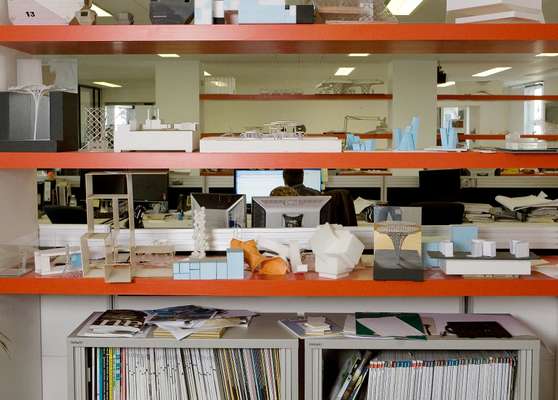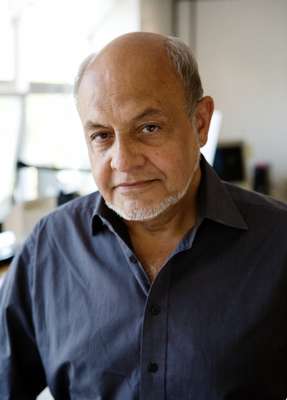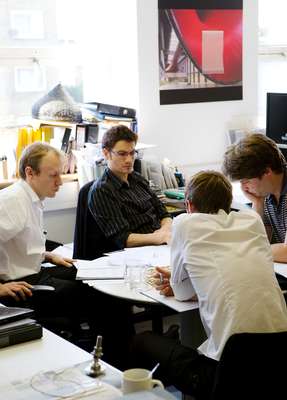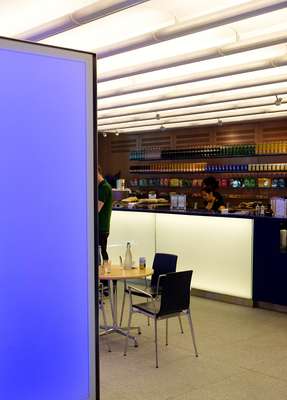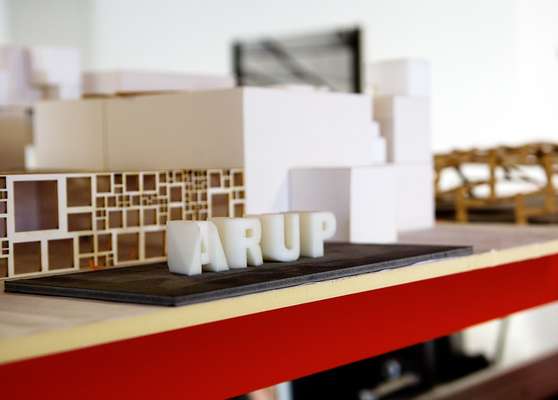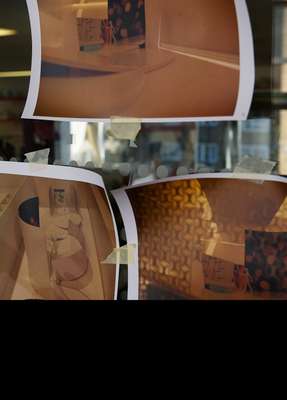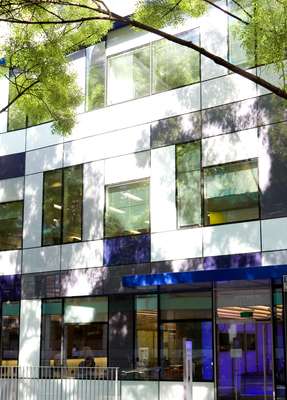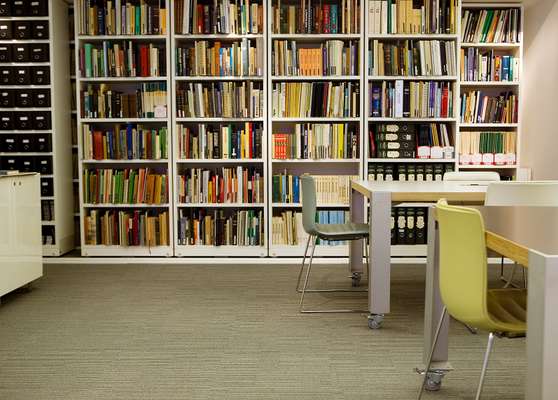 At Arup, executive pay is capped by a principle of "reasonable prosperity", conceived by Ove Arup. His principles still underwrite the foundation of Arup. Ove died in 1988 but his legacy looms large. The company has an active policy of recruiting talent when it finds it, again at the behest of its founder, who advised that "finding staff and the treatment of staff must not degenerate into a bureaucratic matter but must be on a personal level." And Arup has a remarkably loyal workforce; many employees have been with the firm for upwards of 20 years.
It probably helps that the company is run as a trust and last year returned £81m (€92.5m) of profits back to its many employees via its profit-sharing scheme.
It will be interesting to see how the company responds in a straitened economy, but so far it doesn't seem to be worrying those at the top. They admit things have slowed but, as East Asia chairman Lup-Moon Lui points out, diversification has helped. "The public sector's cycle of investment is not in line with the private sector. When building projects are down, infrastructure funding by governments goes up," he says.
Employee-owned and with no borrowings, Arup looks set to ride out the financial storm better than most. And whether it achieves its grand ambitions or not, there's every chance our cities will continue to be touched by its creations.
— Over 10,000 staff
— More than 90 offices in more than 35 countries.
— More than 10,000 projects running concurrently
— €829m turnover, €92.5m profit in 2008
There is no doubt that the future of our cities is green. "We are entering the ecological age," says Arup director Peter Head. "We need to cut emissions by 80 per cent by 2050 and that means a revolution in how we live in cities."
To achieve that goal, urban planning needs to be more ambitious. "My problem with cities is that they are in the hands of two-dimensional thinkers. Everything is zoned, there's very little creativity," says Cecil Balmond.
He points to the Chicago-based architect and designer group UrbanLab whose "Grow Energy/Water" project investigates the way infrastructure such as roads and buildings can be ecologically designed, as the way forward.
"Their idea is that the built environment becomes a collector of water: the pavement becomes porous, the facade of the building becomes able to capture water," says Balmond. "That's the kind of thinking we need."
Drawing board: Arup projects
1. Taichung Opera House
Taiwan
A collaborative project between architect Toyo Ito and Arup's AGU and Hong Kong offices. Currently in planning and design, expect to see architectural boundaries challenged.
2. Bay Bridge Island
San Francisco
Once home to a Navy base, the island is now being redeveloped as a sustainable district with renewable energy, water recycling and car-free, high-density areas with homes, workplaces and schools.
3. International Commerce Centre
Hong Kong
At 484m high, this Kowloon building will be the highest in the world on completion. It is so tall that ground floors are already occupied while the top floors are still being built.
4. Crossrail
London
Many years in the planning, work finally started on the first station on 15 May. "It's more than just creating a transport link; projects like this are an essential part of making a city a delight to live in," says Arup head of transport Terry Hill.
5. Twelve Bridges
Abu Dhabi
Currently at competition stage, the winner of this project will create 12 bridges to link Abu Dhabi to its surrounding islands. AGU's design sees bridges coil like a DNA spiral.
6. Seoul business district
South Korea
Arup is collaborating with American architect Daniel Libeskind as he develops his €14bn masterplan for Seoul's new business district.
Case study: 01
Second Avenue Subway, New York
The first major new subway in New York in over 50 years, Second Avenue is designed to run 13.6km along the entire length of Manhattan and will include 16 new underground stations at a total capital cost of $16bn (€11bn). "Increasingly, global cities are recognising that they compete with each other for talent. New York City came to the view that in order to be competitive on the global stage it needed to become a more liveable city and improving accessibility through public transport is an important part of that," says Arup chairman of Americas region Greg Hodkinson. The project is to be constructed in four phases. The first phase is expected to be complete by 2012 and the line is scheduled to open in 2020.
Case study: 02
Stonecutters Bridge, Hong Kong
Stonecutters Bridge rises gracefully over the port of Hong Kong, the sun reflecting off its stainless steel towers. The bridge is an engineering feat made possible by a team of engineers led by Naeem Hussain, head of Arup's global bridge business.
Named after a former island (now part of West Kowloon), the Stonecutters' 1,018m main span is one of the world's longest cable-stayed bridges. A collaborative effort, the bridge was conceived by a consortium of designers.
Appointed in 2001 by Hong Kong's Highways Department, Arup had to overcome the difficulties of building a bridge that spans a waterway unprotected from the South China Sea storms. To do this, the team constructed a mast to measure conditions on site to perfect the design.
The bridge features two 300m towers that hold dual vehicle decks 70m above the water. Notable features include the stainless-steel skin covering the upper reaches of each tower and stay cables that have a dimpled texture to help with aerodynamics. "The design is the most efficient in the wind," says Agnes Ho, a representative of Arup.