One urban thinker / Global
Full-speed ahead
Obama is allocating $8bn for high-speed rail – but much of the expertise will come from Europe. Monocle went on the euro-rails with US transport secretary Ray LaHood as he sought inspiration and contacts. Then on page 76 we look at nine more urban visionaries.
The TGV has barely pulled out of Paris on its way to Strasbourg before Ray LaHood, Barack Obama's transport secretary, fills its first-class cabin with the sound of what until very recently passed for heresy in American politics.
"Look, people are hooked on cars, OK? Because we've created a state-of-the-art interstate highway system," says LaHood, at the outset of his first overseas journey since taking office in January. "We at the Department of Transportation have to be talking about a different kind of agenda other than cars. We have to be talking about a streetcar agenda, a high-speed rail agenda, a transit agenda."
LaHood, an old-school Midwestern Republican with little specific expertise in transport issues, is an unlikely champion of "liveable communities", his new favourite buzzword. But he has quickly become perhaps the world's most important patron of them: this autumn he will oversee a process to award $8bn (€5.6bn) from Obama's stimulus bill to US rail corridors. Another $5bn (€3.5bn) will follow over the next five years. It is the country's first-ever federal investment in high-speed trains.
This well-funded promise to open the American transit landscape – in a country that has not nurtured a homegrown passenger-rail industry for more than a generation – kicked off an international derby well before LaHood's government plane touched down in Paris in late May. The relentlessness with which foreign governments and enterprises will pitch to LaHood for the new business becomes apparent the moment he is greeted outside the Gare de l'Est by Guillaume Pepy, the president of France's national SNCF railway.
Squiring LaHood through the station, Pepy proudly announces that he has secured a world-record-setting Alstom train – it had reached 574.8 km/h in 2007 – for the secretary's trip to Strasbourg. As they walk the platform, Pepy explains to LaHood that they are able to keep each train running for as long as 40 years by taking it off the tracks every decade for a complete overhaul. He points excitedly to the Christian Lacroix interiors put in during the last refurbishment and then tries to explain to LaHood – with little apparent success – who Lacroix is.
Once LaHood enters the train car, Pepy outlines the stakes to Monocle. A French consortium including the SNCF, Alstom SA and track operator RFF would likely face off against similar groups assembled from among Spanish, German and Japanese industry to win the new American contracts. "It's a big competition for high-speed rail in the United States," Pepy says. "We hope that La Maison Française will win."
To shape his strategy, LaHood has arranged to travel by high-speed rail through France and Spain, home to Europe's most extensive networks. He hopes to see the trains in action, examine station infrastructure and assess how they are integrated into a broader transport fabric. (He is eyeing a similar trip to Asia later in the year.) He has made plans to ride from Paris to Strasbourg, considered a model of transport-centric smart planning. After cruising Rotterdam's port, he will go to Leipzig for a global transport conference where he will meet many of his new ministerial peers for the first time. Then, after a stop to greet American troops at the US air base at Ramstein, he will fly to Madrid and board a train for Zaragoza to tour a state-of-the-art rail-command centre.
The visit has triggered a high-level round of rail diplomacy across the continent. The Spanish government breaks protocol to ensure Prime Minister José Luis Rodríguez Zapatero meets LaHood (in addition to transport officials). After Italian officials hear about LaHood's European itinerary, they beg him to see their trains, too. (LaHood does not meet Italian representatives in Leipzig, according to an aide, because they – unlike the Australian, Dutch, and EU ministers – never requested a bilateral session.) When LaHood's transport minister Wolfgang Tiefensee, hosts him for a small working dinner at a Leipzig hotel, rail is the top item on Tiefensee's agenda. He impresses LaHood's staff by the bluntness with which he seeks a role for Deutsche Bahn and Siemens AG, whose collaboration on the country's Inter-City Express network he says could be replicated in the US. "We spoke about cooperation in building up some lines and giving them the modern transport of Germany – the ICE – to operate on those lines," Tiefensee says afterwards. "I was very happy with the open windows and doors" – hopefully not at high speed.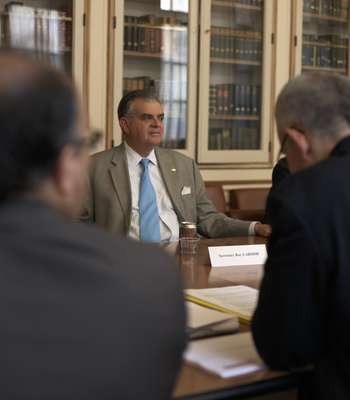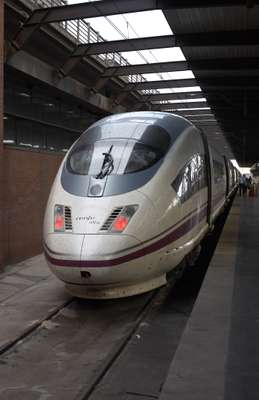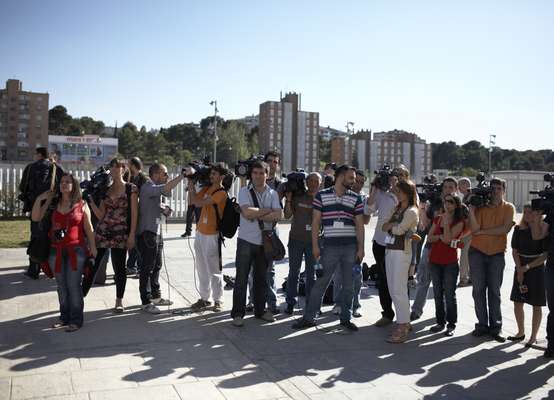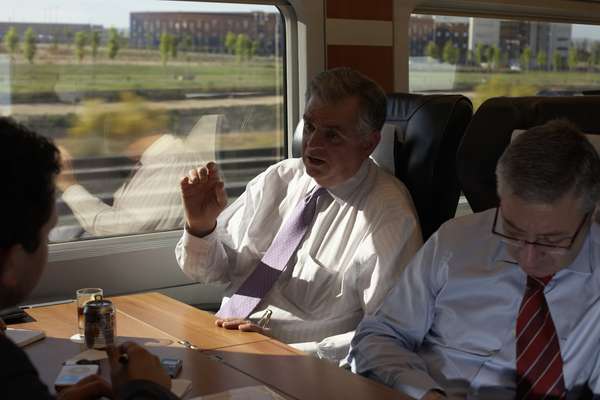 When LaHood, 63, was growing up in Peoria, a medium-sized city in the middle of Illinois, there was regular train service to Chicago and a tram that clacked through town. By the time he was elected to Congress in 1994, both had been discontinued. The only ways to reach Peoria now are by car or Greyhound bus. LaHood says his new passion for smart planning came gradually, joking that he became a full-fledged rail believer "when I saw $8bn in the budget".
LaHood's focus on building an American rail system to match its roads marks a dramatic shift in policy and cultural priorities. While the US has a vibrant freight sector, since the middle of the last century it has made few serious investments in passenger lines outside the northeast stretch between Boston and Washington. Until this year, the idea that Americans could enjoy European or Japanese-style train service was laughed off by most politicians as a boutique cause belonging to cosmopolitan columnists and futurist dreamers. But Obama and chief of staff Rahm Emanuel, both Chicagoans, manoeuvered $8bn into the frenzied final negotiations over the stimulus bill – a sum large enough to begin quickly redrawing the national geography. "This is clearly President Obama's transportation legacy," says LaHood.
By August, states and regional groups will be expected to bring him their funding requests, each tied to one of 10 corridors first identified in the 1990s as candidates for high-speed development. (Most are designed to serve cities scattered between 150km and 1,000km apart.) LaHood said he would be looking for a balance between immediate projects – including small improvements whose stimulus impact would be felt quickly – and those that would contribute to the long-term development of a national system.
In addition, LaHood has another $1.5bn (€1bn) in stimulus funds to spend at his discretion, with which he says he intends to use multi-modal links like the train-tram-bike hub he tours in Strasbourg. "We will use the Strasbourg model for transportation as a model back in the US," LaHood says that night at city hall.
Each country tailors an appeal to LaHood around its particular rail experience. Tiefensee promotes Germany as a leader in powering rail with environmentally friendly energy sources, including hydrogen and biofuels. The French trumpet their record of adding high-speed service on old routes – such as the TGV Est line to Strasbourg, inaugurated in 2007 – and developing rail connections at airports. Spanish officials boast of the opposite: they had quickly developed a high-speed network on all-new dedicated tracks, which often had to be laid over rough Iberian terrain and through crowded cities.
"We have two interests: an economic interest, of course, if our equipment is chosen – as is already the case in South Korea, Argentina and Morocco," says Dominique Bussereau, France's secretary of state for transport. "Secondly this can be a new area of political cooperation after aeronautics, between American railway policy and European railway policy." Bussereau says he hopes that France will "help our American friends choose their corridor, one system or another, particular equipment – so some help with the policy choices before choosing the system and equipment."
LaHood says that in his mind the competition is less between foreign models than among domestic corridors. Yet his trip was designed to develop new links with key players in an industry that is valued at €86bn worldwide, according to an estimate last year by the Union of the European Railway Industries.
While LaHood tends to non-rail business, he dispatches his federal railway administrator, Joe Szabo, to tour an Alstom factory in Alsace and to visit Talgo, the Spanish company responsible for rolling stock on the country's new high-speed AVE lines.
Neither has any counterpart in the US, which has all but entirely lost the industrial capability to produce major elements of a modern train system. "There's nobody left in the manufacturing of locomotive or rail cars," says Szabo. While each corridor's proposal is likely to name foreign corporate partners in essential roles – rolling stock, signalling, track and overhead wiring – LaHood hopes to use the process to create partnerships to boost American manufacturing. "If the French system is chosen," acknowledges Pepy, "there is a high probability that everything could be built in the States, but with the help of French technology, which we are completely comfortable with."
For the Europeans, LaHood's visit was just a formal opening to a summer of aggressive lobbying. Days after he returns to Washington, Bussereau and Pepy are due there to meet other transport officials, including influential members of Congress. Ineco-Tifsa, the engineering firm owned by Spain's development ministry, was ready to open its first US office, with an eye on winning rail contracts. "What we want to do is have a very close relationship between our two governments to transfer our experience to them," says minister José Blanco. (French and Spanish officials both opened relations with the California High Speed Rail Authority after voters in the state approved a $10bn – €7bn – bond last autumn.)
When LaHood boards an AVE train at Madrid's Atocha station, Spanish officials draw an analogy between their situation and the American one. Once a high-speed laggard, Spain has made massive investments this decade, and in the first month of its Madrid-Barcelona service in 2008 the share of train-travellers on the route nearly tripled.
Now Spain has the world's second-longest high-speed network under construction (after China) and even the second most punctual (after Japan). The president of the RENFE rail system relays a simple lesson to his visitors: forgo incremental improvements and focus on new projects that will impress consumers. "You don't need something like high-speed," said Teófilo Serrano Beltrán, as his train reaches its limit of 300 km/h. "You need high-speed."
No city is likely to be transformed by the new rail lines as much as Chicago, little surprise considering the cadre of Illinoisians – Obama, LaHood, Emanuel and Szabo – helping to set the US rail agenda. (The outsider is vice president Joe Biden, a dedicated Amtrak commuter.) That may not be the end of Obama's help for an infrastructure overhaul in his hometown: the president has given adviser Valerie Jarrett, a former vice chair of the Chicago 2016 Olympic bid, approval to continue the campaign outside the White House.
Four corridors on LaHood's radar
California: Voters have already approved their own $10bn (€7bn) bond for a new rail spine along the state's length, from San Diego north to Sacramento and San Francisco.
Northeast: Amtrak's busy Acela route between Boston and Washington is the closest the US has to a high-speed line. Bombardier-Alstom trains can reach 240 km/h, but often travel far slower. Improvements on existing track, tunnel and bridges could immediately shorten journey time.
Midwest: State governors are pushing for a Chicago hub, with a series of spokes that could make St Louis, Milwaukee, Minneapolis, Detroit and Indianapolis all just hours away.
Southwest: The operators of a proposed DesertXpress from Las Vegas to Victorville, California, on the outskirts of Los Angeles, say they could finance their route with largely private money.