Oceania / Global
Oceania
Briefing
Construction begins on Australia's first carbon-zero office building, while in New Zealand a revamp is under way to stop Christchurch's wanderlusty youngsters from upping sticks. Plus, how New Zealanders are catching up the French as the world's longest lunchers.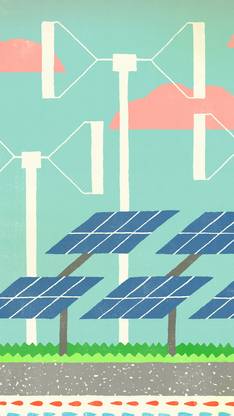 Pixel perfect
Australia [ARCHITECTURE]
Work begins this July on Australia's first carbon-zero office building. The A$6m (€3.4m) Pixel building, designed by local Studio 505, is part of a A$1bn development on the site of Melbourne's Carlton Brewery. It will generate more energy than it uses.
Why it works:
Reed beds around the edges of each of the four floors filter grey water and provide shade.
Three wind turbines will produce 14,000kWh of energy a year.
A green roof is planted with native grasses. Rainwater captured by the roof will be used in Pixel.
16 photovoltaic panels on the roof track the sun. Water pipes built into Pixel's recycled-concrete walls heat or cool the building.
100 per cent fresh outside air is distributed through the floor and controlled individually by people at each workstation.
Long lunch
New Zealand [CULTURE]
New Zealanders have got their priorities right. They are second only to the French in terms of the amount of time they spend eating. The list below shows the developed world's most leisurely eaters.
Eating time on an average day in minutes:
France: 135 New Zealand: 130 Japan: 117 Italy: 114 Belgium: 109 Spain: 106 Germany: 105 South Korea: 96 Poland: 94 Sweden: 94 Australia: 89 UK: 85 Norway: 82 Finland: 81 US: 74 Canada: 69
Source: OECD
Place to stay
New Zealand [CITIES]
Christchurch, the largest city on New Zealand's South Island, has decided to give itself a revamp in a bid to stop its young generation moving away.
"Our kids leave and although they tend to come back we want to build a city that resonates with them," says Christchurch's mayor, Bob Parker.
"Every city our size faces the same problem: more people in retirement than in the workforce," he says. "We need to correct that and compete for those workers." He insists his ambitious plans are not just about rivalry with Auckland and Wellington in the north. It's more about survival. "As a city, the decade we're in will make or break the place," he says.
Mayor Parker says that in order to survive, the city, which has a population of 359,000 and a great quality of life, needs to transform itself "from a 'great provincial town' into a metropolitan centre". The city announced in May a plan to transform its core business district into an attractive urban mixed-use precinct of four to five storey buildings with the focus on people, foot traffic and cycling. Over the next two years, laneways, tramways and piazzas will be extended and residents will be able to walk to work.
Construction has just begun too on a major expansion of the airport, which is scheduled to be ready in time for the 2011 Rugby World Cup. It is designed to handle 8.6 million passengers by 2014 (compared with 5.9 million in 2007).
Q&A - Lisa Scaffidi
Lord Mayor of Perth
Australia
Which cities are setting the benchmarks for quality of life?
The ones uppermost in my mind are Chicago, Barcelona, Kagoshima and Shanghai.
What cities are falling behind?
"Falling behind" comes about for so many different reasons. It can be cultural, it can be civil war in some cities. Generally, one needs to know the issues and circumstances that may be linked to the perception that a city is "falling behind".
What are the most important challenges facing cities today?
In an increasingly globalised world, it is becoming more competitive to attract and retain businesses that have a strong commercial presence in each major city. It is becoming apparent that many multinationals are choosing "hub" locations. Within Australia we have observed cycles occur where in some decades a presence is "justified" and viable in each capital city of each state. In less buoyant times we have seen "the branch office economy syndrome" take hold again and that is when smaller city offices are closed and those smaller cities are serviced by occasional visits from their "bigger city" sister counterparts.
How will the global recession impact the development of our cities?
While the recession may cause projects to slow down and take longer than planned, it is these periods when many construction companies – which did not give competitive quotes during economic boom times – will be able to reconsider and offer more affordable prices for some projects.
Cities in Australia, New Zealand and the US have more cars per capita than cities in any other country.