Menswear / Barcelona
Short story
Urban beach clubs call for clothing that doesn't sacrifice elegance in the pursuit of sun worship. Opt for neatly tailored swimming shorts that can equally be worn for a stroll round town once you've dried off – or just to the bar and back.
Locals who really love the beach live in Barceloneta, a district to the south of the old town. Built in the 18th century, Barceloneta is populated by a hardcore of Catalans who refuse to move, even if that would let them escape the tourists and young crowd of sun, sea, sand and sex-loving international settlers who flock here. Redeveloped in the run-up to the Olympics in 1992, Barceloneta's seafront offers a manmade beach dotted with chiringuitos (beach bars), seafood restaurants and Barcelonans sunning themselves all summer long.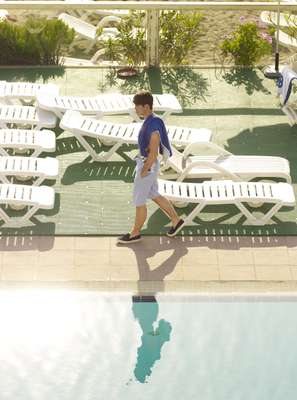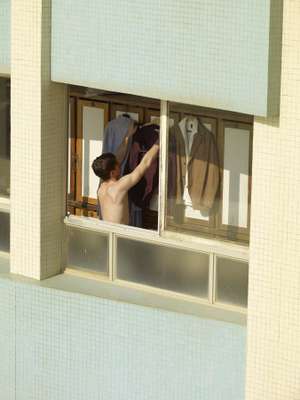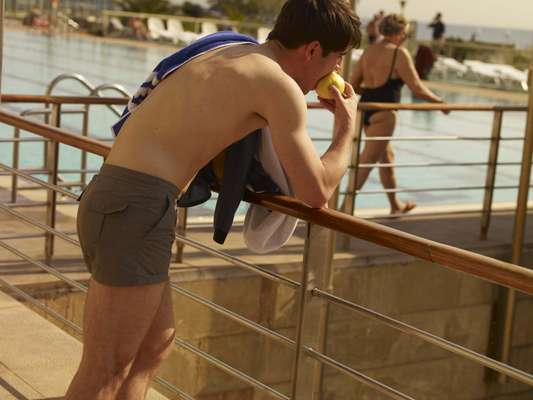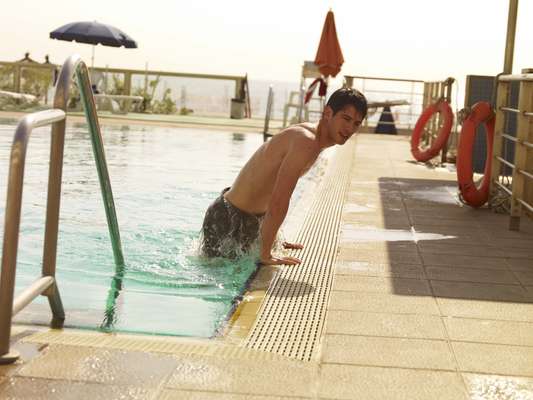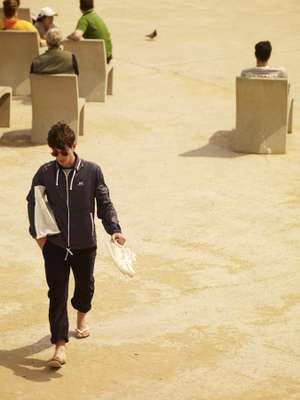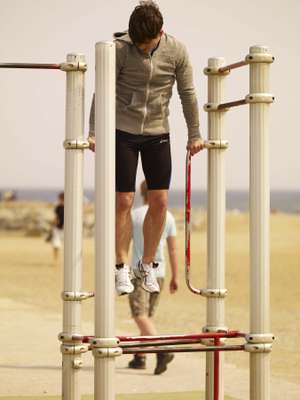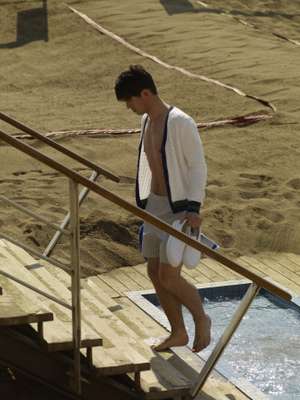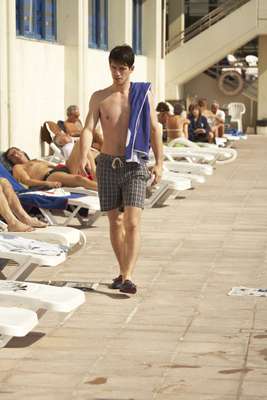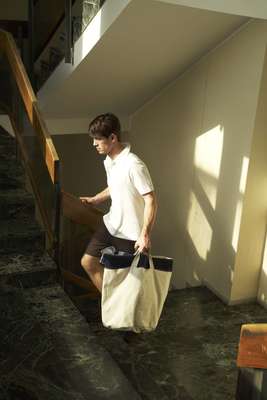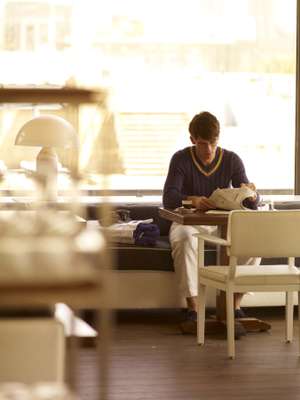 A few hops through the hot sand from the beach at Barceloneta and you reach Spain's first ever swimming club. Founded in 1907 by Bernat Picornell, the club was originally intended as a venue for water polo games and a place for competitors to train in. Since then it has grown into a full service sports centre offering cycling, gymnastics and fitness classes. Our favourite features are the private bathing pools where you can find chic Barcelona beauties wearing bikinis and high heels and easy access to the beach and beyond.
Swimming shorts by Beauty & Youth, shoes by Authentic Century for Beauty & Youth United Arrows

Burgundy shirt by Yves Saint Laurent, white shirt by Needles, jacket by Akamine Royal Line, bathrobe courtesy of the swimming club
3 & 4. Swimming trunks by Hermès
Jacket by Helly Hansen, t-shirt by Tomorrowland, trousers by White Mountaineering, sunglasses by Oliver Peoples, sandals by Blue Dia, shoes by Visvim, bag by Merlo-t

Hooded sweatshirt by Edition, shorts, t-shirt and shoes all by Asics

Swimming shorts and shoes both by Polo Ralph Lauren

Cardigan by Bernand for Beams F, Swim shorts by Dunhill, Shoes by Vans

Polo shirt by Bamford & Sons, swimming shorts by Beauty & Youth, shoes by Camper, bag by LL Bean

Jumper by Napoleonerba, trousers by Tomorrowland, shoes by Authentic Century at Beauty & Youth, glasses by Oliver Peoples