Redesign: voting in Norway / Norway
Back in your box
How do you make voting simpler, appealing and important? It's a challenge Norway has tried to solve. The solution is a vote winner.
Going to the polls usually involves make-shift booths, clumsy posters and flimsy ballot boxes. But Norway is re-engineering the way its citizens participate in ­ticking the right box. During its parliamentary election in August and September, the ministry of local government and ­regional development is trialling a new look. Libraries, gyms and school halls in four municipalities – Kongsberg, Bømlo, Trondheim and Lenvik – are being transformed into slick polling stations thanks to a far-reaching industrial and graphic design package.
The revamp is by a trio of design groups – Blueroom Design Studio, Innovativoli Industridesign and Kadabra Produckt Design. The team were appointed to the project last year after winning a competition led by Norsk Form, a foundation set up to promote Norwegian design and architecture. Most municipalities are expected to take up the makeover within 10 years. This goes beyond mere styling. Rebranding the election system puts design at the very heart of the democratic process. A strong electoral identity is vital – it not only reinforces national values, it is a way to ensure fair and transparent voting.
The designers considered different proposals before settling on this robust, flat-pack prototype crafted in aluminium. Big enough to accommodate any kind of wheelchair, there's a nifty pole so users can pull the curtain easily and a slot for a walking stick. Featuring integrated lighting and two writing ledges finished in oak, it's a warm and welcoming design that is accessible for all. It's flexible too – the ballot paper trays are removable.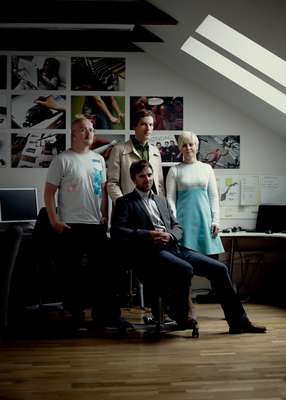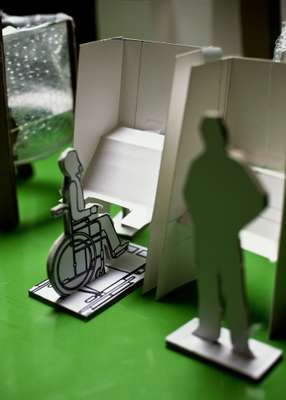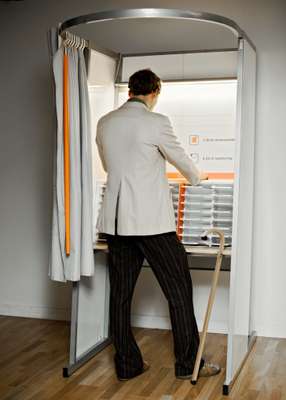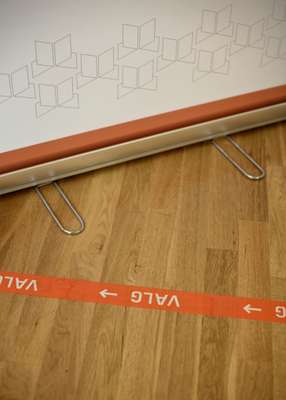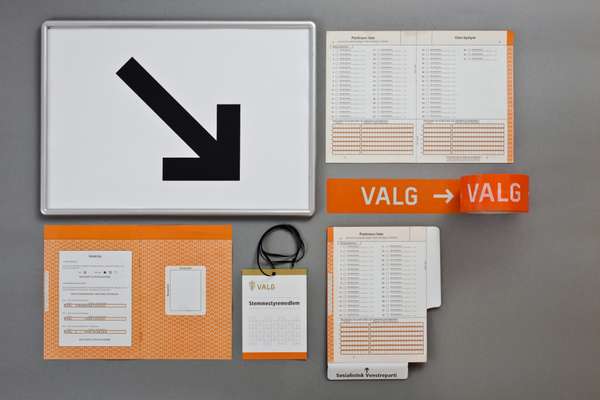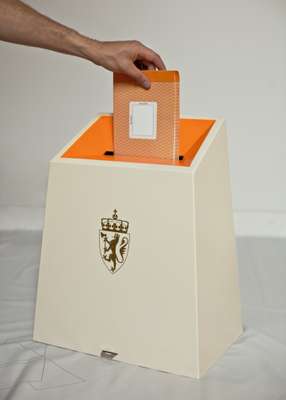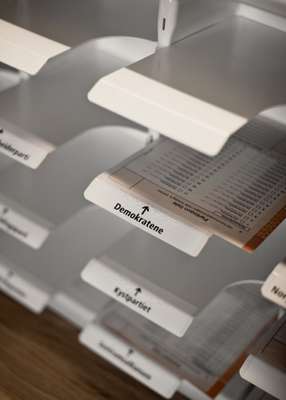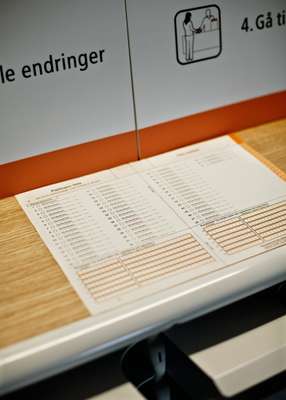 "Our proposal tries to clear up the mess and have one single solution that can answer to all users and needs," explains Parr, industrial designer at Kadabra.
Graphics are sharp and clean. An orange and gold colour palette stands out. The chosen font, Transit, is a type typically reserved for transport systems. Like an airport, there are a lot of "logistics" to consider when navigating people around polling stations. Simple arrows steer people in the right direction and tape marks routes. Banners dress up spaces to give a sense of occasion, while posters break down the voting process into simple stages using pictograms. Officials are easily recognisable thanks to branded tags and there are even tablecloths under the ballot boxes.
"We are trying to transform any given environment into something coherent and whole," adds Parr.
"There's a reason for everything on this project," says Parr. He's not wrong. The ballot box is 40cm high – when placed on a table it's the ideal height for wheelchair users. The slot is exaggerated into a statement feature. Norway's national emblem – a golden lion – adds a solemn note. This is a smart, serious, sturdy design that will stand the test of time.
Thanks to some design tweaks, there is now a clearer distinction between the inside and outside of the ballot paper. A bright orange exterior (featuring a pattern made up of abstract images of folded ballot papers) contrasts with a clean layout inside. A bold orange strip prompts voters to fold the paper.
Q&A
Professor Marcia Lausen, director of Chicago's UIC School of Art and Design.
A founding member of AIGA's Design for Democracy, graphic designer Lausen published a book of the same name in 2007 and has consulted on reform across the US electoral system.
How did you enter design for political processes?
It took the 2000 US election debacle to really clarify the need for radical change. I began redesigning the controversial Chicago butterfly ballot with my students and these changes were implemented by local governments in Illinois and Oregon. The key with electoral design is the simpler the better – it doesn't require new voting technology, just total clarity.
What can good design offer governments?
Official documents such as ballot papers must be seen as touch points – it's where governments become tangible to the public. If a government cannot produce materials with clarity and professionalism then they simply cannot be trusted. America hasn't had a governmental design council since the Nixon administration, and this really has to change.