Nagoya residence / Nagoya
Inner growth
Makoto Tanijiri's work is brimming with fresh ideas. At just 35 years old, he is one of Japan's most promising visionary architects. This inspired home, built in the sprawling suburbs of Nagoya, shows why.
When you are building a home on a tight plot, it's not always possible to have a garden in Japan. Visionary architect Makoto Tanijiri had an original solution – he brought the garden indoors. "People have long considered that the garden should be built outside the house, not inside the house, but nobody knows why. So I came up with this garden-in-the-house concept," says Tanijiri, who set up his practice, Suppose Design Office, in Hiroshima nine years ago.
The hard-working blueprint, built in response to the client's desire to live surrounded by plenty of greenery, put the garden at the heart of the home. It's no token gesture – the indoor oasis takes up about one third of the ground floor. The result is a calm, soothing interior where the boundaries between indoor and outdoor blur.
The landscaped garden, featuring two main courtyards, is overlaid with coarse stones and contrasting smooth slabs of concrete. Ferns and ­foliage, such as hollies, sprout up throughout the space (there's no forgetting to water the plants here). The Zen-like garden extends around the central open-plan dining room and kitchen area (running along one side of the wall is a strip of greenery, shielded behind glass).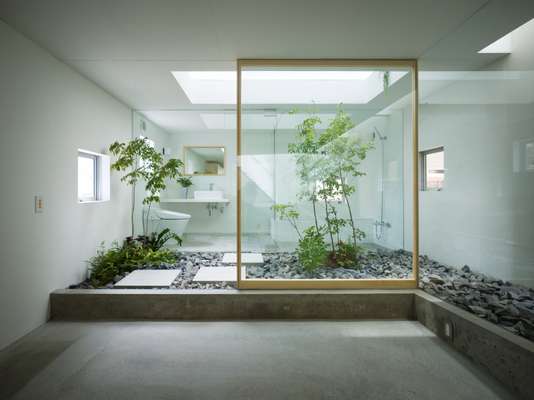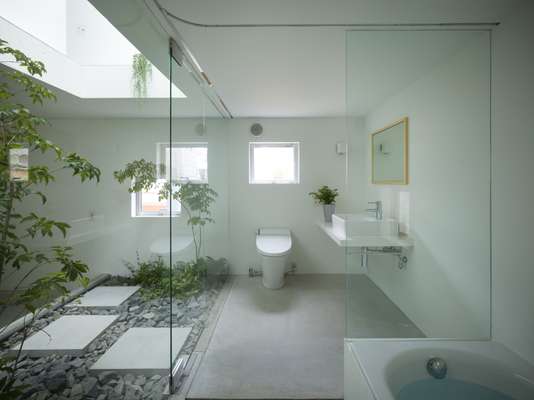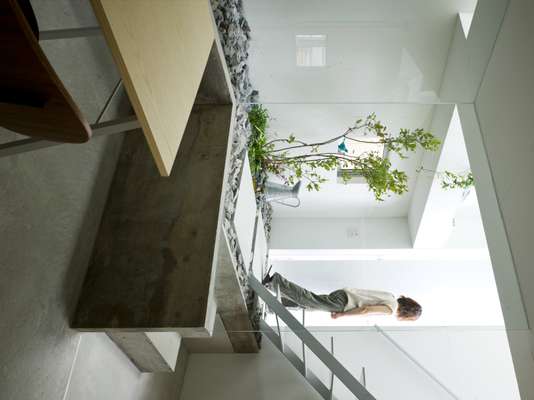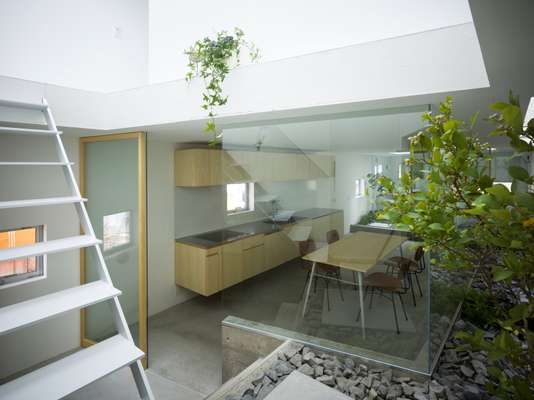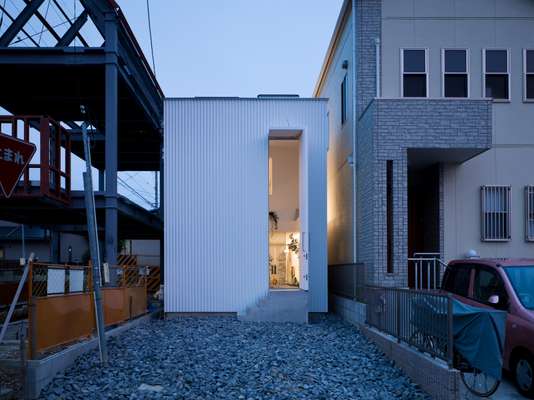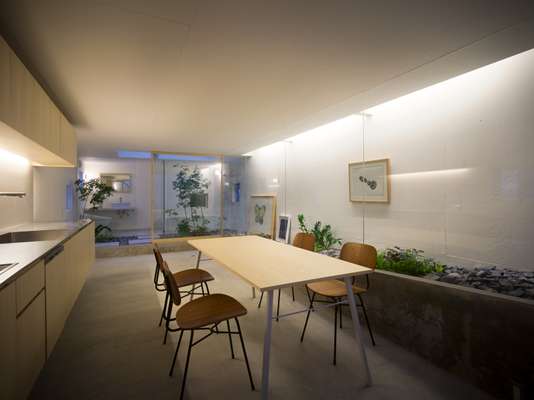 A plain white interior, additional glass walls and skylights help to create a bright, airy space, while bespoke wooden furniture adds a homely touch.
It's Tanijiri's playfulness though that shines through most in the design. The simple, box-like structure is transformed thanks to a striking exterior façade made from white metal. An over-sized 4m-high door adds a sense of drama upon entry. Walk around and there's a fluidity to the interior spaces – up on the second floor, where the bedrooms are located, you can sit on an overhang, overlooking one of the courtyards. "Kids would love reading a book there," Tanijiri smiles.
The ceilings are built deliberately lower than normal, so you can experience the dynamism of the home's layout – a raised entrance hall means you can peer down into both the ground floor and first floor upon entry.
"I've always liked to question the norm and toy with new ideas," says Tanijiri. "That way, you can create your own style in a way that's never been done before."
Floor space: 76.56 sq m
Architect: Makoto Tanijiri
Materials: The structure is built from wood and the exterior is covered with white corrugated metal sheets.
Timeline: Overall two years but just six months to build.
Monocle comment: Tanijiri updates the age-old courtyard concept with a generous inner sanctuary. Maintenance is easy thanks to a coarse stone covering and perennial plants. Plenty of natural light and an open-plan design, combined with an abundance of greenery, gives a sense of well-being in highly populated areas such as Nagoya.
Entrance hall:
Make an entry with some design trickery. The raised hallway means visitors can get sweeping perspectives of both the ground and first floor, opening up the interior.
Bedroom:
Once the kids are old enough, a partition will be put up to make a separate space for them. Layouts are flexible to accommodate the entire family.
Courtyard:
A space to unwind in, this wrap-around garden surrounds the central living area in greenery. Thanks to skylights, the courtyard receives plenty of natural light. Enjoy the view from an adjacent bathroom.