Schools / Global
Møller light
The AP Møller School in Schleswig, northern Germany, is luring design aficionados with its groundbreaking architecture. School has never been so cool, or soft power so clever.
You know a building has become a landmark when everybody knows it by name. But this is no museum or theatre – it's a school. AP Møller is tucked away on the outskirts of pretty Schleswig, a town in northern Germany surrounded by fields and the shimmering waters of Schlei fjord. It's been open for a year and has been drawing the crowds thanks to its stand-out architecture. So far around 27,000 people have visited and it's not hard to see why. With its graceful silhouette, transparent design and use of natural materials, this building is a masterclass in Danish simplicity and elegance.
The private secondary school was built specifically for the Danish minority living in this part of Germany (the Danes have been in Southern Schleswig on the Jutland Peninsula, bordering Denmark for centuries). It was a gift from the AP Møller and Chastine Mc-Kinney Møller Foundation, which was founded in 1953 by shipping and energy giant Maersk to promote Danish culture and heritage. The architects of the school, CF Møller, coincidentally share the same name (see Issue 21 for our story on the firm's Akershus University Hospital).
The total cost of the school remains confidential but its clear the budget was generous: furnishings, fittings and finishes are of the highest quality. Walls are crafted from Indian granite, grand slabs of Danish granite sourced from Bornholm island, smooth maple wood and Danish bricks. There are no ugly floors – hardwearing blocks of oak are laid to create a delicate pattern.
"We believe that a good-quality environment is something that will inspire," explains Julian Weyer, project architect and partner at CF Møller. The school is intended "to be a model of Danish design, a way to promote Danish ideas in the area."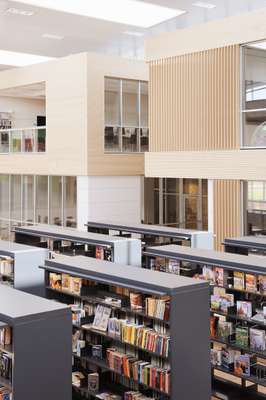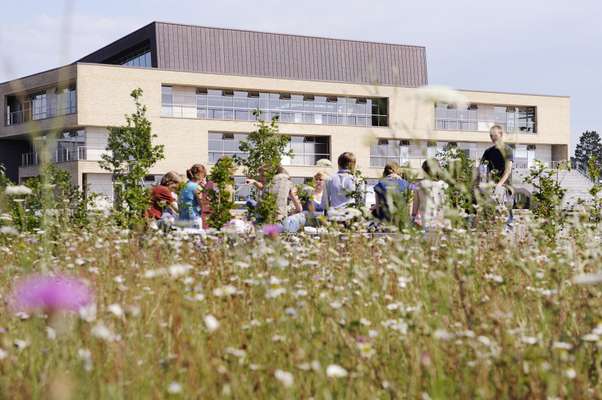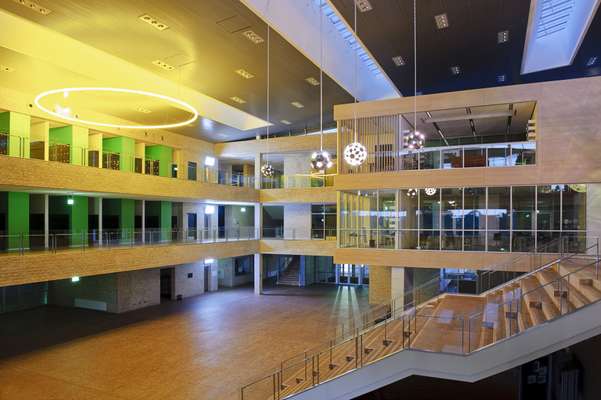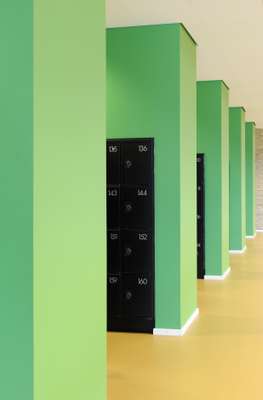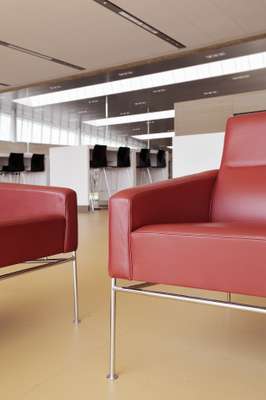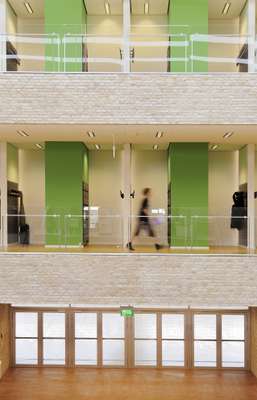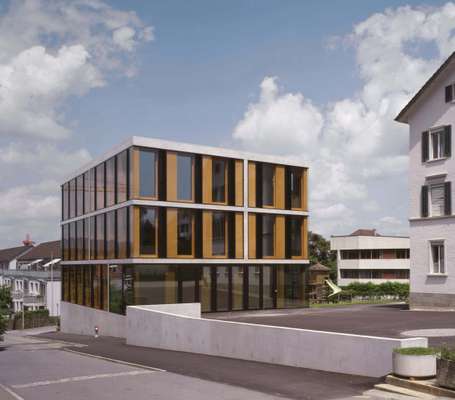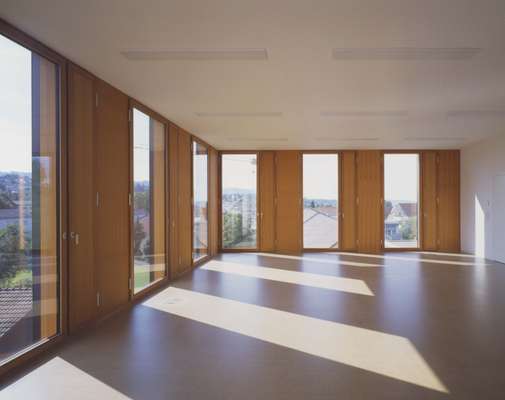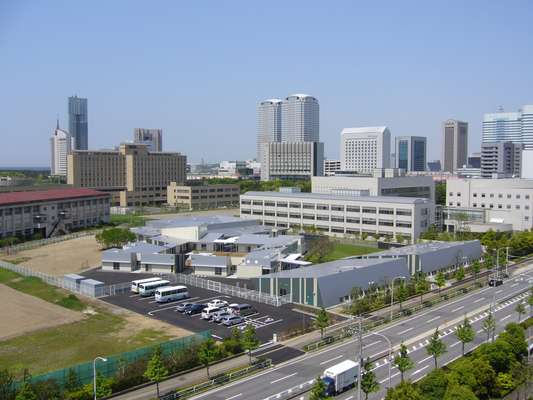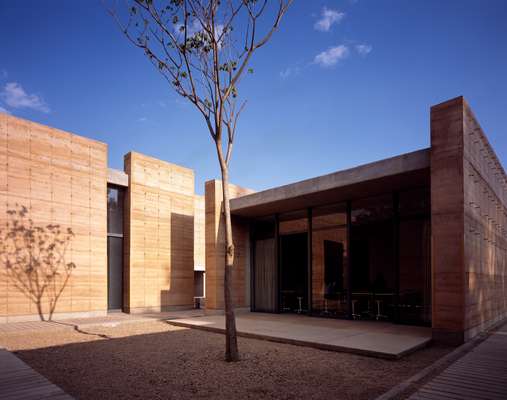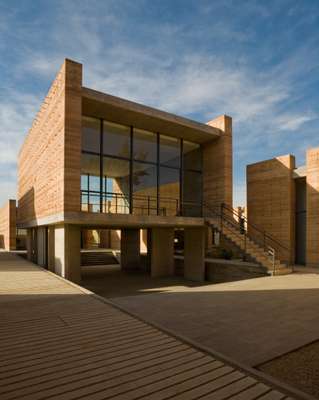 When Monocle dropped in, school was almost out for summer. Students seemed excited, yet it was oddly quiet. That's ­because engineers Arup were hired to consult on the acoustics. "A bad acoustic environment will kill the whole teaching experience," says Weyer.
The building's main feature is a central atrium. It's an impressive soaring space, softly lit with skylights. Hanging high is a light installation of the solar system by the artist Olafur Eliasson. It's a brilliant and dramatic touch – all schools deserve artwork. There's a neat canteen with minimal sets of tables and chairs, and workstations scattered around for breakout study. Communal stairways (which double as an amphitheatre for school plays and assemblies) lead up to a central library, referred to as the knowledge centre. After hours, the gym and state-of-art concert hall is used for shows, conferences and other cultural events.
We take our tour with headmaster ­Jørgen Kühl, a softly spoken academic poached from his job as director of border region studies at the University of Southern Denmark to run AP Møller. "It's so transparent everywhere," he says, pointing out classes taking place. "You can see what's going on and it adds a certain atmosphere to the whole building because there's nothing hidden away." This is thanks to strategically placed glass walls, balconies, windows, public workspaces and classrooms. There's not a dimly lit cramped corridor in sight. During lunch-break kids relax on sleek Arne Jacobsen chairs and sofas (teachers have the iconic Fritz Hansen models in the staff room). Everything is immaculate and there are no traces of vandalism. "The students take care of the school, they are proud. It's part of our ambition that all the students become shareholders and identify with the institution," he explains.
Both students and teachers take advantage of the school's open and flexible layout. Outside in the afternoon sun, classes take place on bespoke furniture. With no fence around the playground, the space becomes a public park with locals free to use the skate-ramp, climbing wall, courts, pitches and benches. Investing in quality of design and an imaginative, considered blueprint will reap dividends. Cutting corners means potentially cutting back on the school experience. Ultimately a school should become a retreat, a calm environment setting a benchmark for future experiences. AP Møller shows how.
Hive is taking on dodgy student accommodation with the launch of its first two high-end residential developments in east London. Founded in 2006, Hive is a London-based property development firm specialising in creating luxury student accommodation. Rooms are rented to students directly through London universities. The smart interior design is by Tara Bernerd of Target Living. Although Hive's plans for expansion are limited to the British capital for now, Bernerd is in talks with similar projects in the Far East. hivestudents.com
Clean, simple Swiss lines create a calm, protected space for this primary school in Thalwil. Designed by Zürich-based Bünzli & Courvoisier, it is an extension to an existing primary school. The exposed wooden structure crafted from French oak lends a rigorous symmetry to the building. It's also a nod to the kind of Swiss classrooms built over a hundred years ago. "There is a lot of oak used in these old schoolrooms. We wanted to take that element and make a kind of memory," explains Simon Courvoisier, co-founder of the firm. Children can rough and tumble in bright, spacious classrooms thanks to the many floor to ceiling windows.
Completed in March, this international school in Makuhari, Japan, has a strong identity thanks to its unusual layout. The kindergarten and primary school is made up of low-lying single storey "houses" that are connected to each other through covered corridors. It was designed by C+A architects, a Japanese firm with studios in Nagoya and Tokyo. Clutter-free interiors combine with inner-play spaces to create an intimate, village-like atmosphere. With corridors and classrooms crafted in wood, it provides a warm and secure environment in which to learn your ABC.
Mexico City architect Mauricio Rocha's expertise adapting low-tech techniques and materials to innovative designs is evident in the new Oaxaca School of Fine Arts. Rocha went for inexpensive rammed earth and concrete to make a series of modular spaces that blend in with the arid landscape. He opted for a simple design that would look "like a big garden." The $2.4m (€1.6m) complex opened in February and includes workshops, classrooms, a gallery, new media room, cafeteria, and administrative offices. In an area that loses legions of young adults seeking work and learning in the US, buildings like this have a social significance.