Japanese premium beef / New York
A cut above
Specialising in washugyu, Japan Premium Beef is seeking to re-educate New Yorkers about steak.
Residents of New York's Noho neighbourhood in search of a good steak might be forgiven for walking straight past Japan Premium Beef. The minimalist appearance of the glass-fronted shop belies the true nature of its business: washugyu beef. "Some people think it's an art gallery," says Daigo Irifune (above), its president.
Irifune launched the butcher shop on 1 May as a retail outlet for Yamaya USA's washugyu distribution business. Yamaya USA, the American branch of Japan-based parent company Yamaya, first entered the US market in 1999 to distribute mentaiko (spicy pollock roe). They went into the washugyu business in 2001.
Washugyu, a crossbreed of Wagyu and Black Angus trademarked by the company, is raised in Oregon but has all the flavour and the fat of its Kobe province cousins.
The most expensive cuts, New York strip loin and filet mignon, each cost more than $50 (€35) a pound.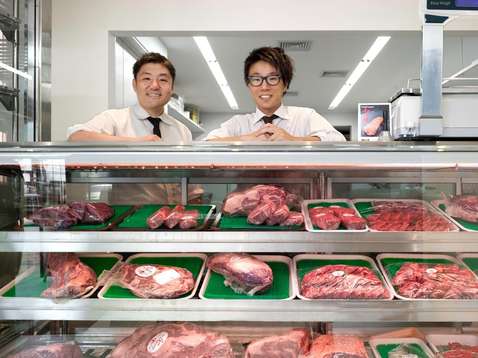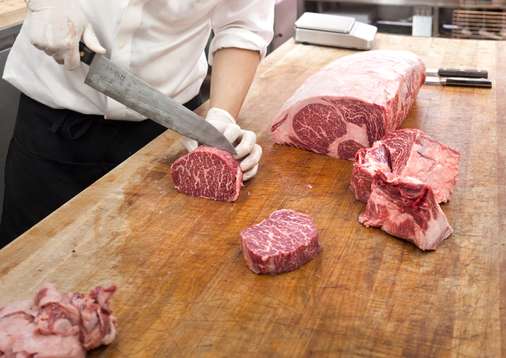 The meat is displayed on spotless trays in the shop's gleaming showcase. "Presentation is important because it's a high-end product," says Irifune.
The Japan Premium Beef team also includes Eiichi Yamamoto (see top right picture, left), a butcher with 15 years' experience and Taiki Otsuka (to his right), store manager and apprentice. His favourite task is using the meat slicer to cut extra thin pieces for sukiyaki or shabu-shabu.
With his salesman's hat on, Otsuka says, "Americans eat a lot of beef but they only know about three cuts." His current goal is to educate his customers by recommending lesser-known cuts from their 21-strong selection.
57 Great Jones Street + 1 212 260 2333
The raw materials:
The butcher shop gets 600lb of washugyu delivered each week from its farm in Lexington, Oregon.
Breaking down the meat:
Using Japanese knives, Eiichi Yamamoto, the butcher, breaks down a side of rib eye. The blades on his knives are angled only on one side for cleaner cuts.
Rib eye steaks: 
With a side of rib eye, Yamamoto portions out steaks. Seventy per cent of his customers are American and to accommodate their tastes his pieces are slightly thicker and twice the weight of a Japanese steak.
The slicer: 
Yamamoto uses the imported Japanese slicing machine to make thin pieces used for a hotpot such as shabu-shabu or for Korean barbecue.
The meat is ready for sale: 
Each piece is individually wrapped in plastic. On a hot day, an ice pack is added to the carrier bag.